Are people still responsive to political campaign advertising? Recently, there has been significant research on how political campaigns influence voters. Findings show that the use of visually appealing branding solutions truly do sway voters. Promotion through online channels is also massively effective.
Effective Campaign Promotional Items
United States Congress elections will kick off on November 4, 2022. What political advertising strategies are you planning to implement to guarantee a favorable outcome? Because your rivals are also engaged in political campaign branding, winning the trust of voters will prove to be quite challenging. Just make sure to orchestrate your political promotion campaigns wisely. The creative political campaign advertising ideas below will draw you closer to your goal.
Attractive Promotional Displays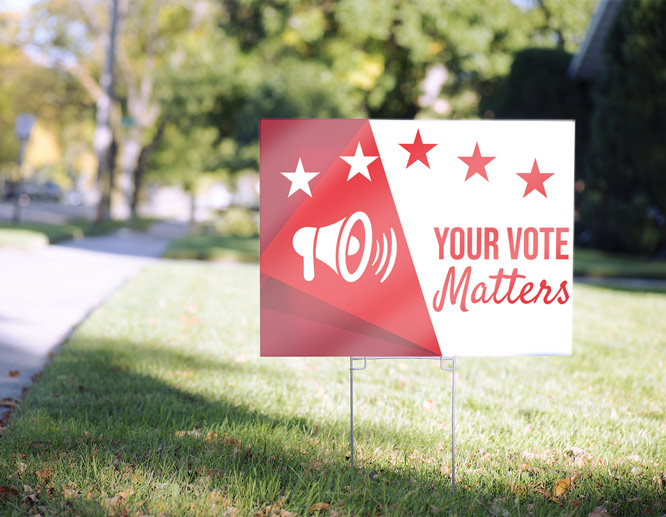 Visual campaign promotional items such as custom coroplast yard signs are affordable media that are suitable for multiple outdoor applications. Use vinyl banners in case you prefer more lightweight hanging political campaign items. Whichever option you prefer, you're free to select the graphics from the list of political sign templates or craft something from scratch with our intuitive sign design tool.
Engaging Adhesives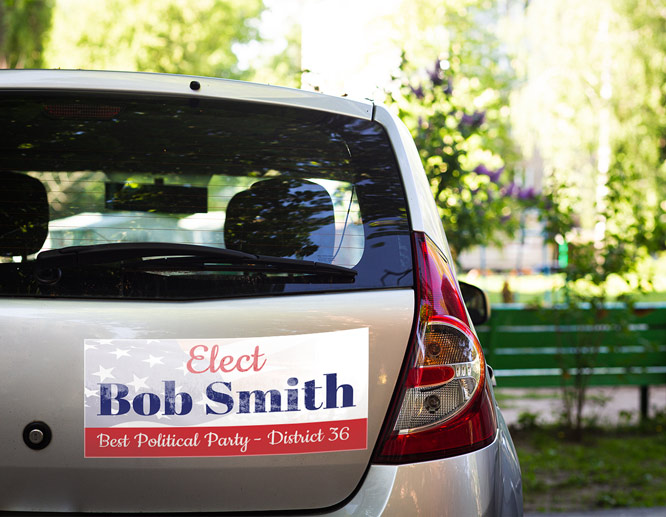 These political campaign items save space and they turn heads. Choose car decals and car magnets to get voters pumped and headed for the polling stations. To make the most of these solutions, check out some sign templates or implement your political campaign advertising ideas to create striking campaign promotional items.
Informative Brochures and Merchandise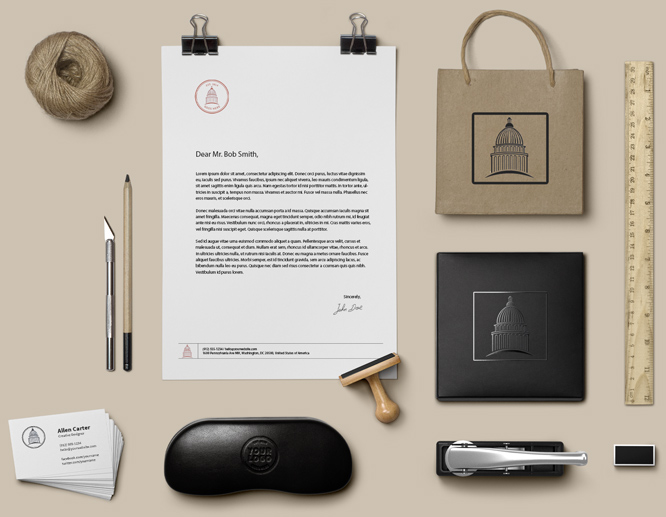 Informative brochures are among the best campaign promotional items. The most efficient way to get voters to come out to the polling stations and cast ballots in your favor is to introduce your people and their projects using a solid political candidate marketing strategy. Political campaign promotional items also include merchandise like T-shirts, pens, caps, bags, pens, bottles and much, much more. Have your campaign staff using all these items. You should also hand out political campaign branding items to your supporters at rallies. This is considered one of the best political campaign advertising techniques.
Political Party Branding Strategies
Party branding is sure to leave a lasting impression on potential voters. Implement political branding strategies in-house and outdoors in the highly visible areas of your city. You can make use of political campaign advertising techniques in your party's offices to create a motivational environment for staff and supporters.
Political Party Office Branding
Your political party's offices need branded decoration. You can make use of political campaign advertising ideas for the entrance and the interior.
1. Place Branded Displays at the Entrance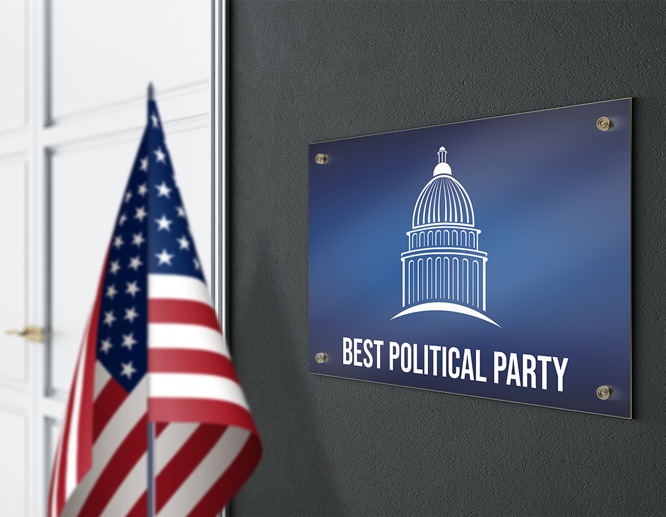 Your political party's offices are not hidden, underground places, right? Why not install compact aluminum signs at the entrances to welcome people into your premises? You can have your political party's name and logo on the display. Also, use dibond signs, foam board signs or PVC printing to highlight your slogan or a motivational political quote by a party member or leader. You can also attach an American flag and show your national pride and patriotism in front of your office.
2. Decorate Your Office Interior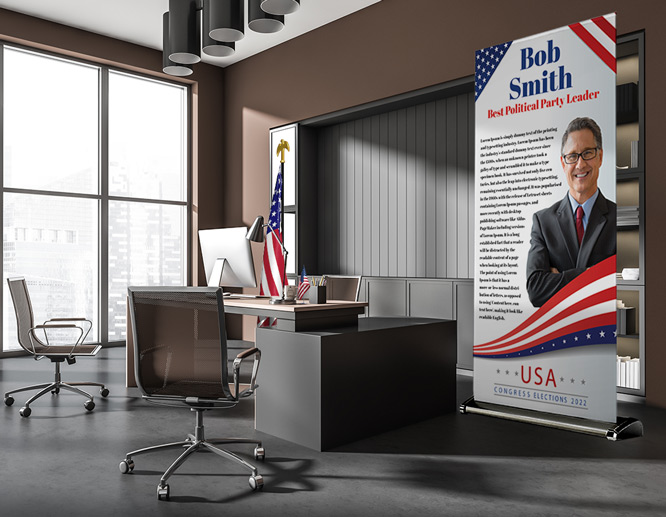 When it comes to interior branding, make use of free-standing displays like retractable banners. If you're looking for more ingenious political campaign items, paper poster printing is a perfect choice. Adhere it on the inside of the window with the printing facing outside so that passersby can get a good look at it. Look through 4th of July decoration ideas and Veterans Day signs articles for more inspiring ideas.
3. Create a Branded Environment With Furniture Decor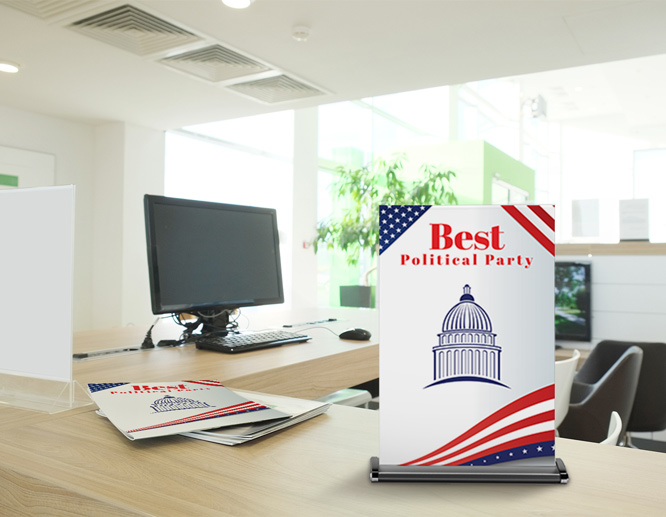 You can decorate your office furniture by placing tabletop retractable banners with your party's name and logo on tables, mantels and other flat surfaces.  This will help reinforce your members' commitment to your party. You can also use acrylic signs with thematic graphics and placed on easel backs to let them stand alone. This ensures a more professional look.
4. Furnish Your Walls With Inspiring Photography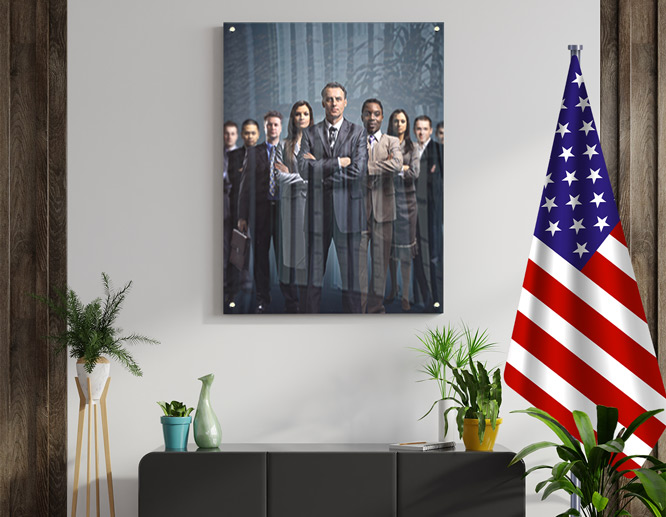 Decorating your political party's office walls bears significant strategic importance: it will help you save a lot of space. Honor your party's founders, leaders and other outstanding members by posting acrylic photo prints or gator board printing on the wall.
5. Apply Space-Saving Graphics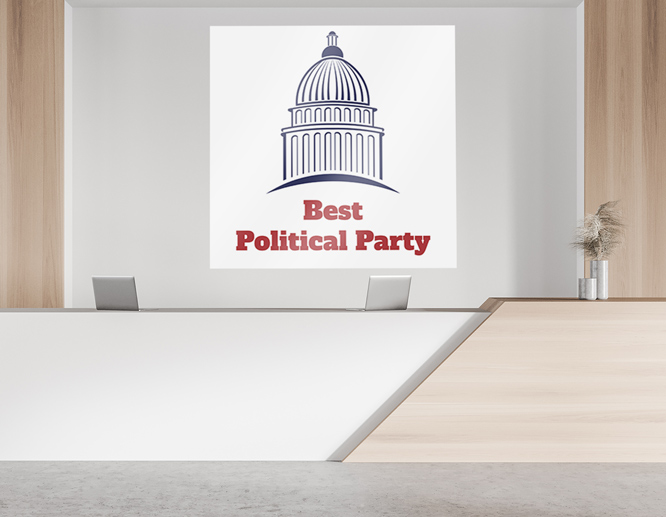 Other eye-catching solutions to decorate your political party's office space include window decals and office wall decals. You can depict anything you like with the help of these solutions. From your favorite political quotes to the name, logo or slogan of the party, they're all suitable.
Political Party Branding on Streets
In contrast to in-house branding items, street promotional solutions create the best chance to capture the attention of passersby. They are perfect for attracting voters who are still on the fence.
1. Place Large Displays for Highly Visible Areas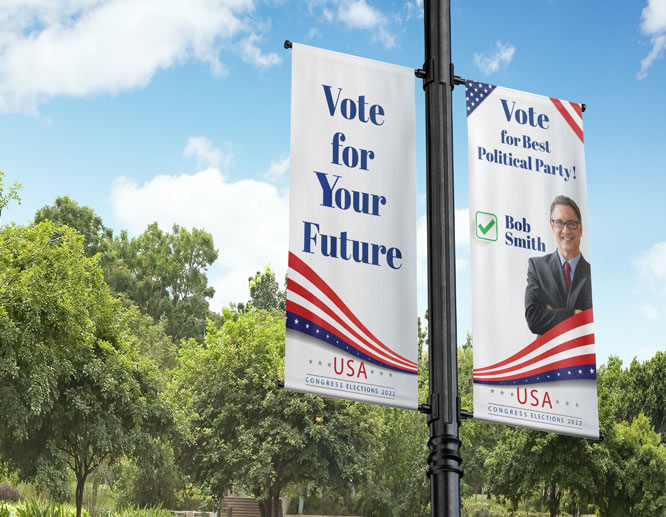 Attract potential voters right outside your political party's offices using magnificent displays. Pole banners are suitable to represent the slogan of your political party on streets for instance. Other displays for visible areas include billboards, lightweight corrugated plastic signs and the like. For other political campaign advertising techniques, check out products on Square Signs that can help you rally your supporters and get a bigger turnout. Look through our blog for persuasive political campaign sign ideas.
2. Use Self-standing Solutions for Outdoor Meetings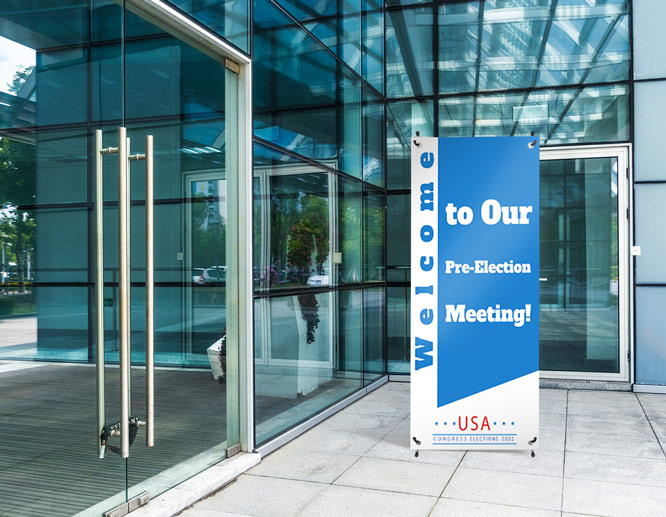 Self-supporting solutions such as X-Stand Banners can be set up in any permitted area. You can keep the stand mechanism and change the cover to use it again during the next election cycle. These products are also portable. They are super-convenient due to the possibility of setting them up and disassembling them within minutes.
3. Attract Passersby With Eye-Catching Graphics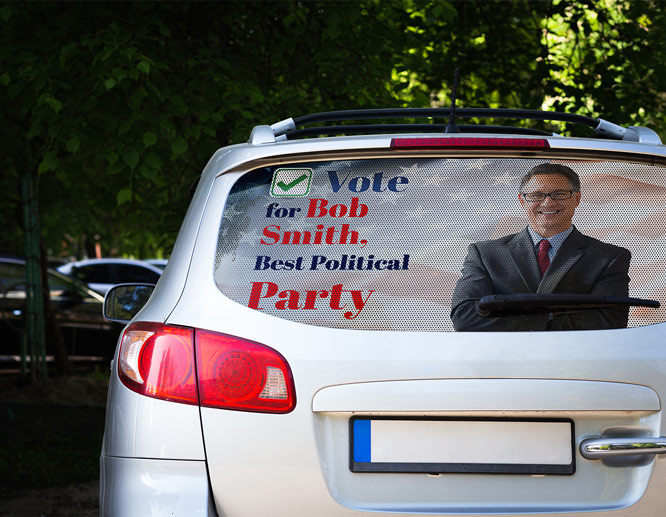 Sticky displays are perfect for short and long-term use. They are easy to apply, and once removed, they leave no trace or residue. One variety of these products is perforated car window decals. This option doesn't obscure the driver's visibility and is a perfect advertising medium to attract passersby. Perforated window decals are also suitable for outdoor use. You can use them for bus stop advertising to catch the eye of potential voters.
Political Party Branding for Rallies
Rallies are crowded gatherings with people who usually share the same political views. Most people at these gatherings share the same beliefs and ideology. But you still have a lot to do to reassure them that your party or candidate is the best-suited to govern.
1. Illustrate Your Political Speech with Visuals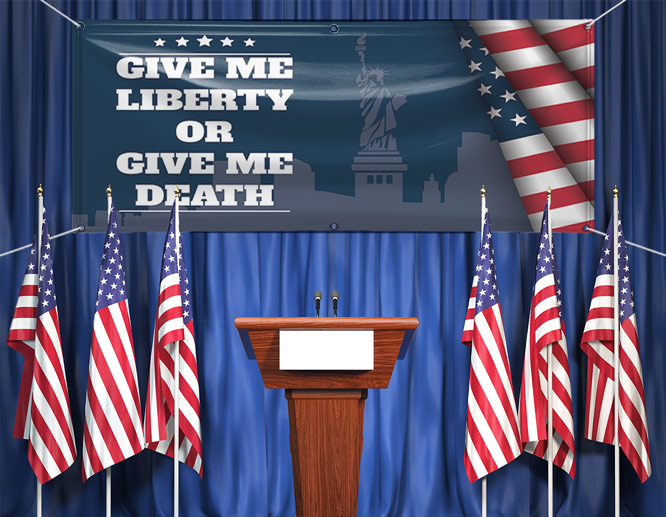 Visuals are critical in shaping your political party's brand identity. Pick a phrase that sums up your political speech and use fabric banners to illustrate it. Your speech doesn't have to be as powerful as Martin Luther King's "I Have A Dream" speech or any of the other greatest speeches in history. Still, it needs to be highly moving, emotive and persuasive. Find your perfect speechwriter to prepare a strong narrative for your best political marketing campaigns.
2. Use Space-Saving Displays and Sticky Graphics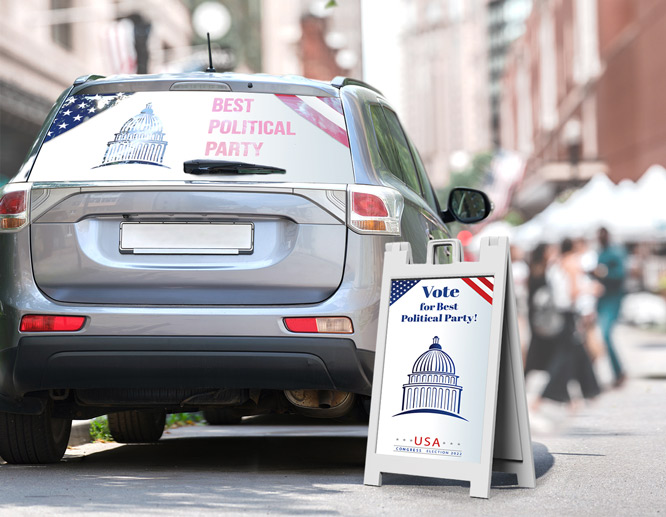 In the crowded demonstration area, space-saving solutions like double-sided sandwich board signs are among the best campaign promotional items. Car window decals are also perfect for saving space. You can also apply adhesives to other glass surfaces within the surroundings.
Political Party Branding On TV, Radio and Social Media
TV and radio broadcasts will always maintain their exceptional role in representing a political agenda to voters. Social media is another vital channel for running active political party branding campaigns. Candidates can share their political insights and deliver online speeches. This guarantees that they stay in touch with their supporters through social media political advertising.
When running promotional campaigns on social media, it's virtually impossible to evade user-generated content. Think of the ways you can handle it to turn your social media campaigns into a success.
Winning the Trust of Voters
2022 US Congress Midterm elections are on the way! You have about three months to gain the trust of voters. On your way to success, make sure to use all the marketing and branding strategies available. Visual displays, sticky graphics, online promotional channels, TV and radio broadcasts, informative brochures and promotional merchandise have their unique share in your campaign's success.
Encourage to Vote!
Above all, encourage people to vote. As Pat Mitchell once said: "If we don't vote, we are ignoring history and giving away the future."