Looking for party banner ideas to add a perfect finishing touch to your party? Whether it's decor for a birthday, graduation, bridal shower or wedding, aim to make them unique, inspiring and creative. With all this in mind, still don't have any ideas? Well, you're in the right place. I have collected 16 party banner ideas for you and arranged them by the stages of life: from birth to retirement. Let's take a journey through life with these party highlights.
Party Banner Ideas for Childhood to Adolescence
In the first section of the article, we'll go over childhood to adolescence. All birthday parties and graduations in this stage are planned with the help of parents and party banners. They're a wonderful opportunity to learn about your child and help them prepare for their own family parties later on in life.
Birthday banner ideas to welcome your guests
What's the loveliest and most long-awaited day of the year for you? For me, it's my birthday. I love gathering with my family and friends to celebrate my delightful birth party. When the day is close, I start the organizing process. Among other party decorations, there is one that I always pay attention to the most. It creates a welcoming atmosphere and makes everyone's day unforgettable!
So, if you are looking for birthday banner ideas, read my recommendations below.
Idea 1. First of all, I suggest using step and repeat banners or party backdrops as birthday photoshoot backgrounds. See the picture below for reference.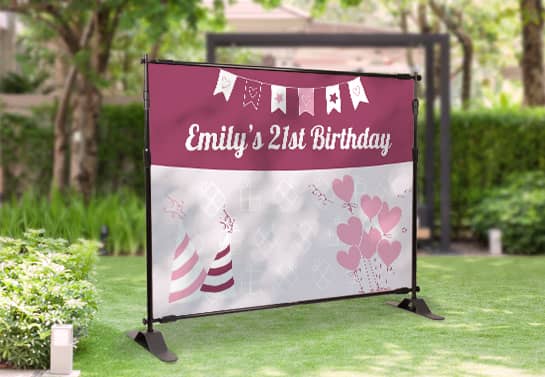 They're a great idea: the telescoping poles give the construction ultimate visibility and can be adjusted to your desired size of up to 10x8 feet. Now, let's imagine what design your product will have. First, determine the background color. Regardless of  the gender of the birthday girl or boy, I would suggest a neutral tone. Take a white or beige background and choose a title: write your name and age, e.g. - Emily's 21st Birthday. Format it at the top and to make it more unique, repeat the example age '21' several times underneath it. 
Idea 2. Another great party banner idea to make your birthday unique is using a chair back to designate a special seating arrangement.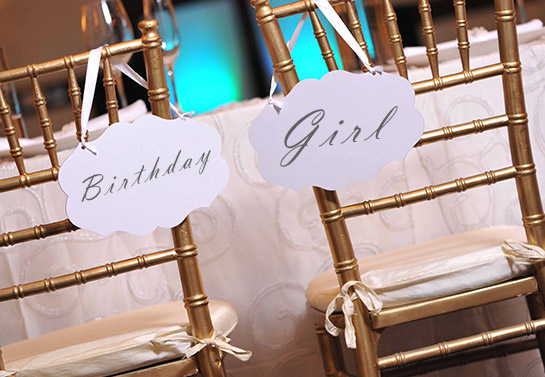 Let's write 'Birthday Boy' or 'Birthday Girl' on it and hang it over the back of the chair. It's a special way to reserve it and note that the hero of the day will be sitting here exclusively… yeah, that's right.
Graduation banner ideas to celebrate the start of a new life
Is another great day in your life approaching? Wow! Due to many years of hard work, you've reached this important day: your graduation from college! Now you deserve a wild party to commemorate. When organizing it, we can't forget the most vital part of our decorations: graduation banner ideas. Here is what I suggest.
Idea 3. A vinyl banner is always a good idea. The material is white but you can print any color you want on it. Take my advice and choose blue for the background. I think the color symbolizes a good start to your new life just because it's my favorite. Let's think about the design. The one symbol that should definitely adorn it is an image of a graduation cap. A white cap will go well with your precious blue background. Then, add the text 'Finally Graduated' and place it in the middle. Scatter confetti all over the design and add the year of graduation. See in the picture below.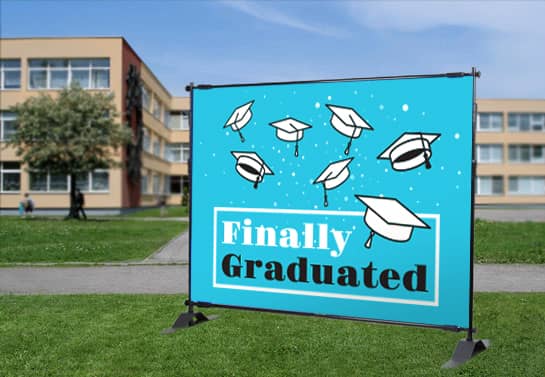 Idea 4. After getting their diplomas, it's a tradition for students to throw their academic caps into the air. So, let's embellish this element in your designing process. However, instead of ruining the entire cap by drawing on it yourself, let's glue a custom banner to the top instead. By choosing a color theme and adding the text 'We're done' to it, you will get the example shown below.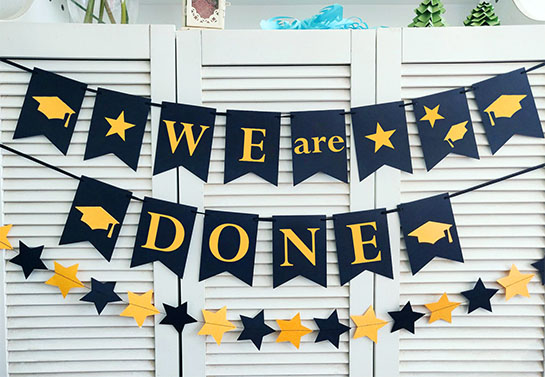 Fulfill your party banner ideas with our Free Design tool.
Party Banner Ideas for Early to Late Adulthood
This is when life gets juicy. It's also when the years start to fly at warp speed so every chance to celebrate should be seized. Let's go over some stylish decorating ideas to make the most of each occasion.
Bridal shower banner ideas to wow your friends
You have already graduated and now you are going to have to prepare for more serious milestones in your life. Has your beloved proposed to you? Ooh, congratulations! But wait... before the wedding party, you have an event coming up that is of no less significance in terms of getting your groove on. You have gathered your friends and are thinking about party decor. If you are curious about bridal shower banner ideas, I have a couple of fabulous ones below.
Idea 5. It's a great idea to design a backdrop for a photoshoot with canvas cloth. You can easily DIY one. Just get canvas cloth and give it a creative finishing touch by cutting the bottom into two or more triangular tails. Let's add the text 'ANN'S BRIDAL SHOWER' to it and floral garlands over the top. In the end, you will get something like this.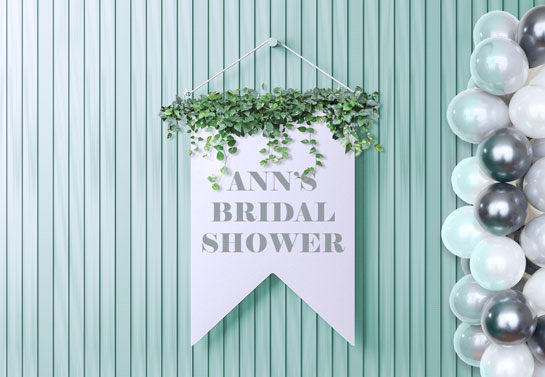 Idea 6. These decorations also add a festive touch to the reception area or above the gift table. We know you want to see the Mr. and Mrs. Last Name plastered all over the walls so let's have it printed on this hanging banner for starters. Writing 'Soon to be' or 'Future' before the names is a fun way to build anticipation and excitement for the wedding day. Make sure the print has embellishments like hearts, diamonds and colors to match the overall party theme and decor.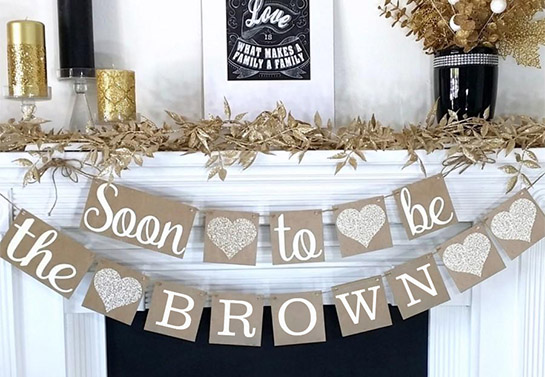 I still have a list of unique party banner ideas I want to share with you. Keep reading!
Wedding banner ideas to make your day truly romantic and unforgettable
The big day is getting closer. You are getting married! I know that feeling of being so excited and nervous at the same time. You are probably thinking about what needs to be taken care of before the big event. Take a deep breath because you're in luck. I'm here to ease your worries and help you with some of your key party decorations. The only question is, which wedding banner ideas inspire you the most? Are you going to place them outside or inside? Scroll down to see how to make your wedding day dreamy and memorable with these suggestions.
Idea 7. Since the wedding is a grand event and most of the ceremonies take place outdoors, roll up banners are a great idea for decorating. For this setting, they should be no less than 57"x78" in size. So, choose your favorite photo with your soulmate to print on it. Make sure you have the best image format for printing. It is going to be your backdrop. Choose a sweet quote and place it on an empty area above or below the photo. "And so the adventure begins," is a personal favorite but that's not all...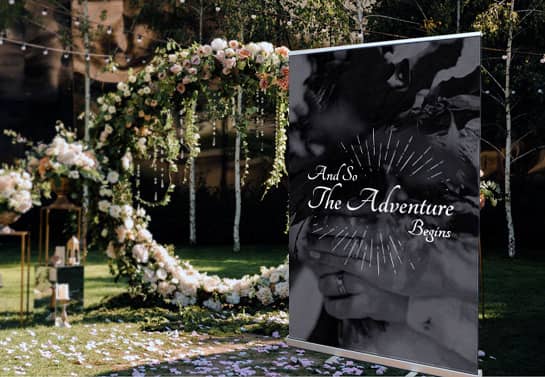 Bonus idea: Set a marker by the side of the beautiful photo banner so that your guests can come up and write their best wishes to you on the remaining blank spaces. These messages may one day serve as fond reminders of your big day.
Idea 8.  Another great wedding banner idea I have shown below has a welcoming theme. For this option I recommend using a 39"x78" fabric banner. Choose pastel colors (e.g. pale blue, pastel yellow, etc) and write "Welcome to the MR. AND MRS. LANDERS' Wedding" on it.. Hang it with grommets from 4 sides using two posts like trees. This way you will welcome your guests to the ceremony in style.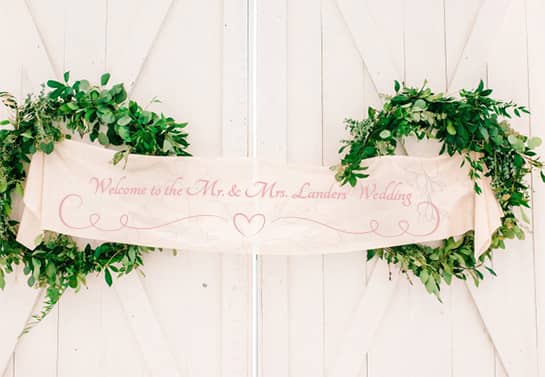 See also: How to make your own wedding signs: 12 unique ideas to get inspired!
Baby shower banner ideas to be a creative mom-to-be
Are you expecting your bundle of joy soon? Wondering about the best party for a mommy-to-be? Surely, you want to host your baby shower perfectly.  Don't have a clue where to start? I have presented the best baby shower banner ideas below. They will keep your guests entertained and you can easily DIY them since you're likely to be broke soon and should start saving up. Jokes aside, let's carry on.
Idea 9. Vinyl is another good material for banners. Go for creative and humorous quotes like "Here Comes Trouble" and add a baby boy or girl template in a stroller to it with the words "Baby Shower" at the top.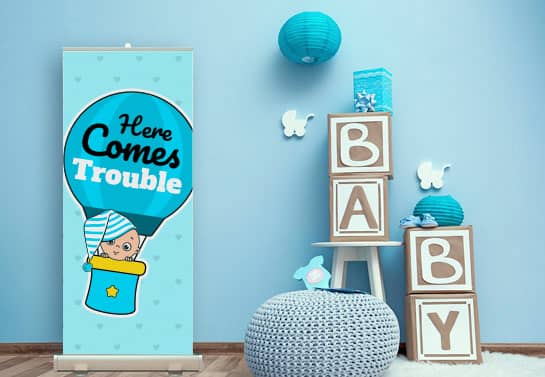 Idea 10. Follow my advice for the color theme and choose yellow with grey to steer your stroller clear of the typical pink and blue. Yellow marks joy and grey is just a good combination with it. This mix is an acceptable color theme both for your baby girl and/or boy party. To create your design, you just need to cut baby clothing silhouettes from yellow and grey papers and attach them to a ribbon to hang on. You can also add animal pictures in the same way, like a grey elephant to the yellow onsie cut. If you dont feel like cutting anything out, just print the motif on a banner and voila. Alternatively, you can order foam board printing cut out in the form of cute custom characters.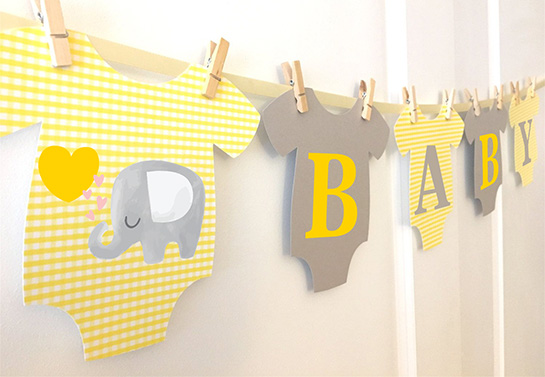 Family reunion banner ideas to show your care for the event
Have you ever been to family reunion parties? You know, it's that great event where you meet family members you never even knew you had. So, when organizing it, you probably want to show your extensive knowledge of at least their names. Looking for Family reunion banner ideas? Read below!
Idea 11. For the design, let's take a roof that symbolizes the whole family. Then, add as many windows as there are members in your family. On each window, write the name of the family member. Of course, a text like, "Welcome to the Jones' family reunion" is needed to finish it off.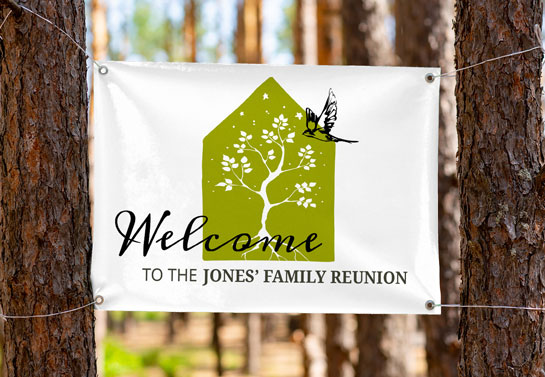 Idea 12. Another classic idea includes having a family tree on acrylic photo prints or gator board signs. Write your Surname on the tree roots and then on the branches, write the names of all the children, multiplying from generation to generation! Then, add a quote like, "Family, where life begins and love never ends," to complete the project.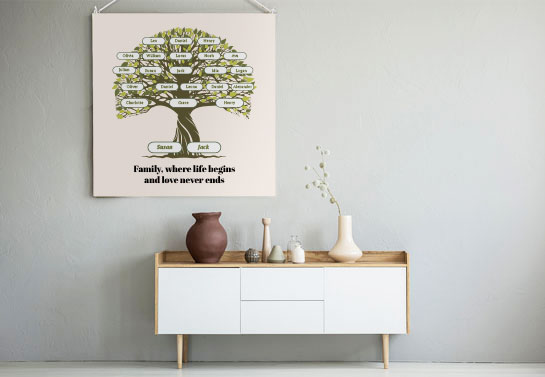 50th birthday banner ideas to emphasize this wonderful milestone
Are you planning a 50th birthday party? Wondering about making it as golden as the age? Of course, the 50th birthday deserves an honorary ball. How you celebrate the start of this amazing new chapter can set the tone for the years to come. So, if you're looking for 50th birthday banner ideas, read below.
Idea 13. Let's add the text 'Happy 50th Birthday' with Serif or cursive fonts. Choose as big of a font size for the number '50' as possible since the main symbol in your design is your age and it's worth the emphasis considering you've made it to half a century old! The color will look fitting in gold - gold as your age! Accordingly, make the background black to complement the gold in an elegant fashion.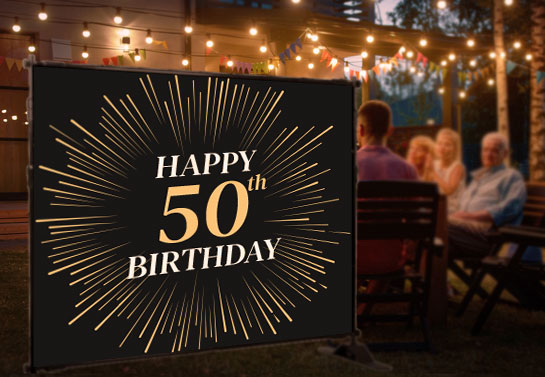 Idea 14. If you are preparing a surprise for your mother or father, you can congratulate them with texts like, "Happy 50th to the best father, friend, doctor, grandfather, etc..."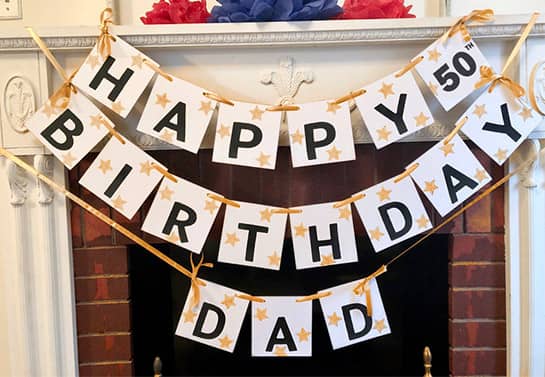 Retirement banner ideas to organize a playful celebration
You have worked hard your whole life and it's time to enjoy your rest and relaxation. Celebrating this event and wondering about how to make it unique? Below I have presented the finest retirement banner ideas to get inspired by.
Idea 15. A great idea for your retirement is creating a golf game theme. Pick a green background and layer it with elements of golf as artwork. Add the quote, "It's time to work on your golf game," along with other fitting decor and you'll be ready to welcome your guests for the tournament of their lives!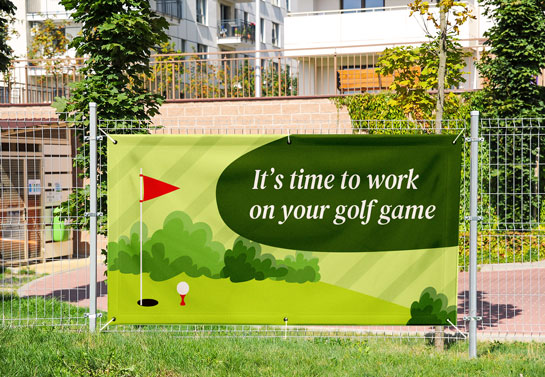 Idea 16. Here, let's highlight your creativity. Take notes on the following example. Find two palm trees, hang a hammock between them, grab a tequila and indulge in your long-awaited rest. Let's write "Happy retirement" on it (if it's still a decorational banner and not the real thing) and enjoy your day and the rest of your life!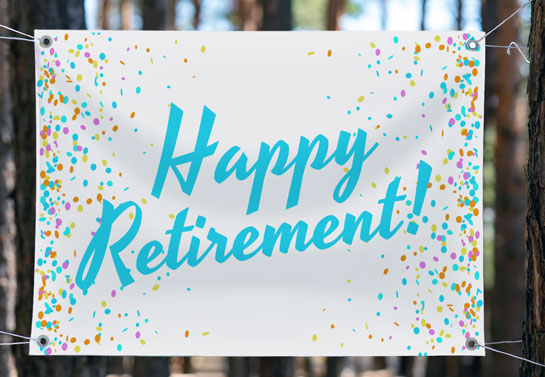 If you need assistance turning your party banner ideas into real prints, you can check out our Free Design Tool. Just make sure to choose the banner product option before creating the design.