The walls in any building present you with the most surface area suitable for decoration. They draw a lot of attention, so it's crucial to make them presentable. They'll add a homely feel to any premises when spiced up with creative artwork. Keep reading and look through these 24 cool wall art ideas I've compiled to inspire you. The personalized wall art you create can make you feel comfortable and happy at home.
Are you ready? Then let's get started!
Unique Wall Art Ideas for Interior Spaces
Aesthetic acrylic photo prints and foam board printing illustrations have been a prime wall art design solution before people moved to other materials. Nowadays, any indoor product and a creative mind are all you need to develop unique wall art ideas to place in any room.
Decorative Wall Art Ideas for the Study
You may feel comfortable working from home depending on how much creativity and concentration your job requires. So why not establish a comfy spot in your house with inspirational art ideas for wall decor? Read further to explore five workspace wall art decor ideas.
What motivates you more than seeing the smiles of the people you love? Use wood prints to personalize your favorite images of them as heartwarming ideas for wall art. This type of custom wall art will look perfect in your office.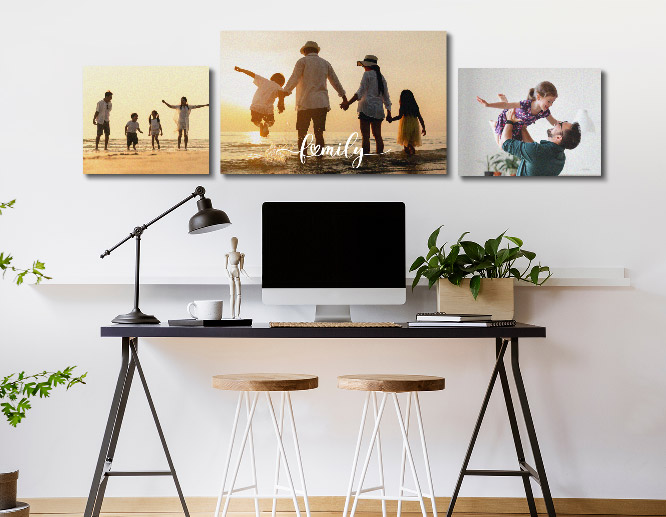 You can use metal photo prints to make a handy work agenda. List the most important tasks and meetings for each working day. This customized wall art solution can help organize everyday tasks.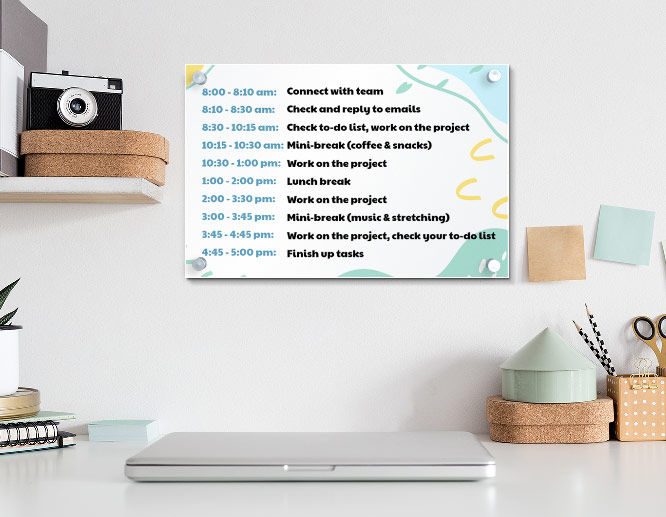 It's no secret that colors impact productivity. Colored artwork ranks high among the most expressive art ideas for large walls to have in any workspace. Bring this idea to life with vibrant self adhesive foam boards that adorn the wall in front of you.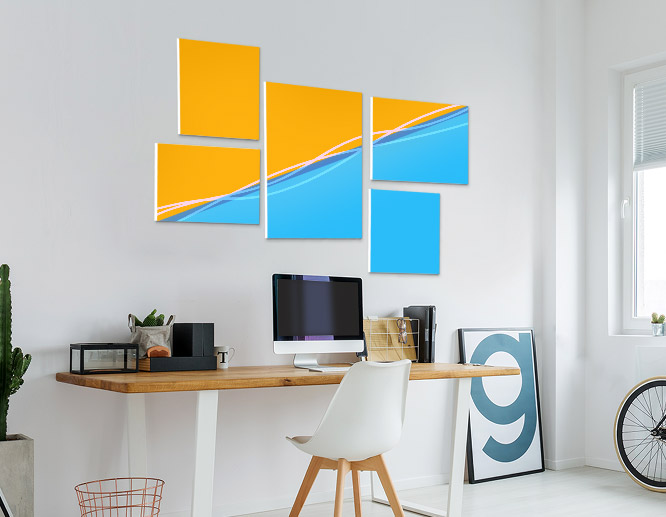 Custom wall art with brainstorming features is another sort of art ideas for large walls to use in whichever room you work in at home. Are there any notes, formulae or expressions you use frequently to put your mind in gear? Feature them on large custom wall decals.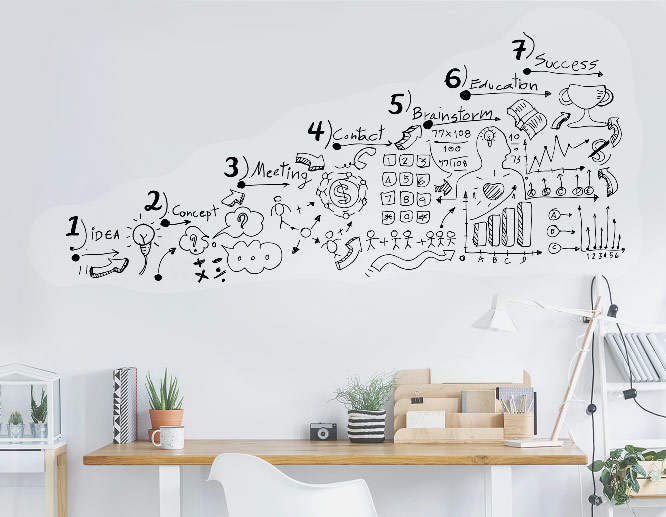 Large Wall Art Ideas for Home Rooms
Oversized paintings by famous artists are no longer considered practical ideas for wall art. Use your creativity to bring your own wall art decorating ideas to life with Square Signs and decorate your rooms with jaw-dropping visuals.
Have you ever considered that the photos on your phone could portray original wall art ideas? This is an amazing tip for creating living-room wall art ideas and showcase them on custom canvas prints. You'll get awe-inspiring photographs to add life to your bland walls.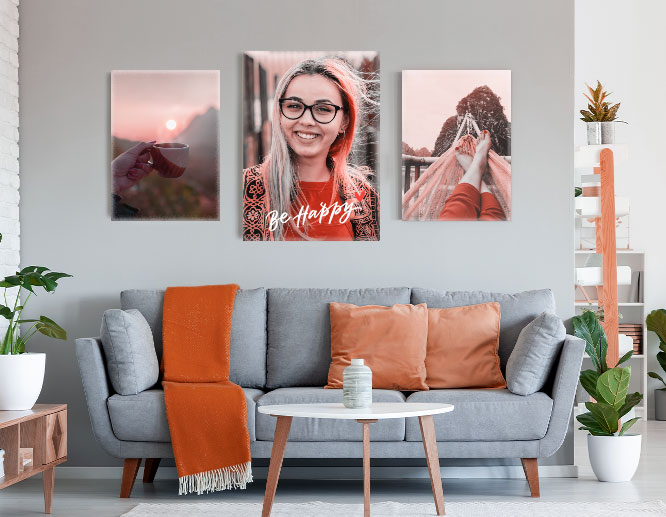 What if you decorate the walls themselves instead of hanging illustrative visuals on them? This is one of many wonderful bedroom wall art ideas for all tastes and preferences. The most practical product to highlight this style is wall art decals that'll look painted on the wall.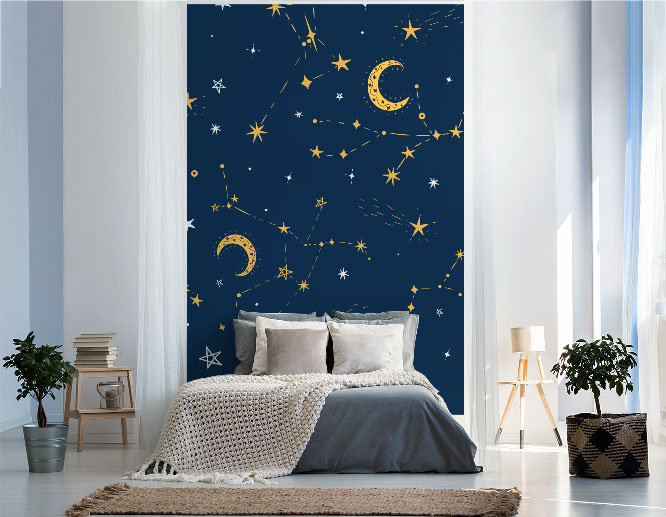 Now for some fun wall art ideas. Envision customized wall art based on our sign templates to add flavor to your kitchen walls with mouthwatering recipes. Paper poster printing is the best match because you can update your lists over time without spending too much money.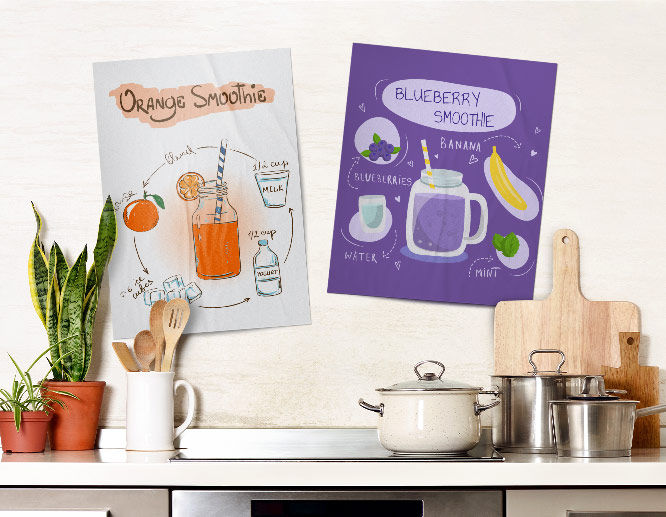 Extra Wall Art Ideas for Smaller Rooms
We have more wall art design ideas on our list. Keep reading to find useful tips on designing wall art for the other rooms of your home.
Designing wall art for bathrooms is common nowadays. Many people decide to take a relaxing bath there after a tiresome day at work. One of the unique bathroom wall art ideas are images of landscapes or other natural elements. Use picturesque scenery coupled with quotes and scented candles to implement these ideas for wall art. Products made of PVC signs work well in humid conditions.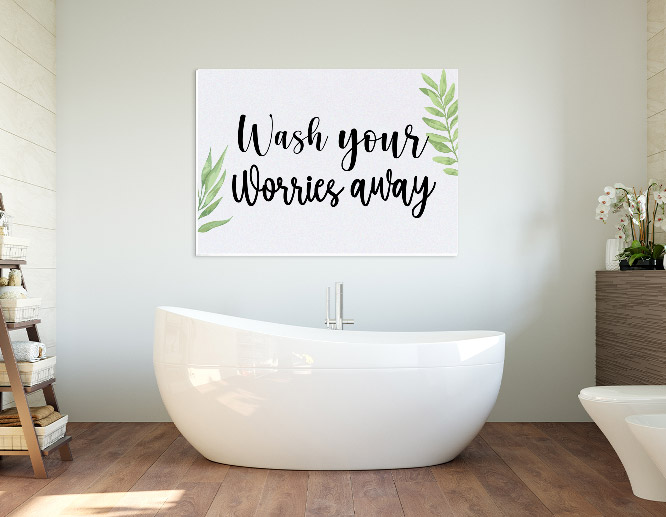 Everyone knows that colorful pictures help in children's education. So don't forget about designing wall art for your kids' playroom. Vibrant world maps with famous cartoon characters are cute large wall art ideas you can bring to life with crisp dibond signs.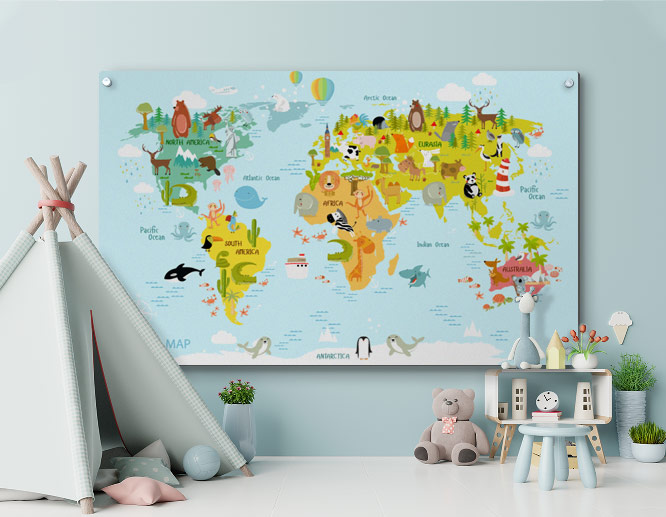 The best way to greet your guests is by designing wall art for your entryway with welcoming messages. Vinyl lettering can help you go bold with unique wall art ideas. Personalize your favorite welcome quotes or sayings with our sign design tool to draw attention to your entry wall.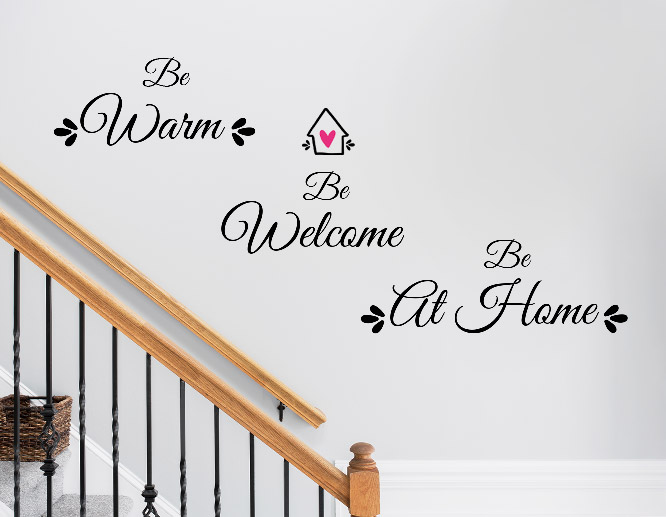 Ideas for Popular Wall Art Design Styles
Now that you have a number of wall art design ideas to implement in the different rooms of your house, it's time to learn what style will complement your interior design. Check out the original wall art ideas listed below that'll show you how to pull off different styles.
Dark Art Ideas for Wall
Dark art is gaining popularity among enthusiasts of contemporary artwork. It does remain quite a specific taste though, due to the style unveiling some of history's creepiest paintings. This trend can generate bizarre art ideas for wall decor but you have to figure out the way to incorporate them into your interior design appropriately. Check out the unique wall art ideas I've compiled below.
Horror Wall Illustrations
As everyone knows, horror is an extremely complicated art genre. Those who embrace this style are proud to show off decorative wall art ideas with dark themes in their houses. Black acrylic signs are brilliant for showcasing your favorite horror art ideas for wall adornment.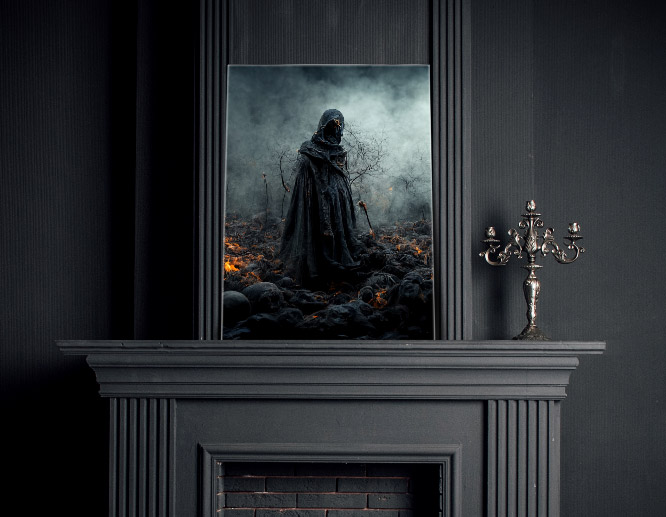 Another expression of dark art is horror-themed monochrome photography. Black and white images on acrylic signs are interesting ideas for wall art regardless of their placement.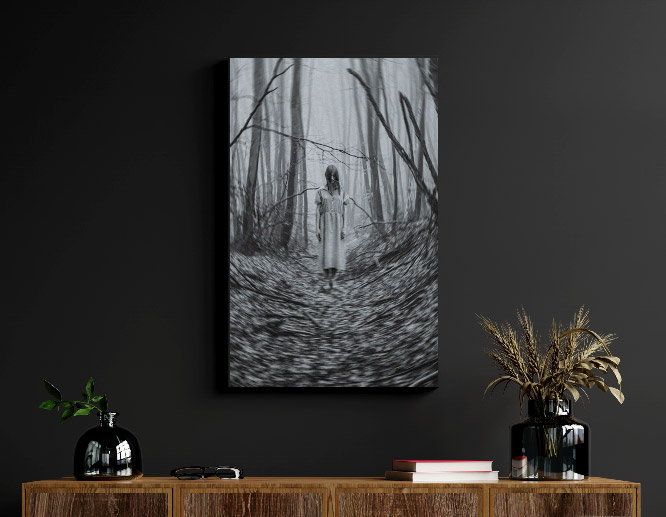 Vintage Wall Art Design Ideas
Old is gold. This is true for every aspect of life, and vintage art is no different. Even today, the style represents a topic of interest for millions of artists, designers and ordinary people. Why not generate vintage art ideas for large walls in your home?
If you want to transform your space into a retro corner, you can use creative wall art ideas with old book pages. If you'd like to avoid ripping out pages from books, which I know you would, create personalized wall art decorations with bookpage illustrations.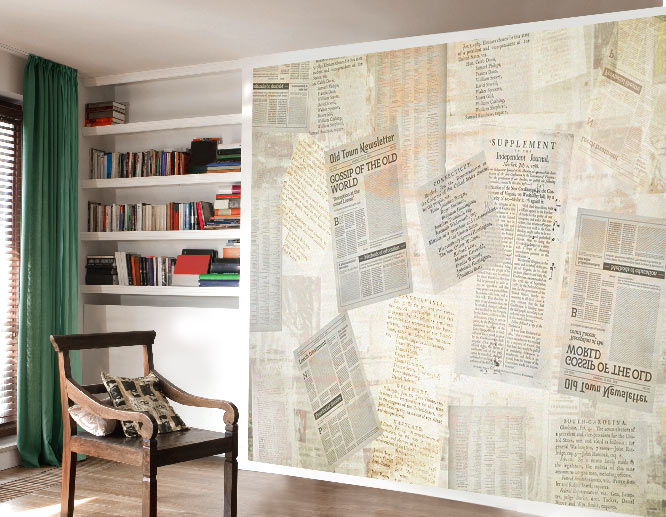 World maps have always been a representation of beautiful large wall art ideas in a home. But have you thought about improving your space with huge antique maps? Historical maps, being a very innovative expression of vinyl wall art ideas, are an option for creating one-of-a-kind interior designs.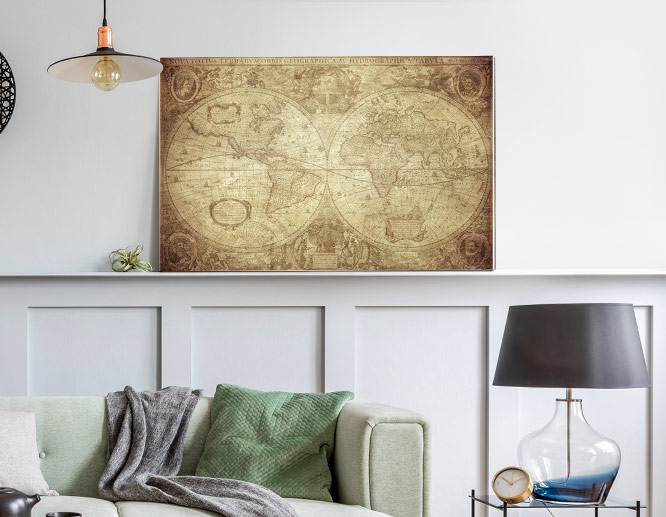 Custom Wall Art in Abstract Style
Sometimes a block of colors can express things that reach beyond your imagination. That's what we refer to as the abstract style. For a very long time, people have used abstract wall art decorating ideas to decorate their house.
Do you need cool wall art ideas that incorporate a range of color shades and textures? Use blended hues on large adhesives or sturdy products like gator board signs to beautify your walls. Make sure to select and combine appropriate colors in order to get stunning custom wall art.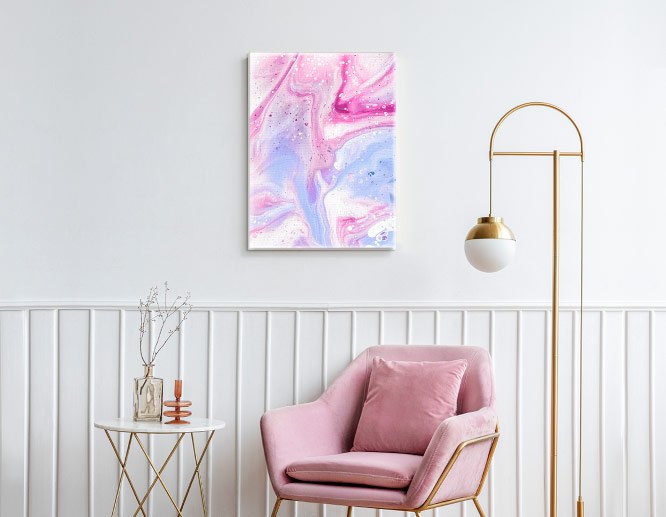 When speaking about abstract art ideas for wall embellishment, don't forget about abstract symbols. Take the opportunity and use famous abstract symbols to generate creative wall art ideas. Make sure to check their true meaning before using them as part of your decor.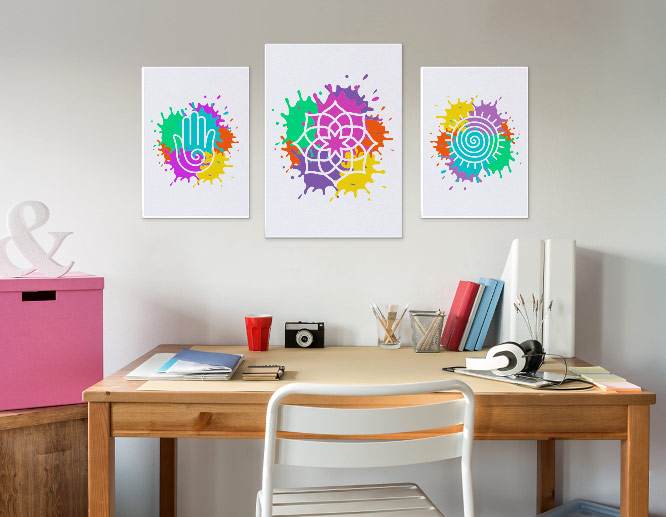 Typography Art Ideas for Wall Embellishments
A picture is worth a thousand words. Meanwhile, a picture combined with words is better than pictures or words alone. Yes, we're speaking about typography art. As a novelty for decorative wall art ideas, this style is lavishly used in contemporary interior design. Reflect your ideas on aluminum signs to make your artwork stand out.
Portraits of Famous People
Typography ideas for wall art can help you combine pictures of outstanding people with their famous quotes, ideas, accomplishments and more. You can also use their expressions to create their portraits. This style is a fresh turn in inspirational wall art which looks beautiful when mounted on walls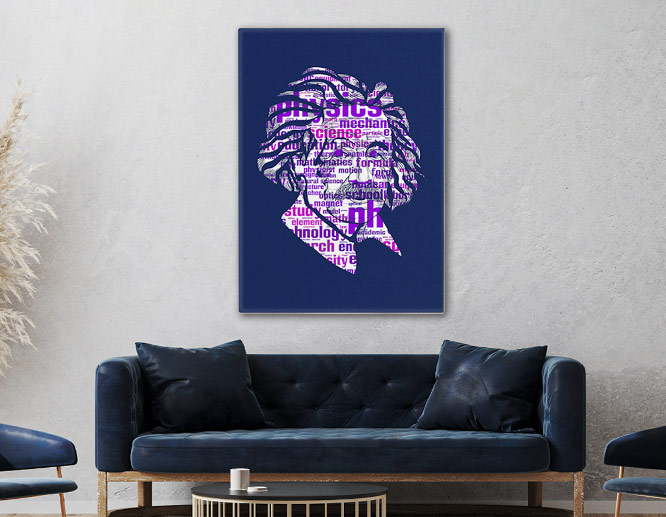 Typographic Images of Animals
Searching for more typography wall art design ideas? Create "loud" art accentuating your favorite animals' images and sounds. Select a good visible place in your house to showcase your customized wall art.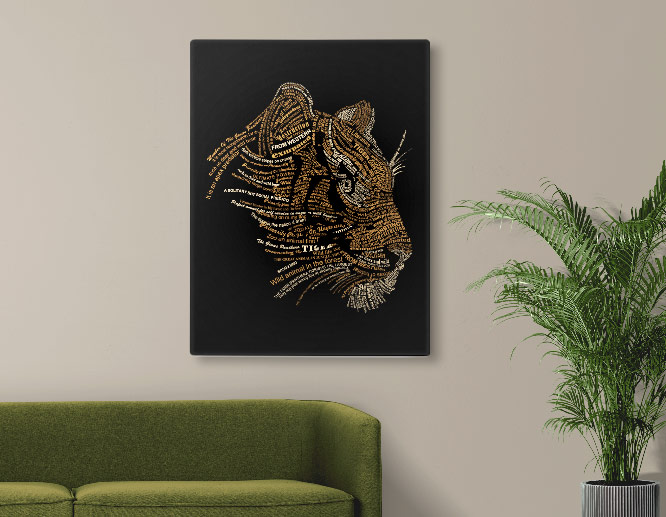 Wall Art Decor Ideas with Structural Drawing
Structural drawing is about reaching the unreachable or capturing the motion of images. Go through the structural art ideas for wall decor listed below and pick your favorite to design an avant-garde interior.
Sometimes, plain drawings are bolder than multicolored paintings. Sketches of buildings are cool drawing ideas for wall art and fit in all corners of your house.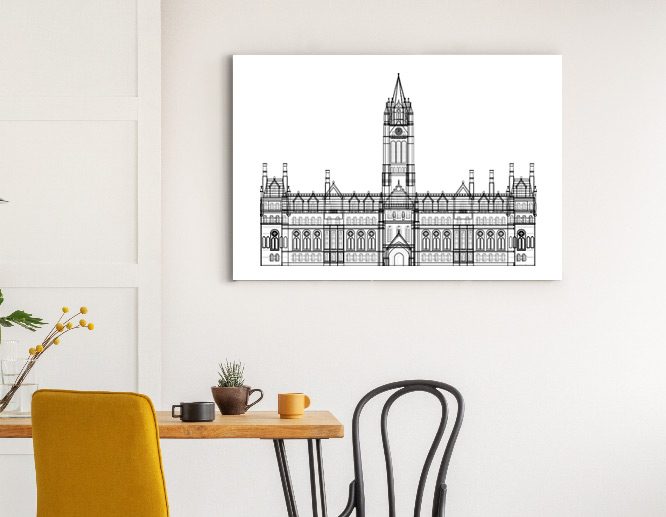 Mechanical gear sketches are unique wall art ideas. One example is to have the complicated artwork demonstrate the flow of time while displayed on simple sheets.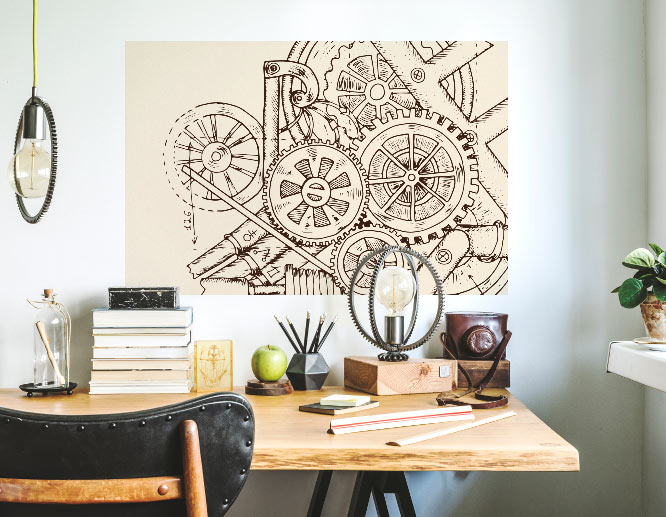 Wall Art Design Ideas in Fashion Style
Fashion art style is an admired type of modern wall art distinguished for its candy-colored artwork. The style helps generate unique wall art ideas for fashion lovers.
Dress and Gown Illustrations
Fashion designers and others who keep up with the newest trends frequently use sketches of dresses and gowns as decorative wall art ideas. Your bedroom will also look nice with wall-mounted images of fashionable dresses.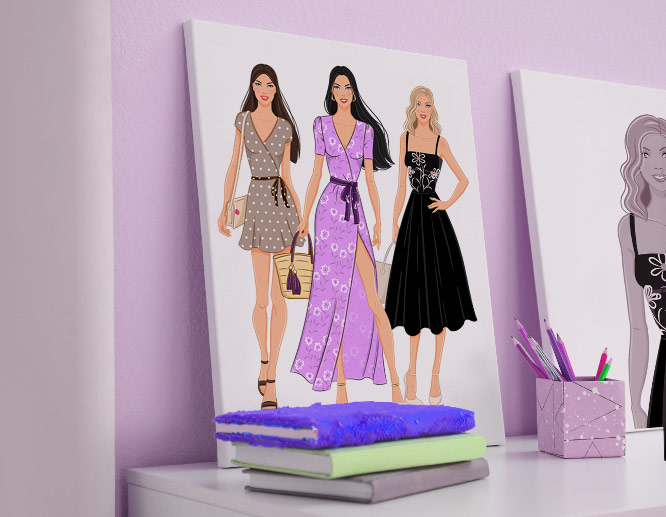 Decorative wall art ideas with pink illustrations are luxurious elements for the lovers of fashion. Are you one of them? Head over to our decoration sign templates. Select your favorite one and restyle it as you like.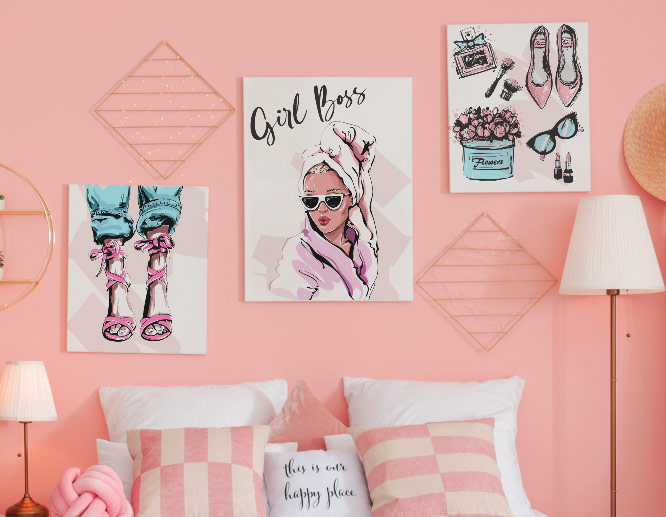 Wall Art Decor Ideas with Plain Artwork
Add some glitz and glamor to your house using appealing large wall art ideas with aesthetic illustrations. This style focuses on simplicity which is considered to be the new gold-standard of modern design.
Abstract human body line drawings are a prominent subtype of minimalistic wall art. Thanks to its simplicity and plain features, this style generates amazing art ideas for large walls that are suitable for the bedroom.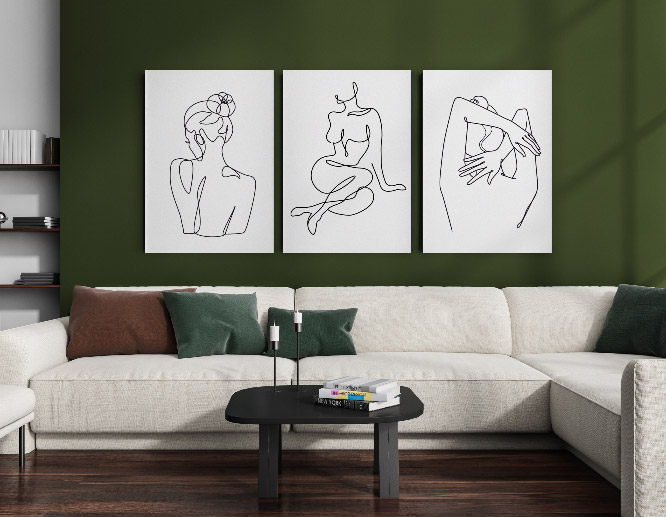 Last but not least, here's an important tip for you. Use large wall art ideas with pastel-colored abstract plant illustrations. They're simple DIY wall art options that can adorn your rooms.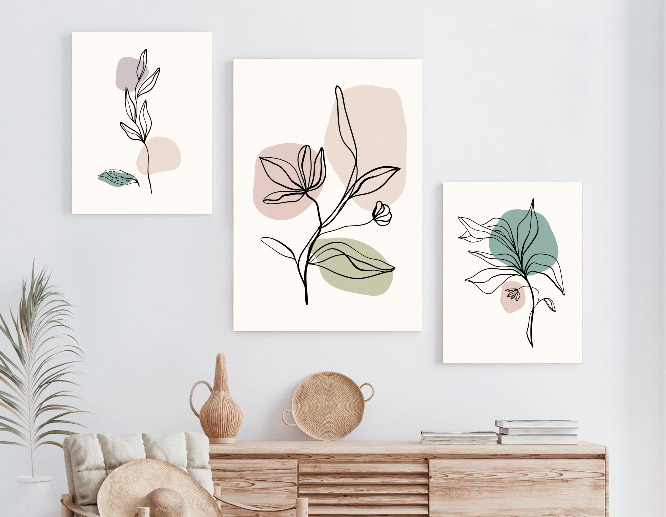 Don't pass up the chance to create an avant-garde interior design for your home using one of these beautiful ideas.