Christmas is the time of the year when everyone is busy buying crafty gifts for their nearest and dearest. If you're a store retailer, you're the middle-man between Santa and the chimney. I'm happy to share Christmas sale signs that will let you highlight your special offerings for both the naughty and the nice.
The holidays are so near. Don't waste any time. Keep reading to unlock mutually beneficial solutions for you and your customers.
Bold Christmas Sale Banners
I bet you have the best holiday offers and want to keep everyone informed about them. Chances are, you're not going to go out and yell your head off to announce the Christmas deals. Here's where large and vibrant holiday sale banners come to the rescue. They can feature your Christmas specials so you can save your vocal cords for the New Year. X-stand banners, roll-up displays and similar products are handy solutions for your bargain promotions. Looking for more ideas? Read on.
Pre-Christmas Sale Banners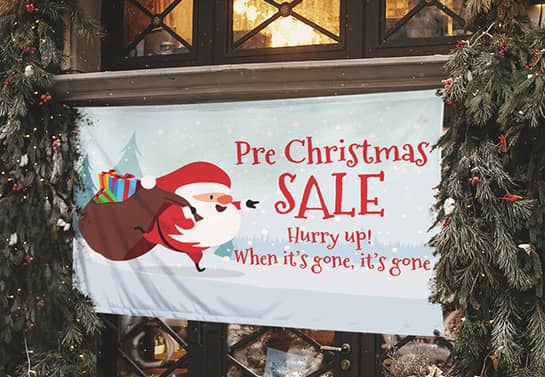 From home decoration to preparing piles of gifts for loved ones, it takes a lot of time and effort to get ready for the holidays. Dare to feature your discounts earlier than expected, especially if you plan to be closed on Christmas. Here, vinyl banners will help you out since they're tear-resistant and able to withstand harsh weather conditions. Get your pre-Christmas sale banner printed on vinyl to launch a safe and rush-free shopping season.
Need more creative holiday sale banner solutions? See our list of Christmas sign templates. Choose one and restyle it to your liking using the awesome elements and design features we offer.
Christmas Special Sale Banners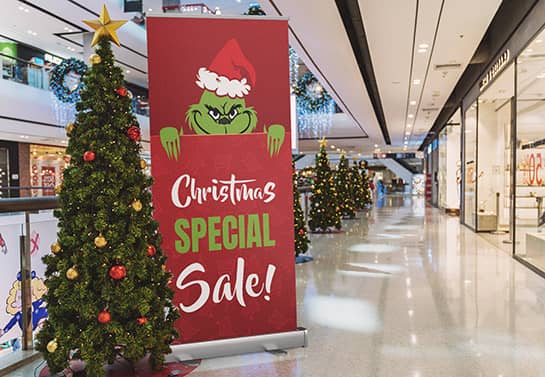 What's the magic of Christmas without mind-blowing holiday specials? To be frank, that's exactly what makes this shopping season so great. Once you've prepared a full collection of irresistible discounts, get Christmas sale banners with crafty Christmas slogans to win over more walk-ins. Order a durable retractable banner for this promotional campaign. These stands are portable, can be set up and broken down in seconds as well as stored for future use.
Go to our sign design tool and customize your display by choosing elements, backgrounds and templates you want to customize. Once your holiday sale banner is ready, order it and get it shipped the next day.
Christmas Sale Signs to Boost Holiday Shopping
You're gonna be everyone's favorite shop after you announce your big bargains with delightful holiday sale signs. I've prepared this section for you to make the most of your holiday deals. Find your favorite Christmas sale sign below.
Christmas Mega Sale Signs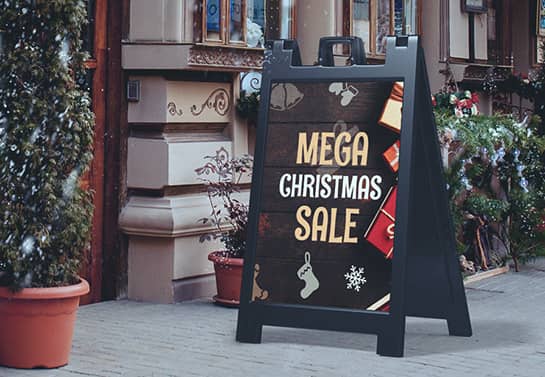 Mega sales are for mega shoppers. If you want your discounts to cover a lot of ground, I suggest you get foldable sandwich boards and install them in different areas. The best thing about these stands is that they're double-sided and easy to carry from place to place. You can use our designer-made sale sign templates if you want to personalize your very own holiday sale sign. Change the template elements, choose a different background or upload your own photos for restyling.
Do you wish to get a smaller and more convenient holiday sale sign? You can also customize your promotions with PVC signs and hang them from store doors and windows. They come in different shapes, sizes and styles. They're lightweight yet super-durable for both indoor and outdoor use. You can also opt for acrylic signs which provide a classier appeal. Foam board printing is mostly designed for indoor use, but it's a sturdy, lightweight solution that's simple to mount or hang. 
Need to decorate your home or yard once you're done with your shop? Sit back and enjoy reading our full Christmas signs collection.
After Christmas Sale Signs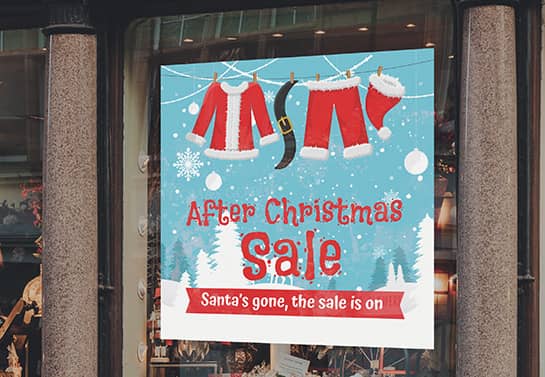 Do you know what's bizarre about Christmas sales? The fact that you can shop before, during and well after the holiday season is over. What's more, the sales only get better and better! But how do you keep everyone posted about the ongoing savings? Just feature a catchy after Christmas sale sign on your storefront using window decals or static clings.
The versatile products in this collection are ideal for highlighting both long and short-term promotions. Choose the best solution for your before, during and after holiday sale sign. Once you've decked the halls with these catchy displays, you'll rock the season with a flavor all your own.
If you want to explore even more ideas, read our full collection of sale signs to keep your finger on the pulse of annual promotions.