Wake up every morning with high spirits thanks to a large variety of stunning bedroom wall decals. You'll catch yourself admiring the striking text-based graphics or photography the moment you open your eyes. A bedroom is a personal space where you lie down, rest, sleep and dream. It's also where you may accommodate a guest who's staying overnight. Now, each age group has specific tastes and it would be nice to style each room differently with fascinating bedroom wall decal items.
Get versatile bedroom wall decals with the help of stunning wall decal ideas for bedroom embellishment. Home wall decals in general, and the rooms they're placed in, such as bedroom wall decals can stretch up and cover large areas. This will give you the flexibility to use the rolls of custom wall decals all over the house as wallpaper.
Bedroom Wall Decals for Different Age Groups
Bedroom wall art decals are made of a high-quality material. This product can feature a range of modern designs to suit the tastes of different age groups. Make the most of this product and find the right bedroom vinyl wall decals to please your loved ones.
Bedroom Vinyl Wall Decals for Young Couples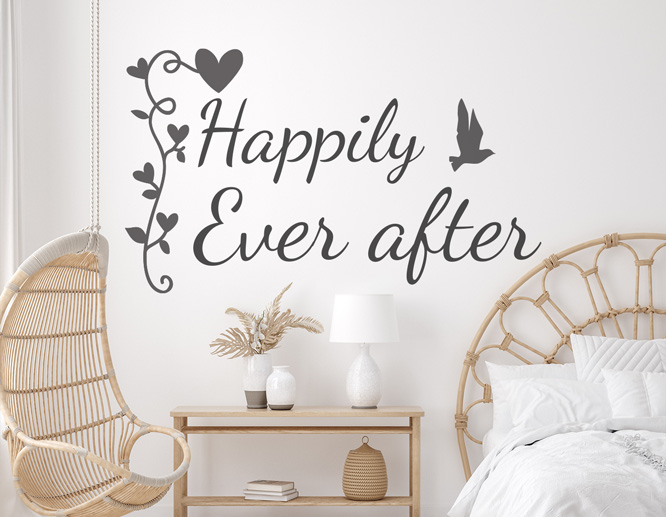 Do you want to surprise your other half? Head over to our website and let our team of experts create romantic bedroom vinyl wall decals for the walls. Charm your sweetheart with enchanting vinyl lettering solutions. For example, design a piece of writing that reads "Happily Ever After" along with a number of wedding photos using the sign design tool.
You can cheer up your significant other with fun expressions in combination with charming bedroom wall graphics. As soon as you've selected your favorite wedding photos, you can restyle them into cool master bedroom wall decals. Add your names or a few nice quotations as an extra touch and you're all set.
Bedroom Wall Decals for Adults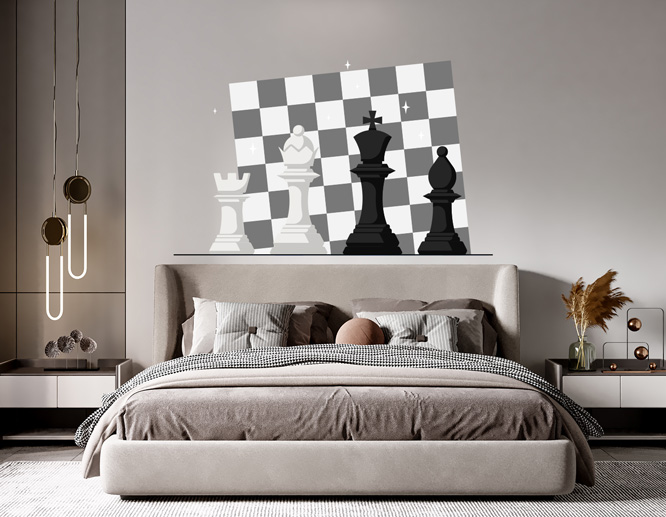 Taste changes with age, no question about it. Grown-ups are unlikely to have the same preferences as youngsters. This is why the decorative elements you like will develop as you age. Adults will probably avoid elements with teenage themes and interests. Still, they certainly take pleasure in an extensive range of other activities. Fun and motivational quotes, cooking elements, open book designs, chess board graphics, basketball illustrations, map outlines and parachute images in addition to natural scenes and much more can be of interest to them. Bring any of these creative ideas to life with master bedroom wall decals.
Bedroom Wall Decal Ideas for Teenagers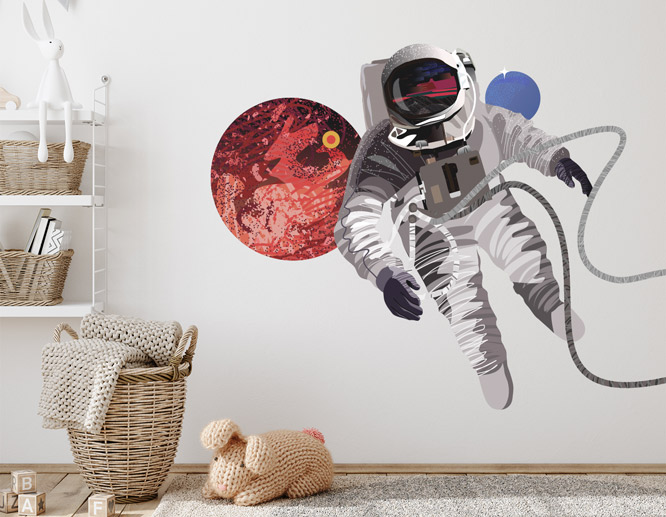 Most teenagers are fond of different sports. They're also obsessed with various movie stars, singers, football players, athletes in general and so on. If your child likes football, bedroom wall decal ideas with a goal or football outline are sure to impress them. Other options of custom bedroom wall decals can include educational themes, such as maps, space shuttles and the periodic table to name but a few. Feel free to make use of love-themed, pet-themed and nature-themed options. In addition, inspirational or fun quotes are always trendy. While decorating your child's bedroom, you may also wish to consider gender-specific preferences.
Bedroom Wall Decals for the Nursery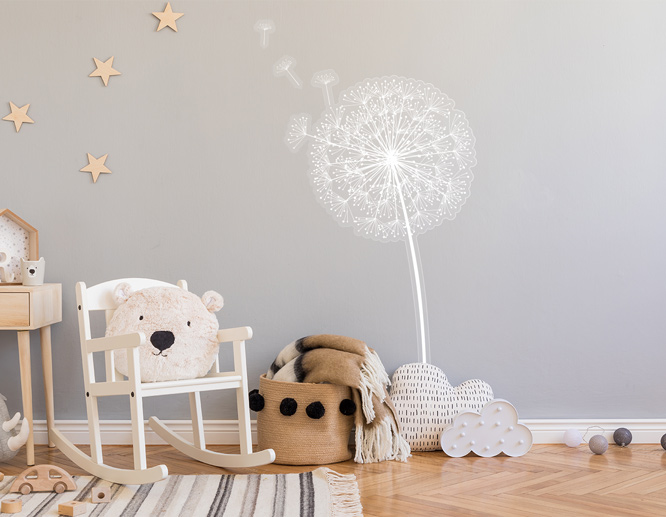 For children, you can choose bedroom wall decal ideas with fairytale or cartoon characters. What about sticking an image of Spiderman or Princesses Elsa and Anna from Frozen? Include white dandelions, cute pandas and koalas or a starlit sky for a natural look. Nursery wall decals with colorful balloons or wall decal sayings for bedroom decoration will amuse your children and family. 
Wall Sayings for Bedroom Embellishment
If you want to motivate or cheer up your little ones, installing wall sayings for bedroom seasoning is the right path to follow. For example, you can include the words from their favorite lullabies. You can also combine these wall decal sayings for bedroom decor with plain graphics or photographic bedroom vinyl wall decals. This way you'll make use of the full range of options that Square Signs offers. Otherwise, you can go for acrylic photo prints or gator board signs to display HD graphics at a reasonable cost.
Plain Wall Decal Sayings for Bedroom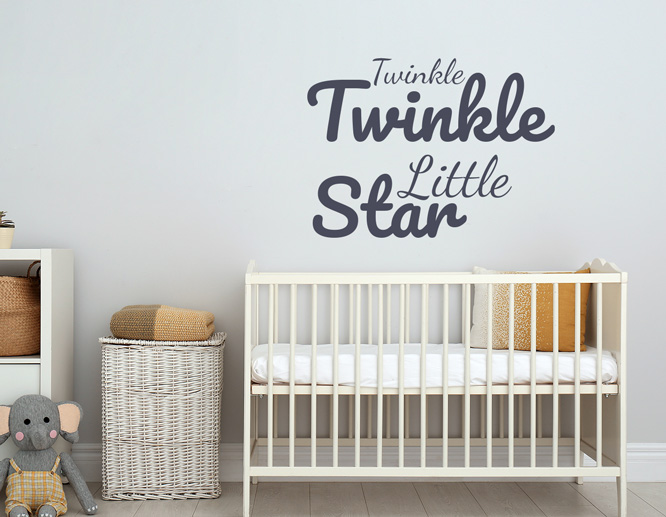 Pick your baby's favorite lullaby and design captivating letter solutions with its lyrics. Wall sayings for bedroom decor will lift spirits and add a touch of magic to your little one's world.
Bedroom Wall Decal Sayings With Graphics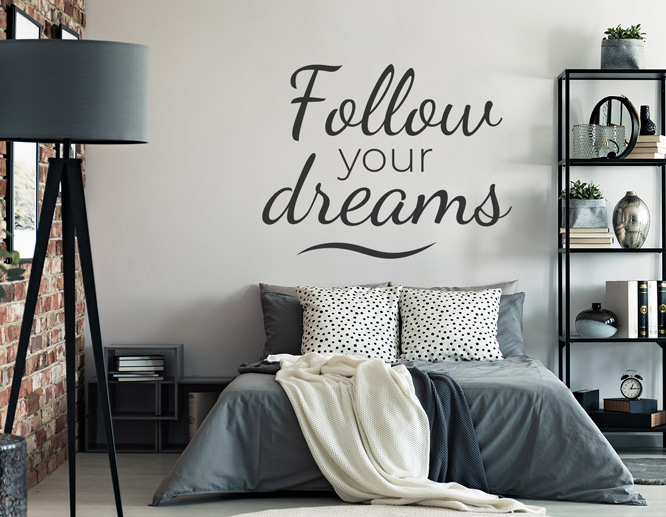 Combine texts with graphics to ensure an artistic look. Pick your best wall decals for bedroom decor from our decoration sign templates and customize them to your liking.
Apart from flat and sticky bedroom vinyl wall art solutions, you can also write your quotes on larger products. These may include lightweight items made of foam and paper such as foam board printing. This product also has a self-adhesive variant which is intended for temporary interior use and will leave no residue once removed.
Photographic Solutions With Quotes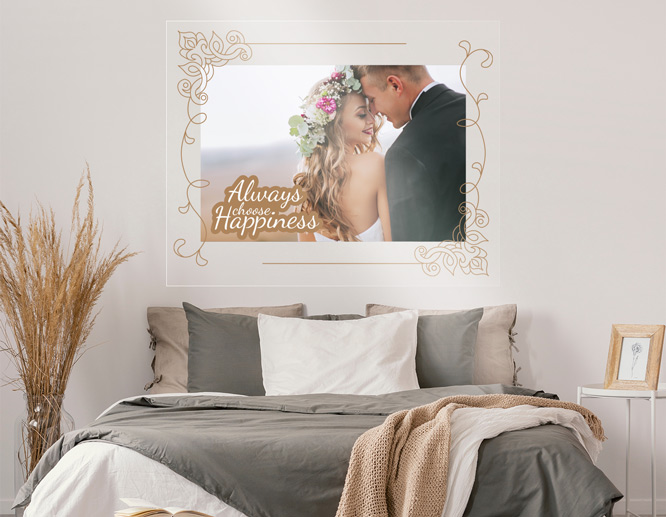 Sticky photo illustrations are perfect and let you relive your memories while adding a personalized touch. Just upload your favorite photos or collages to our platform, save them and our team will take care of printing your product. Enhance your photos with motivating wall sayings for bedroom decor that's out of this world.
Photographic solutions are not limited to adhesive media. There are other options which  include metal photo prints for example. This is a product made of sustainable and corrosion-resistant aluminum. Aluminium signs will also help you to elevate the appeal of your bedroom designs.
Samples of Bedroom Vinyl Wall Art
Have you already chosen sample bedroom wall decal solutions? You can find a few models to consider below. Are you fond of artistic elements? Make sure to remember our non-adhesive cute canvas ideas to elevate the aesthetic.
1. "Little Prince" Illustrations for the Nursery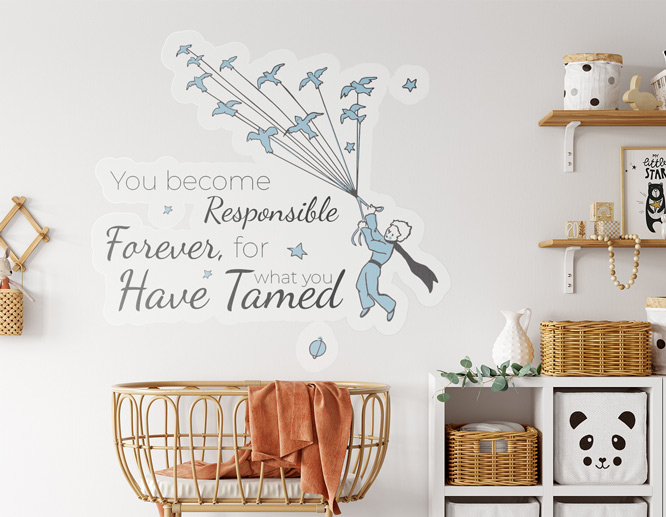 You can adorn your kids' nursery with their beloved fairy tale characters. It could be illustrations from Antoine de Saint Exupery's "Little Prince" and the words of the fox. You should recall those words: "You become responsible, forever, for what you have tamed." Or you can customize sign templates to include other insightful and thought-provoking quotes from the tale.
2. Fun Wall Sayings for Bedroom Embellishment for Couples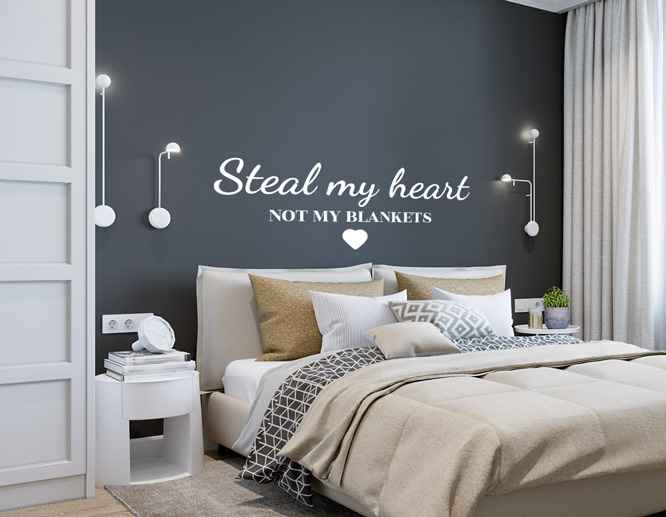 Wish to cheer up your better half? Let your creativity loose and have fun with humorous expressions that are sure to lift their spirits. For instance, a joke like "Steal my heart, not my blankets" is sure to put a smile on the face of your beloved.
3. Phrases That Arouse Warm Feelings in Adults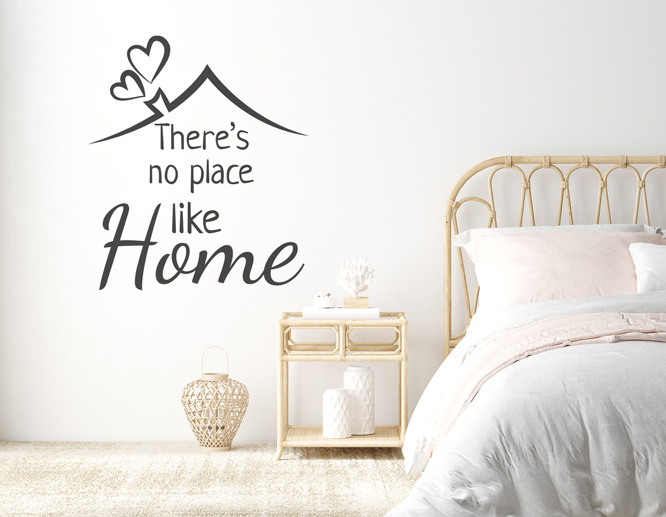 There is much difference between the preferences of adults compared to those of the young. Think of expressions which will evoke warm feelings. The phrase "There is no place like home" will immediately create a mood of serenity in the room. Combine this idea with acrylic signs with photos that bring back pleasant memories and the bedroom will become your favorite corner of the house.
4. Sticky Graphics for Teenagers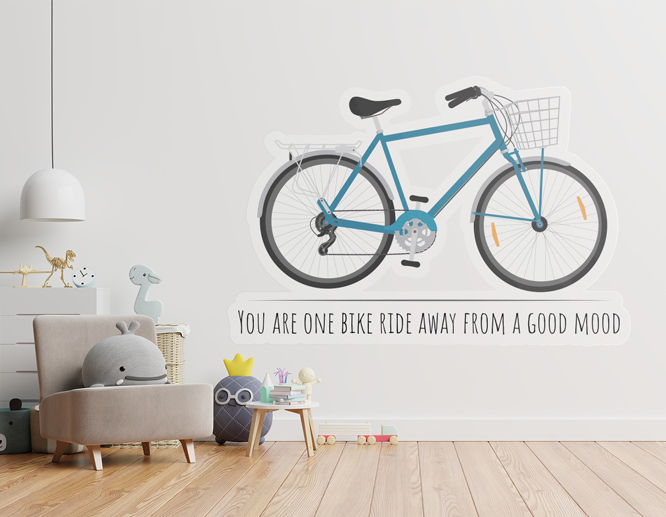 As mentioned above, teenagers are fans of world-famous sportsmen, movie stars, singers and other celebrities. Getting images of football players printed onto the walls of their bedrooms will definitely make your kids happy. For example, you can portray a bicycle outline onto your kid's bedroom walls. You can also think of relatable expressions about bicycle rides and appreciating a trip in nature. Well, it could run this way: "You are one bike ride away from a good mood." Even more so, you could help your teenage kids create their own inspirational phrases. To put it simply, find your kid's passion and let it shine through.
5. A Mix of Various Motivational Sayings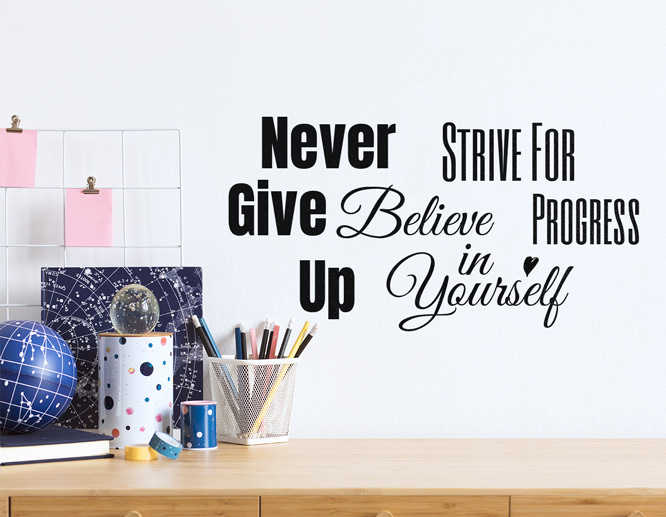 What if you had something written in your bedroom motivating you to live your best life? Sayings printed on a single sticky product or displayed on PVC printing can add an appealing touch. Combine your favorite expressions with jokes. Add fun graphics to complement the looks. Indeed, laughing will boost serotonin in your brain and is likely to ensure you are in a good mood for the rest of the day.
To Wrap It Up

Looking to spruce up the large bedrooms in your house with master bedroom wall decals? Or do you want to elevate the aesthetics of the nursery with vibrant custom bedroom wall decals? If so, you're in the right place. In this blog, you can find exquisite ideas for bedroom decoration for various age groups. Showcase different types of sayings - both plain and graphical. In addition, text-based photography is also available for a more personalized look. You can upload your collages to the platform and turn them into sticky decor products to adorn the bedroom. Besides the sticker options, you can also make use of large artistic mediums such as custom canvas prints. Whichever option you choose, it'll spruce up your bedroom. This'll ensure that you wake up every morning with a smile on your face.