Add an appealing flair to your house and office using trendy peel and stick wall decals. These mediums which are available in various styles will aid you in taking your interior decor to new heights.
Elevate your interior by incorporating sign printing into the setting design. Whether it's custom signs with abstract art designs or motivational quote depictions, they'll add an air of sophistication.
Large Peel And Stick Wall Decals for Offices
Working spaces need a thoughtful approach when updating the decor. Set up an interior that has a positive effect on the atmosphere using visually appealing decor elements.
Peel And Stick Wall Decal Options for Lobby
Your lobby design will look professional with mind-blowing wall decals which you can use to welcome clients. Make a great first impression with the large peel and stick wall decals listed below.
1. Geometric Modern Art Decor
Set up a stimulating environment for employees, clients and visitors alike. Incorporate wall art decals illustrating geometric forms into your office lobby design. Straight lines and right angles will make for a professional-looking statement wall.
Take a look at our window decals to find exterior decorative items for your office.
2. Company Name Wall Decor
Highlight branded peel and stick letters for walls in the lobby to build trust between you and your clients. Custom wall lettering spelling out your company name grabs the attention of anyone entering the room. Use brand colors and fonts to keep the design consistent.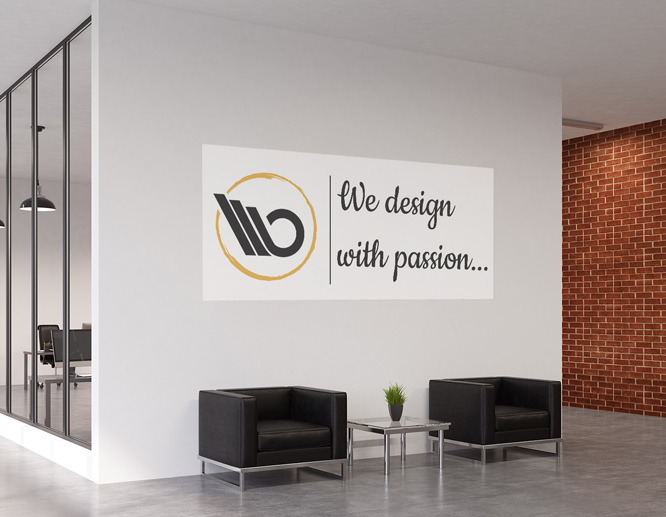 Peel And Stick Wall Decal Solutions for the Workspace
The tone your office walls communicate directly impacts your staff's attitude and efficiency. Choose these wall adornments to develop an inspirational office.
3. Motivational Quote Decor Item
A few motivational wall quotes go a long way to refresh the office. These office wall decals will emit positive vibes. Print slogans related to your company motto and let the walls speak volumes about your culture.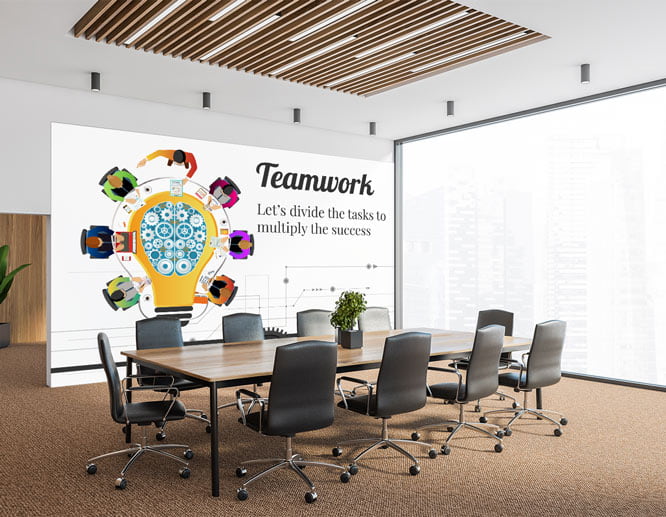 Observe our office window decals to find complementary decorations for office glass doors and windows.
4. Nature-Inspired Decor Items with Birds
Usher nature into the workplace. This keeps your employees fresh. Colorful, energetic hummingbird pictures can look stunning on the wall. Showcasing the most active bird as decor will send everyone a positive message.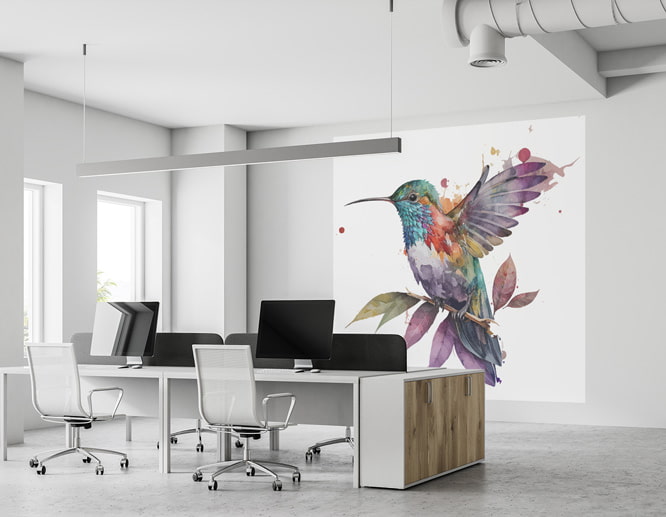 Peel and Stick Wall Decal Options for the Break Room
Design the break room so that your employees relax and recharge during their break. Include themed decorative elements to energize the space.
5. Basketball Court Wall Embellishments
Take the concept of the sports-inspired designs further with this idea. Basketball court illustrations on the wall can set an engaging atmosphere. A full-size illustration of a hoop will create a playful vibe inside.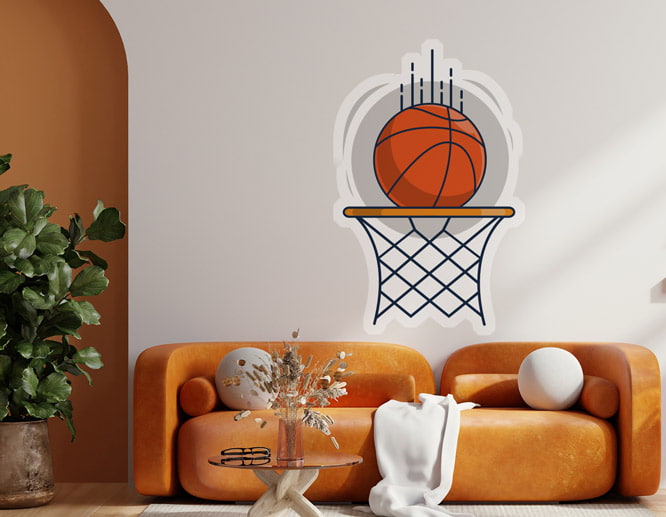 6. Coffee-themed Illustration
Invite your staff for free snacks with appealing wall decor elements. A coffee mug with steam rising from it will designate the sweet office corner. It's a lovely alternative to a giant mural which coffee-lovers will adore.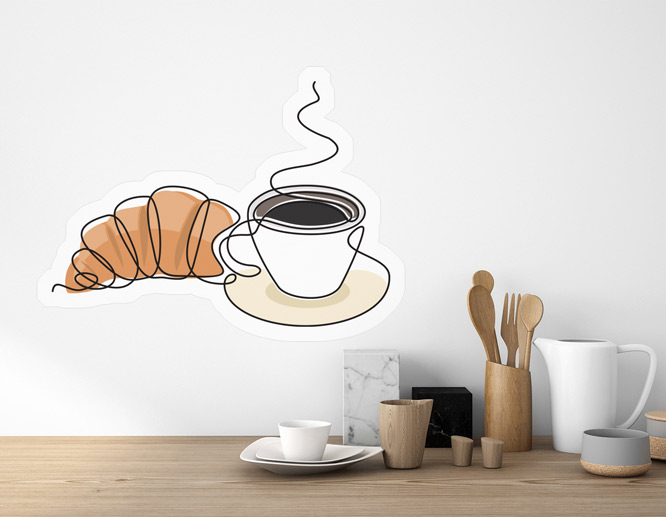 Explore our blog on peel and stick wall art for other office design ideas. 
Peel and Stick Wall Decals for Home Design
Make your house cozier by redesigning the walls. Regardless if you like a modern or classic style better, adding elements to the interior scheme will enhance the overall ambiance. Read further and explore different alternatives to give you the desired effect.
Peel and Stick Wall Decals for Living Room
Establish an inviting mood in your living room by giving the walls a smooth finish. Use our sign design tool to get personalized decor elements.
7. Butterfly Graphics
Spruce up your sitting room by using eye-catching wall decorations. Instead of leaving your walls blank and dull, get a peel and stick wall decal illustrating a large detailed butterfly. Attach it over your sofa or fireplace to breathe color into the setting and create an eye-catching feature wall.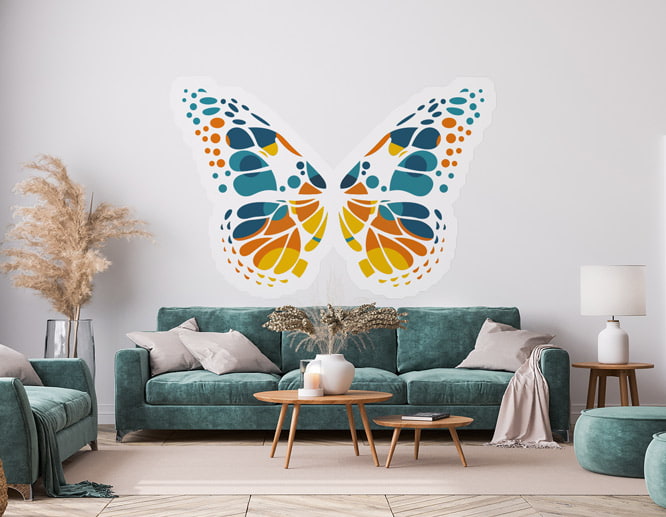 Explore our tailor-made sign templates to find more easy-to-use designs.
8. Floral Pattern
Add an air of sophistication to the room by incorporating flowers into the scheme. The pattern never falls out of trend and brings nature inside. Apply this decorative concept with oversized flower illustrations and create an appealing focal point.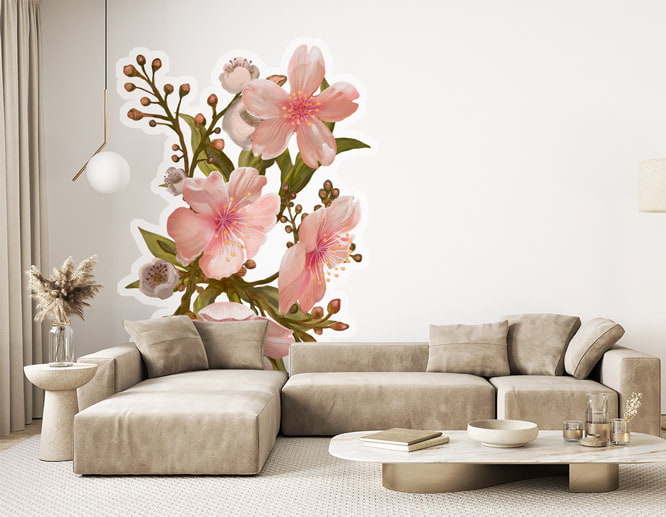 Peel And Stick Wall Decals for Bedroom
Choosing wall-mounted decor for the bedroom can be daunting. Create a laid-back, stylish setting using the following design options.
9. Constellation Wall Decor Item
Set up a stylish bedroom without stuffing it with decorations. Highlight an illustration of different constellations on the large wall over your bed. Shiny stars on a black background will have a dramatic effect on the space, enhancing the overall room design.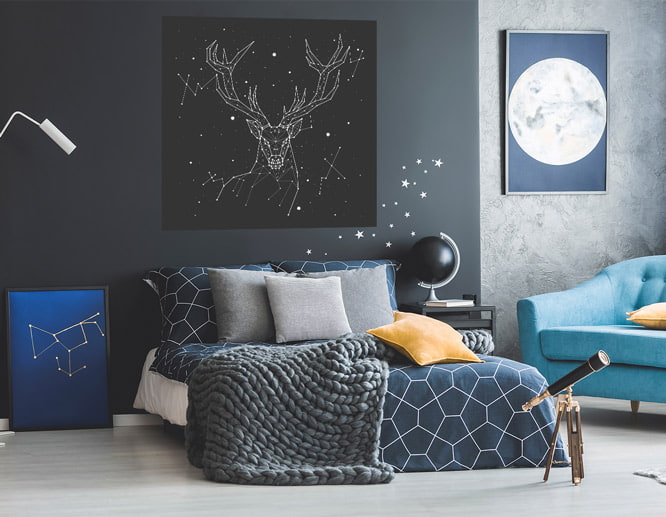 10. Bohemian Arch Silhouettes
If you appreciate neutral colors and a carefree style, go for a boho-inspired design. Create a relaxed feel in the bedroom showcasing arch silhouettes in warm colors on the walls. Opt for natural hues to excel with an interesting bohemian style.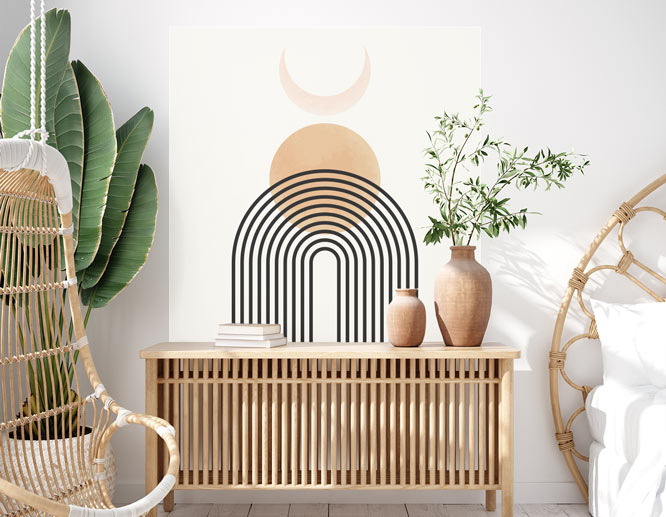 Peel And Stick Wall Decals for Kitchen
Set up a comfortable area in the kitchen through simple shapes and intricate designs. Give it a personalized finish with the large peel and stick wall decals presented below.
11. Fruit-Themed Wall Decoration
Turn the kitchen into a welcoming space with colorful decor items. Adorn the walls with patterns of yellow lemons to set up warm accents. These kitchen peel and stick wall decals will enliven the setting.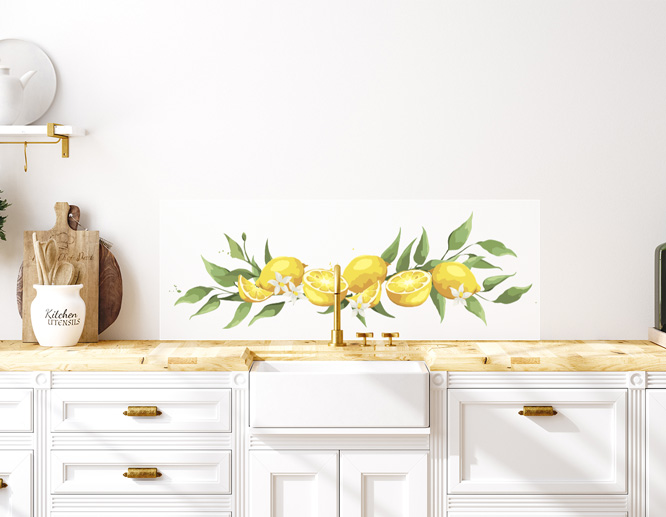 Explore our home window decals to also give your windows an extra appeal.
12. Motivational Kitchen Slogan
Cooking in an inspiring setting can render your culinary experience more enjoyable. Display peel and stick letters for walls as motivation and bring out the best chef in you. Try monochrome vinyl lettering or color combinations to identify the best match.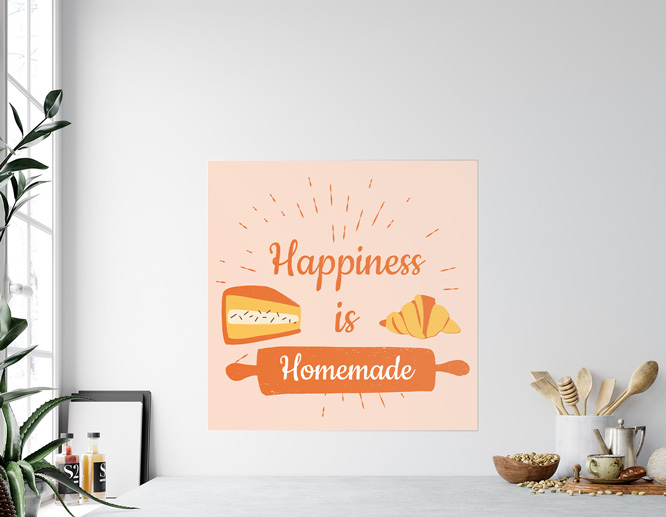 Peel And Stick Decals for Bathroom Walls
These decorative elements hold up well against heat and humidity. They're often applied as decorative items in the bathroom.
13. Funny Peel and Stick Letters for Walls
Have you ever thought of adding some humorous texts in the bathroom? Write something witty on the empty walls. Apply funny peel and stick letters for walls to keep yourself entertained. A message reading "the best seat in the house" will turn your bathroom design a tad more playful.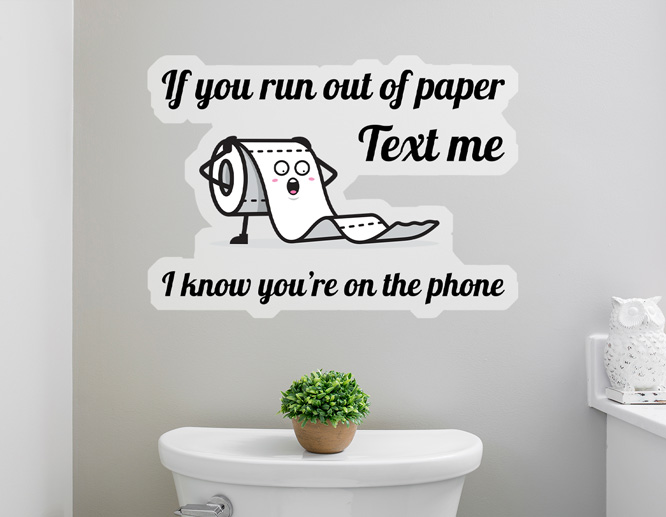 Check out similar concepts for crazy and funny wall decals to share positive vibes around the house.
14. Ocean-Themed Peel and Stick Wall Decal
Do you long for coastal scenery? Your bathroom will feel different if you use some bathroom peel and stick wall decals. Marine life illustrations in different shades and hues of blue will style up and freshen up the bathroom.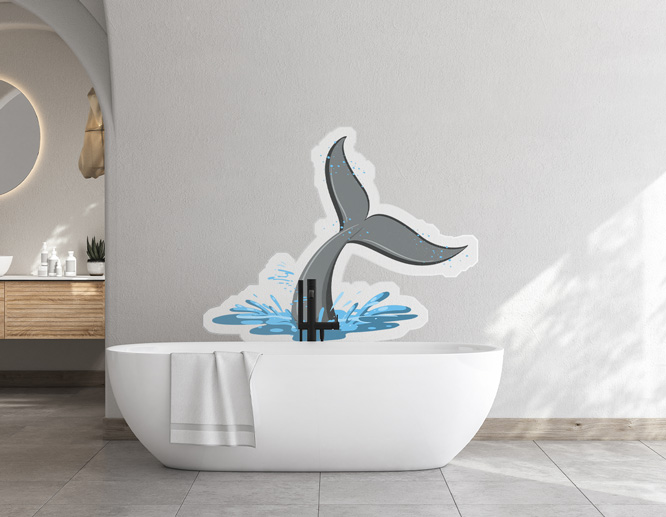 Read our blog about different wall art ideas to find complementing elements.
Nursery Peel And Stick Wall Decals
Nursery room concepts nowadays offer a wider margin for creativity. Give the space a pleasant, unique touch by implementing these trendy solutions.
15. Dinosaur Pattern 
Going with only blue or pink paint is in the past. Now you can embellish the walls with different themes, including Disney characters or wildlife. If you want a fun room design, opt for dinos. Decorate the walls with colorful dinosaur illustrations to liven up the space.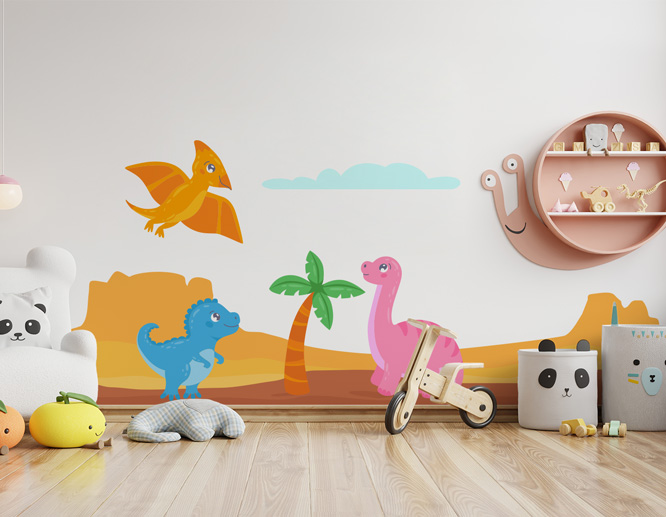 16. Tree Growth Chart Wall Item
Children grow really fast. Having a growth chart right on the wall is a fun and engaging element every nursery needs. This tree-shaped chart in warm hues will suit all tastes and environments.