Christmas is almost here… But wait! You still have time to add a final touch of magic with festive decorations. We'll give you lots to work with in today's collection. The focus will be on Christmas banners to decorate your porch, yard and elsewhere. Read on for the best Christmas banner ideas and get the most out of this charming celebration!  
A Christmas banner is the perfect thing to embolden your holiday decor. We'll cover everything from fabric banners to vinyl decorations in creative styles. At the end, you'll also find steps for how to realize your most imaginative Christmas banner ideas with our online design tool.
Indoor & Outdoor Christmas Banners for Decoration
Decorative Christmas items are a great addition to interior and exterior arrangements. Customize them with seasonal images and give your visitors a warm welcome. Use Christmas banner ideas to embellish celebrations with oversized cheer. Remember to include blessings on your Christmas decorations for added charm.
Welcoming Christmas Porch Banners



Use your porch area to greet guests with eye-catching Christmas porch banners. Vinyl banners are ideal for exterior application as they're weather resistant and come in custom sizes. Choose one with vibrant graphics to suit the spirit of the season. Show off your flair with these Christmas porch banners and spread the fun to your neighbors. We have a great variety of designs you can choose from according to your taste. 
Yard Fence Merry Christmas Banners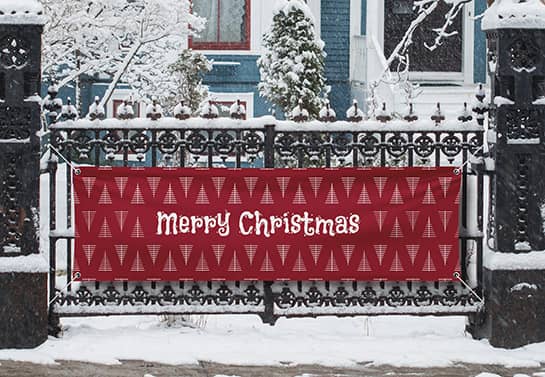 Wish everyone happy holidays with outdoor Christmas banners for your fence. Express a festive message with big decorations. To hang your decor, order it with pole pockets from our website. You can use any type of pillar or rope for outdoor Christmas banners to match your style and requirements.
Design unique Christmas decor for all types of events with our design tool and modifiable templates!
'Home Sweet Home' Christmas Door Banners

Outdoor Christmas banners are perfect for setting a festive tone in and around your home. There are endless opportunities to decorate your premise for the coming merriment. ''Home Sweet Home'' displays create a warm mood for happy celebrations. Use them indoors to add to the cosy feeling of family gatherings that's hard to replicate any other time of year. 
Christmas Party Banners for Happy Celebrations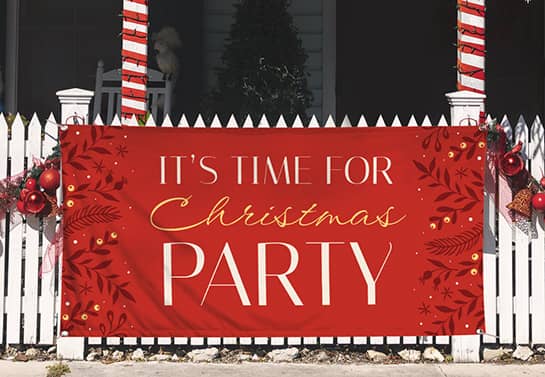 Many people like to refer to the time around Christmas as a 'party season.' While many attendees focus on meals and beverages, the festivities are more than that. Decorations play a great role in distinguishing these holiday celebrations. Unique Christmas adornments are a wonderful addition to create the right atmosphere, and we have them in hundreds of custom sizes and styles. 
General Holiday Christmas Banners

Classic holiday-themed accessories have tons of use. Still, some people prefer solutions with a more neutral message. Step and repeat banners are ideal for portraying ideas the way you like them. Apply inspiring words and images that stand apart from the typical Christmas colors and symbolism. Cheer up anyone who passes by with uplifting quotes and creative graphics. Believe me, these will instill joy even in the Grinch himself!
We have a huge variety of Christmas backdrops you can use to create photo corners. 
Personalized Christmas Party Banners

According to Pew Research Center, nine out of ten people will celebrate Christmas in the United States. Why not customize this season's greetings with personalized Christmas banners? Amplify the Christmas cheer by printing huge photos of everyone in the family or even neighborhood for that matter. They may be set indoors or outdoors for the big party. Want a custom solution for your Christmas party banner design? Just let us know, we've got you covered!  
Find more Christmas Signs Collection for a joyous celebration. 
Christmas Parade Banners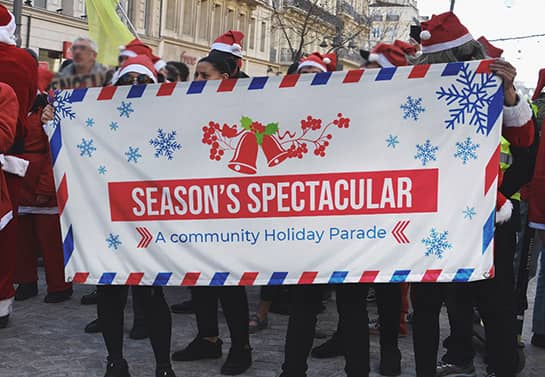 For Christmas parade banner ideas, consider something grand. Use the UV-printed decorations for optimal exposure. The print will maintain its outstanding colors and form regardless of where it's displayed. We use fade-resistant inks to provide Christmas party banner design prints that will last for years to come. Also, check out the endless options we offer for customizing your Christmas parade banner ideas on our online platform.   
Design your custom Christmas banner with our design tool. You'll find a wide variety of ready-made templates to ease the whole process!
Christmas Banner Ideas for Various Industries
This medium offers versatile decorations for every industry. The customizable solutions are ideal for homes, offices, places of worship and beyond. Here are a few more Christmas banner ideas you'll definitely love! 
Christmas Banners for Churches

According to an antique list of Roman bishops, writing for the year 336 AD notes that Christ was born on December 25th in Bethlehem, Judea. With Christmas banners for church, you'll remind people of the essence of the holiday: the birth of Jesus. Use X-stand banners that are perfect for temporary use. Write phrases like "Saviour is born" or "Glory to the God in Christ" to give praise to the King. Whether used inside or outside, these nativity banners are a lovely way to proclaim the message of this special day.
Christmas Banners for Stores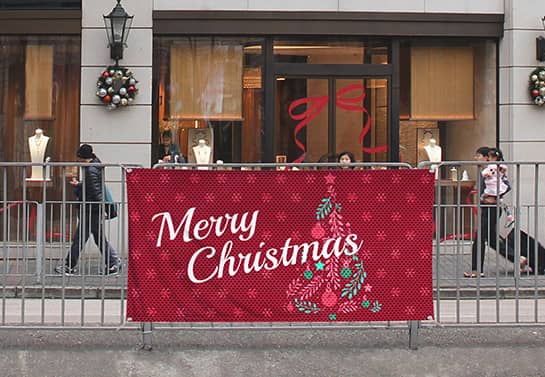 Every year, a large number of businesses hold sales around the holidays. Christmas sale banners are essential for drawing people in for the offers. If you're looking for durable solutions used outdoors, mesh banners could be a perfect choice.  Outdoor Christmas banners are especially effective for flash sales or special discounts. They'll inform people that your place is open late for business or anything else you wish to convey. We offer an extensive range of other products great for promoting specials and discounts. For instance, sturdy sandwich boards or corrugated plastic signs can be used to spread the word!  
Check out our designer Christmas sign templates. They're free to use and can be fully customized to match your specific needs.
Christmas Banners for Schools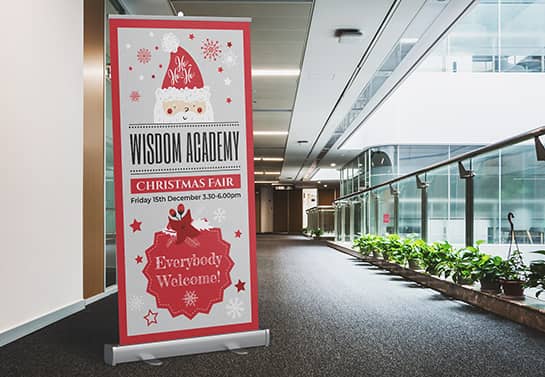 Everybody loves Christmas - especially those who are going on a long vacation for the holiday. Promote your Christmas school party with holiday-themed retractable banners just like in this pic. They can provide all the necessary information about the event, like the date and time. Ideal for exterior as well as interior use, these Christmas decorations will do a great job of creating a thematic design.
Discover Office Holiday Decorating Ideas to rock the party at your school or office. 
DIY Christmas Banners For Custom Use With Square Signs
Create a unique Christmas design by using our sign design tool. Here are simple instructions to make your custom Christmas banners within minutes: 
1. Look through our custom signs online to select one of our products for your Christmas decoration items. Select 'Products' from the left-hand menu bar of the design tool and pick the one you want.
2. Define the size and other applicable features of the product. Specify the printing and cutting options, as well as accessories and beyond.
3. Choose from a variety of free templates or create one from scratch. Use our ready-made elements and backgrounds to modify the design or upload your own that's ready to go.
4. When you're through with the design, continue on to the checkout page to order your product and get it shipped the next day. 
Watch this tutorial for more detailed information.
Happy ho-ho-holiday season!