Workplace safety should always be a high priority. Both guests and employees should be aware of and maintain certain safety protocols. These measures ensure a harmless work environment and a low-risk set of practices for everyone. Here are some workplace safety tips that should be followed. I'll also speak about the types of health and safety signs that can help your staff get informed.
Safety Tips for Work
Regardless of whether you run a construction business or an IT company, there are safety measures that must be followed. From developing safety protocols to raising awareness, here are some helpful tips.
Tip 1. Develop and Maintain Safety Protocols
The first step is identifying the health risks related to your business type. They will be different from business to business.After identifying the risks, go ahead and develop safety protocols for all possible hazards.
Your employees should contribute to this process as they may be aware of risks you haven't dealt with first-hand. This will also help maintain those precautions for future staff. You should also take into consideration the measures advised by the US Occupational Safety and Health Administration. They are frequently updated to account for current events and new risk factors in the country and around the world.
Tip 2. Raise Awareness with These Workplace Safety Awareness Suggestions
Even the best safety protocol won't work if your colleagues are not aware of them and are therefore unable to perform them. This is why raising awareness of the risks and dangers associated with the work is vital. Here are some workplace safety awareness tips to follow.
Use These 5 Types of Safety Signs
The installation of safety signs is one of the most effective safety tips for work. They help spread health and safety messages in a workplace.
PVC signs are familiar general safety signs in the workplace. They are lightweight, waterproof, and durable. You can mount this type of safety sign on the wall with multiple options depending on your location and needs. Both sides of the material are printable, in case you need to convey different messages at different times. You can also use custom acrylic signs as an alternative.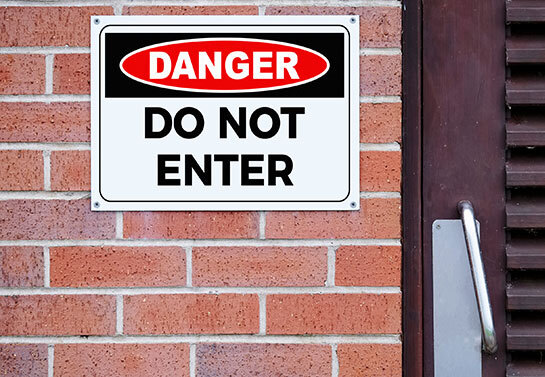 Decals are one of the most widely used types of safety signs in the workplace. There are three options that are best suited for a business environment. All of them are easy to attach and don't damage or stain surfaces when removed.
Wall decals are convenient both for small hazard labels and big informational ones. You need to choose the right place for your decal. The lobby walls or the one nearest to the entrance is a good choice for a general informational message.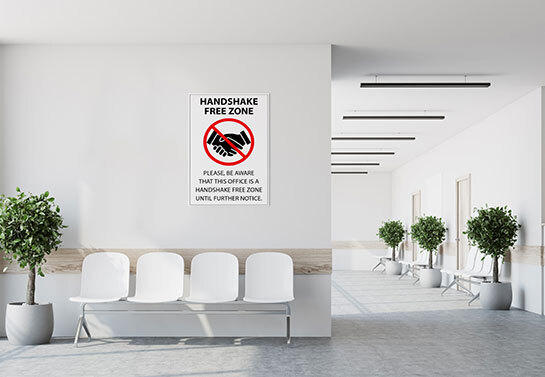 Window decals  are perfect in case you need the signs to adhere to glass surfaces. With this in mind, a directional or informational type of sign like the one in this example is a great choice.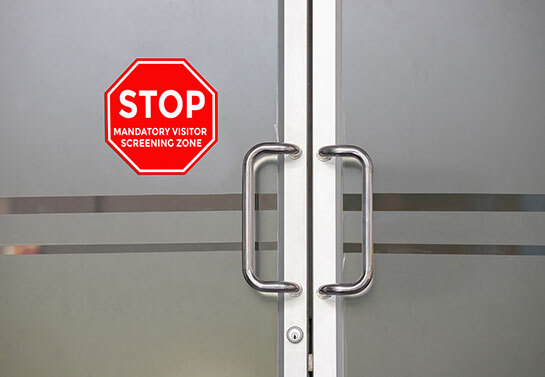 Floor decals have a broad-range of uses as well. They are especially comfortable for directing your employees or customers to emergency exits as they may need to crawl in the case of smoke or other such hazards.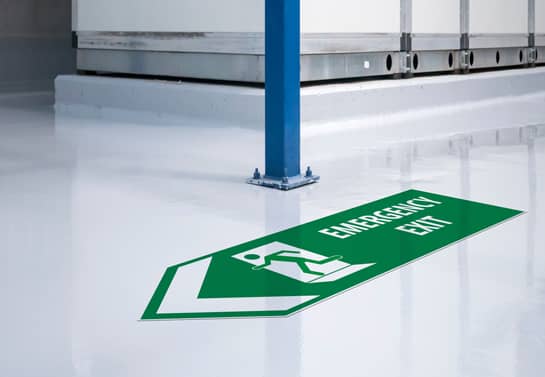 Banners are common safety signs in the workplace as well. They can be easily carried and don't take a lot of space. Still, they grab attention and are great for temporary hazards like pandemics. Out of an extensive array of banner signage options, here are the two that are most convenient to spread health and safety messages in the workplace.
Roll-up banners can help you display safety messages of any type. These stand-alone retractable banners are convenient for entrances and lobbies. They'll help you capture the attention of your team and customers regarding important safety related issues.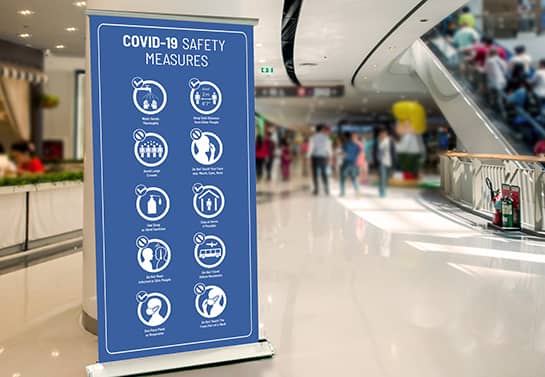 Likewise used for temporary purposes, the X-stand banner type is another stand-alone option to raise awareness with safety messages.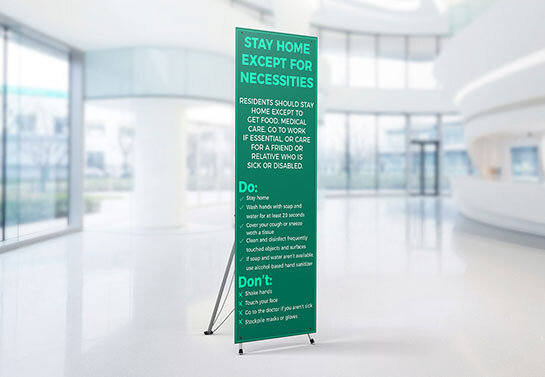 There are many types of safety sign boards. Sandwich board signs are great when it comes to spreading safety messages. They're lightweight and easy to transport when needed. Both sides of the sign are printable, so you can have two messages displayed at the same time.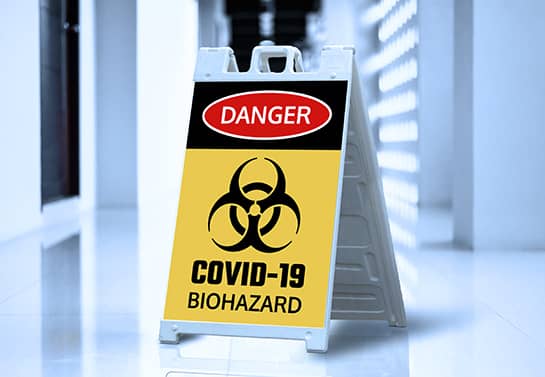 Custom aluminum signs are perfect for conveying safety messages with short words or icons. Mounted to the wall, they can also be used for longer messages. The material allows both indoor and outdoor application. Corrugated plastic signs are excellent affordable solutions to spread information both inside and outside. You can either go for a free-standing option or get it mounted it on the wall.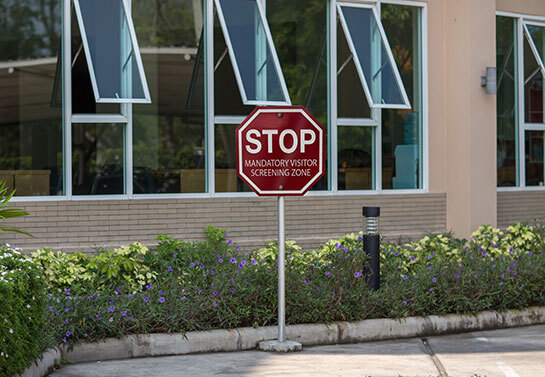 If you are looking for safety signage solutions particularly for the COVID-19 pandemic, here are 10 Safety Signs for How to Prevent Coronavirus. You can also take a look at our free safety sign templates and customize them to convey the needed health and safety messages in the workplace.
Ensure Safety Education
Sometimes additional education on safety measures is required. This is especially vital when new risks like pandemics come around. Your employees should always be on top of new precautions needed to be taken.
Educate Newcomers Upfront
New team members may not be aware of the safety rules and regulations. Make sure to educate them even before starting the job. You may also ask your employees to share their experiences with them concerning safety. This is especially important when they have to work with special equipment or in a hazardous environment.
Tip 3. Create a Safe Environment and Provide Necessary Equipment
As an employer, you are responsible for ensuring a safe environment for your employees. You should also provide all the necessary personal protective equipment unless there are other regulations in your contracts. PPE includes, but is not limited to, face masks, gowns, and face shields.
This is also true for office workers, even if their environment is considered safe. Your office chairs and desks should accommodate appropriate needs. Make sure to take into account that some of your employees may have disabilities. Furthermore, open power lines, impassable exits, and other hazards should be avoided as much as possible to ensure a safe workplace for you and your team.
Tip 4. Respond to Safety Issues Fast
When your employees let you know about certain health hazards you were not aware of or didn't expect, make sure you respond ASAP. Raise awareness about this certain issue among your employees. Change your safety protocols and procedures accordingly. It will help you avoid repeating incidents.
In case there are pandemics like COVID-19 and your business remains operational, educate your employees. Create a safe work environment according to the guidelines provided by the World Health Organization or government sources.
Follow these safety tips to ensure a safe environment for your workforce. Design custom safety signs to relay safety precaution messages around your enterprise.