The day for honoring our veterans is approaching. People who've sacrificed so much for us and our country deserve our love and appreciation.
If you haven't got a clue as to what kind of Veterans Day gift ideas to go with for the heros in your life, this article will come in handy. We know that finding the right gift can be quite tricky. So, why not think outside the box for your veterans this year. 
Let's have a look at the gift ideas for veterans we've picked out for you. Choose the one that shows what a special place this person has in your heart.
To make your task easier, here's a hint. The first part of this article covers patriotic gifts for veterans. The second one lists sweet and thoughtful Veterans Day thank you gift ideas.
Patriotic gifts for veterans
Check out the patriotic gifts for veterans below to find something relevant, fun and exclusive.
Idea 1. Choose patriotic gifts for veterans that are both practical and fun
Looking for something that's useful and evokes positive feelings at once? Surprise your veteran with a patriotic car decal that'll declare the hero of our times. People who drive a lot will especially love it. Have a look at our Veterans Day sign templates to get inspired for your own designs!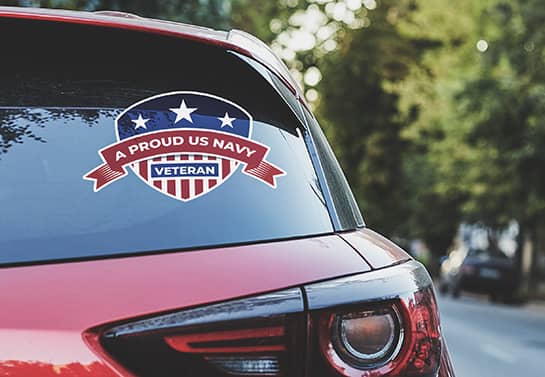 Idea 2. Get something special to express your unconditional love
What could be a constant reminder of your love? A canvas print of the photo you took upon your veteran's return home will be a heartwarming gift for the occasion. Whether it's for your spouse or a friend, this gift will create an affectionate nook in their home. They can also hang it at the office as a reminder of your love while they're away at work.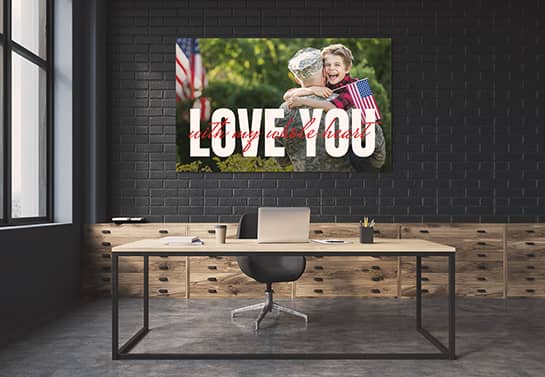 Get more Veterans Day signs for different purposes and locations.
Idea 3. Show who your real-life hero is
Are you looking for Veterans day appreciation gift ideas? Here's one! Think of the holiday as a perfect time to show off your role model. Inspire your patriot with one of the most thoughtful gift ideas for Veterans Day. Order a wooden sign with your favorite motivational quote on it. You can get even more creative with a double-sided sign. This way, you can add a personal note on the back part.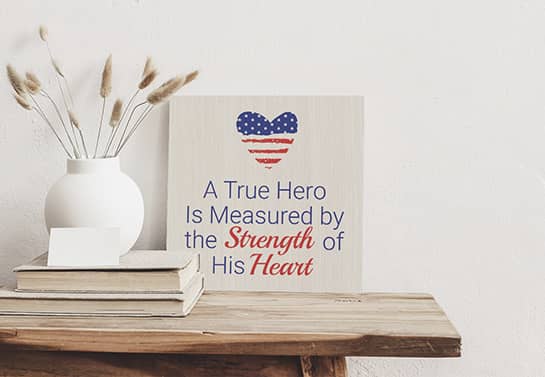 Idea 4. Get festive with small details
Be creative with magnetic signs. Get a magnetic license plate frame decorated with the U.S. flag colors, stars and stripes or a special inscription. Sounds cool, right!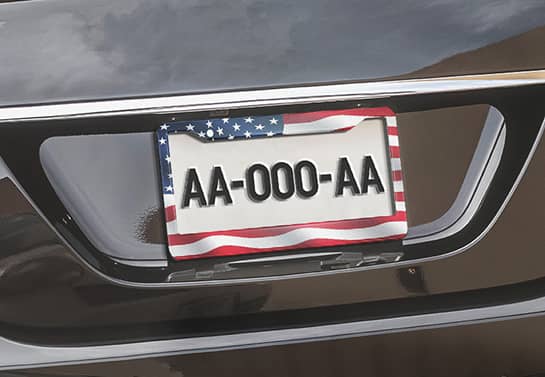 Are you aware that the holiday honoring veterans was renamed Veterans Day in 1954? Since then, the day is in honor of all veterans though originally it marked the end of World War I.
Veterans Day thank you gift ideas
Away from the military, it's time for our veterans to know how thankful we are for their service. The question is - how? The Veterans Day gift ideas coming up will inspire you to create a reverent environment for your favorite patriot. Your thoughtful gesture will be the reason for the sparkle in their eyes.
Idea 5. Share your warmth with Veterans Day thank you gift ideas 
Acrylic Signs can make for cute Veterans Day gifts. Choose the most endearing photo of you together. Order tabletop acrylic photo prints of it and you'll have a moving accessory for any surface. Feel free to use our intuitive design tool and ready-made templates to get artsy.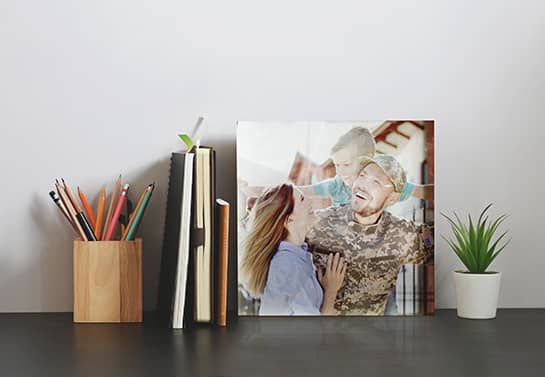 Idea 6. Pick Veterans Day gift ideas that combine relevance with class
Decorate their room or office with a gatorboard sign or foam board printing featuring his favorite motto or phrase. Give your attention to details and see how much it'll be appreciated. Order the prints with pre-drilled holes for easy installation or an outline cut to serve as elegant decor.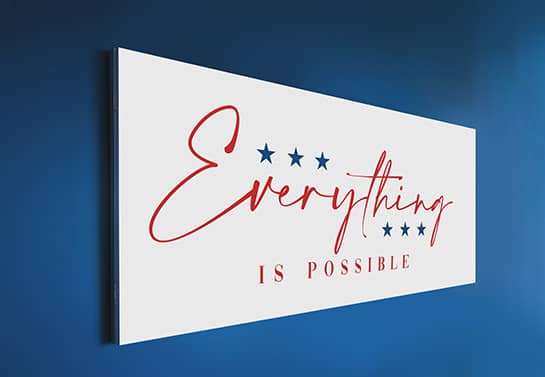 Idea 7. Make the day count with a special evening party 
Veterans Day thank you gift ideas are the most difficult of all to think of. A themed surprise party can be the perfect alternative. After all, nothing compares to time shared with family and friends. To create a festive mood, order a vinyl banner with "We're Blessed to Have You in Our Lives" or whatever message you like printed onto it. Let the sentiment of gratitude start right at your doorstep. 
Check out 35 Traditional 4th of July Decoration Ideas for a Big Celebration to get more decoration ideas.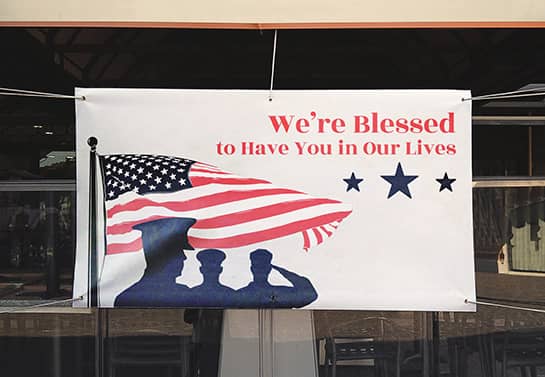 Idea 8. Give your veteran their own personalized parking spot 
Want to present something creative and useful? Check out one of these extraordinary Veterans Day gift ideas. Order a personalized and reflective parking sign. Use our free sign design tool to decorate it with their favorite colors and symbols.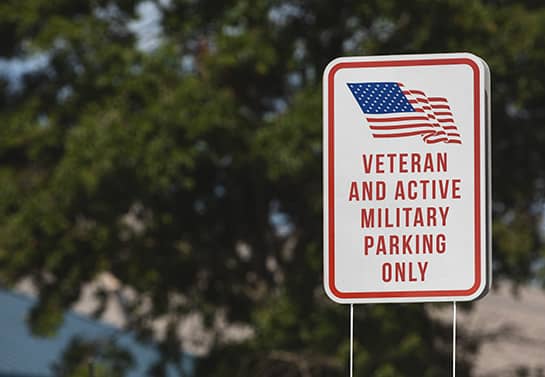 Idea 9. Stylize the label of your veteran's favorite beverage
Find out your veteran's favorite wine, champagne or beer. Then, make it even more special. Stick custom graphics of a celebratory quote or phrase on the bottle. They'll appreciate the gift and may open it straight away or keep it on the bar for upcoming celebrations. Don't know what to write? Here are some quote ideas for you to use.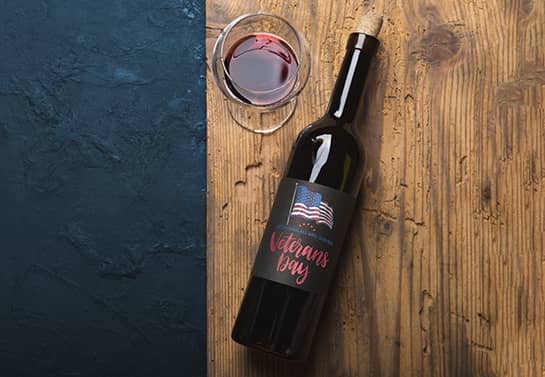 All in all, gift ideas for veterans can be hard to come up with, but once you do, there are few things more fulfilling. 
Haven't made your mind up yet? No reason to worry. Try to come up with Veterans Day appreciation gift ideas with the help of our templates and free design tool. Upload images and experiment to your heart's content. Create the best Veterans Day gifts ever! 
If your veteran also happens to be a dad, read our article on 9 Unique Father's Day Gift and Decor Ideas for a Stay-at-Home Celebration to get extra ideas. Remember that the best gifts for veterans and for all those we love are the ones that come straight from the heart.
Happy Veterans Day!