Oh, hold on till you enter! Trick or treat?
Although it's not the time for trick or treating yet, it's time to start preparing for the celebration. Take this journey filled with the festive spirit to find your most desired happy Halloween celebration sign idea.
It's already October and at every step you come across cute happy Halloween signs. Very soon a bunch of spooky-dressed kids will run around to ask for sweet treats.
Throughout the ever-developing Halloween history, people have used eerie decorations to completely transfer the atmosphere of the holiday.
Are you among those who are willing to enjoy the celebration to the fullest with happy Halloween signs? If so, keep on reading and find your most creative happy Halloween sign ideas to bamboozle your guests.
Cute Happy Halloween Signs
This Halloween is gonna be a massive color overload. Follow the latest trends and get ready to come up with unique happy Halloween signs for a cheerful holiday.
1. Happy Halloween Hanging Signs
You'll have a bunch of candy-diggers knocking at your door very soon. So hurry up to decorate your house with a happy Halloween door sign. The more guests you win, the more sweets you'll give away. 
Start preparations by decorating your door for the celebration. Wooden signs are the perfect choice for this occasion. Get happy Halloween wood signs in custom shapes and sizes to decorate the front porch.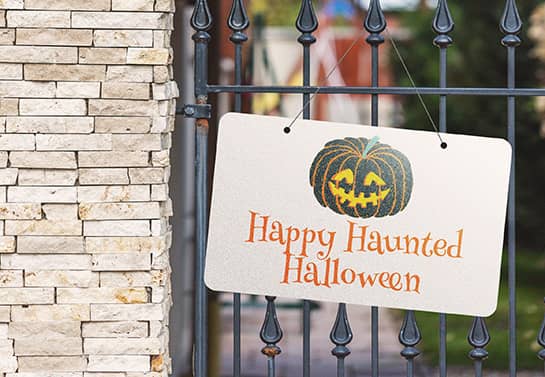 If you're scared of tricks because you're running out of candies, use a happy Halloween "please take one" sign. Mount it on your door with a basket of sweets. Welcome the passersby and warn them to leave candies for others as well. Even if your lil' monster guests leave you "candy-less", they'll adore it anyway. Besides a happy Halloween wood sign, you can choose other types of signs made of durable materials, such as aluminum signs or acrylic signs that best suit your taste and requirements.
Head over to our online design tool and create your signs with just a few clicks.
2. Free Standing Happy Halloween Signs
The holiday couldn't exist without Jack-O'-Lantern's spooky lights. It's always a good idea to celebrate the day with a creepy pumpkin smile. Yard signs will make your outdoor decoration more haunting. It's a great opportunity to stand out in the neighborhood with unique pumpkin-shaped happy Halloween yard signs.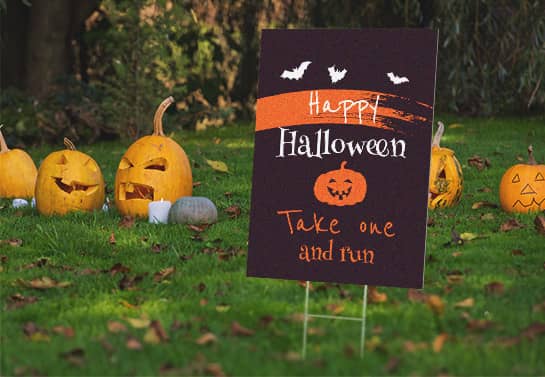 You can easily customize all the templates displayed here with just a few clicks. Change colors, texts, elements, backgrounds, upload personal images and beyond!
If you're going to be out of town for the holiday, you can get a happy Halloween "take one" sign to put up candies in your yard for your neighbors' kids. It's a perfect option if you don't want to miss out on the celebration. Install striking Happy Halloween corrugated plastic signs with custom designs.
For more stylistic inspiration read our full collection of Halloween signs
3. Custom Happy Halloween Cut-outs
Halloween is a unique day that happens only once a year. So you have no other chance but to make it spooktacular.
Custom cut-out signs are a great Halloween decoration with their outstanding designs. You can create stunning Halloween cut-outs with lightweight foam board signs. The material is perfect for long-term indoor and temporary outdoor decorations and happy Halloween door signs. For instance, you can get a custom skeleton cut-out for thematic decorations. You can display it along with a happy Halloween please take one sign and warn your guests not to take the entire basket of candies.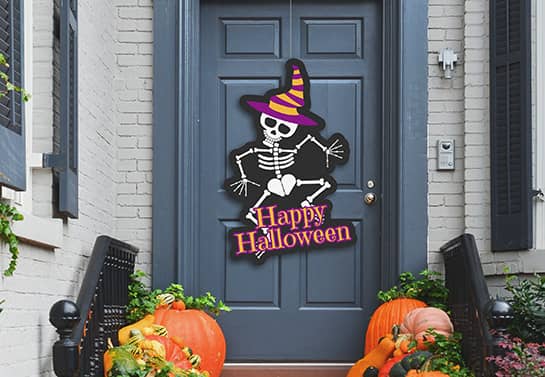 Check out our Halloween sign templates, if you're willing to have the coolest ideas on this holiday.
4. Happy Halloween Wall Art Pieces
Did you like drawing on the walls when you were a kid? Let's be honest. You did. So, why not try it for Halloween too?
Let your imagination burst with colors. Season your walls with the most creative happy Halloween printable signs. Attractive wall decals will charm your "candy-robbers" with thematic graphics. Use tools such as gator board signs, acrylic photo prints and the like. You can also get printable "Happy Halloween, Please take one" signs to decorate your door.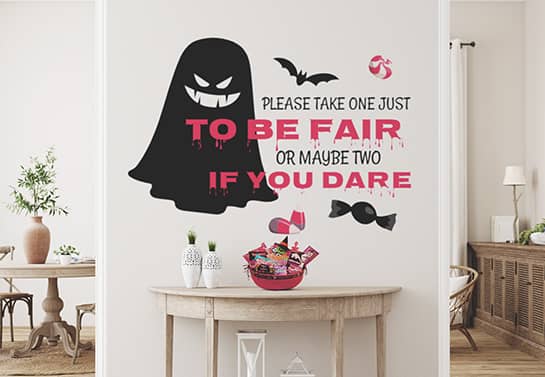 You can easily customize all the templates displayed here with just a few clicks. Change colors, texts, elements, backgrounds, upload personal images and beyond!
Pass on the Halloweeny mood to your windows as well. Read more on 12 Halloween Window Decoration Ideas For A Spooky Celebration.
Creative Happy Halloween Banners
Keep on reading for more Halloween decorative sign ideas. Make your day awesome and get happy Halloween banners for a sparkling celebration. Below find spectacular ideas for happy Halloween banners.
5. Happy Halloween Hanging Banners for Your Fang-Tastic Mood
Vinyl banners are a perfect fit for hanging decorations. Showcase your festive mood indoors and outdoors with fabolous Halloween hanging banners.
Decorate the entrance to your home with a happy Halloween door banner. Boost the intrigue to enter your castle.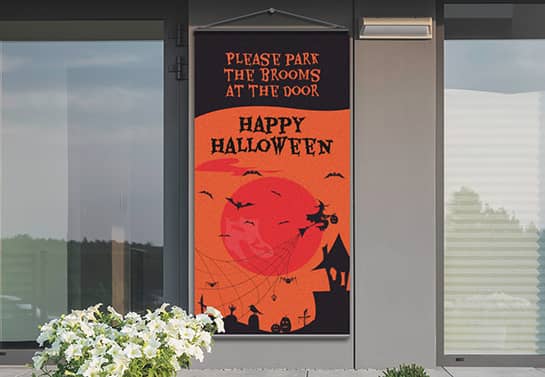 You can easily customize all the templates displayed here with just a few clicks. Change colors, texts, elements, backgrounds, upload personal images and beyond!
Wanna know how to make your happy Halloween banner? We've got you covered. Use our free sign design tool to create and order custom banners for your outstanding Halloween party.
6. Free Standing Banners for a "Fear-free" Party
Did you get a happy Halloween yard sign but still feel like you're missing out on something? Rev up the fun at your party with cute Happy Halloween banners. You may also welcome your guests with double-sided sandwich board signs. Give your guests a festive mood and make the party memorable with decorative X-Stand banners. Thanks to their comfy base, the banners will take minimal space while perfectly showcasing the graphics.
If you're searching for another happy Halloween printable sign, take a look at outstanding retractable banners. What's great about them is the fact that you can reuse them for years to come. Featured with the easy spring load system, roll up banners can be set up and taken down in less than a minute. Once you have spooky costumes, vibrant decorations, festive music and a blissful mood, you're all set up for the Halloween madness.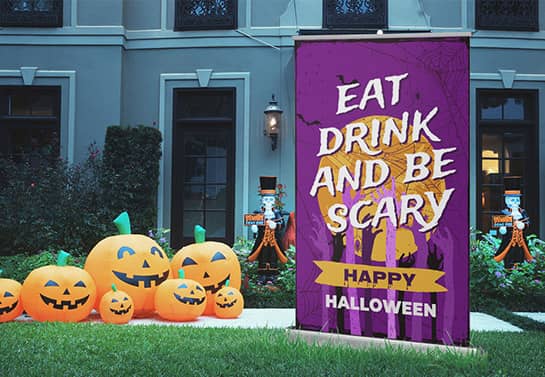 If you already found happy Halloween banner ideas, you can sit back and relax. Meanwhile, take a look at our party banner collection to charm your guests at all types of events.
7. Happy Halloween Flag Banners for "Bootiful" Celebration
Finally, the last signage idea in the list. Cover your windows with happy Halloween flag banners or mount them on your roof and charm your guests to join your pumpkin-colored party. Fabric banners work great for these types of decorations.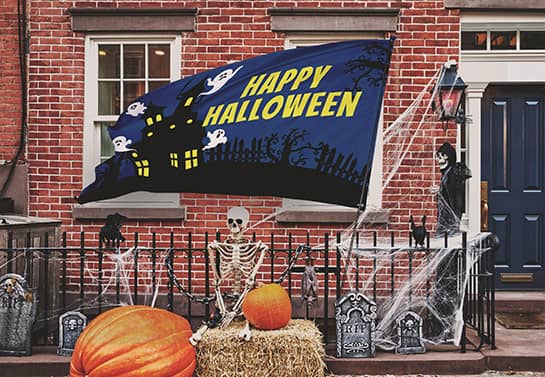 You can easily customize all the templates displayed here with just a few clicks. Change colors, texts, elements, backgrounds, upload personal images and beyond!
Need more ideas? Read our article on Halloween banners.
Three Useful Tips for Your Happy Halloween Signs
Bring your ideas to life through our free

sign design tool

. Create custom designs using ready backgrounds, elements and text styles or upload personal photos.

Don't have a design? Choose a ready Halloweeen sign template and personalize it to your liking by changing the colors, texts, background and elements.

Once the signs are ready, stay in the mood and have a festive celebration. May your candy supply last you well into the Christmas season.
Happy Halloween and good luck with the preparation.