Your wedding is one of those precious experiences that you'll never forget. Make this day extra special by celebrating it outdoors. Perhaps you can organize the reception in the backyard of your childhood home. You may also opt for a rental space if you want to accommodate a lot of people.
Whatever you decide, remember that this is your day and your happiness is the top priority.
This article is loaded with 13 simple outdoor wedding decoration ideas that will help you organize a magical wedding.
Give these easy outdoor wedding decorations a try
Tip #1: Display the program for time management
Weddings are stressful, especially for couples that put in a lot of work to make the day perfect. Here's how to decorate for an outdoor wedding to ensure everything goes smoothly. Create a sign using our wedding sign templates that display the wedding program to ease your mind and keep your guests informed. Print the schedule on sandwich boards and place them in strategic areas to make sure everyone sees them. Rest assured that your party will flow in a much more organized fashion.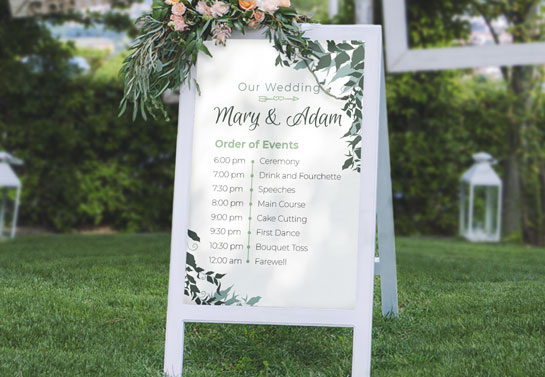 Tip #2: Use leaves as place cards to add greenery
Direct your guests to their seats with elegant leaf place cards. Pick leaves from your garden and write your guests' names on them using a marker. Crafting decorative pieces for your wedding with friends is a memorable activity so make sure to include them in such projects. Leaf place cards are not only unique but they're also eco-friendly. This is one of the most creative DIY backyard wedding decoration ideas so make sure to give it a shot.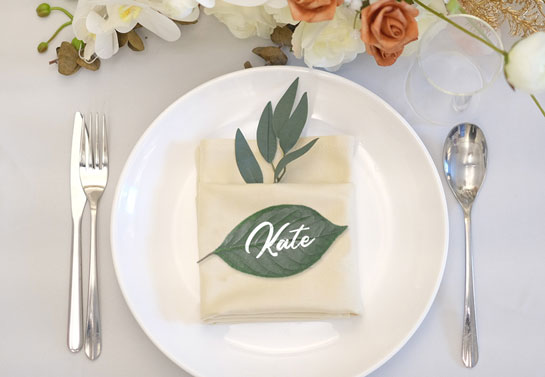 Tip #3: Greet your guests with a chic welcome message
A charming welcome sign is key to making the right first impression. Your welcome sign serves two purposes. First, it directs your guests to the reception area. Second, it entices them with a hint of what to expect in terms of decor and atmosphere.
Wooden signs set a homely tone and go beautifully with wedding parties held outdoors and specifically in a backyard. Place your sign on an easel and adorn it with flowers for an artful finish.
This is one of those simple outdoor wedding decorations that will make your party stand out.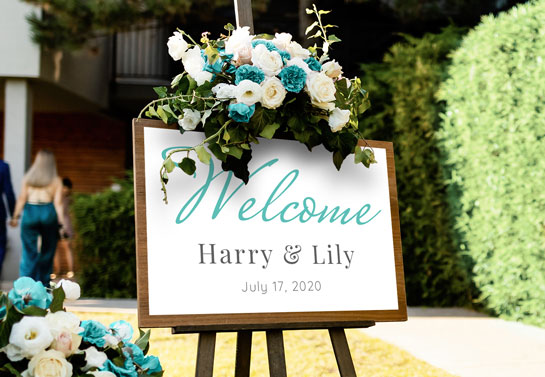 Tip #4: Add flair to garden wedding decorations with flowers
If you're holding an intimate wedding, then you're going to love this decor idea. Small backyard wedding decoration ideas don't need to be rough around the edges. On the contrary, they can be very elegant.
An alluring idea would be decorating your stage and chairs with flower wreaths. Pair them with ribbons, pearls, or tulle for a mesmerizing twist. Adding this glamorous tip to your list of DIY backyard wedding decoration ideas is a no-brainer.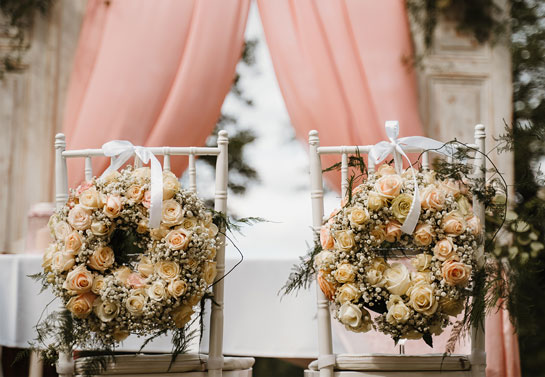 You can never run out of small backyard wedding decoration ideas as long as you keep an open mind. Read about how to make your own wedding signs with these ideas and techniques.
Tip #5: Be extra glam with intricate table numbers
Elevate the table decor with stylish table numbers. Acrylic signs are perfect for weddings because they add an exquisite touch to everything from your table setup to lounging area.
You can go with clear or frosted material; both are equally splendid. If you're looking for tasteful outdoor wedding decoration ideas on a budget, be sure to add acrylic photo prints and table numbers to the list.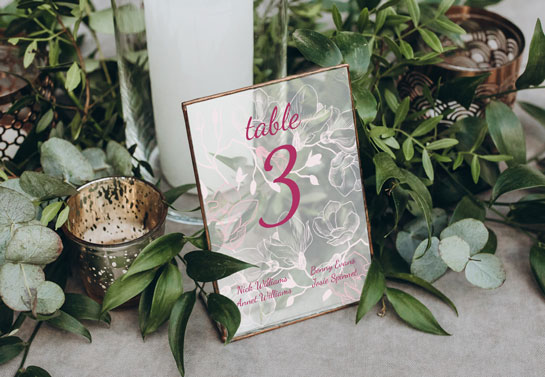 Follow these outdoor wedding decoration ideas on a budget
Tip #6: Turn your backyard into a fairy wonderland
Your wedding should be one of the most magical days of your life. Turn your backyard into an enchanted forest to immerse yourself and guests into a fantasy. Adorn the tables with floral garland centerpieces for an enthralling look. Take it a step further by strategically placing flower bouquets all around the venue.
If your wedding reception is held in the evening, consider decorating your backyard with an extravagant array of string lights. They will liken the ambiance to that of a fairy forest, making your special day even more delightful. For a wedding send-off that fits the theme, hand sparklers to your guests to bid them farewell in spellbinding fashion.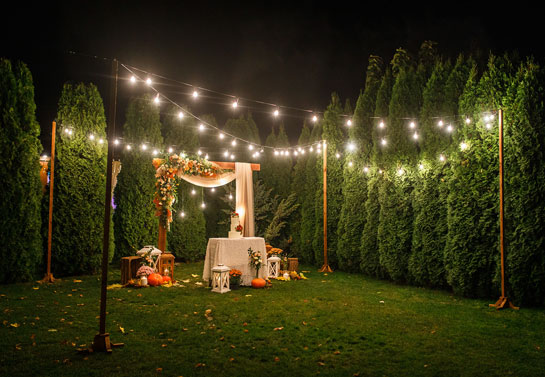 Tip #7: Set up a dazzling backdrop for Insta-worthy pictures
You and your spouse will want to remember this day forever so make sure to get as many pictures as you can. Aside from hiring a professional wedding photographer, use retractable banners and install a dreamy backdrop with natural elements bordering the edges. That way, your guests can take pictures while looking their best.
Place PVC signs nearby that contain your wedding's hashtag and ask your guests to use it when posting photos and videos on social media.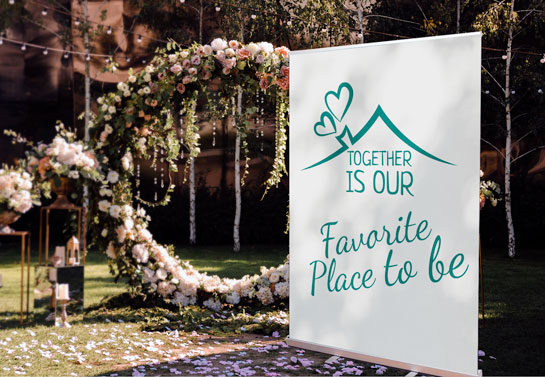 Related: Outdoor party decor ideas to help you plan any outdoor celebration.
Tip #8: Entertain your guests with delectable drinks
Keep your guests refreshed and in the mood for dancing with delicious drinks. Set up a bar that serves cocktails and non-alcoholic beverages. To make things more fun, hire a flair bartender to entertain your guests.
One of the best outdoor wedding decorations is a well-selected assortment of beers placed inside a handcart and filled to the brim with ice. Place snacks like chips and salted pretzels near the beer station and you're good to go.
If you've invited kids to your wedding, create a juice bar that serves colorful smoothies and lemonade. Pair the drinks with cookies and playful candy displays for a sweet touch. Make sure to add these outdoor wedding reception decoration ideas to your list to appease the little ones.
Tip #9: Let your guests mingle in a cozy lounge area
Let your guests break the ice in an eclectic lounge area intended for mingling. It's perfect for those who want to relax in a quieter space that's away from the crowd and loud music.
Fun backyard wedding decoration ideas reach a new level when the lounge area is furnished with comfy couches. Add low tables complete with snacks and appetizers that your guests can munch on.
You can make the area even more sociable by equipping it with fun yard games; it's a great way to entertain adults and kids alike.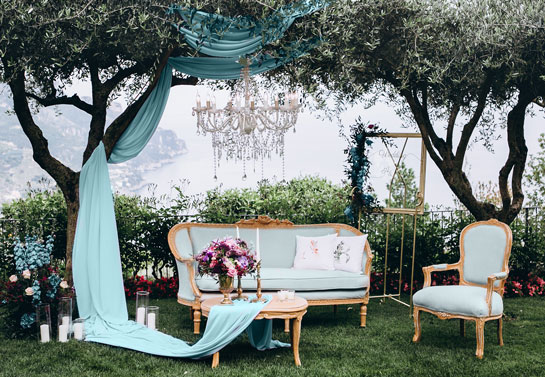 Tip #10: Use a mailbox as a cute cardholder
As a newlywed couple, you might want to know the secrets to a happy and healthy marriage. Honoring friends and memories is one. Start by setting up a cute card table where your guests can leave marriage tips and congratulatory notes.
For an interesting spin on this thoughtful feature, use a vintage mailbox as your cardholder. This idea works incredibly well if you're organizing a rustic wedding reception.
Bonus ideas: How to decorate for an outdoor wedding
Tip #11: Display heartwarming photos of your relationship
Allow guests in on the journey through your loving relationship. Frame the best moments you and your partner have spent together and share them at the wedding reception. Canvas prints and foam board printing work great not only because they're classy but also because you can hang them in your home afterwards.
Photos of highlights like your first date, a fun trip and your proposal will add a romantic touch to your reception or party. This is a brilliant and simple outdoor wedding decoration that will add the metaphorical cherry on top of your cake.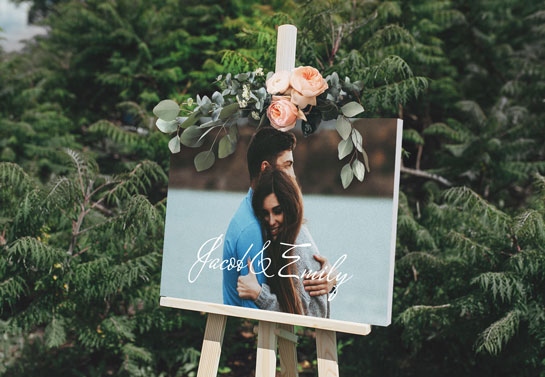 Tip #12: Add gold accents for chic outdoor wedding decor
The best garden wedding decoration ideas aim for elegance. Make sure to set your tables properly by following table setting etiquette. A basic rule that you must remember is that forks go to the plate's left side while knives and spoons are placed on the right side.
Decorate the tables with gold-trimmed runners and luxurious centerpiece arrangements. Glass jars embellished with gold prints and filled with fresh flowers never go out of style. For a final touch, use gold cutlery to make your setup look sophisticated. Elevate your decor by applying similar accents to the appropriate backyard wedding reception ideas.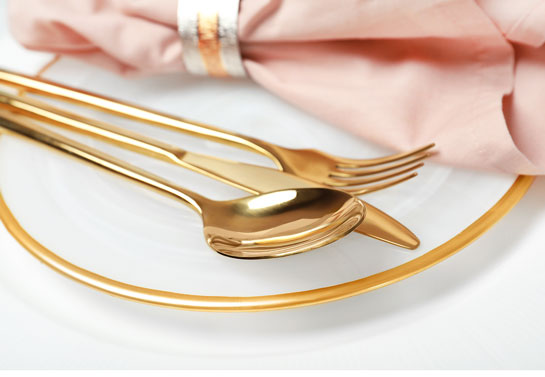 Tip #13: End the night with chocolate goodness
Your outdoor wedding reception decoration ideas must be exciting to stand the test of time. Everyone loves chocolate, so why not end the night with s'mores? Place a s'mores station along with a firepit to enter the ultimate fun zone.
Equip the station with the necessary ingredients, including chocolate bars, crackers and marshmallows. Light up a campfire to grill the s'mores and tell fun stories late into the night. This is one of the top garden wedding reception decor ideas that everyone will talk about!
These easy outdoor wedding decorations will make your special day unforgettable. Keep in mind that the best outdoor wedding decorations are the ones that make you feel fulfilled. Check out our wedding sign templates for inspiration. Use our design tool to turn your ideas into reality. Best wishes on your big day!