Can you imagine a party where no one takes photos? That sounds unlikely, particularly when it comes to Halloween. Take a look at these Halloween backdrop ideas and order yours for an other-worldly celebration. We have a collection of funny and scary Halloween photo backdrops. Scroll down to pick your favorite and read the descriptions to find out how to strike poses which can make the photoshoot extra fun.
In the last section, you'll find step-by-step instructions on how to create your DIY Halloween backdrops with our design tool.  
Scary Halloween Backdrops
While you shouldn't scare someone witless during your party, adding a bit of fright will do no harm. Take a look at these scary backdrops for Halloween and proceed to ordering the one that's best for you. Use our Halloween sign templates made by professional designers. Your scary Halloween backdrop is a few clicks away. 
1․ Halloween Backdrop with a Giant Monster Trying to Eat You 
A terrifying monster trying to eat you? That sounds exactly like Halloween. This design will ensure an unforgettable Halloween experience. Use pop-up displays for large celebrations or check our other products and find the best fit.
How to pose: One or more people imitating the fear of being chewed up.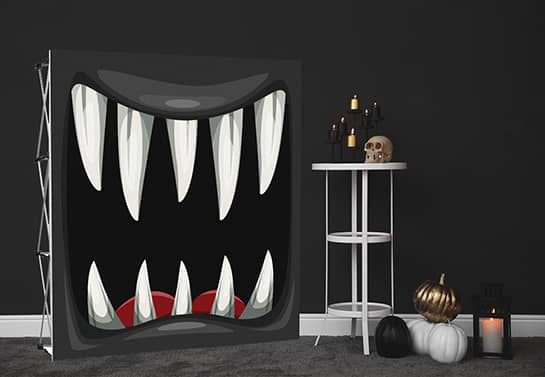 2․ Halloween Party Backdrop with a Neon Titan Catching You
Neon colors ensure your photos have a mystic look. Get this one of a titan trying to catch you. Step and repeat banners can be the ideal choice for this. Make sure to choose the right size for your Halloween party backdrop to pose properly. Speaking about posing, here is a cool suggestion. 
How to pose: One or more people pretending to run away from the titan that's hot on their heels.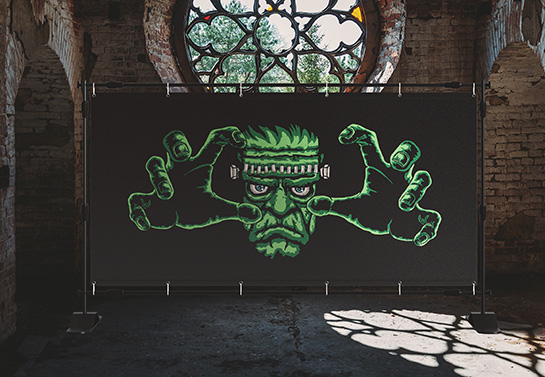 Find more Halloween sign templates and customize them with our design platform. Ordering unique Halloween backdrops is easy with us!
3․ Halloween Photo Backdrop with a Witch House 
Here is a traditional idea for Halloween: a witch house, bats, a graveyard, and the witch herself. Vinyl banners are ideal for Halloween photo booth backdrops. You can order them in custom sizes and even cover the floor for a professional photoshoot. Click on the image below to use this template! 
How to pose: Why not have someone or a few people wandering around the graveyard?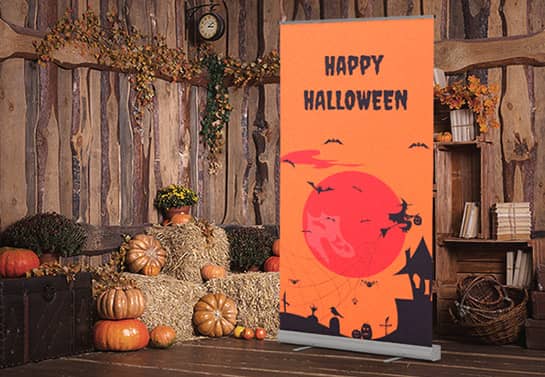 Find a full collection of Halloween signs for a thrilling celebration here!
4․ Halloween Backdrop with a Dracula Castle Feel
Candles, heavy curtains, and thunderstorms lighting up the sky just outside the window. Sounds creepy, right? What about a photoshoot with the Dracula theme? Use retractable banners for this Halloween party backdrop.
How to pose: Pretend to be the master of the castle.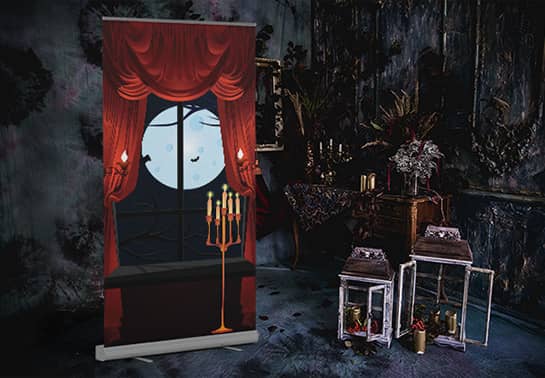 Find more Halloween banners on our blog and throw a cool party! 
Funny Halloween Backdrops
Well, Halloween is just as much about fun as it is about fright. These funny Halloween backdrop ideas are what you need to add flare to your party. 
5․ Halloween Backdrop with Vintage Monsters
Featuring vintage monsters from the good ol' days is a cool Halloween party backdrop option. You don't always have to use some kind of banner. Consider wall decals or foam board printing as an alternative. They won't take up additional space and are easy to apply and remove. You don't have to worry about damaging the wall either.   
How to pose: Stand in line with the cute monsters as if you are one of them.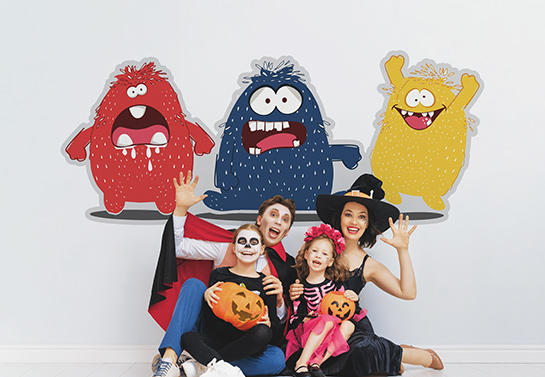 Did you know that Cobra Kai was the most popular character for Halloween 2020? Wondering which one it will be in 2021!
6․ Halloween Party Backdrop with Your Name
Showcase the party host's name on your Halloween photo booth backdrop. Make it more fun with colorful Halloween symbols. You can bring your Halloween backdrop ideas to life with our design tool.  
How to pose: Let the text be visible. You can pose standing beside the backdrop in this case.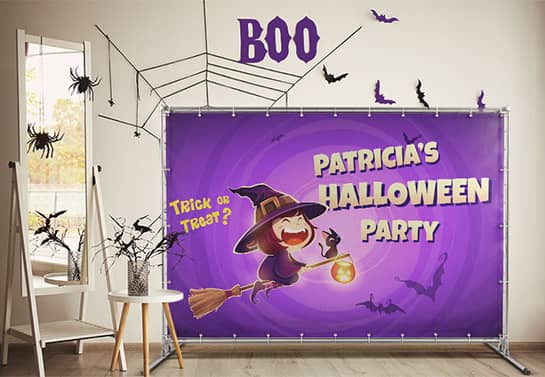 Halloween is not the only occasion you need backdrops and banners for, right? Here is a collection of party banner ideas for all types of celebrations.
7․ Halloween Photo Backdrop with a Funny Pattern
Ghosts and pumpkins making funny faces? That's what you need for your Halloween backdrop. Step-and-repeat type fabric banners will give your party a Hollywood feel. In fact, they don't reflect light, thus making an excellent material choice for Halloween backdrop ideas.
How to pose: Just feel like a real star!
Creating is easy with our Halloween sign templates! Choose the one you like most, customize it to your specific needs in our tool and order it right away. 
DIY Halloween Backdrop Techniques: Create with Square Signs
To help you with your DIY Halloween backdrop ideas, we have a full guide on how to create signs with our design tool. Follow the steps or watch the video below!
1. Visit our design tool and choose the product you want to use in the left menu bar.
2. Specify the size, needed accessories, printing options, and other features.
3. Use one of our ready templates or design on your own. You have a wide choice of elements, backgrounds, fonts, and much more. 
4. Once you're done, double-check if you have set the right options for your sign and proceed to order by adding to the cart. 
These easy steps will guide you through creating your own Halloween backdrops. Use our design tool to create your signs like a pro. Start getting ready for a spooky celebration now!