Veterans Day is all about honoring the people who put their lives on the line to serve and protect our country. It gives businesses, communities and individuals across the nation an opportunity to reflect on their contributions. The following list of Veterans Day signs is categorized by the purpose and location of each. We'll cover everything from vinyl banners to car stickers in order to bring any of your Veterans Day sign ideas to life.
For reference, Veterans Day and Memorial Day are two different holidays. The first one honors everyone who's served in the US armed forces. The second is in remembrance of all those who've sacrificed their lives for our freedom.
Veterans Day Signs for Different Purposes
This is a national holiday and everyone celebrates it in their own way. These printable Veterans Day signs will serve any purpose from extending a kind gesture to an annual business boost. Use our design tool to customize your signs and get them printed on your desired material.
Thank You Veterans Signs
There is no such thing as too much when it comes to words of gratitude for our heroes. These thank you veterans signs are sure to warm their hearts. You can select different products based on where you want your signage to be displayed. From Thank You Veterans Day banners to sticky graphics, pick the ones that match your requirements. 
1. Display gratitude with simple texts and graphics
Sometimes less is more. You don't always need to make long speeches to show people your appreciation. A simple note on thematic graphics will do just great. You may use X-stand banners that are easy to set up and store for later use. They give you the option to order fresh graphics separately so you can reuse the stand whenever you need. They're a perfect medium to complement your Thank You Veterans Day banner ideas.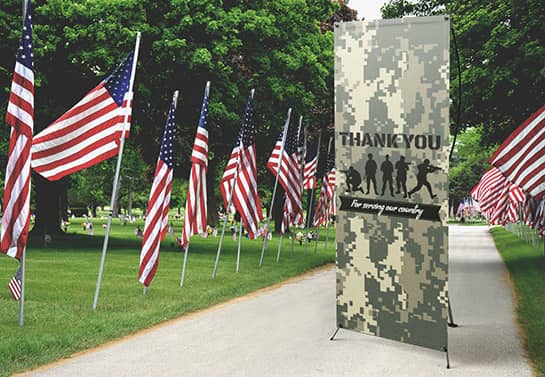 2. Personalize your ideas by using names
A personalized Thank You Veterans banner will show your beloved countrymen just how much you appreciate them. You can display it to honor the heroes in your life, be it an employee or a significant other. There are around 19 million veterans in the USA. Make the ones around you feel special with custom thank you veterans signs.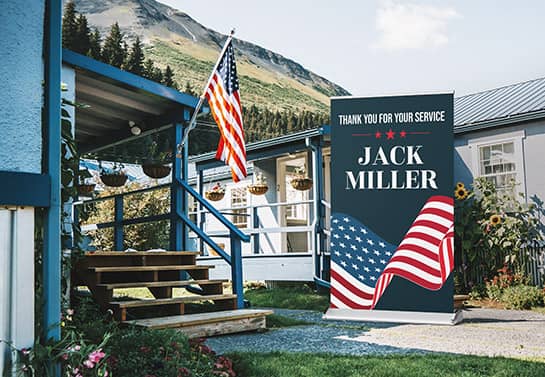 You can create and order your own thank you veterans signs with our design tool. 
Veterans Day Closed Signs
Veterans Day closed signs are important for letting people know that your business is closed for the holiday. Here are two options for business and office closed signs for Veterans Day.
3. Make the displays thematic
Don't pass up the opportunity to use thematic Veterans Day closed signs. Use the flag colors, soldier silhouettes and a message of appreciation. You can go with adhesive graphics for glass doors and windows or hang up plastic Veterans Day closed signs with a suction cup and hook accessory.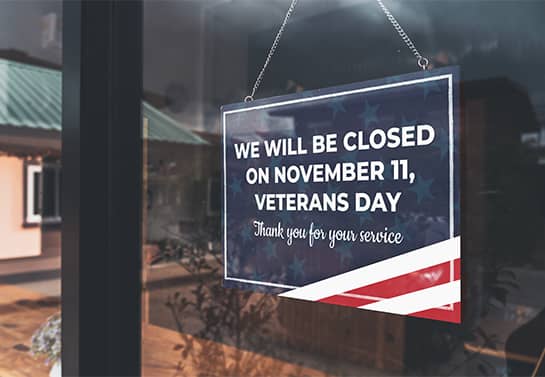 4. Use an office closed sign for Veterans Day
Let people know your office is closed for the holiday with an office closed sign for Veterans Day. Make the design classy and keep the wording clear. This one will work for personal and corporate offices alike.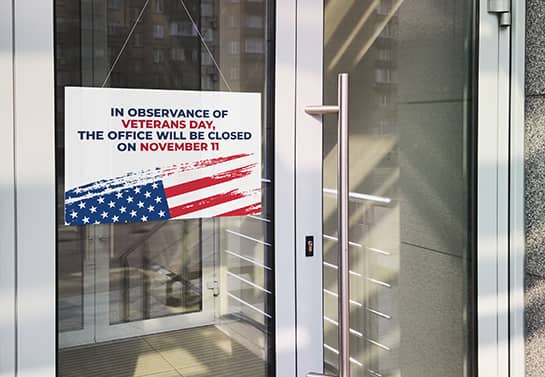 Read our article on 35 Traditional 4th of July Decoration Ideas for a Big Celebration.
Veterans Day Sale Signs 
National holidays can double as a business opportunity and there's nothing wrong with that if you go about it with discretion. Use one of these Veterans Day sale sign samples to benefit your customers and honor our veterans at the same time.
5. Display window graphics for holiday sales
Window decals are a good product choice for Veterans Day sale sign ideas. They come in clear, opaque and perforated vinyl to meet your specific needs. Use the design below or any other template to your liking. You can modify them and order right away with our design tool.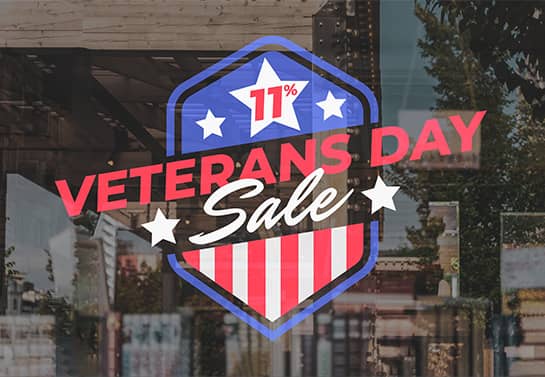 6. Highlight special offers for veterans
Most businesses prepare special offers for vets on the 11th of November. Highlight yours with Veterans Day sale signs. Attract customers and assure them that you carry out your social duties as a business. Veterans Day banners are a good product choice for the occasion.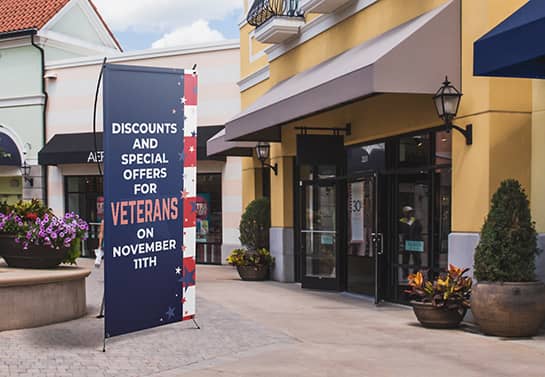 7. Let people know about giveaways
Are you planning on having freebies and special giveaways for veterans? It'd be helpful to have a sign that announces the details of the offer. Make it known that you're more than happy to serve the people who have served our country.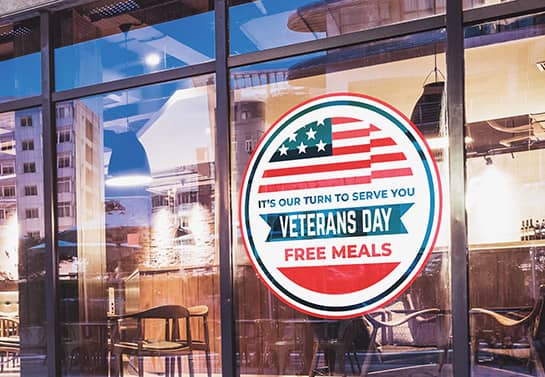 Happy Veterans Day Signs
Congratulate all the veterans around you with these happy Veterans Day sign samples. You can use different materials depending on the location where you want to display them. Fabric banners are a good indoor choice with multiple mounting options.
8. Include a thoughtful quote
You can include a quote that relates to the holiday on any of your displays. Take a look at the sample below. You can customize the template and change the quote to say whatever you like. Create your own Veterans Day signs to print and order it online.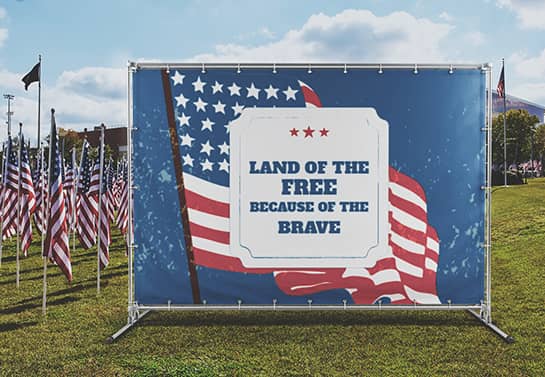 You can also check this Wall of Thanks for Our Veterans for more inspiring quotes.
9. Showcase a Happy Veterans Day sign 
Sometimes simplicity is all it takes to make a cool Happy Veterans Day sign. Choose sandwich board signs with thematic backdrops, add the text over it and display it indoors or outdoors.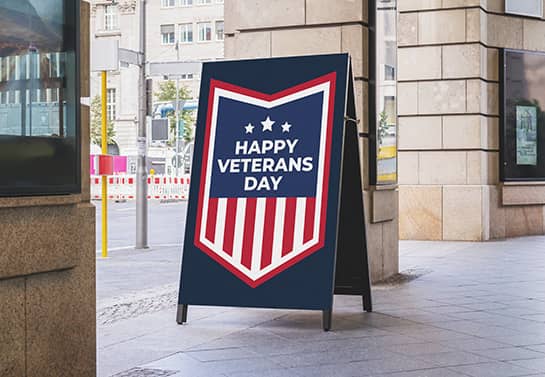 Check out our patriotic sign templates which you can use free of charge. They can be fully customized on our design platform to meet your specific needs.
Veterans Day Signs for Different Areas
Do you want to place a Veterans Day banner on a church building, adorn a home fence or hang it from a parade float? If you're looking to place your signage in a specific area, we've got a handful of popular ideas for you. 
Veterans Day Yard Signs
Yard signs are very popular for home displays. They're affordable and easy to install, take down and store for annual use. Take advantage of this medium for your Veterans Day signs if you have a lawn. Take a look at the ideas coming up and order yours within minutes.
10. Get "A Veteran Lives Here" sign

You've likely seen Veterans Day yard signs in front of many homes to honor the veterans who live there. Get one for yourself or a veteran you're proud of this year. You can easily store and reuse corrugated plastic signs for the years ahead.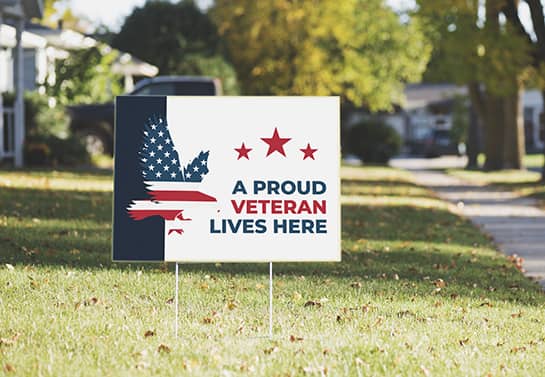 11. Indicate veteran parking only spots

Making daily tasks like parking easier for veterans is a good way to show your appreciation. While it may be a year-round practice for many businesses, you can highlight it for the holiday using patriotic symbols. If you don't normally offer reserved parking spots, why not start this Veterans Day.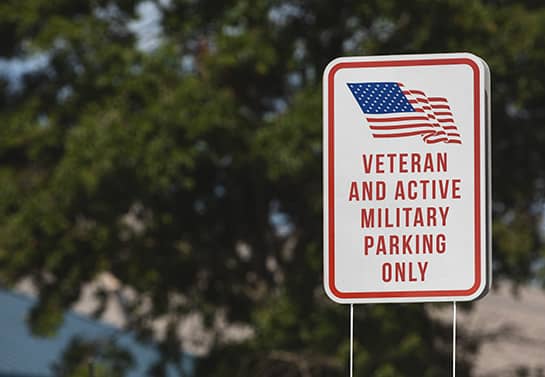 Take a look at our article on 9 Unique Father's Day Gift and Decor Ideas for a Stay-At-Home Celebration.
Veterans Day Church Signs
Almost all churches have special services for the holiday. These Veterans Day banner and signage examples will help you proclaim how much your community patriots mean to you. You can easily customize the signs to your liking with the design platform available on our website.

12. Display a verse that honors our heroes

There are a lot of scriptures you can include on your church signs for the holiday. Choose the ones you like best and get them printed on a Veterans Day banner with a thematic background.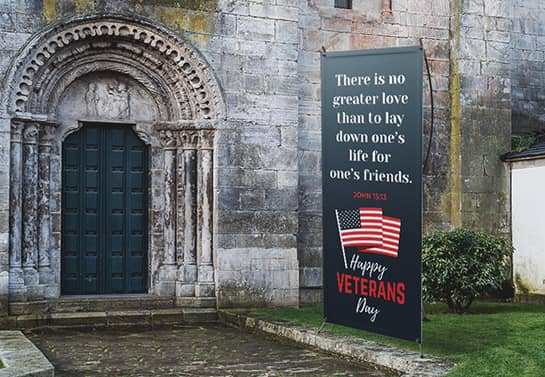 13. Share information on church events and services

Most churches hold special events for the holiday. To make things clear, get a sign that relays relevant information to your congregation. Mention the date and time, the type of service or event and anything else you find appropriate.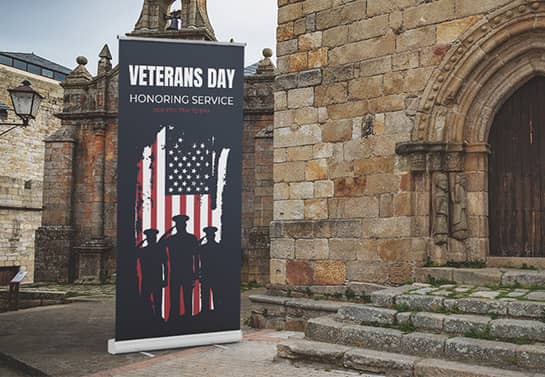 Veterans Day Parade Signs
A lot of parades take place on Veterans Day for people to come together and honor the US military. If you've been to a parade before, you may have noticed the signs people hold. Many of them are handmade but it'd be nice to get yours printed. Foam board signs, for example, are a lightweight option that will stand out in a crowd.You can use PVC printing among other affordable and sturdy mediums as well.

14. Thank them for preserving our freedom

Freedom is a value that we tend to take for granted until we lose it. Fortunately, there are those among us who are willing to fight for it in our country. We should praise our veterans for the liberties we enjoy even if it's with a small fridge magnet.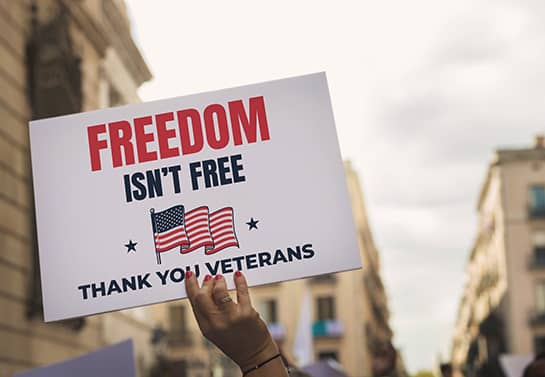 15. Celebrate and pray for peace

Getting a Veterans Day peace sign is a mindful way to reflect on their contribution. After all, the holiday was originally dedicated to the cause of world peace. While honoring our veterans, we can also cherish the peace they've granted us. Take a look at the signage ideas below for this year's parade.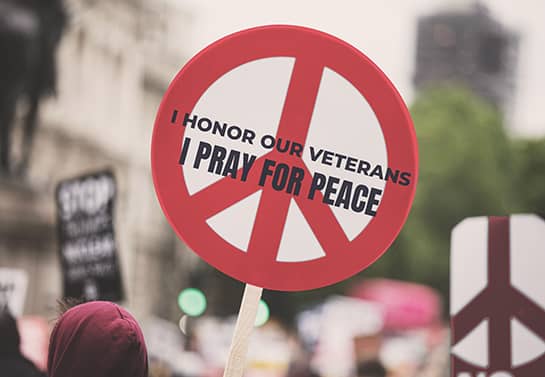 Veterans Day Car Displays
Many of us love seeing car decals while going about our day in the city. They let us personalize our vehicle and help us pass the time in traffic. They also make a cool gift for Veterans Day. You can apply one on your car to join in the spirit of honoring our patriots. Take a look at the ones we've designed and choose your favorites. 

16. Stand proud as a veteran

Order a custom adhesive for yourself and proudly display it on your vehicle. You can use our design tool to easily personalize your sticker. Modify the design, text, colors and anything else you like. This is also a perfect gift idea for the veterans you know.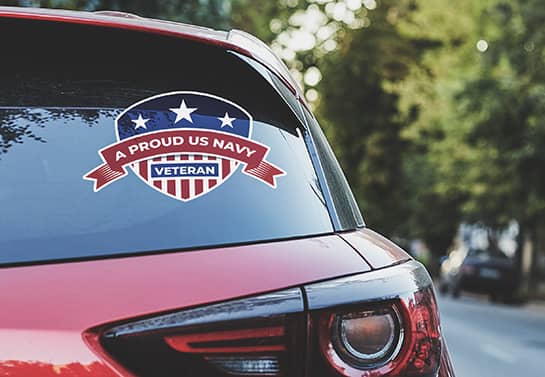 Make sure to check out these Veterans Day gift ideas we've put together for you. 

17. Show your appreciation

Give fellow veterans a reason to smile while driving through town. They'll feel valued when they notice your car stickers. This medium can be applied on either the outside or inside of your windows. The latter is more weather-resistant and perfect for a rainy November. Make sure to specify such features using the options menu before ordering your product.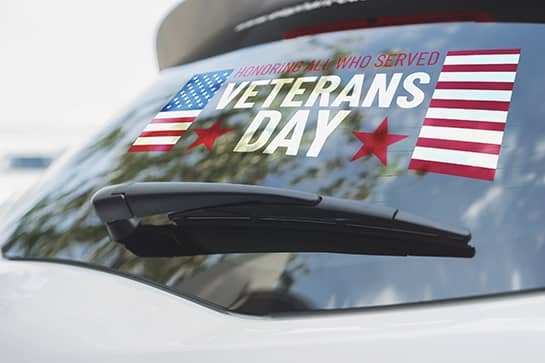 Have you figured out your favorite Veterans Day signs? Use our design tool with intuitive features, awesome templates and a range of products fit for various places and purposes. Customize the designs to your liking and order your own reverent displays with just a few clicks.