The way you embellish your home says a lot about your style, taste and mood. Reflect your imagination or relive memories by transforming bland walls into masterful exhibits. Enhance the decor in your house with elements that exude comfort and personality.
Modern wall art decor is a simple and aesthetic way to give your home the make-over it needs. It will help you do just that without having to go through the hassle and expense of remodeling.
Check out the 20 modern wall art ideas below to inspire your own home transformation.
Modern Wall Art for Living Room Design
When considering modern art for wall embellishment, the first place that comes to mind is the living room. In recent years, acrylic photo prints and lightweight foam board printing frames have become popular for home wall design thanks to their quality.
Today, people can turn wall art ideas into reality thanks to an exhaustive collection of products that render them accessible.
Trendy Wall Art With Natural Design
Contemporary wall art illustrations often reflect simplicity and clarity. Today, modern wall art for living room design helps feature some natural elements that are overlooked in real life.
1. Plant Imagery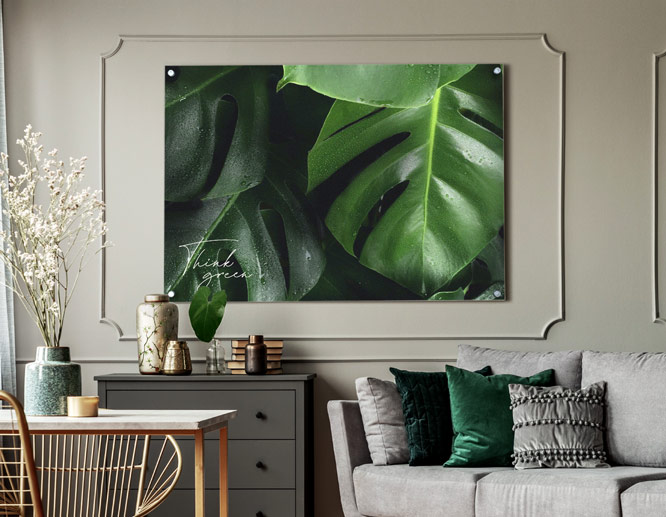 Polished metal photo prints are great products for creating modern large wall art for the living room. Place your large contemporary wall art with images of lush plants on blank walls. The visuals will brighten up and beautify the area with refreshing shades of green.
2. Rustic Wood Illustrations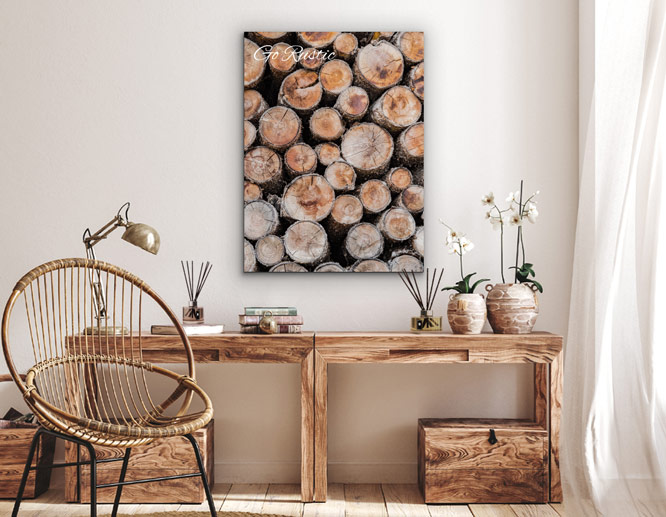 Rustic visuals on wood prints create unique small to large contemporary wall art design items. Create modern large wall art for living room spaces by displaying images such as stacks of logs. Pair it with a cedarwood essential oil dispenser to impart the organic fragrance of the woods.
Explore our blog on living room wall art ideas for more sophisticated design solutions.
Modern Art for Wall Furnishing in Black & White
Black and white modern art for wall adornment creates timeless aesthetics for interior design. The simple yet sophisticated pairing of black and white acts as a successful alternative to mixtures of different colors.
Bring your ideas to life with Square Signs and create original modern wall art for living room adornment with just a few clicks.
3. Monochrome Photography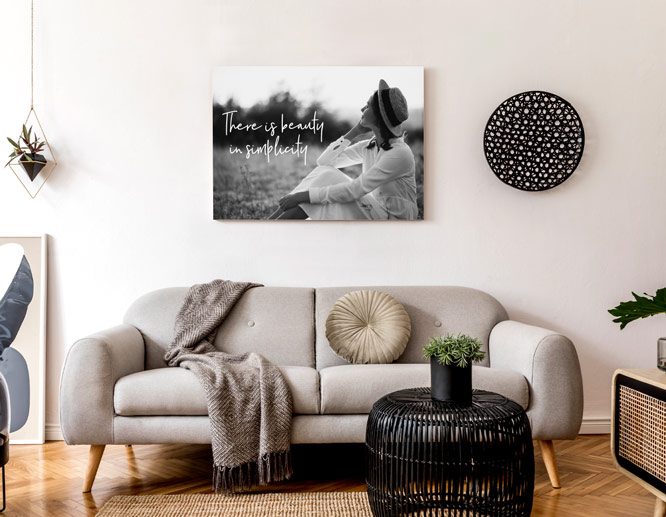 One-tone photography revolves around capturing and representing the simplicity of the world using lights instead of colors. This offers a sublime way to showcase modern wall art for living room areas that lack a centerpiece. Gator board printing will allow you to highlight blank walls with small to large modern wall art illustrations. Use monochromatic tones for a tasteful finish.
4. B&W Abstract Art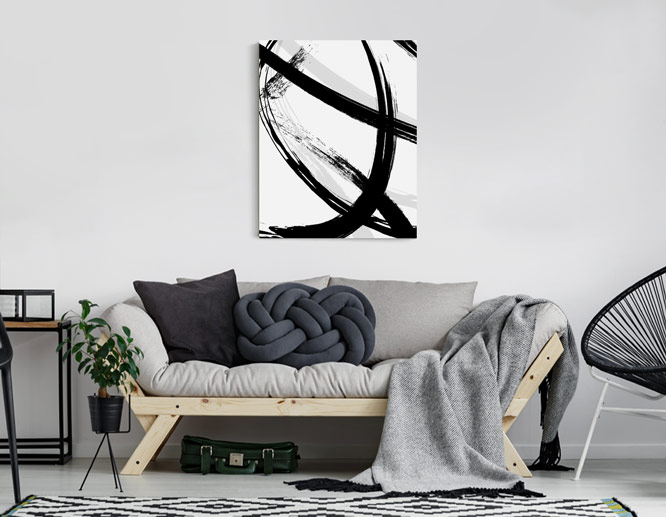 Black and white large modern wall art with interpretive patterns can revive your space. From simple motifs to complex ornaments, abstract is a trendy wall art decor idea these days. It gets lavishly implemented in the contemporary sphere of home decor.
Modern Wall Art Decor in Vivid Hues
Elevate your interior design by showcasing modern large wall art for the living room in vibrant color schemes. A creative mind and strong attraction to colors can come up with small to large contemporary wall art that exhibits bright illustrations. Anything from colorful sunsets to saturated paint blasts will serve as trendy wall art pieces for your living room.
5. Blooming Colors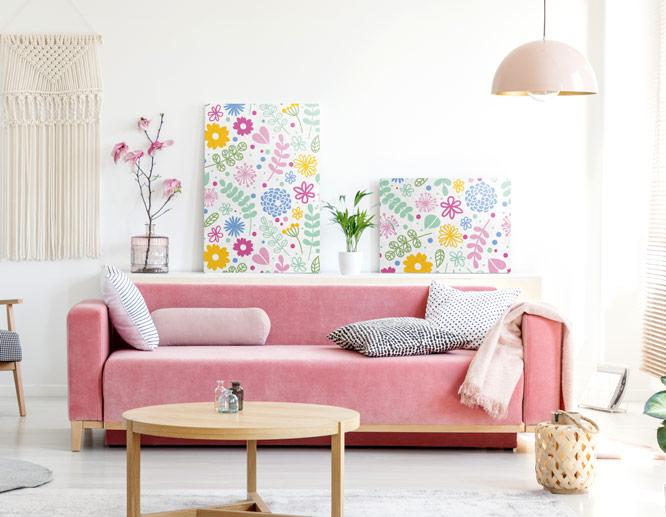 Flowers make exquisite embellishments that help display various colors in large modern wall art representations. Decorative custom canvas prints are a great medium for getting expressive artwork. Go bold with this design tip and personalize your own modern large wall art for living room styling.
Don't forget to explore our library of designer-made decoration sign templates for inspiration.
6. Abstract Daydreaming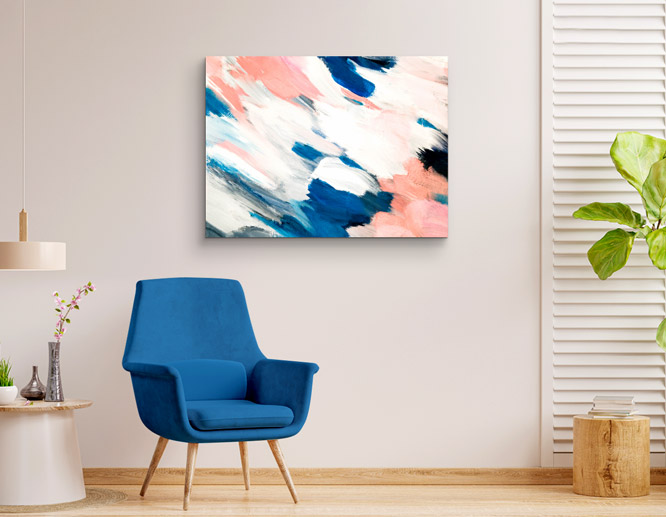 In modern wall art decor, color combinations are portrayed by various means. One of them is in the style of abstract painting. This type of colorful artwork can trigger emotions that go beyond literal boundaries. Interpretive artwork with lots of colors bring joy and heal anxiety in many viewers. Don't pass up the chance to benefit from this kind of therapeutic modern wall art in your living room.
White on White Modern Wall Art Decor
Are you looking for ways to accentuate white walls without overpowering their pure aesthetics? Apply large modern wall art in cream, pastel or white tones to highlight the brightness of your walls. This will add a new focal point to them.
Explore the tips we've provided below and pick the one that best suits your style.
7. White Images on White Walls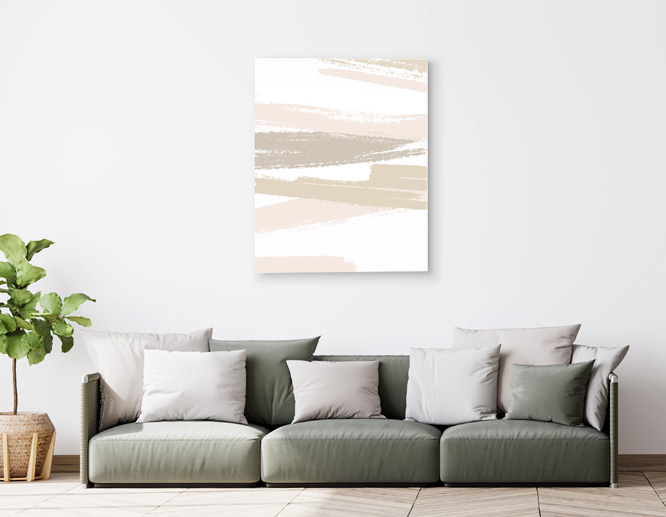 Spice up blank walls by embellishing them with neutral or white modern wall art for living room design. Accentuate the living area with mellow illustrations to get the best results. Splashes of cream or gray in the artwork will allow it to stand out in the room. You can also integrate short, inspiring quotes on small to large contemporary wall art visuals for a final artistic touch.
8. White Geometric Designs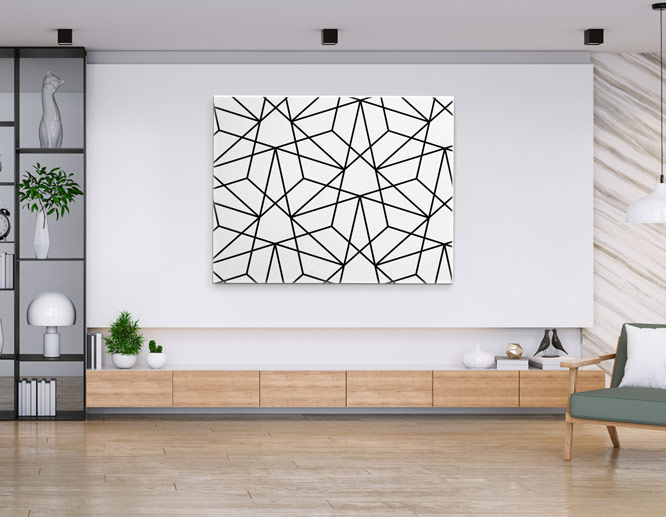 This trendy wall art idea is known for geometric shapes drawn in lines over a white background. As an alternative, you can add depth to the white images. So, feel free to select beige and light gray tones for the surface.
It's undeniable that white interior design is popular in museums and art galleries today. Use this opportunity to style up your modern wall art for living room design by displaying your artwork on white backgrounds.
Contemporary Wall Art for Other Rooms
Modern wall art decor can be suitable for different room designs. Let's take a look at how you can implement contemporary wall art in other spaces at home.
Modern Bedroom Wall Art
The bedroom might just be the most important place in every home. It's where we spend our nights to get some good rest and sleep after a tiresome day at work. Below, you'll find several modern bedroom wall art tips to turn your room into an artistic haven.
9. Scandinavian Serenity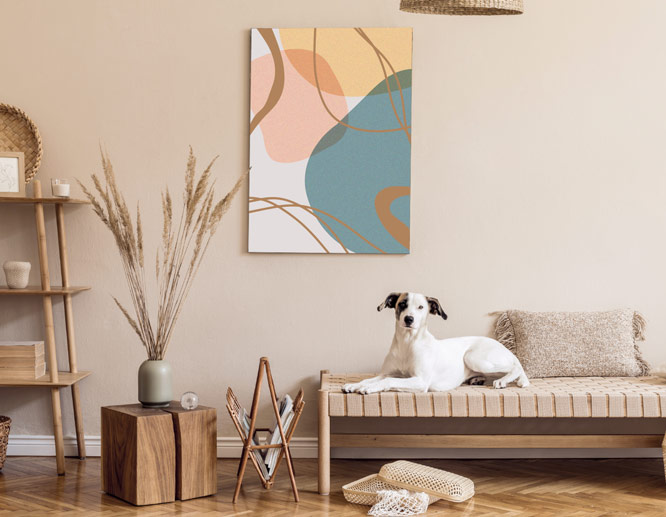 Scandinavian modern wall art decor is all about simplicity. Known for its minimalistic ornaments, the style is ideal for modern bedroom wall art.
Scandinavian design is among the more popular modern wall art ideas. Accentuate your bedroom walls with sharp Scandinavian illustrations to create contrast while maintaining clarity. Get Scandinavian-style furniture to complete the theme and style up the interior in your bedroom.
10. Botanical Line Art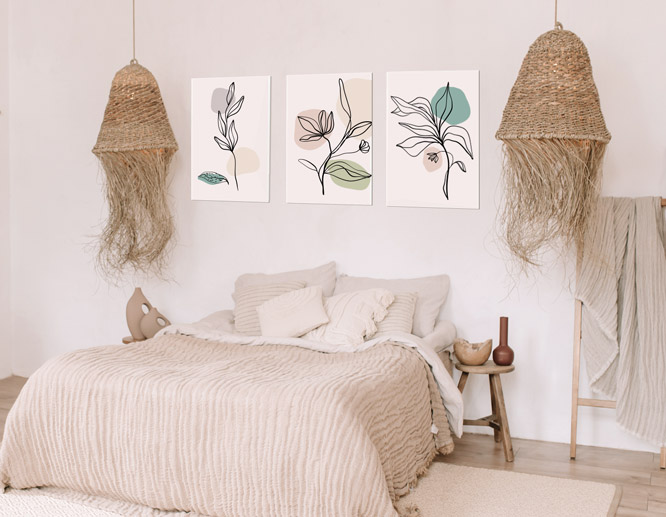 Add a contemporary feel to your bedroom walls using large modern wall art with neutral botanical illustrations. Simple plant drawings with pastel background colors will help you unwind after a stressful day.
Create your own modern bedroom wall art pieces by customizing botanical line drawings found online. You can opt to portray minimalistic wall art designs on clear acrylic signs to give them a clean, elegant and vibrant look.
11. City Maps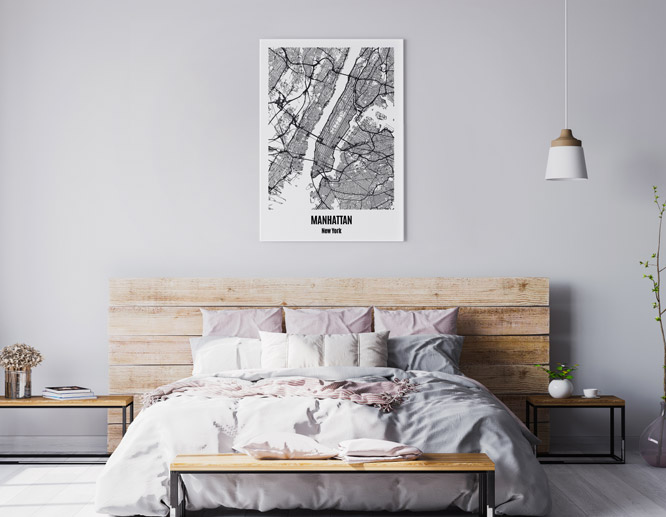 Do you reside far away from your hometown? Are you looking for something that will remind you of it in your apartment? Then this tip will rank high among your modern wall art ideas.
Hang up modern bedroom wall art showcasing your hometown map in neutral colors. The artwork will serve as a nice decoration while making you feel at home. Custom acrylic signs will be the perfect match for this idea.
Discover a big collection of bedroom wall art ideas to help you get started on new designs.
Modern Kitchen Wall Art
When it comes to spicing up your kitchen interior, go ahead and embellish your space with small to large complementary wall art that represents your personality. Don't just paint the kitchen walls in monotonous hues. Instead, apply modern kitchen wall art with dynamic illustrations on adhesive wallpapers. They'll go a long way to transform your kitchen interior.
12. Trendy Fifth Walls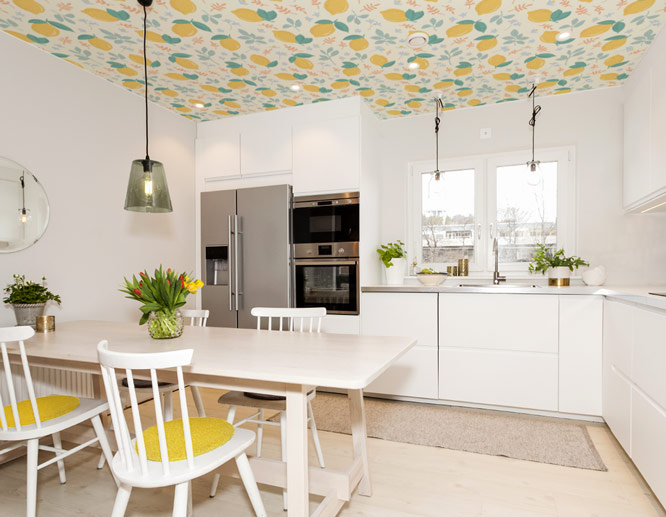 Modern kitchen wall art can portray simple elements for a luxurious result. Achieve this by designing your kitchen ceiling, also known as the fifth wall, for a sophisticated effect.
Revive your kitchen with contemporary patterns and trendy wall art that overlooks the entire space. Custom wall decals are a wonderful medium for creating large modern wall art designs for the ceiling.
13. Savoury Recipes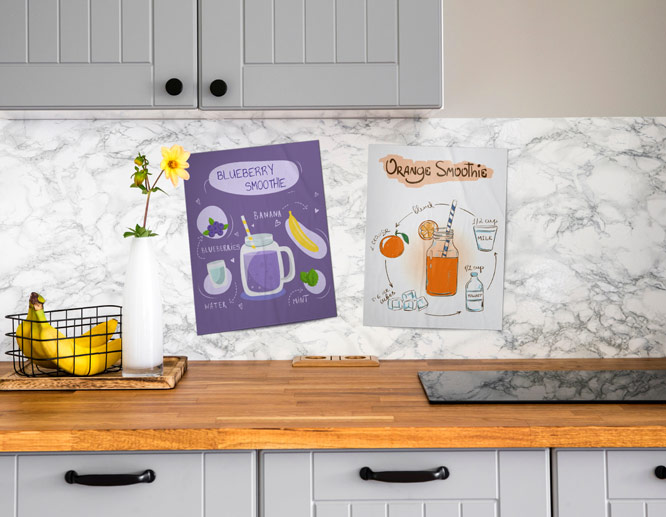 Using modern kitchen wall art to feature recipes is practical and delectable. Personalize custom aluminum signs to display family favorites. Looking for creative ways to get it done? This tip will be perfect for you.
Take advantage of our sign design tool to overlay your recipes and instructions onto creative visuals. The platform will let you choose materials, add backgrounds, customize texts and layer decorative elements over your tasty and trendy wall art.
14. Ornamental Tiles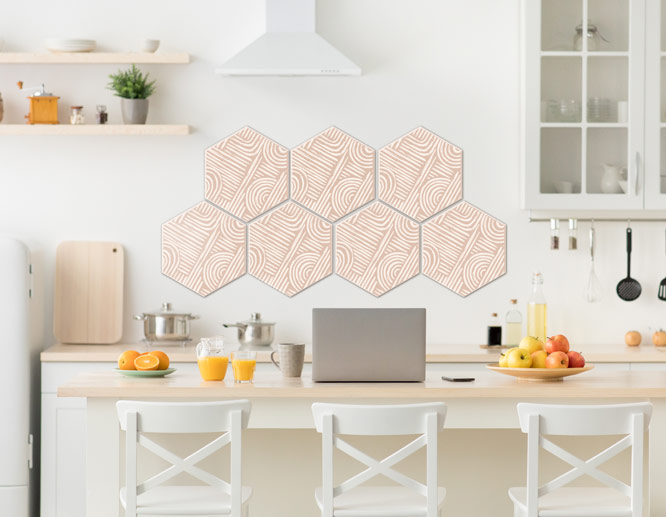 Another unique modern kitchen wall art idea is fake ornamental tiles. Instead of going through the trouble of installing ceramic tiles, go with innovative products that'll provide you with a similar look in minutes.
Use budget-friendly self adhesive foam boards or sticky wallpaper to create modern wall art decor with your favorite patterns or images. It's easy to apply and won't leave any stains on your kitchen walls after removal.
Modern Dining Room Wall Art
The dining room should focus attention on food and the bond it creates between people. Contemporary dining room wall art illustrations should keep the room's design simple and aesthetic so you can enjoy your meal.
Let's go over useful modern dining room wall art ideas that will set the stage for a flavorful experience.
15. Bold Wall Design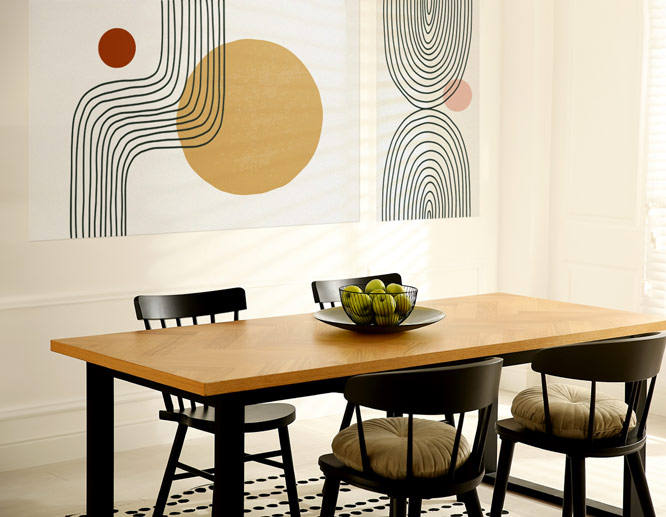 Large contemporary wall art illustrations on residue-free wall art decals can transform your interior design in a flash. The best part of having modern dining room wall art adhesives on a wall is that you can change it up as often as you like.
16. Appetizing Quotes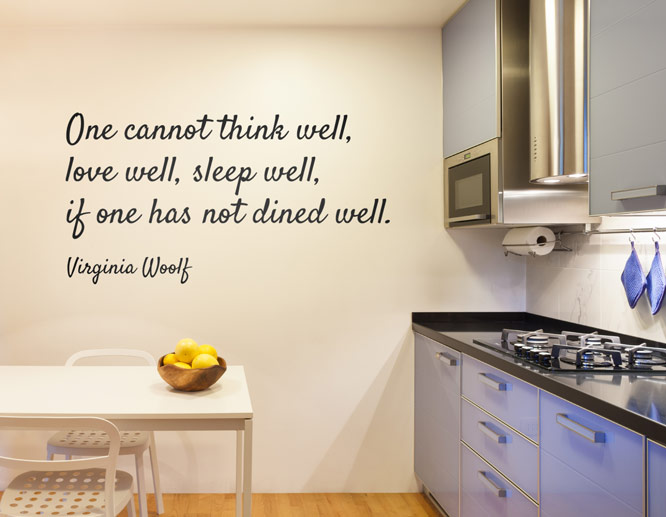 A couple of culinary quotes can set an appetizing atmosphere in your dining room. Feature contemporary dining room wall art with your favorite notes on vinyl lettering. They'll surely spark up some soulful conversations during dinner.
Check out our collection of sign templates for inspiring examples of modern art for wall furnishing.
17. Small Art Piece Collections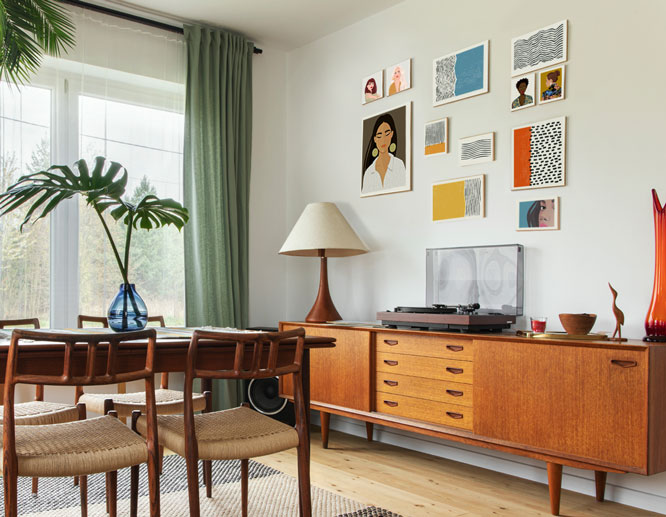 Don't feel like hanging up large modern wall art illustrations in your dining room? You can go with a number of smaller art pieces this time. One example is to create modern dining room wall art panels in a farmhouse style. You can also curate an eclectic collage or whatever strikes your fancy.
Modern Bathroom Wall Art
We can probably all agree that it's essential to keep your bathroom a) fresh, b) clean and c) aesthetically pleasing. I'm sure you follow the first two rules to a tee, but what about the third one? Here are small to large modern wall art designs to help you boost the visual appeal of any bathroom.
18. Floral Patterns on Walls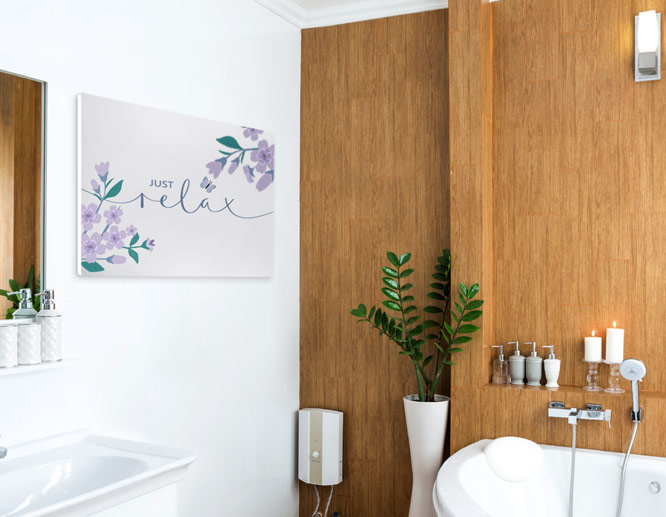 Modern bathroom wall art with floral ornaments is a sweet way to stylize your restroom. Consider adorning your walls with cute floral illustrations in mild hues. Make sure to use a product for your modern bathroom wall art that can endure the fluctuating moisture and heat in a bathroom. PVC printing is a great option for this.
19. Split Landscape Design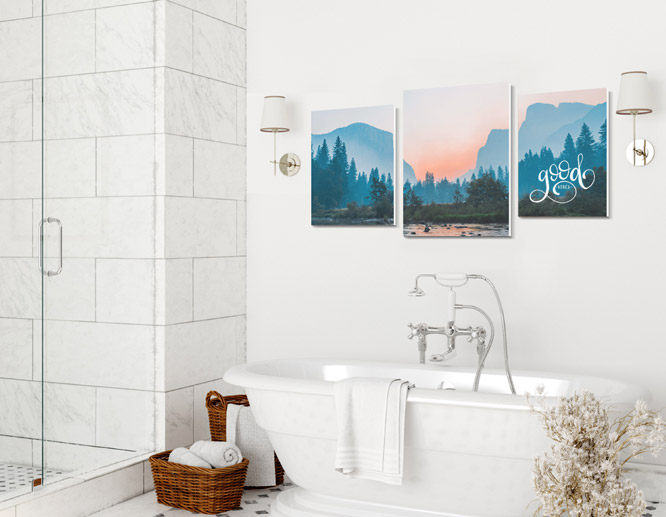 Restyle your bathroom with split landscape imagery for a fresh look. You can feature any illustration in split, collage or multi-canvas styles. Choose colors for your modern bathroom wall art that complement your powder room decor.
20. Trendy Wall Art With Funny Quotes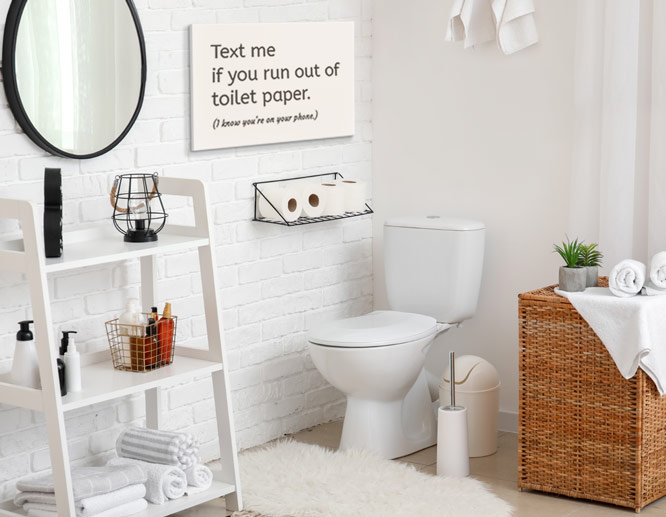 Funny illustrations are an all-time favorite for modern bathroom wall art concepts. Portray your own quotes on small to large contemporary wall art pieces or use classic crowd pleasers.
Hang up your visuals on the wall facing the toilet so that everyone can see them when using the bathroom.
Be sure to check out our collection of bathroom wall art ideas for big laughs.
Modern to contemporary or a mix of both, art for walls remains a timeless technique for decoration. So take the next step and turn your favorite ideas into reality. Mix and match artwork that speaks to your soup to remodel your house.