The atmosphere your children are surrounded by makes a huge difference in their cognitive development. The way their rooms are designed, including colors and decorations you choose, are very important. Here is a list of kids wall decor ideas and tips to help you create a dream room for your child. Make sure to read the last section for motivating phrases you can integrate into your kids bedroom wall decor ideas. 
Kids Wall Decor Ideas
The kids room wall ideas listed below are far more than cartoon character prints. Our wall decals and prints on different materials have well-thought-out designs for every child's personality and preference. These children's room wall design ideas are an opportunity for your children to see the world enriched beyond cartoons.
Kids Wall Decor Ideas for the Adventurer 
In an age of virtual reality, instilling a love for adventure will make your child brave in real life. These kids wall decor ideas will be great for your future explorer.
1. Let their little heart explore big mountains
What's more adventurous for children than camping? While you may not be able to take them to camp out very often, you can still create a thematic room with these kids room wall ideas. Feature a view of the mountains on the walls using adhesive designs and set up a tent corner where he can play or read.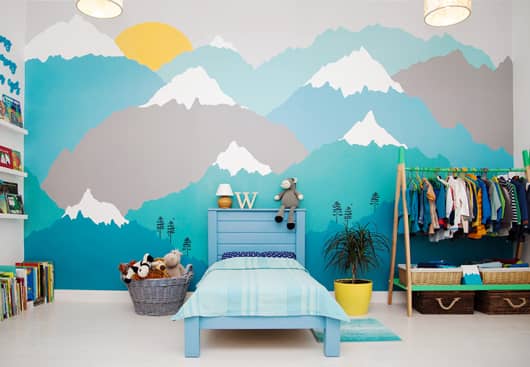 2. Instill a sense of adventure for the sea
Who hasn't dreamed about being a pirate or taking a journey to uncharted islands? Encourage your child to have big, adventurous dreams with kids room wall ideas that feature the sea and a sailship. You can go with wooden signs to give a nautical look to your decor. Another option is getting custom acrylic signs for a sea-deep effect.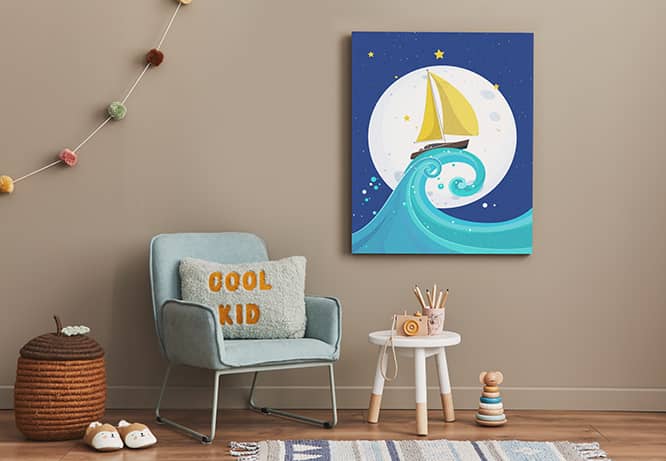 3. Shoot for the Milky Way
Exploring the Earth with its mountains and oceans is indeed exciting but there's more... Let your children's imagination soar through the whole universe with kids bedroom wall art ideas featuring astronauts and celestial objects! Who knows, maybe one day they'll travel through outer space and time to change the course of history. Canvas prints or acrylic photo prints would be an ideal choice to implement this idea.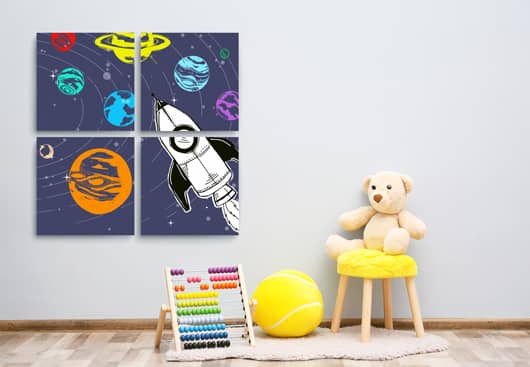 Take a look at these crazy and funny wall decals to decorate each room of your home.
Kids Wall Decor Ideas for Your Little Dreamer
These imaginative kids bedroom wall art ideas will inspire your child to dream bigger.
4. Feature a dreamy night sky
One has to dream first to make the dream come true. Raise a big dreamer who can change the world with the help of kids bedroom wall art ideas. Feature a night sky print and add an encouraging quote to it to inspire your child for the future. Lightweight and reasonably priced gator board signs are a great option to consider.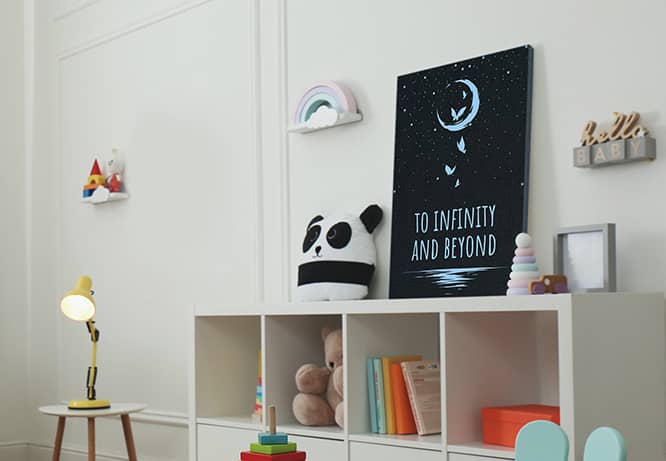 5. Open the door to a new world
Who hasn't dreamt of finding a secret door to wonderland? Let your little ones know they can create one for themselves. Create kids bedroom wall art ideas with multiple canvas pieces that open their minds up to other worlds.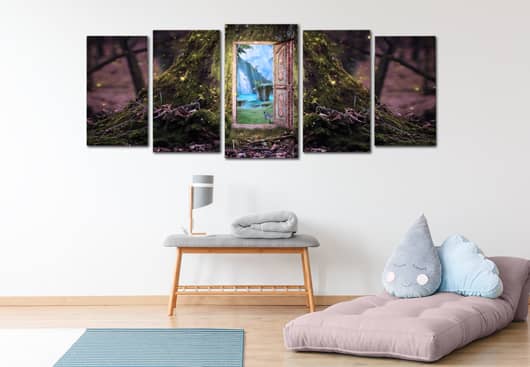 6. Parade silhouettes of flying friends
Flying free as a bird is something everyone wishes they could do. While gravity still holds us down, you can stick silhouette graphics on the wall that will help your child live vicariously through flashes of what may come.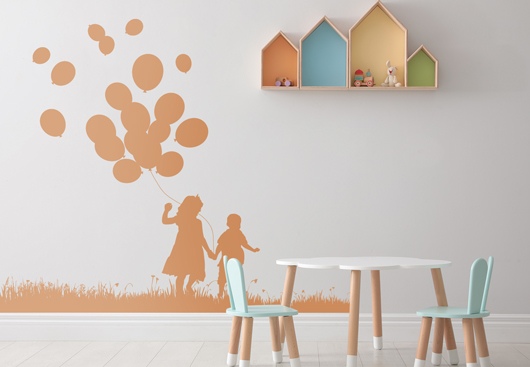 Create and order these and similar decors with our design tool.
Kids Wall Decor Ideas for the Learner




Childhood is the phase where we learn the foundations for life. Take a look at these kids wall decor ideas that'll help your child learn with ease. 
7. Explore the world map
Wondering how to decorate kid room walls to make your children excited to travel and learn about our planet? Easy… world maps are my favorite kids room wall ideas! Whether you decide to go with a small print or get a full wall wrap, this idea will boost their interest in learning about new places.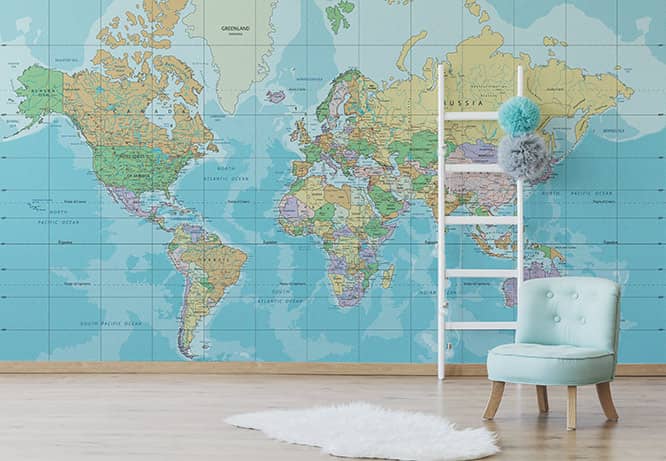 8. Teach them to count for fun
Sometimes, teaching things like how to recognize numbers or count can be difficult. To make it enjoyable, get modern kids wall decor with appealing illustrations of numbers alongside small objects that are easy to count. Seeing it every day will be enough for your child to learn a thing or two.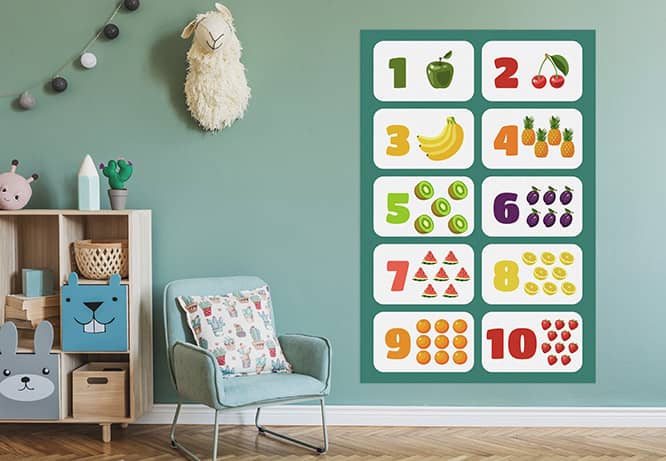 9. Get them started on their ABCs
Children start recognizing animals far earlier than the alphabet. Use them to teach your little one how to read! Get images of animals next to their respective letters for cool kids bedroom wall decor ideas. You can go with printed sheets or vinyl lettering for this concept.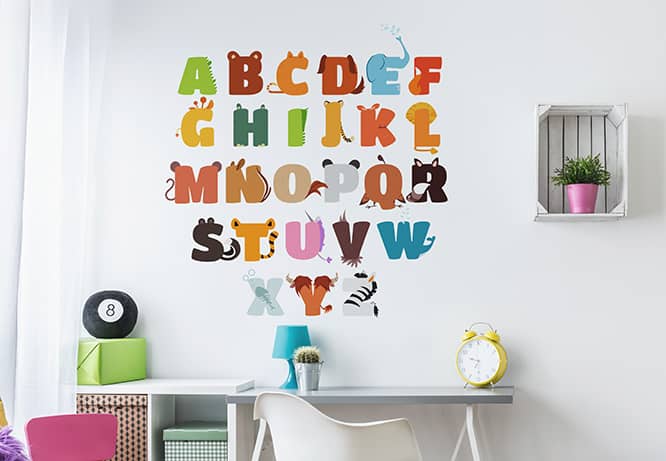 10. Showcase the Solar System
Your children may not even know what outer space is yet. Kids bedroom wall decor ideas featuring the solar system on the wall will be a great way to teach them. Start with the names of planets that orbit our sun, demonstrating how daylight follows night and how the seasons change. You can also order a foam board printing of a favorite planet.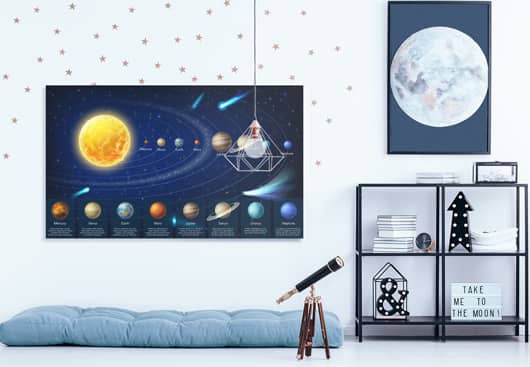 Aside from knowing how to decorate kid room walls, here are 6 must-have accents to decorate living room walls. Get ready for a real makeover!
Kids Wall Decor Ideas for the Nature Lover
Being in nature reduces anger and stress and has a positive impact on wellbeing. While it's rare to be surrounded by forests all the time, these kids room wall decor ideas will help you create a natural environment at home. 
11. Display animal image prints
Multi-panel canvas prints with animal images are a great way to add a touch of nature in the room. This idea works for any interior style, whether you're inclined towards a rustic feel or more modern kids wall decor.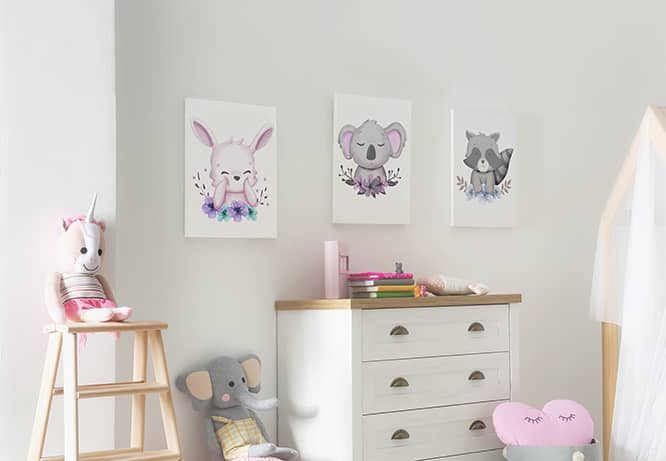 12. Create a woodsy atmosphere
Do you want to know how to decorate kid room walls to create a peaceful setting? Turn the walls into a forest with depictions of trees and animals. Choose an accent wall or decorate the whole room in this theme.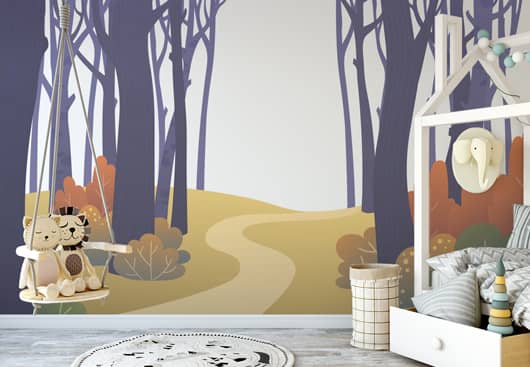 13. Add a deep blue touch
For kids room wall ideas for a little swimmer, you can paint the walls in blue and add adhesive shapes of fish, corals and other inhabitants of the sea. High-quality products won't leave residue or damage the walls so you can change the theme as often as you wish.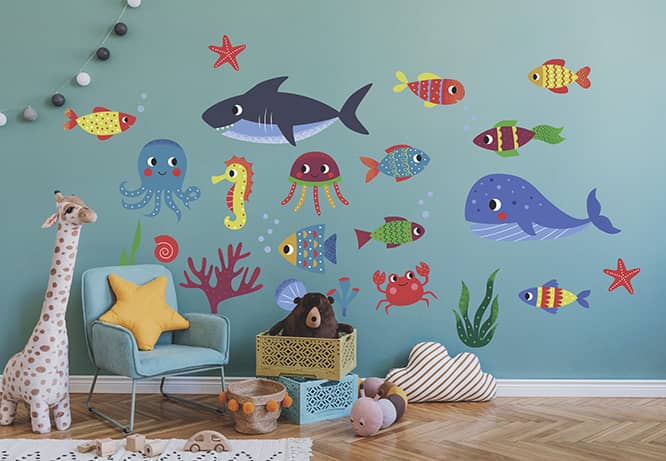 Kids Wall Decor Ideas for the Artist
The kids room wall ideas in this section will help your child express themselves through art.   
14. Give your child freedom to create
Here is how to decorate kid room walls to give your child the opportunity to get creative. Cover one of the walls with chalkboard paint. Your kid will have a huge surface to master drawing skills and realize their own children's room wall design ideas. A huge PVC printing with pictures that leave additional space for drawing is an alternative.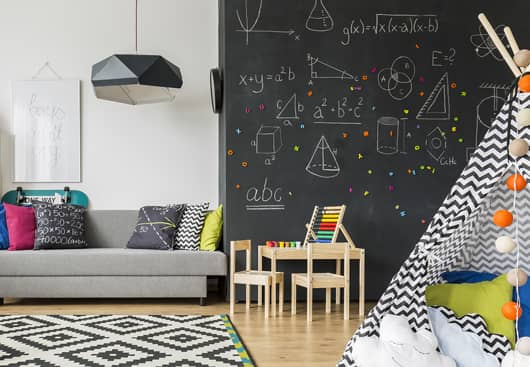 15. Hang up their own art  
Create a board on which you can hang your children's artwork. They'll feel accomplished and be inspired to further master their artistic skills. These pieces can easily complement other kids bedroom wall decor ideas.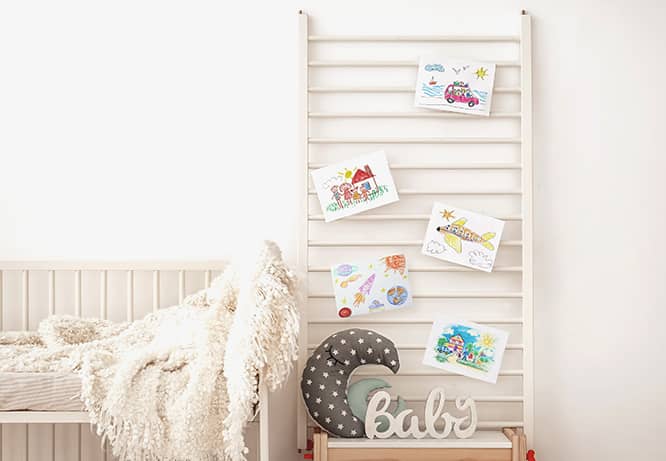 16. Invite literary characters to the room
Heros and other characters from their favorite stories are sometimes forgotten after bedtime but there's a lot your children can learn from them. Use them for kids room wall decor ideas and tell their stories through illustrative decals. The Little Prince is a personal favorite. What's theirs?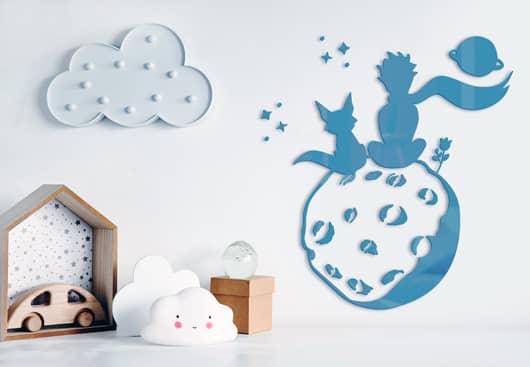 Promoting creativity during childhood has lifelong effects in the most positive ways, of course. Allow your children to explore their imagination starting with the room they grow up in. 
Kids Wall Decor Ideas for the Little Princess
Every girl deserves to be treated like a princess that's worthy of her own kingdom. Here is how to decorate kid room walls for your sweetheart. 
17. Decorate with a girly vibe
Sticky prints and silhouette graphics give you a handful of children's room wall design ideas to work with. Create an ethereal design with a girl, flowers and butterflies for your little dreamer.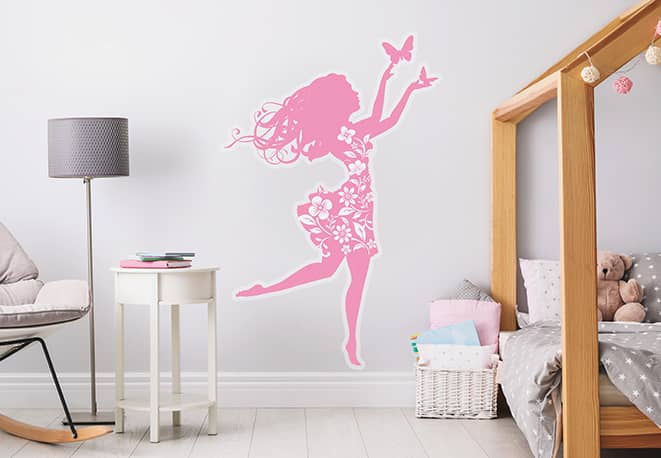 18. Inspire her to pursue hobbies
Elegant and modern kids wall decor can foster a sense of sophistication. If she has a love for dance, use ballerina-shaped graphics to encourage and refine her taste. You may also incorporate kids bedroom wall art ideas with other hobbies for different parts of the room.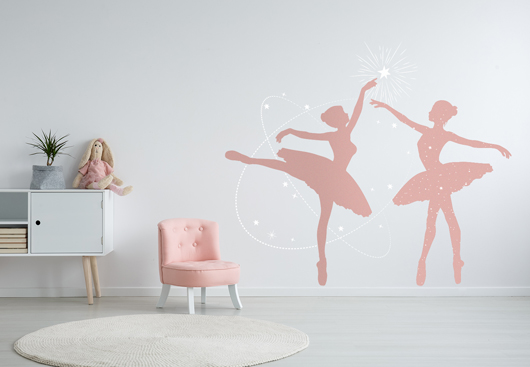 19. Treat her like a princess 
Boost her confidence with motivational wall quotes with exquisite fonts and details. Teach her the values of a true princess with kids room wall ideas displaying wise and uplifting quotes. Let her know that she can achieve all of her dreams.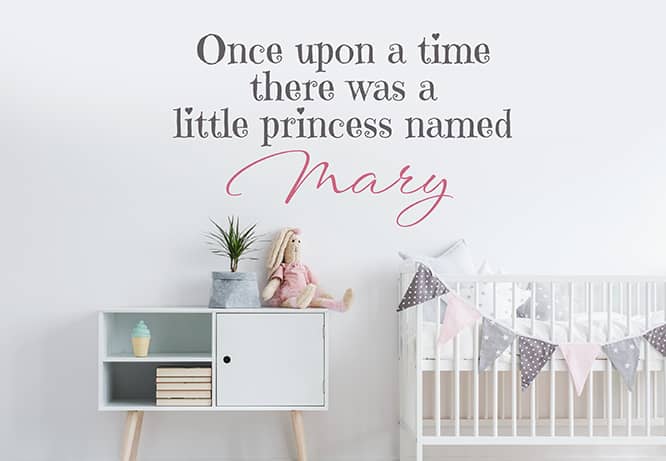 20. Befriend a magical unicorn
Speaking of princesses and modern kids wall decor... don't forget to give her a little pony or unicorn print. These will make her feel like she's living in a fairytale. Choose her favorite colors and match them with the other kids bedroom wall decor ideas you'll be using.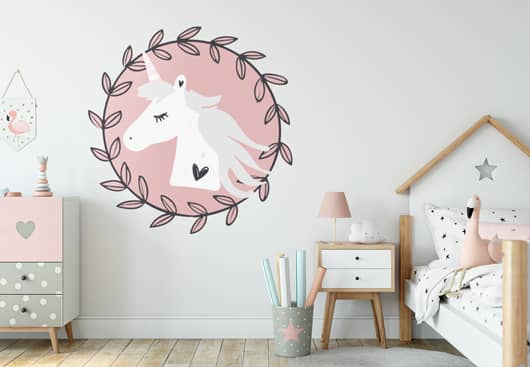 Kids Wall Decor Ideas for the Little Guy
The way you treat your kids has a huge impact on how they'll treat others as they grow up. These kids room wall ideas will help your little man become a gentleman one day.
21. Let him play with interactive decor
What about turning boys bedroom wall ideas into actual games? Get a print of a road for your little one to drive his cars through, right there on the wall. He'll be doing it anyway so you may as well add the tracks. Go on and stick some on the floor, too. Your boy will appreciate this idea.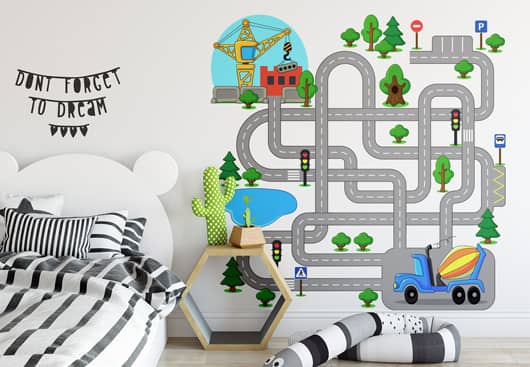 22. Motivate them for sports practice
What's his favorite sport? Getting posters or graphics of it can make for cool boys bedroom wall ideas. Get printed vinyl featuring his favorite sportsman or sport illustrations. He'll enjoy the company and be proud to show off his room to friends.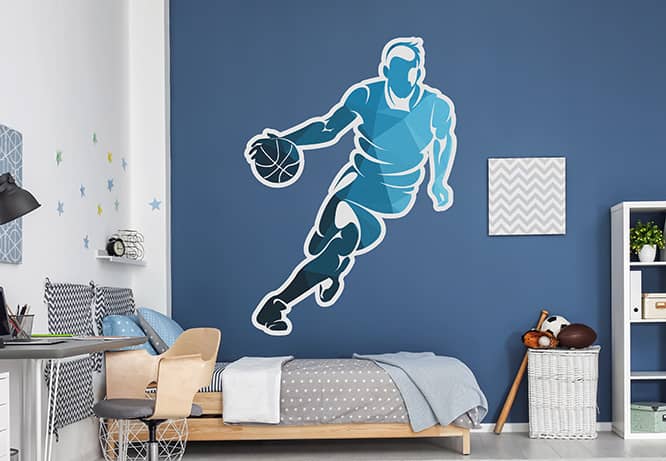 23. Keep it cool
Do you want to know how to decorate a kid room wall for your little boy? Level up his cool and let him explore his wild side. Motorcycle or dirt bike decals above his bed frame are boys bedroom wall ideas that will make him feel like he's on top of the world. He won't even want you to change it as he grows older.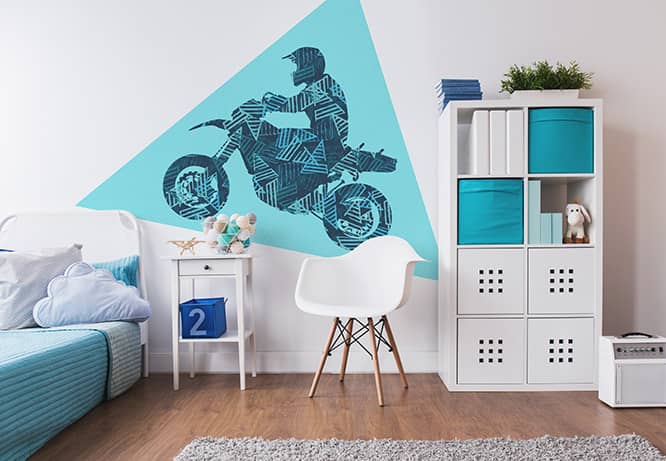 24. Bonus: Kids Wall Decor for the Growing Toddler
There are kids room wall decor ideas that are practical and can be used in any thematic room. The baby growth chart is a good example. Get one printed with a custom design and hang or apply it to the wall. As your child grows, mark the dates of their height measurements to keep track and make them feel proud.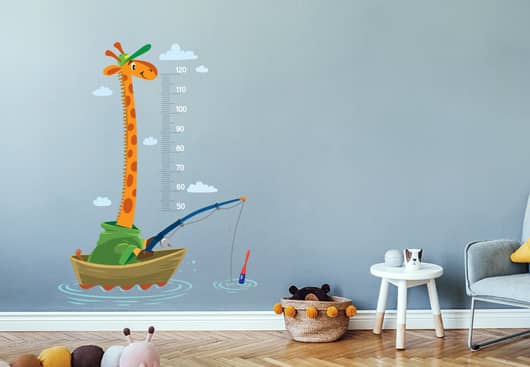 Take a look at our home decoration templates for kids room wall ideas and more!
How to Decorate Kid Room Walls
Aside from kids room wall decor ideas, you also need a few tips to know how to decorate kid room walls so that your child feels relaxed. 
Tip 1. Choosing neutral colors for children's room wall design ideas has a lot of benefits. This way, you'll avoid the need for a full renovation as your child grows older. Skyblue, eggshell, beige and pale green are only a few from plenty of choices. Keep in mind that each color has a different effect on your child's emotions. 
Tip 2. Make use of temporary kids room wall decor ideas so you can keep things fresh. Kids' interests change as they grow and they grow really fast. Use high-quality adhesives that won't leave residue or damage the wall's surface when removed. 
Tip 3. Wondering how to decorate kid room walls? Ask your children and let them get creative! Use our design tool with their help to bring their unique kids room wall ideas to life. 
Bonus: Inspiring Quotes for Kids Wall Decor Ideas
The science of motivation is more than real when it comes to raising a child. While you experience the art of raising children, here are a few foolproof motivational phrases you can use for kids room wall ideas. Regardless of your preference on how to decorate kid room walls, quote prints will make a valuable addition.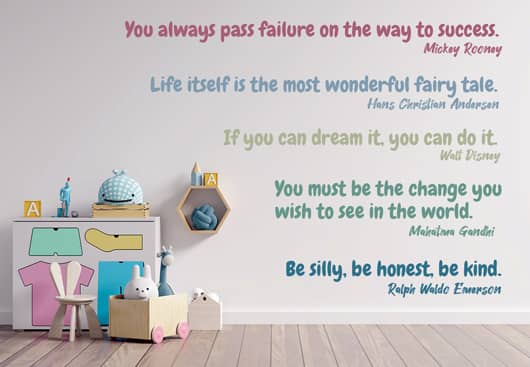 Use our
design tool
to bring these and other kids room wall decor ideas to life. We offer a wide selection of materials, templates and user-friendly features to help you create the perfect decorations for your child's room.