Are you fed up with the dull interior at your home or workplace and want to add a pinch of creativity to the design? Acrylic photo prints are a modern artistic solution to spruce things up. Before getting started with your redesign project, make sure you select the best acrylic printing services to get a desirable quality for your investment.
Need to find the best place to order acrylic prints of the highest vibrancy and resolution? This article will guide you to all the answers.
Let's get started.
Qualities Defining the Best Acrylic Printing Services
Not all acrylic art is printed equal. To make the right decision, consider the following quality-assuring factors to accentuate your design.
High Quality Printing Options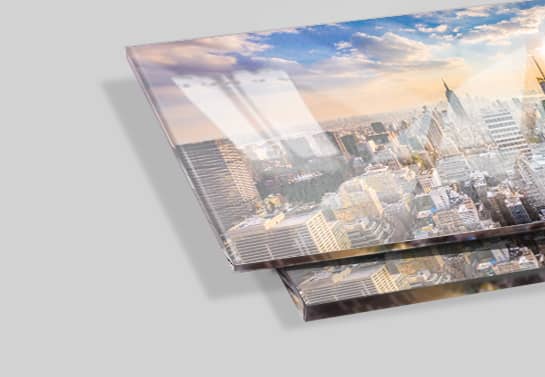 The first vital feature to know about this product is that it's available in two versions. One uses a direct-printing process in which photos are printed straight onto a sheet of acrylic that allows light to pass through the material. The second process is called a face-mount, where graphics are printed onto photographic paper then applied to the back surface of the acrylic.
Are you hesitant about which one to choose? If you want to refresh your place with a product that will last, choose the best acrylic print company to provide you with the best acrylic photo prints using the direct-printing method.
There are multiple advantages to the direct-printing technique. It's scratch resistant, can hold up well if exposed to moisture and to top, it's also more economical than the face-mount approach.
Did you know that our ancestors drew on their cave walls thousands of years ago, possibly for decoration?
Safe Installing Options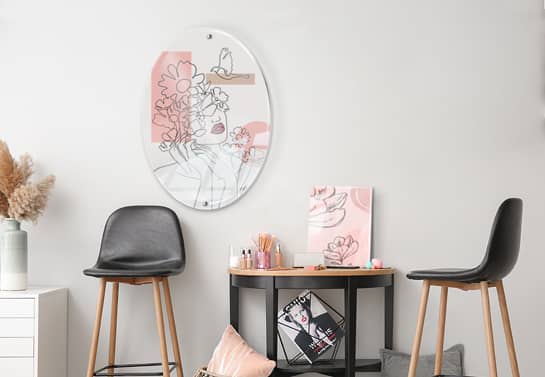 Installation is an essential component to consider in your quest for the best acrylic printing services. Top-level companies will offer you different options for ordering your acrylic decor. But how do you pick out the one that suits your space? Here's how it's done.
The product comes with a stand-off, float-off and free-standing option for mounting if you go with the right service provider. Fastened with invisible frames that create a gap between the wall and the acrylic, float-off mounting creates an artistic atmosphere like canvas prints do.
Besides aesthetics, it's also important to consider an installation method that is secure, especially for a family home. The best acrylic print companies will offer stand-off mounting for extra large prints. With this option, you can fix the prints onto a wall with stand-off bolts. They guarantee a high degree of assurance that the prints won't fall off and harm anyone.
Alternatively, you can choose free-standing options with easel backs and place them on flat surfaces like tables, mantels or counters.
Read our Home Office Wall Decor Ideas if you're looking for creative ways to design your walls.
Availability of Custom Shapes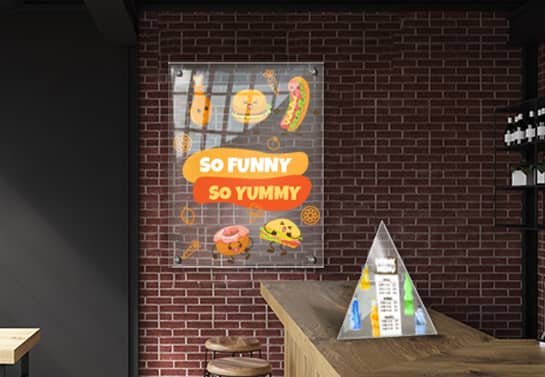 Custom shapes are another determining feature for selecting the best acrylic printing services. Standard-shaped acrylic signs will suffice for advertising campaigns but for decorative purposes, custom shapes are highly preferred. They're meant for boosting creativity and establishing a stylish atmosphere, so prepare to get crafty.
Find the best acrylic print companies that provide various cutting options to suit your interior design. Get your prints made in circular, rectangle, square or other custom shapes to your liking. Arranging various shapes will create a visual-hierarchy and enhance the appeal of your decor.
Are you interested in other crafty solutions to redesign your walls? Check out our cute canvas ideas to get inspired.
Best Acrylic Print Company
Now that you have all the necessary information about the best acrylic printing services, it's time to decide where to get your project made. Let's take a quick look at telling factors while researching the best place to order your acrylic prints.
The Company's Experience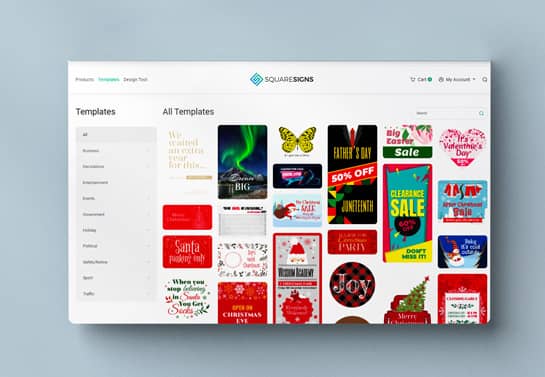 Experience matters everywhere and the same applies here. Look for a great portfolio and read through customer reviews to see what impressions they share about the business.
The best acrylic print company will also provide you with a list of ready-made templates to make the design process easier for your product. Do you need an example? Go to our decoration templates and see which will suit your interior best.
The Handiness of the Company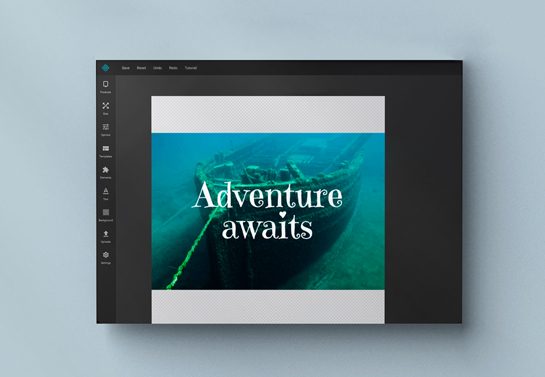 Did you want to create your own design without expert help? It can be fun, creative and simple if you've got the right resources. Find the best place to order acrylic prints that offers a handy online sign design tool. This type of platform will let you  choose from ready-made templates, restyle them to your liking, add texts in any font, play around with colors and add gorgeous backgrounds. You'll also have the chance to upload your own photos if you wish.
Now that you have all the tools you might need, let your imagination soar and get crafty with Square Signs. Combine our services with your own creativity to redesign your place with style.