Bring some joy home in a trolley, fa la la la la.
Start the year with a blissful story, fa la la la la.
If you listen carefully, you can hear Santa's sleigh bells ringing from a distance. Keep his spirits high with vibrant indoor and outdoor Christmas signs for your home, office, church and beyond. Come along on a journey with me to find your favorite decorative signage and glow any place up with the season's magic.
Outdoor Christmas Signs for Home Decor
You've been good this year and have waited patiently to receive your gifts from Santa. If you want the reindeer to visit your home with glee on the holy night, attract them with vivid outdoor Christmas signs. Display vinyl banners in the house yard or front porch. They're a great solution for decorating under harsh weather conditions. Jump in to read more ideas below and land on your inspiration.
1. Free-Standing Christmas Porch Signs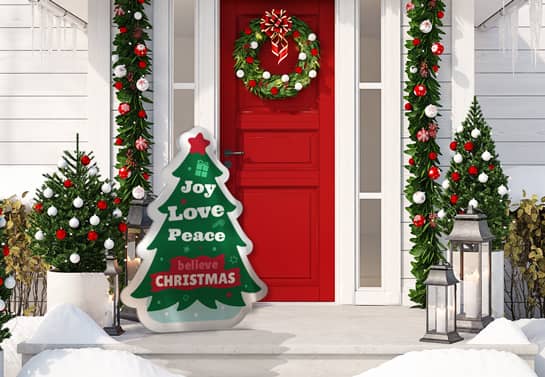 The first area that comes to mind for outdoor decorations is the front porch. Personalize your own Christmas porch sign and set it up next to the Christmas wreath hanging from the main door. Whether it's stormy, snowy or mild outside, aluminum signs are a perfect choice to create Christmas front porch signs. Why? It's simple. These metal Christmas signs can withstand all kinds of weather without rusting, bending or blowing away. Better still, you can reuse them every holiday season for years on end.
If you've got your very own Christmas porch sign idea, you can go to our online sign design tool and create your decor with just a few clicks.
2. Eye-Catching Christmas Yard Signs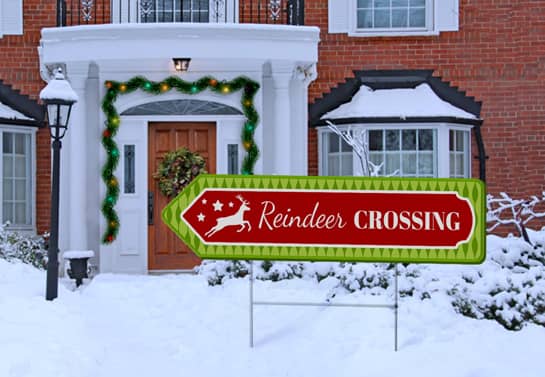 Why not put people in a jolly mood as they come and go? Remind everyone of the holiday spirit with the craftiest Christmas yard signs around. They can take on versatile shapes, prints and poles to suit your taste. Customize yard signs to your liking and set them up on the lawn for Santa and your neighbors, too.
Do you like these Christmas outdoor sign ideas that I've prepared for you? Then you'll also adore our full collection of Christmas signs. Sit back and enjoy.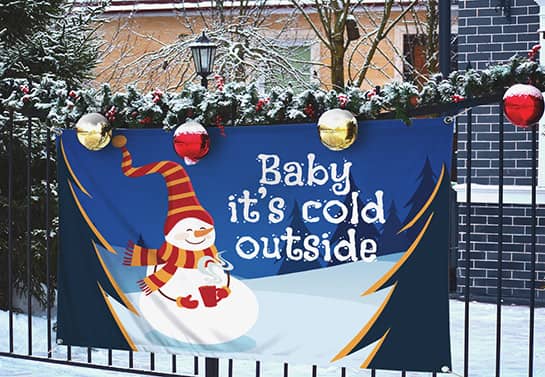 Are you searching for another Christmas yard sign idea? Then consider decorating your fence. I know you're thinking string lights but the most conscious and budget-friendly option is to project all your glowing ideas onto banners. Put up your Christmas fence sign and turn your space into a magical castle where all dreams come true.
If you're still thinking about creative ideas for your decor, check out our designer-made Christmas templates. Personalize them if you like and use them to create your festive Christmas lawn sign.
Indoor Christmas House Signs
Where there's happiness, there's warmth. The right interior decor can help you share the warm-and-fuzzies with your loved ones. Design adorable indoor Christmas house signs and season your interior with the heat of cinnamon. Whether you get a cute Christmas wall sign or a decorative wreath to mount on your door, rest assured that you'll have created serious magic. Now go ahead and unlock more wondrous ideas below.
1. Christmas Living-Room Signs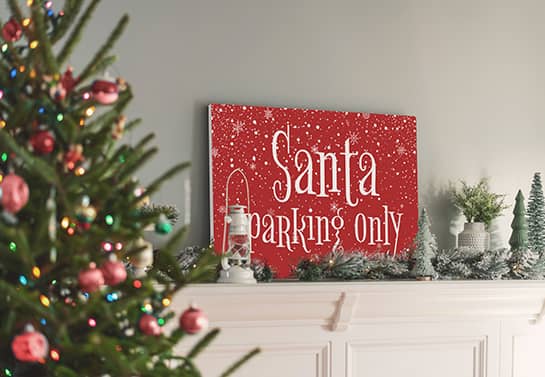 There is no Christmas without good tidings and long-awaited gifts. Have you prepared your mantel to help Santa park while he delivers your gifts? Hurry! Craft a custom Christmas mantel sign and place it near your fireplace. Personalize your vision with wooden signs, gator board printing or acrylic photo prints, they're all perfect for interior decorations. To bring even your most imaginative ideas to life, go to our free design tool. Why not create the magnificent Christmas wood sign that you've been dreaming of?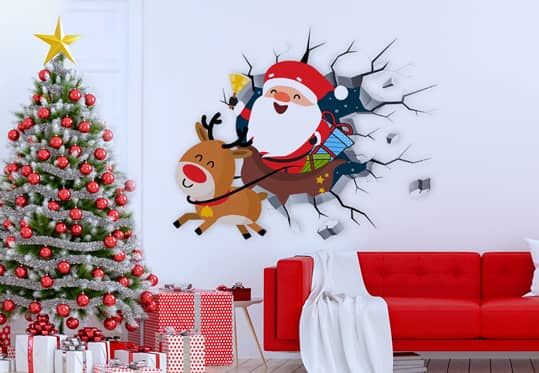 Another idea that's no less interesting for the living-room is a vibrant Christmas wall sign. For this decorative feature, you can go with wall decals. They're ideal for temporary use during this celebratory time. Customize your Christmas wall sign however you wish. Stick it to the wall and remove it easily once the holidays are over. Let them transform your home into an enchanted house.
Did you know that the real Santa was a clergyman and lived his whole life helping the poor and sick?
2. Christmas Kitchen Signs for a Tasteful Interior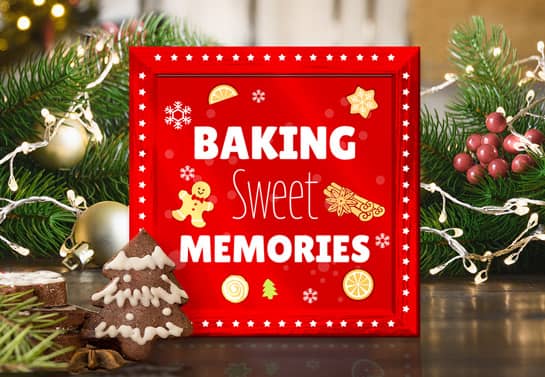 Sweet hot chocolate, gingerbread cookies, orange peel, cloves and roasted chestnuts: that's the smell of Christmas. To add more zing to the mood, decorate your kitchen with Christmas tabletop signs showcasing inspiring quotes and dazzling graphics. Foam board printing or acrylic signs are perfect for this idea, allowing you to create lightweight decorations for indoor use.
3. Crafty Christmas Bathroom Signs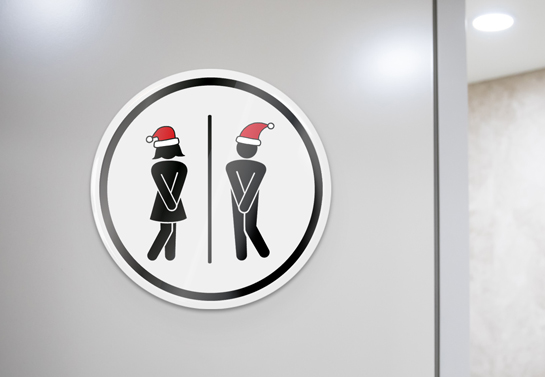 Here's the last but not least of our indoor decoration ideas, and it's for the powder room. Create a unique Christmas door sign to replace typical bathroom door symbols. Are you hesitating about which material to use? I suggest opting for PVC signs as they're durable, lightweight and easy to mount.
If you're searching for trendy ideas to create your own Christmas bathroom sign, then go to our Christmas templates and pick your favorites.
Christmas Signs for Different Venues
Christmas is the best holiday to celebrate in a lovely family atmosphere. Yet, it's not restricted to home celebrations. Catch exclusive Christmas sign decor ideas for different venues and share the mood with your friends, colleagues and passersby. Are you ready to get crafty?
1. Christmas Office Signs for Festive Decor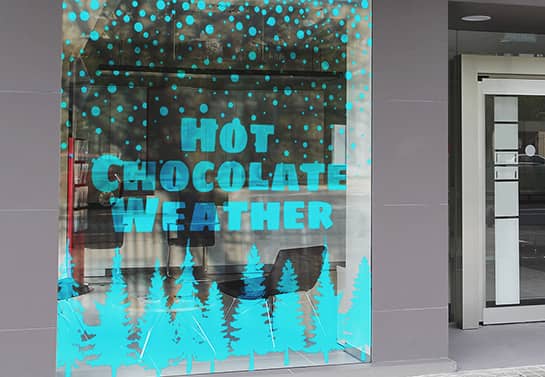 Chances are, you spend more time with your colleagues than you do with family members. That's why you can decorate your workplace with Christmas office signs and enjoy the magical mood when you're at work. Adhesive window decals are the best choice here as you can stick them easily and remove them without any residue.
Read our Office Christmas Decoration Ideas if you need more decorative Christmas office sign ideas.
2. Christmas Church Signs to Cherish the Real King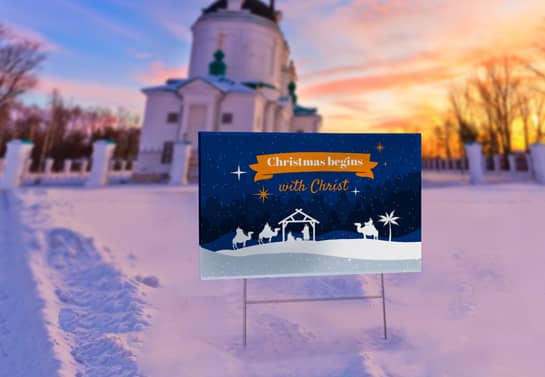 Christmas is not just a holiday for eating, drinking and spending the whole night partying. It's the celebration of Christ's birth. So decorate your home but don't forget about the house of the Lord. Mark your church's surroundings with a Christmas church sign. Corrugated plastic signs, sandwich board signs or retractable banners would be perfect solutions for the occasion.
Do you have unique ideas for outdoor Christmas signs? Head over to our sign design tool and bring your imagination to life.
Christmas Party Signs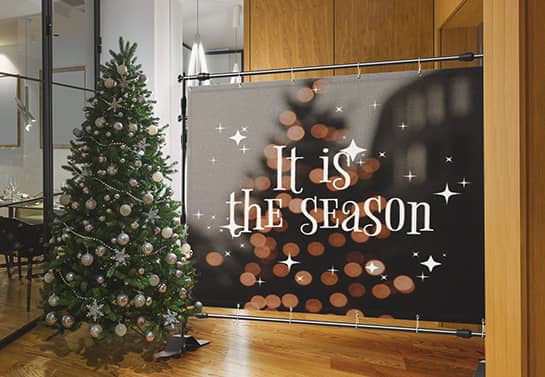 Christmas isn't Christmas without nostalgic ugly sweater parties and company celebrations. Why not jazz up the festivities with a few funky Christmas party signs? Check out the last of my suggestions and find your inspiration.
Get crafty with company Christmas party signs if you're up for some merry revelry with your colleagues. A unique idea for this occasion is a Christmas photo booth sign printed on step and repeat banners. Display thematic graphics on them and give your staff memories of the craziest photoshoot of the holidays.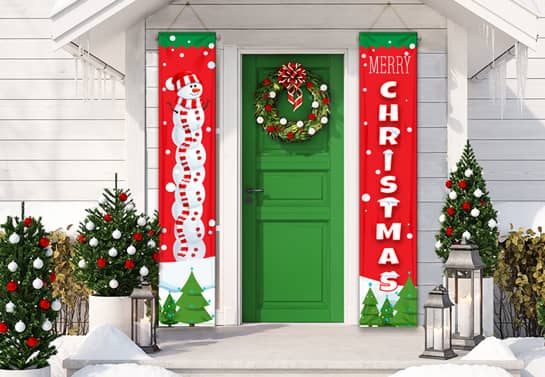 Before you start the party, make sure to welcome your guests with the warmest greetings. Here's where fabric banners will come in handy. They'll make for magnificent hanging Christmas party signs. All you have to do is fix them onto your front door or the wall directly on the other side.
Did you like the Christmas party sign ideas I presented above? Then read our article on Christmas banners to achieve further excellence in your decorative skills.
Even if you plan on spending the holidays in the countryside, you can still use these examples to design an awesome farmhouse Christmas sign. Pick out one of my suggestions, adjust it to your taste and customize your DIY outdoor or indoor Christmas sign with a rustic charm. We offer all kinds of materials and design elements so pick a style you like and get creative.
Happy holidays! Wishing you a Christmas that's merry and bright.