Holidays are nowhere near as fun without decorations. I've gathered a collection of window decoration ideas for holidays celebrated nationwide. Follow this guide year-round to stay on top of window decoration trends.
Charming Holiday Decorating Ideas for Your Windows
I've put together a manual for window decor ideas to celebrate 10 major US holidays. From the start of the year to its very end, we'll explore decor ideas for every season․ Window decals, ornaments, window quotes and much more await you!
Decorate for Joyous Winter Holidays
There are three main holidays that commemorate the most wonderful time of the year. And all of them call for gorgeous decorations. To help you set up the perfect window decor combination, here are a bunch of ideas for Christmas, New Year and Valentine's Day!
#1. Christmas Project
How do you imagine decorating your windows for the celebration? Christmas is all about lights, snowflakes, Santa stockings and gifts. Anything you can think of to embellish these elements can make cool holiday window decorating ideas. Here is the perfect list to inspire you!
Window quotes with Christmas sayings
Colorful or white gift box-shaped stickers
Adhesive snowflakes and stars
Hanging garlands and bulb lights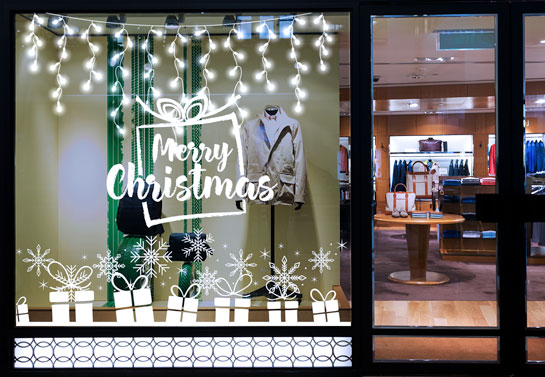 Combine two or three of these decor ideas to get your windows in the mood for Christmas. They'll work for both your home and business. As Christmas is not complete without incredible decor pieces, we have dedicated a whole article to Christmas Window Decoration Ideas.
The New Year comes right after Christmas so let's jump to decor for new beginnings!
#2. New Year's Project
You may think that ornaments for New Year's Eve and Christmas are much the same. While they share similarities, there are unique New Year decorations you should definitely consider. New Year's Eve marks a fresh start so you need to decorate accordingly. You do have the option of keeping select Christmas ornaments and adding on to them for New Year's. You can also replace them all with fresh adornments. Whichever you choose, here are the ideas you'll need this year!
Firework prints
Stickers showcasing the New Year to come
Countdown New Year clock print
Congratulating window quotes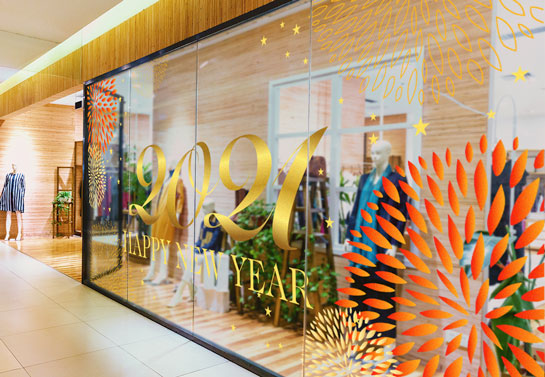 Usher in the New Year with a new beginning. Choose the right ideas for your windows and set an exciting tone for the coming year. Create them with our easy-to-use sign design tool that gives you access to ready-made templates, a wide variety of elements and powerful features that will enable you to achieve stunning results.
#3 St. Valentine's Day Project
The most romantic holiday of the year is well anticipated by lovers, family and friends alike. While people are looking for ideas to enthrall their beloveds, businesses are eager to amaze their customers. Here are ideas you can use to decorate both the windows of your home and business. Let's fill the air with love and warm vibes.
Heart shaped stickers with quotes
Romantic scene print with a couple in love
Special offer or sale promotion
Floral window displays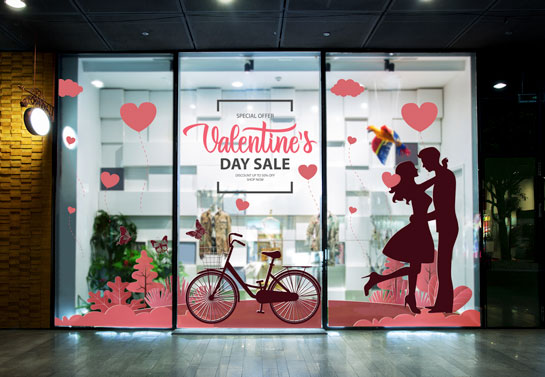 Surprise your other half with stickers proclaiming your love. They can be applied within minutes and removed just as easily if rejection ensues - though it's highly unlikely after such a thoughtful gesture. Need more ideas to decorate for Valentine's day? Read our article on 12 Valentine Decoration Ideas To Inspire Romance.
Let Your Windows Bloom With Spring Holiday Window Ideas
Spring is a celebration in and of itself. To get ready for the spring holidays, follow this guide on window decorations for St. Patrick's Day, Easter and Cinco de Mayo. All of these feasts have a unique style and expressive characteristics when it comes to decorations.
#4. St. Patrick's Day Project 
Can you imagine a St. Patrick's Day without decorations and green beer? The celebration is a perfect start to spring with all its lucky clovers and pots of gold at the end of every rainbow. Take a look at these cool window decoration ideas and don't forget to represent the right color lest you get pinched.
Four-leaf clovers, pots of gold, beer and other symbolistic stickers
Leprechaun adhesives for storefront welcoming your customers or guests
Garlands with the colors of the rainbow
Irish sayings and quote prints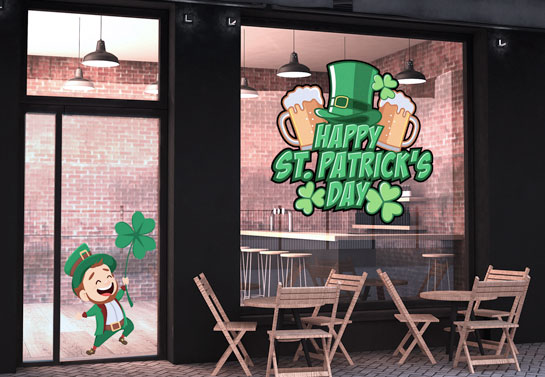 Get the party going or boost your sales with the above ideas for St. Paddy's Day. Apply festive window decors, put on a good playlist and you'll be ready to (sham)rock!
#5. Easter Project
Decorating for Easter is a lot of fun! When it comes to the windows, you have a handful of options to choose from. From egg prints to wreaths, take a look at this list for inspiration!
Colorful egg prints
Hanging window wreaths
Easter Bunny shaped stickers
Adhesive flowers and butterfly shapes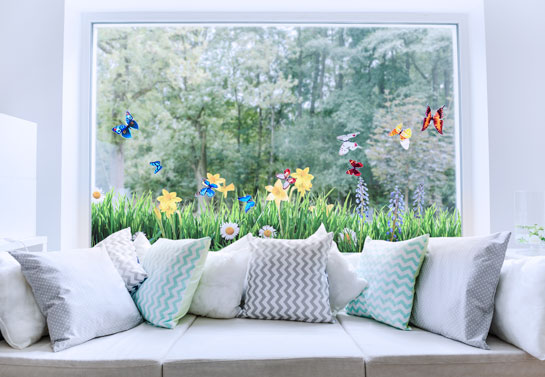 Many of us look forward to Easter as the welcoming of Spring. Make it even more fun with the above ideas that are easy to bring to life. Make sure to check our Easter templates which you can use to create your own adhesive window ornaments on our free online platform.
Need more Easter decoration inspo? We've got you covered. Read our article on Easter Decor Ideas and get ready for the party!
#6 Cinco de Mayo Project
Cinco de Mayo - is there a more loud and colorful holiday? With lots of rich patterns, symbols, drinks and dances, this is a festival you should get properly prepped for. It's your chance to promote your business whether you have a cafe and want to throw a dinner party or have a special offer you want to promote in your store.
Find the perfect ideas for Cinco de Mayo window decorations below.
Stickers featuring cacti, guitars and other symbols of Mexico
Plant pots with cacti
Papel Picado garlands
Promotional and congratulating window quotes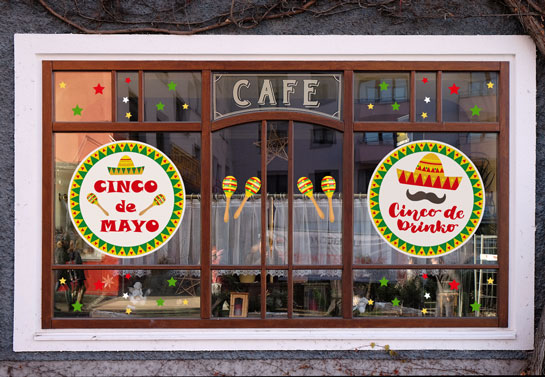 Whether you need Cinco-de-Mayo window decors for your home or business, the above ideas are sure to give them a south-of-the-border feel.
No need to worry about going on a drunken scavenger hunt for your decor (although that does sound fun). Our free design tool lets you create and customize text and graphics according to your taste and requirements. As soon as you get it just right, order the product and get it shipped to your door.
Bask in Sun-Sational Summer Holiday Window Decorating Ideas
Summer is all about fun in the sun. Seasonally-themed decor will make this summer unforgettable even as you enjoy a COVID staycation. Let's go over the summer holidays that require a zestful approach when it comes to window ornaments.
#7. 4th of July Project
Independence Day is one of the most patriotic holidays that's celebrated nationwide. These holiday window ideas showcase the spirit of America and its values.
Hanging US flags
Words of  historical figures
Funny or promotional stickers
Well-known patriotic quotes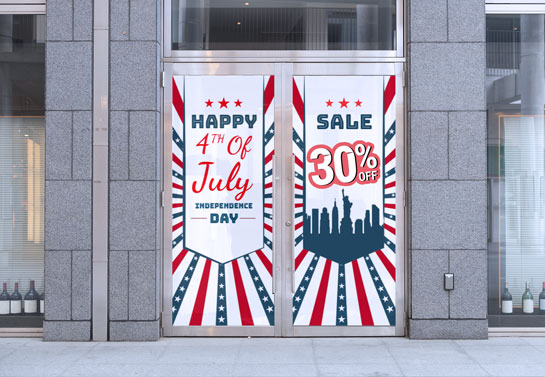 #8. Summer Break Project
Summer break is what we all await with pleasure. While people are excited about their extended holidays, you should take advantage of the season of tourism to boost your business. These ideas make ideal window decors for shops, cafes, B&Bs and other businesses that want to promote specials and make their windows more appealing.
Seasonal specials and happy hour menu offers
Summer sale announcements
Small stickers of sunglasses, boats and other things related to summer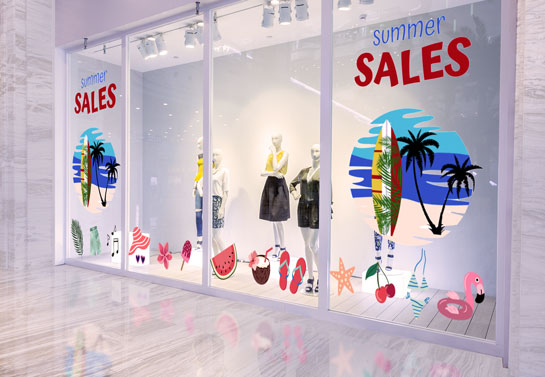 Check out our decoration templates that you can use free of charge for the design of your signs and decorations. Customize them to perfection with our graphic tool and order now.
Fall in Love With Fall With These Festive Window Decors
Autumn comes with rich changing colors and a feeling of romance in the air. It's also the season of family-friendly holidays that fill us with warmth despite the cooling weather. Let's get into holiday decorating ideas for windows to bring in two of the main feasts of the year.
#9. Halloween Project
Halloween comes just in time to wrap up the month of October. The decorations for All Hallows' Eve are in cadence with fall but with a spooky twist all their own. Making a jack-o'-lantern from the seasonal pumpkins strewn in patches is classic but make sure to give your windows a ghastly flare, too. You can also read our article dedicated to Halloween Window Decoration Ideas for more inspiration.
Stickers showcasing Halloween symbols like Jack-o'-lanterns and witch house
Spooky quote prints
Skeletons looking out of the window
Stickers of candies and sweets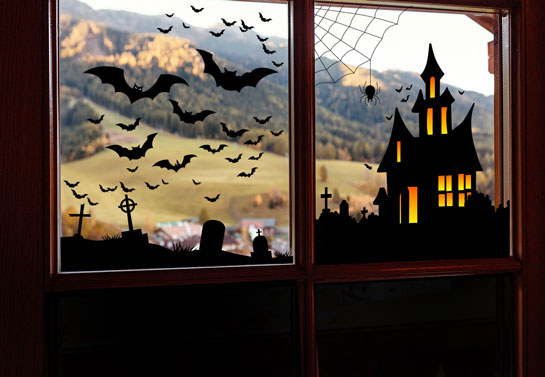 Make sure to check out our holiday templates so you can use them to create your decorative stickers online.
#10. Thanksgiving Project
Thanksgiving is the feast of all feasts. It's just as much about decorations as it is about our favorite home cooked meals. Combined, these beloved treats make up the spirit of the holiday. Entrust us with the beautification of your windows so you can have ample time to work wonders in the kitchen. Here are Thanksgiving window decor ideas that will imbue the atmosphere with the tastiest vibes of Fall.
Harvest prints
Autumn leaf stickers
Pumpkins on the windowsill
Funny turkey images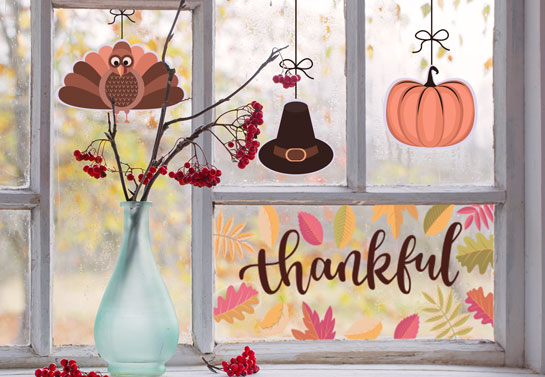 Now you have all the holiday window decorating ideas and tips you'll need for a whole year! Make sure to also read our article on Window Decoration Ideas And Expert Insights for even more inspo you can incorporate for all intents and purposes.
Tips and Highlights: How to Decorate Windows for Holidays
Now let's see some tips and highlights you should make use of when decorating your windows for different holidays.
Tip1. Create depth with different decor elements
Window decorations are great but when used in excess, they can make your place appear smaller. On the other hand, when used intentionally, window decorations offer a chance to visually enhance the overall space design. Make sure your other adornments create layers to add depth to your window graphics. For example, use the stickers in combination with seasonal bouquets or leaf garlands.
Tip 2. Keep consistency with other decor
Your decorations are most likely not limited to just the windows. Make sure to keep all the decorations around your house or business consistent in color and style. At the same time, feel free to diversify types of decorations within different areas of the house.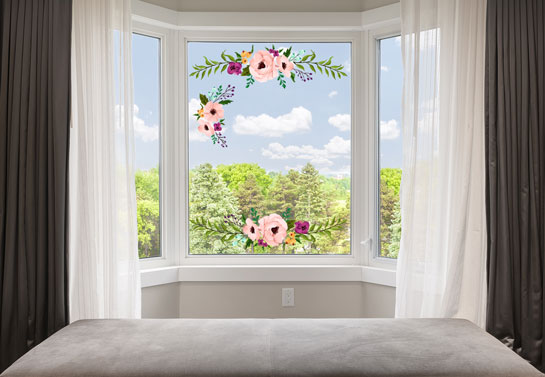 Here is some advice from me:
For indoor projects, match window and wall decorations
For outdoor projects, match window and door decorations
Use analogous colors for different decorative elements
Tip 3. Use fade-resistant materials
You don't want your decor pieces to lose color before their time, do you? This is why you should pay attention to the materials that your decorations are made of. What's more, the inks used to print graphics on adhesives are of utmost importance. At Square Signs, we offer full-color UV printing that results in a long lifespan for your stickers.
Create window decor for the holidays with Square Signs and gain access to thousands of free templates. Upload your own design or create with the help of the elements, background options and other features available on our design platform. Order as soon as you have your sign and get it shipped to your door