Thinking of decorating the windows of your house or apartment? Good for you! Window decor is a perfect way to freshen up any interior. Try out these amazing decoration ideas with window decals, ornaments, curtains and more. Read on for sensible advice on how to transform those dull windows into awesome ones!
Home Window Decoration Ideas
Instead of talking about how window decorations are great, let's get into the ones I have in store for you. From low and high to bow and bay window decorating ideas, these will work for all window types and styles.
Nature-Themed Decor to Reconnect With the Outdoors
We are connected to nature whether we spend time in it or not. Since we can't afford to go out and explore nature as often as we may like, we can bring nature to our homes instead. Here is how!
Idea 1. Use Cute Bird Images to Freshen Up Dull Windows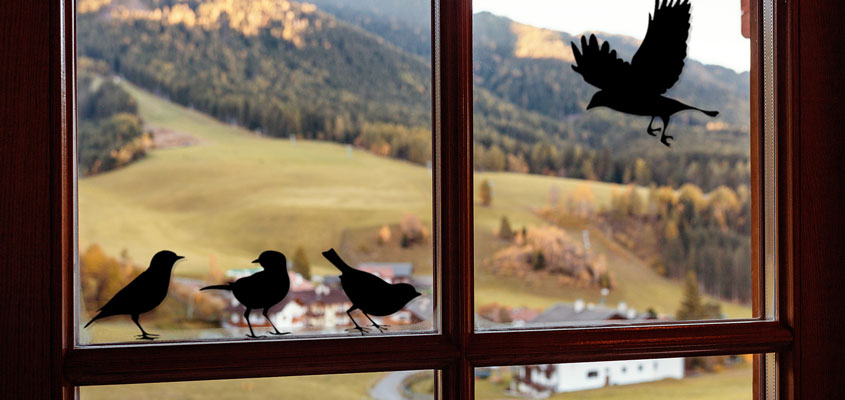 Dull windows need these cute stickers! Have wild "birds" walk along the edges of your windows. The pro is that it will look endearing from both sides. The con? There is no con to this idea.
Idea 2. Have the Earth Smile With Flowers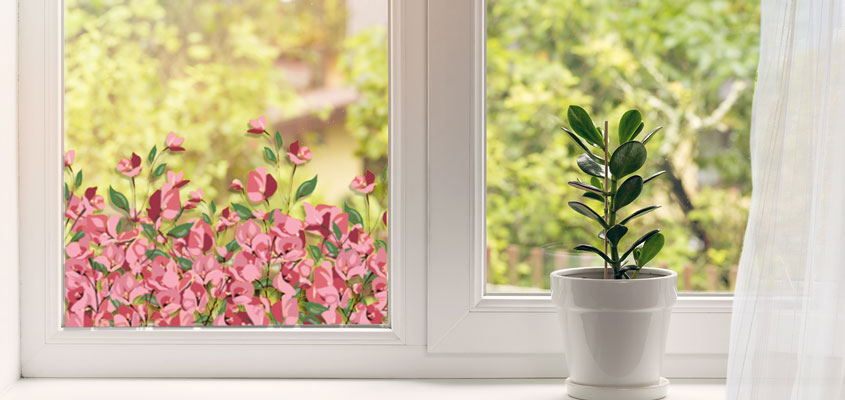 Natural elements help you relax and fill the air with warm vibes. Even the saddest blues will brighten up as soon as you glance over and see these flowers. Cover your windows with the vibrant colors of this decor and enjoy their uplifting effect!
Idea 3. Get a Black Cat for GOOD Luck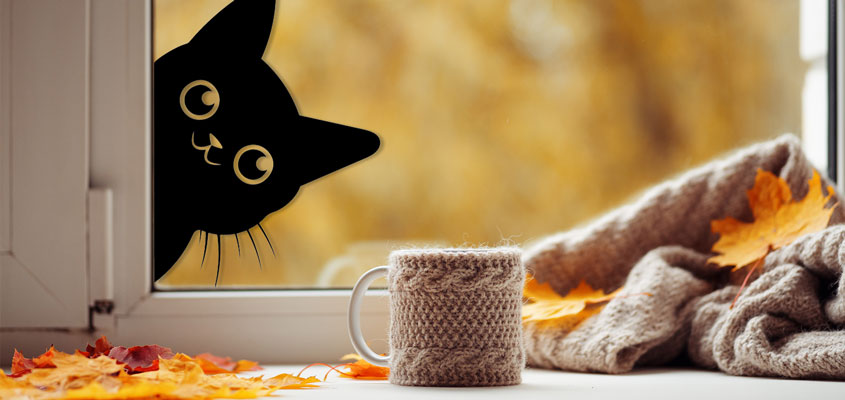 Are you a cat lover? Then this sweet idea is for you. Apply this precious decor to your windows and it will bring a smile to your face every time you pass by it.
Idea 4. Cover Your Windows With… Trees?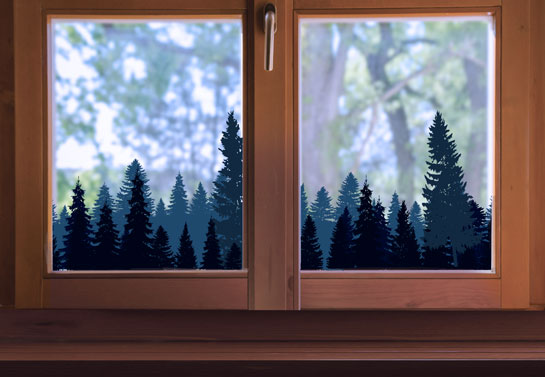 Curious about how to decorate a bay window? This silhouette-decor featuring a forest will be a nice addition to your windows. It'll make you feel like you're outdoors. Just don't forget that you're actually at home and try not to start a bonfire! Add other decorative elements like custom acrylic signs with the same theme to maximize the effect.
Inspiring Text Print Decorations
Text prints with vinyl lettering are considered very trendy these days. Correctly chosen quotes can add visual appeal as well as inspire your day. Here are the perfect apartment window decorating ideas.
Idea 5. Look Further Every Time You Look Out the Window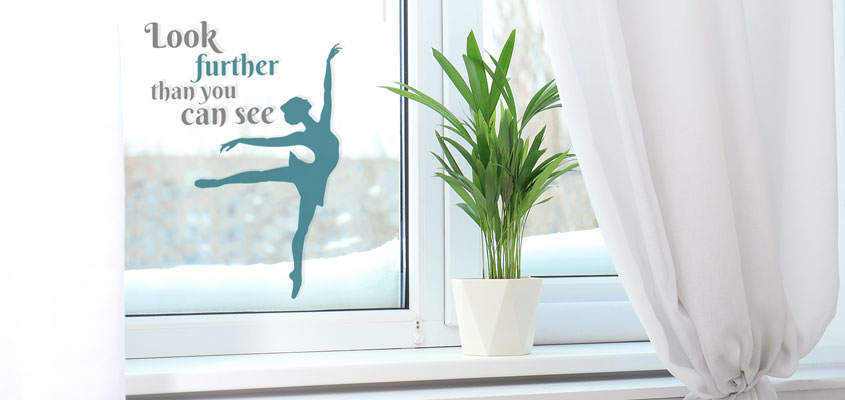 This profound quote from Winston Churchill will become your daily dose of inspiration. The thoughtful design will adorn your windows with style. It will always remind you of your capabilities and why you do what you do!
Idea 6. Reach for the Stars and Land Among Them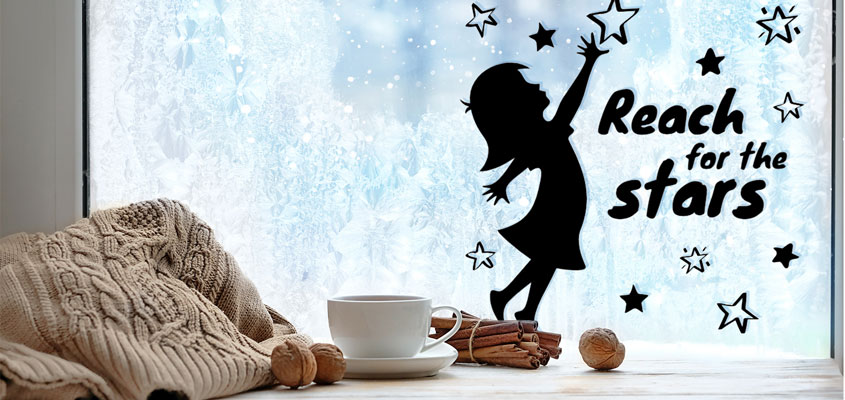 Sometimes you need a reminder that you're capable of big dreams and even bigger achievements. This idea is the perfect one for you to expand your imagination. Not only will it beautify your windows but it will also inspire your wildest dreams.
Idea 7. Move on as, "This Too, Shall Pass"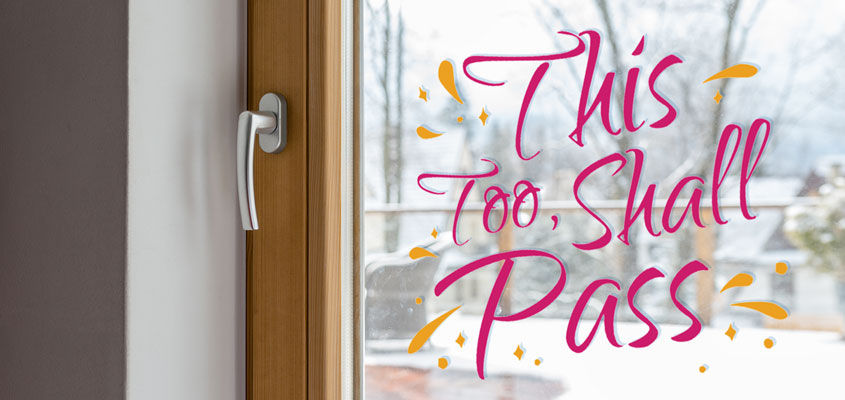 A nice image with an inspiring quote like the one in our example is what you need to brighten up even the darkest days. This ethereal design is created to adorn the windows of your house or apartment.
Idea 8. Never Stop Looking up and… Decorating Your Windows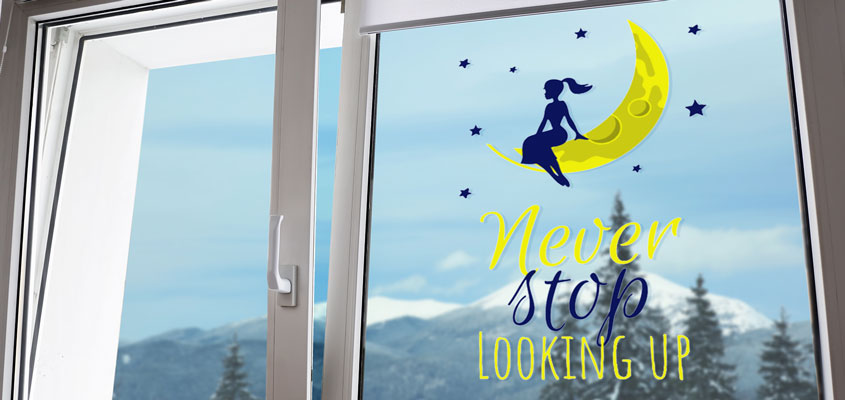 The dreamy appearance of this piece makes it a perfect choice to liven up the interior of your bedroom. It will give you the warm fuzzies you need for the whole day. The encouraging quote will simultaneously prompt you to keep working on your goals.
I know you can't wait to have these ideas on your own windows. Take a look at our designer-made templates and create your decor online!
Need inspiration for window decorations in general? Our article on Window Decorating Ideas is for you!
Decorations Featuring Hobbies and Activities
Decorating your windows according to your hobbies is another idea you should absolutely consider. This way you can personalize your interior by featuring your favorite activities. Here are just a few examples. You are free to create your own design or upload the one you are most fond of.
Idea 9. Feature a Mountain Climbing Scene
When it comes to decorating your windows, you should choose a design that speaks to your heart. Here is a bold example of how your hobby can become the subject of your decor.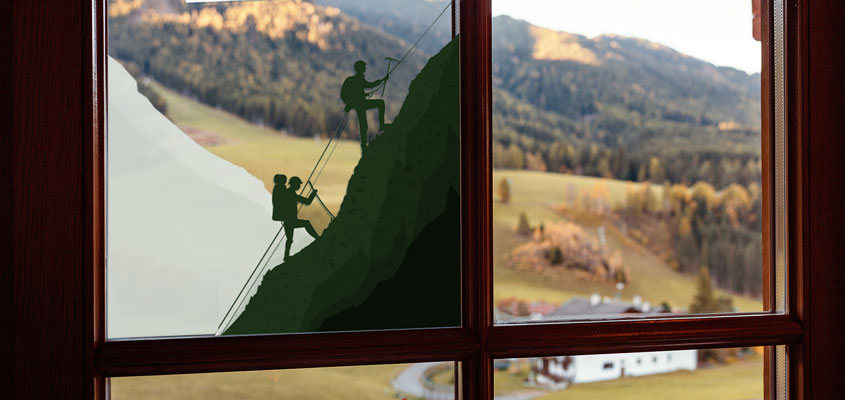 Idea 10. Add an Aesthetic Touch With Piano Tiles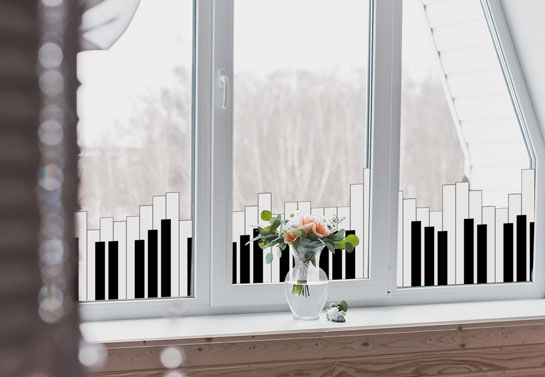 This artistic piece is another nice example of how you can highlight your favorite activities. Add creative elements to your windows and make even the dullest interior unique. You are free to use any other type of instrument you prefer for a personalized touch.
Idea 11. Go Fishing or Go Home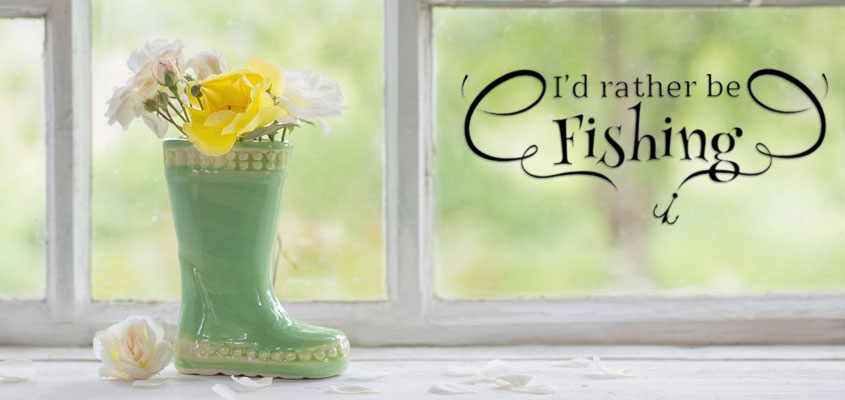 Are you fond of fishing? Then this one's for you! Here is an impressive way to enhance the way your windows look. All you need to do is choose the right size according to your windows and the right color to suit your interior. This would also make a nice gift for your father or grandpa!
Idea 12. Keep on Dancing
What a romantic and inspiring idea for a girl's room! This window art makes an ideal option for dance lovers of any style. Ballet, figure skating, hip hop, salsa dancing and whatever else you like most can be featured on your windows! Here is an example of what it will look like.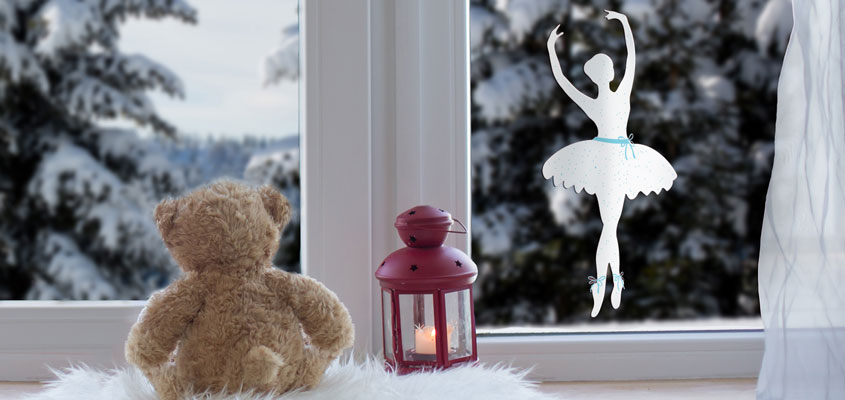 Symbolic Decorations
There are a lot of signs that symbolize different beliefs and universal values․ Some of these concepts are what give life meaning. Decorate your windows with them and showcase your personality at the same time.
Idea 13. The Symbol of Everlasting Love
A variation on the symbol of eternity, this is a beautiful image that represents the nature of true love. Its artistic appearance will become the center of attention amidst other decorative features. Here is what it will look like on your windows.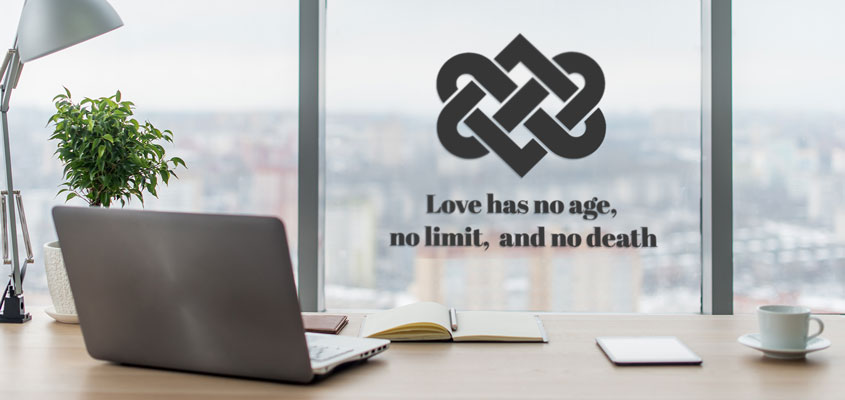 Idea 14. The Symbol of Peace
Who doesn't recognize this symbol? While it's widely used, featuring this symbol on your windows is a unique way to communicate with neighbors. The best part is that the sign will look appropriate from the inside as well.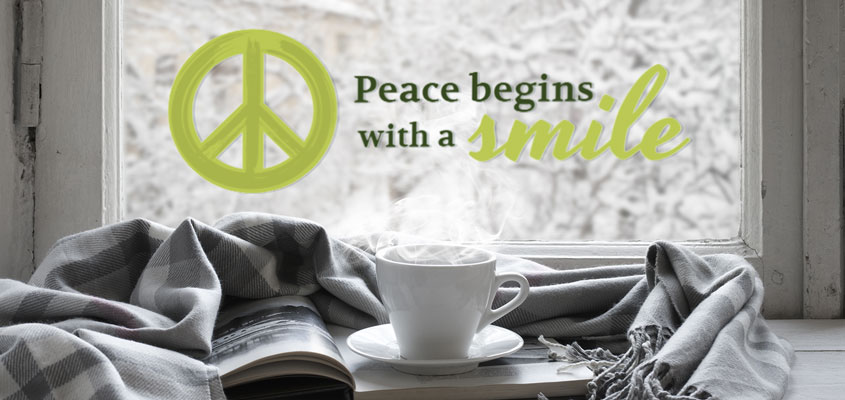 Idea 15. Yin and Yang Symbol
Symbolizing the dark and bright sides of life and the harmony between them, the yin and yang will be a classy addition to your interior. It's clean yet meaningful design will give your windows a fresh look and purpose.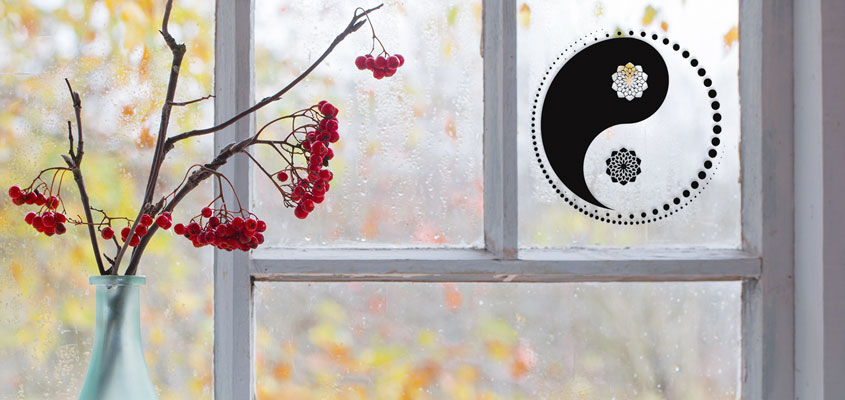 Idea 16. The Symbol of Eternity
Feature the symbol of infinite time on your windows for a decor that will never go out-of-fashion. This symbol will complement any interior style. If you're not yet sure whether it will look nice on windows, here is an example!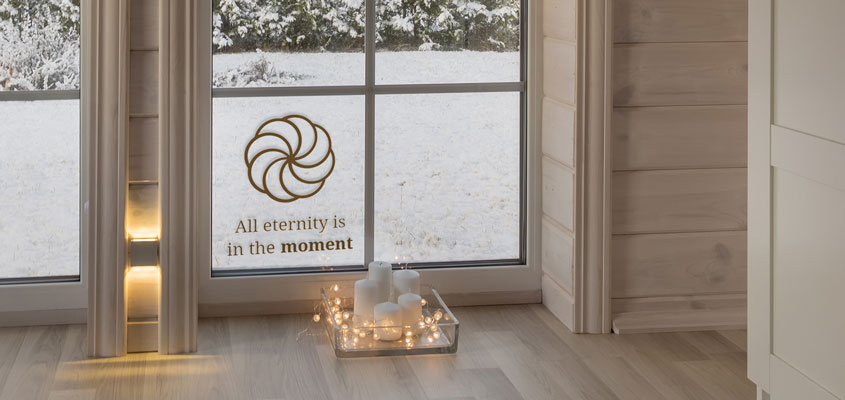 Do you have another symbol in mind? Our free design tool will allow you to upload your own images, customize them and order right away.
Seasonal Decorations
Which season do you like most? Or maybe you like all of them for their unique charm? I've got the perfect idea for each season! You can change them with the transition of each season or maybe create the full year's cycle in different rooms of your house.
Idea 17. Spring is Nature's Way to Say, "Let's Party!"
Let the spring spirit enter your home and make your heart sing. This idea featuring the first season of the year will bring a gasp of fresh air into your life!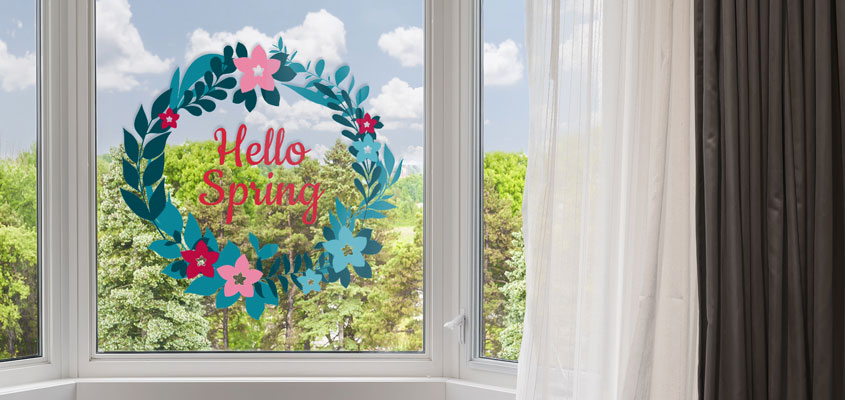 Idea 18. Summer to Live in the Sunshine
What do you imagine when you think of summer? Sunshine, beach, travel... As you likely can't justify a three-month-long holiday, your best bet is to create the atmosphere right at home. This decorative theme will keep you in permanent vacation mode!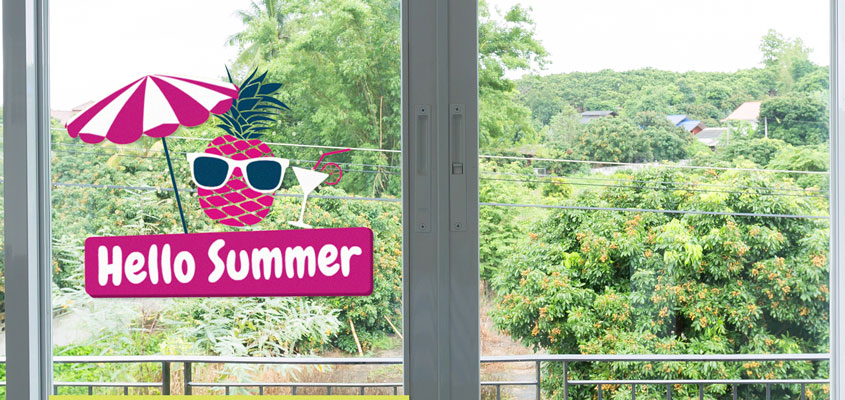 Idea 19. Autumn Leaves Drift by Your Window
The most romantic season of the year can't go without thematic decorations. Create an enchanting atmosphere at home with the gold and red leaves of fall. Here is how to do it!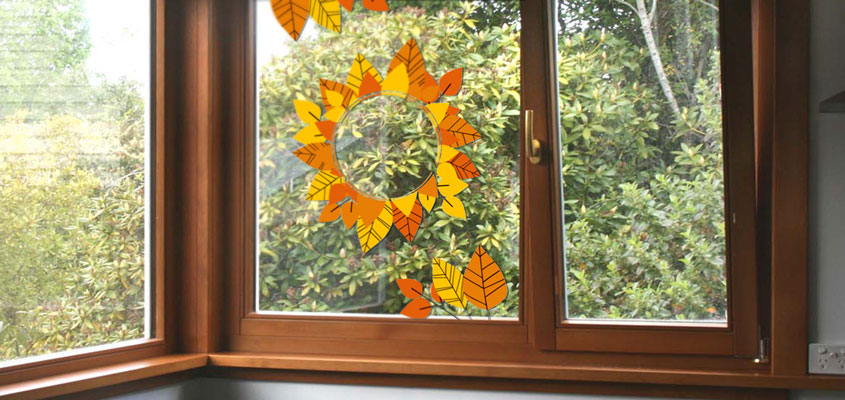 Idea 20. Winter is a Celebration
The season of celebration leaves you with a lot of decorative options. From snowflakes to New Year's ornaments, you can highlight the things you like most about winter! What's more, you can combine them together for the best bay window decorating ideas! Here is my example: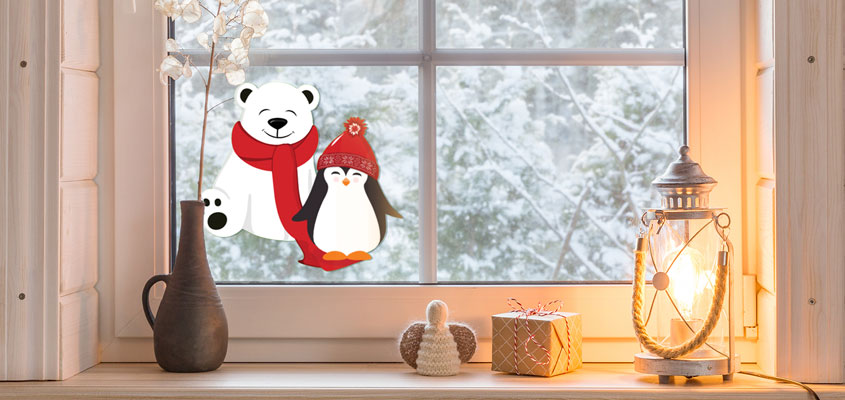 Would you like to know more about holiday decorations? Read our article on Holiday Window Decorating Ideas!
Children's Decorations
Don't forget about the kids' room when reanimating your interior.
Idea 21. Watercolor Rainbow Flair
What could be prettier than this idea here? It's simple yet adds color and warmth to the windows. The kids will appreciate and learn from this decor!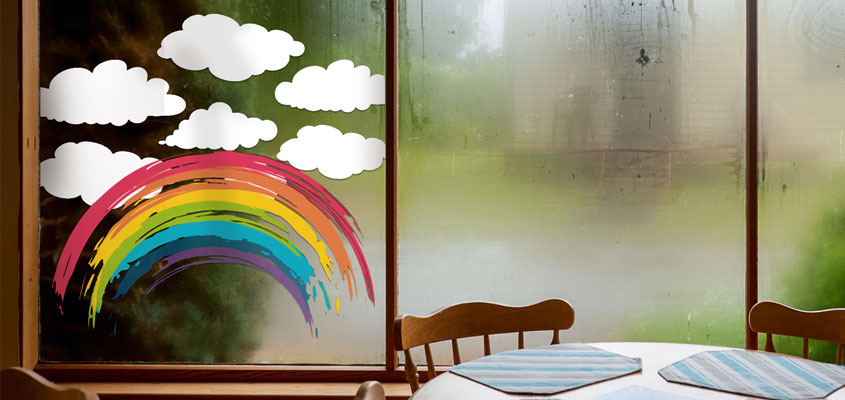 Idea 22. Teach Your Children With Decorations
Go beyond decoration by adding letters on the windows of your kids' room. This brainy decor will make learning the letters easier and more fun! Adding different numbers and geometric shapes will take this idea to the next level.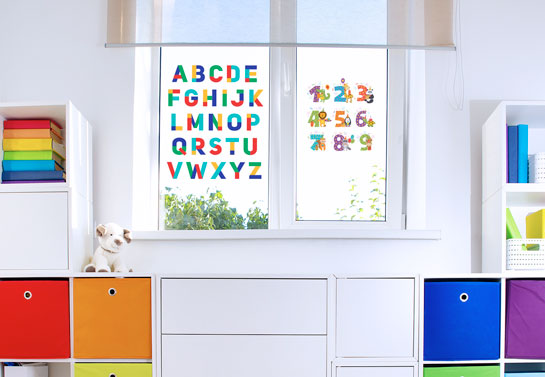 Idea 23. Feature a Favorite Superhero
Is there a little boy on Earth who doesn't like Superman? Or maybe he's a fan of Spiderman instead. Let your little one choose his favorite superhero, upload the picture to our design tool and order it in lifesize!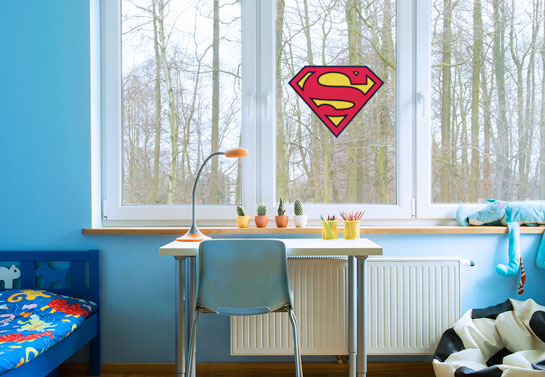 Idea 24. A Disney Princess for Your Little Princess
Every little girl loves to be treated like a princess. Create thematic sticker decor with her favorite cartoon or movie character for the windows of her room. I assure you that you'll get a big hug from her!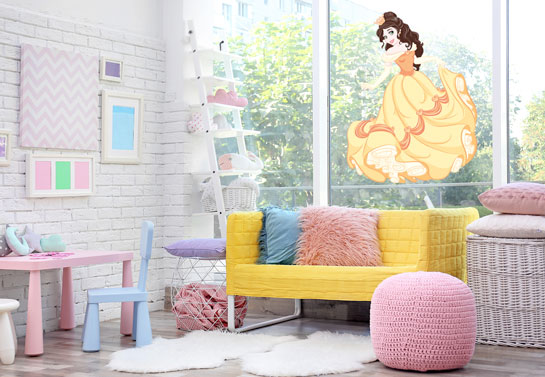 All of these ideas are based on the decoration templates available on our website for free. Customize them with the help of the design tool and order right away!
Bonus Home Window Decoration Tips and Highlights
I'm confident that you've found the right house or apartment window decorating ideas at this point. Now, there are a few other factors you should bear in mind. Let's see the best practices for decorating your windows.
Tip 1. Take Lighting Into Account
If you have small windows and little lighting, make sure to choose decorations that won't block the sunlight. Mild and light colors are advised for the stickers if this is the case. On the contrary, with large bay or bow window decorating ideas, the adhesives can be used to obscure the transmission of light a bit. You are free to choose any color you wish here.
Tip 2. Use Fade-Resistant Materials
As windows face continuous sunlight, you should be mindful with the material of your decors. Vinyl stickers, for example, should be printed with UV inks. You can also have them laminated which will prolong their lifespan.
Tip 3. Avoid Overuse
Window decorations are a lot of fun. However, as tempting as it may be, avoid overusing them. Match your decorations wisely.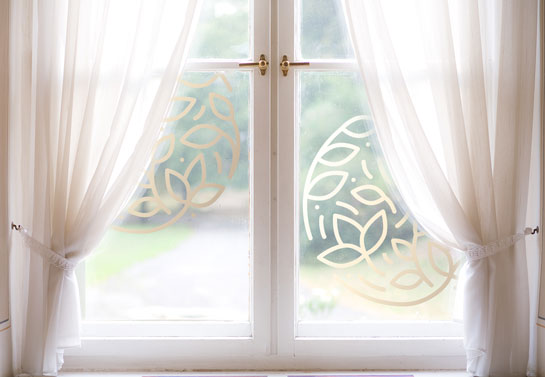 Tip 4. Use Vertical and Horizontal Lines Wisely
As with other stylistic references, vertical and horizontal lines make a huge difference. I bet you've experienced how vertical lines on clothing can make you look taller while horizontal lines can do the opposite. The same logic holds true for windows.
Tip 5. Keep the Style Consistent
Window decorations can be well utilized with other types of home decor. For example, you can have matching window and wall adhesives. Just make sure to keep the overall theme and layout of your interior design in mind.
These ideas and tips will help you decorate the windows of your home in good taste. They'll work for any window style and add a finish touch to your interior.
It's time to turn these ideas into reality! Create your own design for personalized window decorations. Choose one of the cool templates our design tool offers or upload your own images. Have an eye for beauty and want to DIY your own decor? Make them from scratch or with the help of a wide range of elements, backgrounds and features offered on our platform. Start transforming the dull windows of your house today!