Doing-It-Yourself, simply referred to as "DIY," is just as helpful as it is fun. If you want to know how to make decorative things at home then you are in the right place! There are a lot of easy DIY projects for the home to choose from. They'll help you beautify your interior design, develop crafting skills, and avoid spending a small fortune on home decor and furniture.
If you have always wanted to entertain yourself and your family with a fun DIY home project, then the current stay-at-home period is just the right time to take action. Once you start crafting your own projects, you'll never give up on the habit. To help you kick start, I have gathered 6 DIY home decor ideas with multiple examples in this article. You can combine them or use any of them separately to create the best DIY home projects. Let's get to it!
Fun DIY Projects for Bedrooms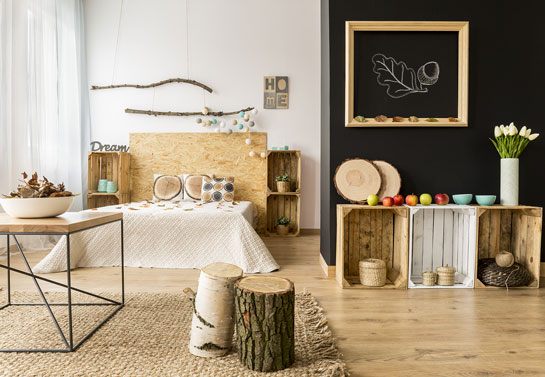 From canvas prints and acrylic photo prints, to wooden boards and decals, there are plenty of DIY options for your bedroom. Combine different decors for an eclectic interior or choose your favorite to emphasize a certain style. I have gathered crafty ideas for you to get a better understanding of how to make your bedroom more comfortable all on your own. Here is my collection of fun DIY projects for bedrooms you should try right away.
1. Use Canvas for Hygge Decors
Do you want to get a real work of art for your bedroom? Do you like to evoke a feeling of coziness with a well-thought-out sense of style, known as "hygge" in the design world? Then these cute DIY home decor ideas are just for you.
Create abstract art with the use of paper tapes. Adhere the tapes to form different geometrical patterns and dye each one a different color. Involve your kids in creating this decor for their room. They will love this wall art!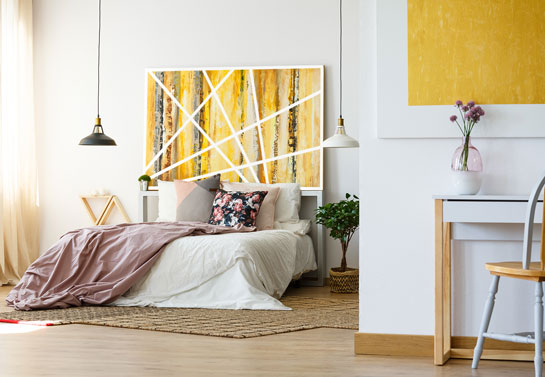 Create a split headboard for your bed using canvas motifs. Choose an image, pattern, or design to your liking. I'd recommend split hd going for soft colors for a relaxed atmosphere. Wood-frame all the selected pieces with a staple gun. Fasten all the parts together or hang them separately in a certain order to recreate the original image. This easy DIY project for your bedroom will add a creative touch and also save you a lot of money.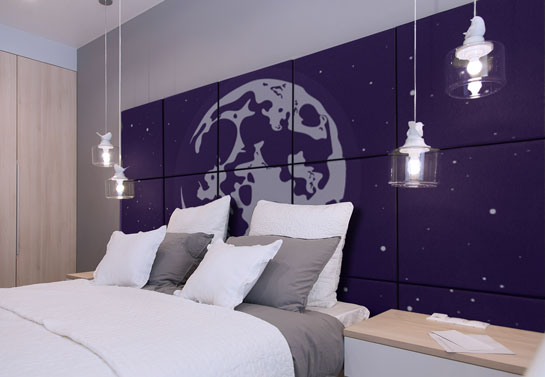 Use our free design tool to upload your preferred image or pattern onto multiple panels or choose a template from the wide variety created by our designers.
2. Include Wooden Decor for a Natural Look
Wooden signs add coziness to your room and give it a more natural feel - great for a good night and a sweet repose.
Just a few words can make your day from the very moment you open up your eyes in the morning. Here is a nice way to use a wooden board and handwrite your favorite quote on it. Stain the board to get a more solid color. Choose either acrylic or oil-based paint and hand write the quote on the board. Leave it to dry for 24 hours. That's it! Hang the board on the wall in front of your bed and get inspired every morning when you awake.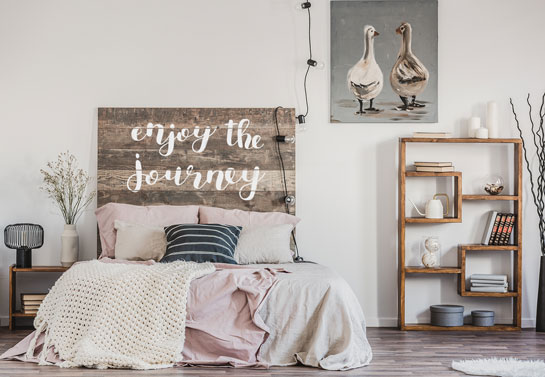 In addition to your favorite quote, add pictures of dear moments in your life to your bedroom walls. Attach strings to a wooden board using a staple gun so you can hang your photos on them. Choose and print the photos of your most intimate memories like your wedding day, the birth of your children, and any other moment that reminds you how beautiful life is! Hang them on the strings using colorful clips or clothespins to make the decor look even more fun.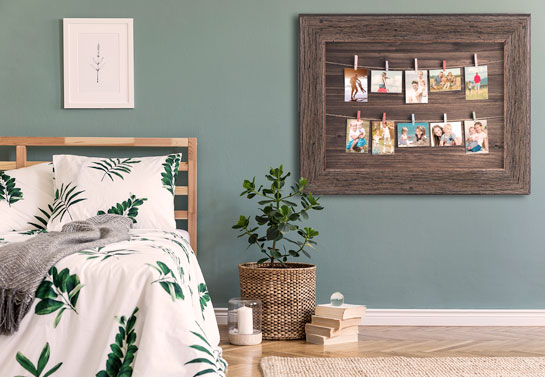 3. Create Easy DIY Home Decor with Adhesive Vinyl
Adhesive vinyl can be used to create a lot of creative DIY home decor. You're going to need a sheet or roll of a printable adhesive vinyl and a printer. For complicated designs and patterns,  you'll need a vinyl cutter.
Wall decals can be included in a range of DIY home projects and here is one of the most used, yet ever-evolving concepts. Print out your favorite design on a sheet of printable self-adhesive vinyl. Cut it out and stick it to the wall. Make sure to see the manufacturer's instructions on how to stick the decal for a perfect outcome.

A romantic night-themed design like the one in this example will complement the overall design of your bedroom. Accompanied by the canvas headboard DIY idea, this will easily be one of the most creative DIY home decor projects you can recreate.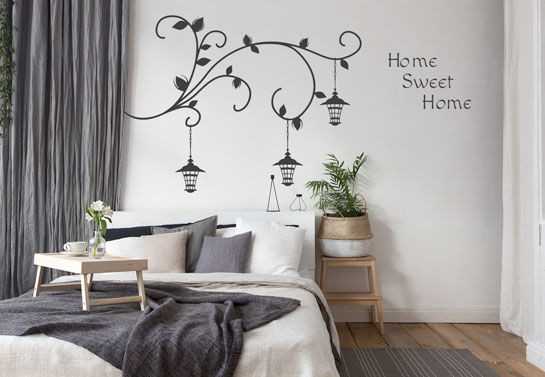 Decorating your kids' bedroom with stickers is just as fun! What about using that sheet of adhesive vinyl to create floor decals of footprints? That's a cute DIY home decor idea, isn't it? The footprints can lead to the bed or wardrobe. Are your children fans of animals? Go on with their favorite animal footprints. I'm sure the kids will come up with imaginative game ideas for these as well!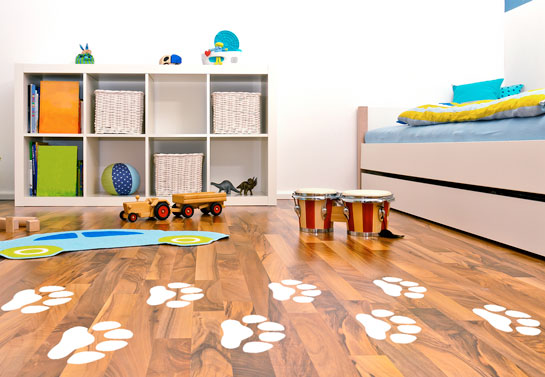 We all speak to ourselves looking at the mirror when no one's looking, don't we? Sometimes we need to encourage our own selves to keep going or just remind us that we are beautiful. Adding an encouraging quote with vinyl lettering will help you stay motivated. This is a nice alternative to the wooden decor with the handwritten quote that I described above.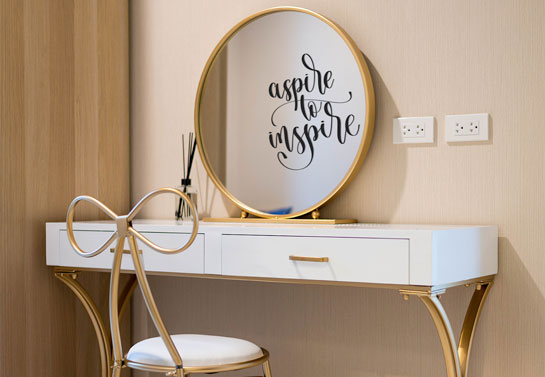 Easy DIY Ideas for the Living Room
The living room is where family and friends gather to spend the most time, making it an ideal place to exhibit your crafting skills. Show off that you know how to create home decor yourself with the best DIY home projects for your living room.
4. Canvassing for the Win for Cute DIY Home Decor
Just like in the bedroom, wall art can make your living room look stunning. You don't need to be a painter to create your own paintings though. Read on for easy DIY home decor ideas with canvas to fill the empty walls of your living room with artwork.
You do have that one page from your favorite book that has become a part of your life, don't you? What if I told you that you could have it decorate your living room wall? Here is how to make a house decoration that looks like an old book page with your favorite page or text on it.
        Cut a piece of canvas with your preferred size and paint the surface a light beige or brown. Make sure to spread the paint unevenly and add some yellow spots to make it as realistic to a book-page as possible. Leave the piece out to dry overnight. Bring in your calligraphy skills to write down the text you want it to showcase. To hang this kind of decor, add a wooden strip along the top of the canvas. Take a piece of twine and tie it from both sides of the strip and hang it using a wall mount. Your book page decor is ready to amaze your guests.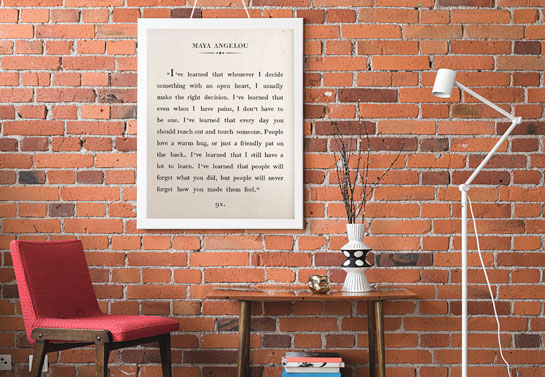 Stencils are life-saving when it comes to simple drawings. Print a simple black and white image on adhesive paper and cut out all the white parts. Leave them aside for the time being. Paint your canvas with white paint evenly and leave it to dry overnight. When it's completely dry, adhere the cutout parts to the canvas, recreating your initial image. Attentively color the rest of the surface with black paint. Remove the adhered paper as soon as the paint is completely dry. Feel free to choose other colors as well. Just keep in mind that it'll be harder to cover up dark-colored paint with a light-colored tone.  Your silhouette art is ready! Sounds like too much work to do?  Order acrylic signs or gator board signs with your favorite design and we'll handle the rest for you.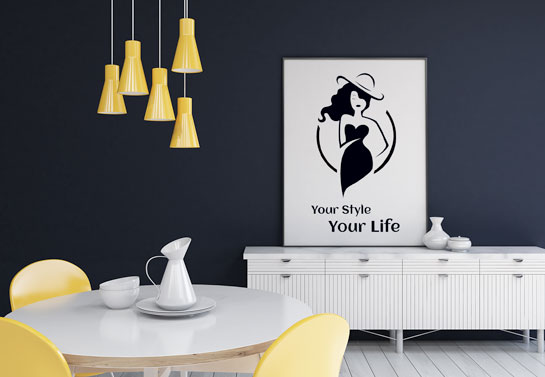 Make sure to also check these living room wall decor ideas for more decoration design concepts.
5. Take Wood in for an Inspired Design
Wooden decorations will look great in any of your rooms. They can be of different styles and shapes and complement other DIY home decor ideas. Here is how to make decorative things at home using wood.
Make a wooden tray that not only decorates your china display but can also be used as a serving tray for tea or anything else. Cut the tray in a round, square, or other shapes from a wooden desk drawer. Make sure it is large enough to contain the number of cups or dishes you want to use it for. As the tray needs to be waterproof, brush the surface with a mixture of stain and sealant. This will also ensure a deeper color. Once the tray is dry, use your painting skills or color them with waterproof paints. The last step is adding handles to make it comfortable to carry. Old furniture handles will work just fine for your wooden tray!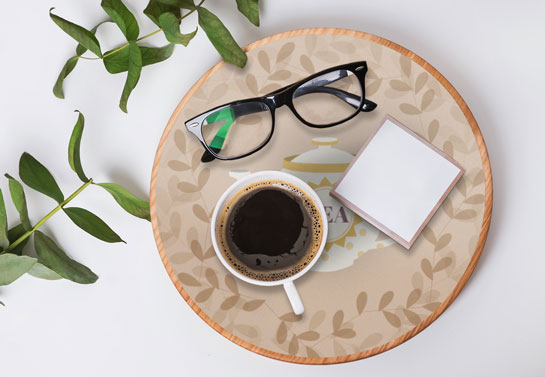 If you are looking for easy DIY ideas for the living room to put all your small decorations on, here is a project for you. Cut four proportional rectangular pieces of wood. Hammer them together so they shape a bottomless square box. Sand and stain the wood for a smooth surface. Hang the shelves on a wall in a certain order to create a pattern you like and they are ready to hold your small decorations, plants, books, and whatnot.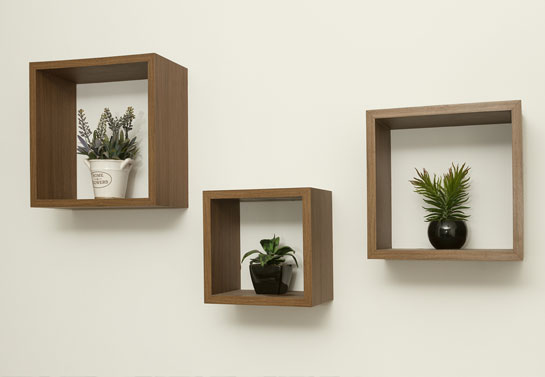 6. Stick on Decals to Create an Accent Wall
Decorative adhesive pictures are great for any living room. Use the techniques described above to make decals from printable adhesive vinyl material. You also have the option to choose one from these decoration templates and simply order them online! Here are some ideas on how to create an accent wall in the living room with decals and other decor pieces.
Having an accent wall can turn any ordinary living room into an extraordinary one. To avoid all the mess that comes with painting your wall to create contrast, I suggest you use decals instead. A full-length decal is a fine way to emphasize the style of your living room. Choose an image that can be accompanied by other decorations like plants, floor art, lampshades, and anything else to your liking.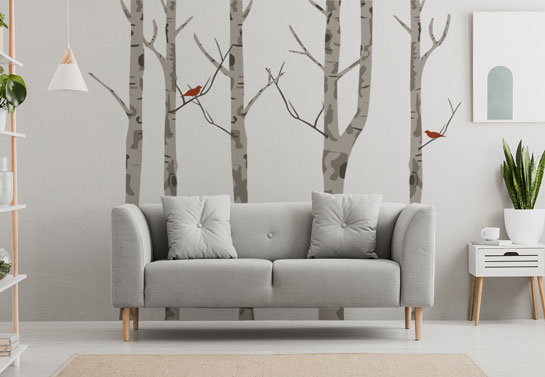 Do you own large windows and want to use them as an accent rather than a plain divider? Use the vinyl material to decorate them. Choose your favorite design which will be in harmony with your interior and won't block the transmission of light. You'd need a vinyl cutter to create different parts of this decor. Make sure to carefully select the placement of each piece before sticking it to the window. Here is a nice idea from me!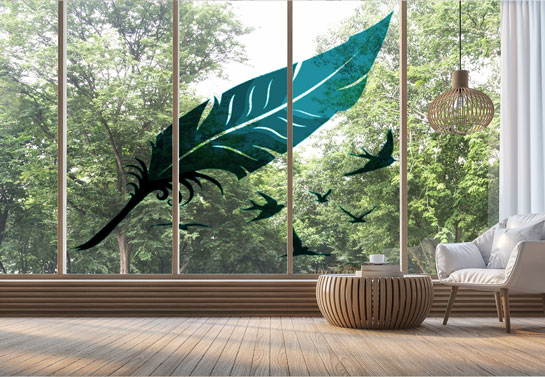 Now that you know how to make house decorations for yourself, it's time to choose the best one for you or to mix up a few for the best DIY home projects. Use our designer tool to create and order different parts of those projects online and head on to transforming your home from an o-k house to an a-m-a-z-i-n-g one!