Artwork is a simple life-hack to breathe new life into any space and it doesn't have to be expensive! Step into a new decade by reinvigorating your house without the hassle of remodeling. Canvas print ideas are an ingenious way to spruce things up for 2020.
2 Cute Canvas Ideas for Each Room in Your House
Paintings are a universal luxury when it comes to taste but definitely not to wallets. The Renaissance Era has passed but here to save the day is the canvas print: a contemporary classic. Here are two cool canvas ideas for each room in your home, plus two bonus ones for your hallways. So stay with us!
Living Room: Canvas Print Ideas for a  "Roaring" Future
Idea 1. Collage Decor
Collage Prints are the newest trend in canvas decor ideas, adding intrigue to any living room. For example, dividing a Japanese print like The Great Wave Off Kanagawa into several different-sized canvases can showcase movement, detail, and add an interactive element for enjoyment.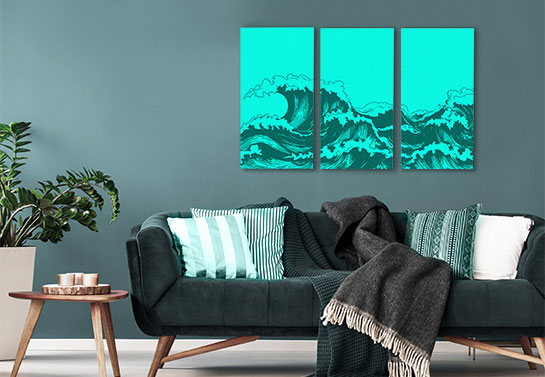 Idea 2. Digital Art Prints
Since we are entering the Roaring (future) 20's, we can't forget the impact of technology on art. Digital art prints are a perfect way to merge the old with the new. Add style to match the futuristic age and honor the retro with the authentic feel of a canvas.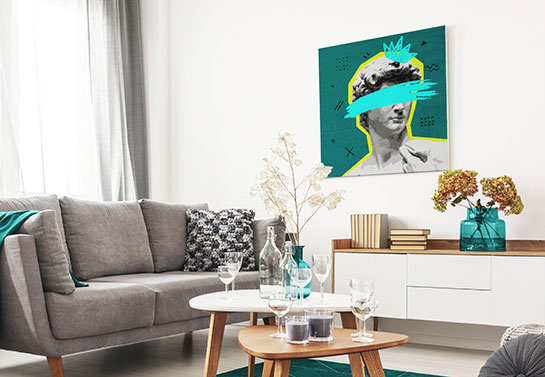 Dining-Room: Classics Because Dining Is Classic
Idea 3. Famous/Classical Prints
"The Kiss" by Gustav Klimt will likely be the most expensive work of art ever if put up for sale. Instead of waiting to rack up your riches, why not get it as a simple canvas and adorn it with gold leaf yourself? Warning: your dinner guests might start a bidding war.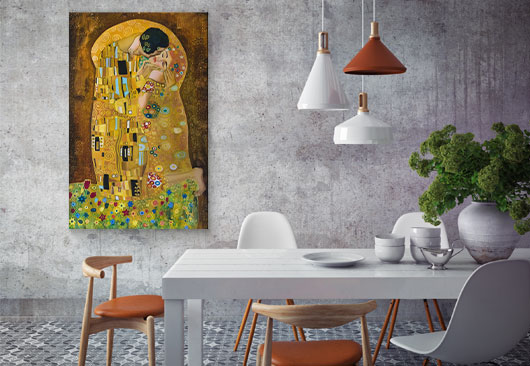 Idea 4. Abstract Prints
Our full-spectrum color prints are great for all canvas design ideas, but especially when it comes to abstract art. They will highlight the rich tones by greats like Rothko better than any poster. Yellow and orange are said to make people hungry, fyi, so let's move on to the kitchen.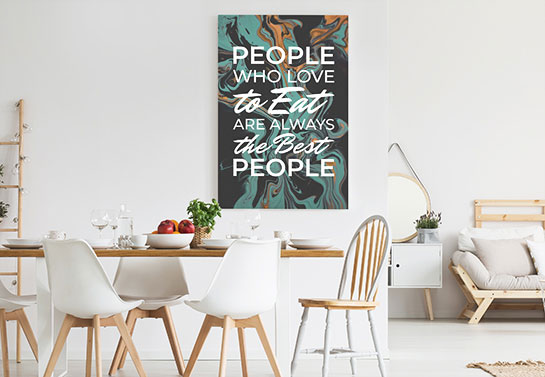 Kitchen: Food Fare for the Future
Idea 5. Culinary Prints
Food art has reached a new level of beauty thanks to social media. Small canvas ideas allow you to add a collection of favorites to your kitchen walls, whether it be dishes, herbs, spices or any of the 80,000+ edible plants on earth.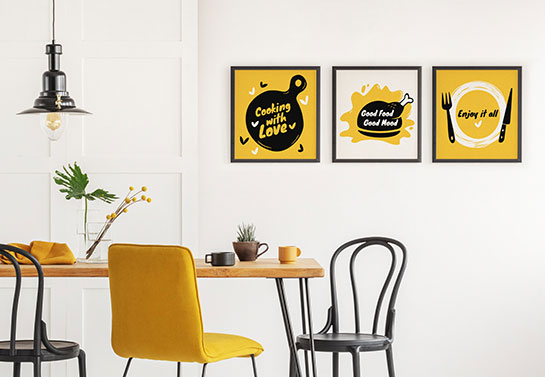 Idea 6. Rustic/Vintage/Retro Prints
Art deco dancers are a classic representation of the Roaring 20's and certainly add flavor to the kitchen, where few cooks are strangers to dancing. The 2020s are a wonderful excuse to bring that jazz back into your life with this simple canvas idea. Btw, you can use acrylic photo prints instead of canvas decor as they're easier to handle when it comes to cleaning.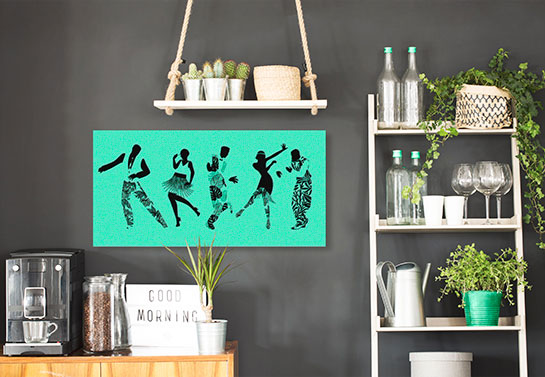 Bathroom: Tips Worth the Trip
Idea 7. Pop Art/Magazine Prints
Canvas print ideas for the powder room range from exquisite to punk. Pop art and magazine covers could offer a great selection if you're having a tough time deciding. What's your style? If none of these, maybe the next text will fit your fancy.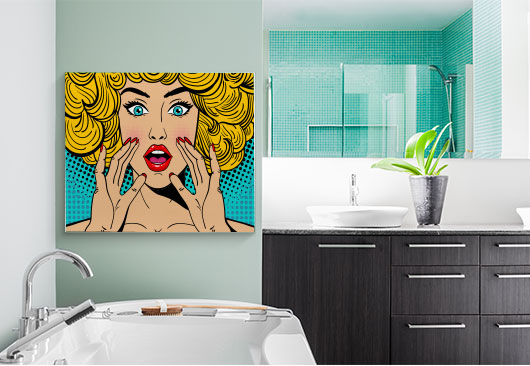 Idea 8. Text Prints
A prayer, blessing, rules or funny quotes go a long way when you're staring at the walls for a while, like we often do in the restroom. Get creative with cute canvas ideas where you need them most! Waterproof PVC signs are also a great solution for the bathroom.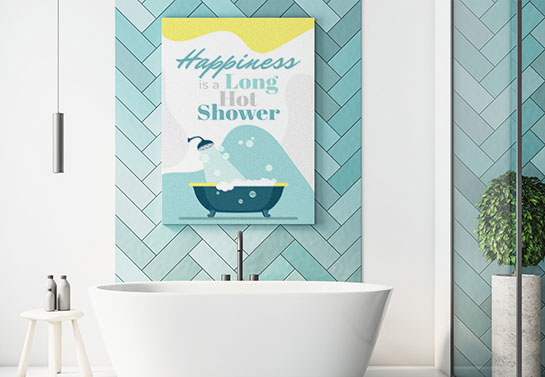 Master Bedroom: Simple Canvas Ideas for Comfort, Romance and Elegance
Idea 9. Personal Prints
The master bedroom is one of the most special places in the house and the art adorning it should be, too. Canvas decor ideas here should focus on intimate memories that evoke comfort, romance and elegance all at once. Can you think of a picture canvas idea of your wedding or hometown?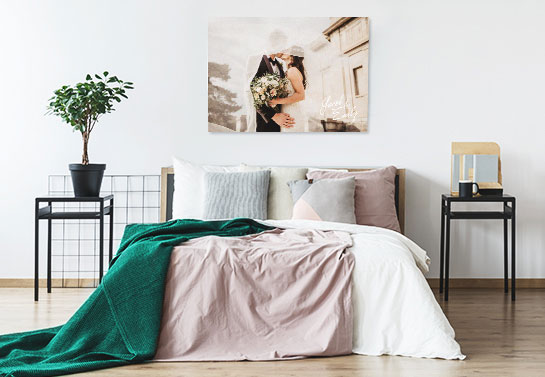 Idea 10. Color Gradient Prints
Colorful canvas design ideas are an exquisite way to enhance furniture and overall decor. Analogous or complementary color palettes that show off vibrant hues will complete the ambiance. Use our design tool to find your perfect match. You can choose other media like custom acrylic signs as well.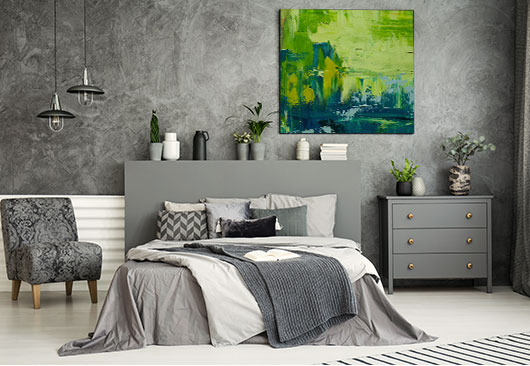 Boy's Room: Boisterous is Best
Idea 11. Funny Prints
Boys are known to either have a good sense of humor or a need to lighten up. Funny memes or inside jokes are cool canvas ideas that will add just that with a side of style.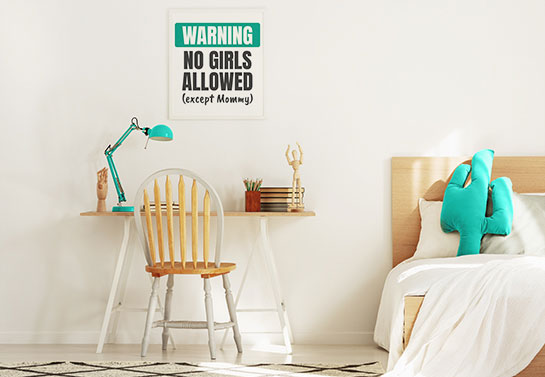 Idea 12. Animation Prints
Traditional wall decorations for boys are posters of video games, bands, or cartoons. Traditionally, they're stuck onto the wall crooked, with tape sticking out the sides, and a few rips at the edges. A simple canvas will fix all that mess. Let them choose a favorite!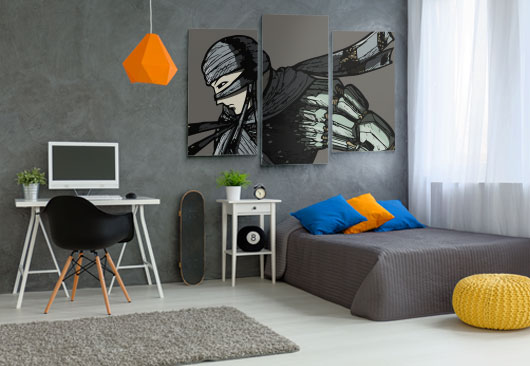 Girl's Room: Let It Be Light and Dreamy
Idea 13. Floral/Fairytale Prints
Imagination, fantasy, and an affinity for the beautiful things of this world are a girl's bffl. The possibilities for canvas or gator board signs featuring fantastical tales, characters, and natural elements are endless. All you have to do is follow the butterfly to find them.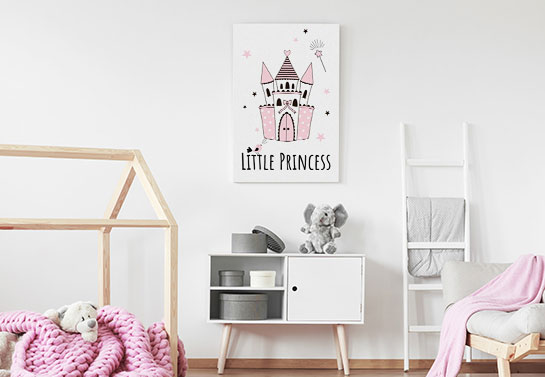 Idea 14. Animal Prints
There are many other cute canvas ideas for girls' rooms, like a picture of a horse, unicorn or any animal print of your choice. They're beautiful and evoke feelings of joy and peace.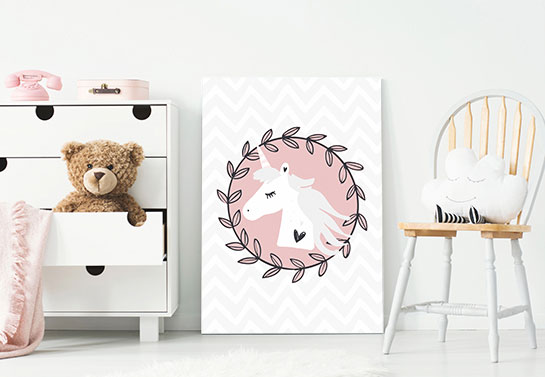 Kids' Bedroom/Playroom: Fun, Meet Unique
Idea 15. Custom Drawings
Inspire children for future success by creating professional prints of their best doodles. This will also encourage their passion for the arts, which happen to have a positive effect on school children's grades in math and literacy.
They'd also look great on foam board printing.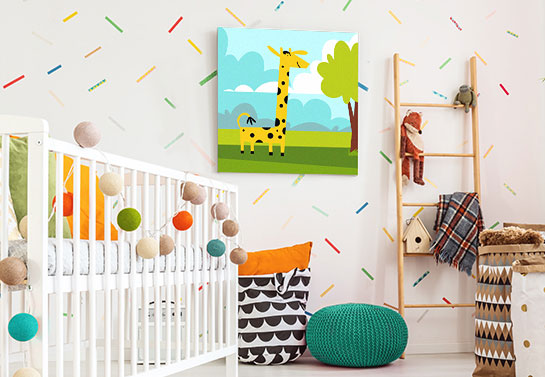 Idea 16. Mini Canvas Ideas
Since we're talking cute here, it's hard to get cuter than a mini canvas or two to twenty-two. Virtually all mini canvas ideas create a playful feel fit for kids. Our favorite is starting with their mini hand and foot prints, then adding bigger ones as they grow. If you prefer larger prints, let's move on to the entertainment room.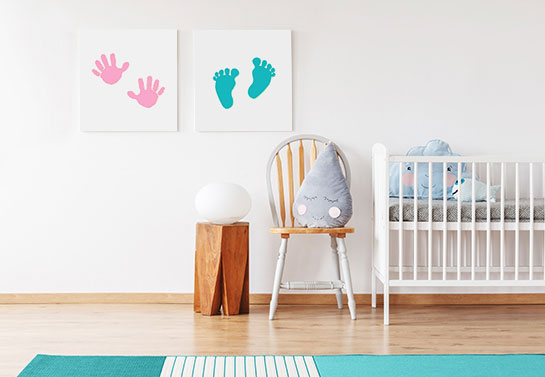 Entertainment Room: Larger than Life Canvas Prints Ideas
Idea 17. Poster Canvas
Entertainment can get rowdy and posters tear easily. Large prints of your favorite posters will offer a durable and classy alternative. Pick your favorite sports stars and musicians, then bring them to life with our sign design tool.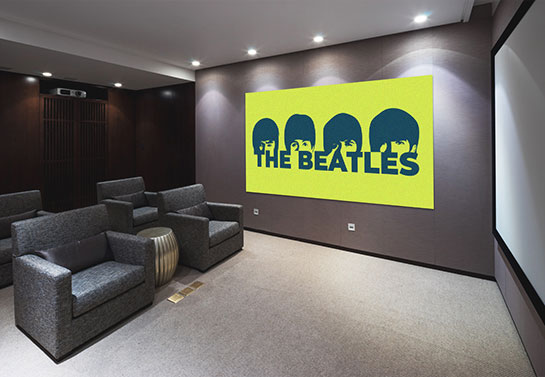 Idea 18. Movie Scene Prints
Entertainment is almost synonymous with movies. Whether it's your favorite film scene, hero, actor or director, our design tool makes it simple for you to create a fan favorite. Beautiful cinematography can be fully displayed with our vibrant prints. Though if movies aren't your thing, the library is next.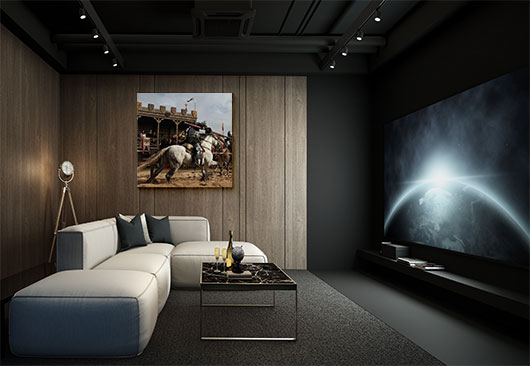 Library: Travel Tales & Escapes
Idea 19. Travel Prints
Whether you're lucky enough to have a library or a modest library nook, it's the best place to escape and give your mind a vacation from the stresses of life. A beloved travelling tale is Eat, Pray, Love, taking us through Bali, Italy, India and New York City. Any of these locations would look gorgeous on large prints.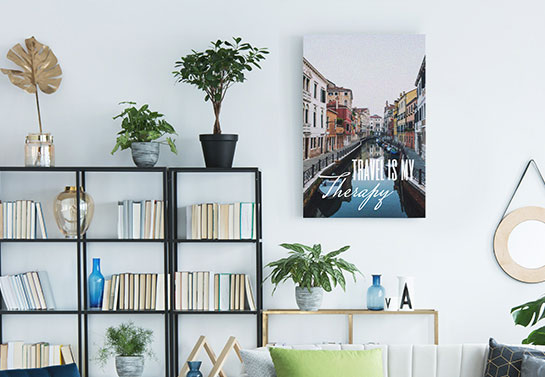 Idea 20. Adventure Prints
Chronicles of Narnia, Pirates of the Caribbean, The Goonies, Tom Sawyer, Lord of the Rings, and of course, Indiana Jones are timeless adventure tales. Which would you pick, and which scene plays out in your head first? Mine would be the Goonies' ship. But don't get too excited, we've still got work to do in the office...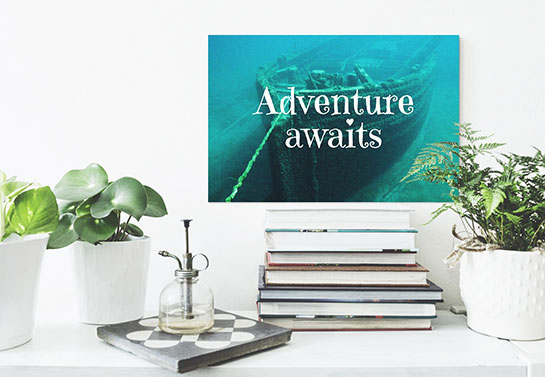 Office: Focus and Succeed
Idea 21. Nature Prints
The office can feel sterile without the proper accents. Pictures of natural scenes increase attention span and prepare worker's for new tasks. Go for grand scenes of natural wonders like the Horse-Shoe Bend in Arizona.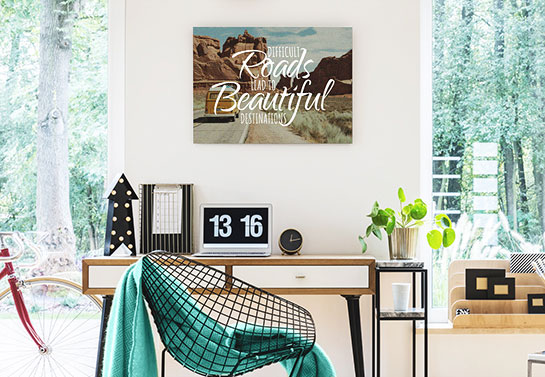 Idea 22. Inspirational Prints
Displaying your dreams and sources of inspiration can elevate quality of life and motivate you to work harder to reach your goals. Inspirational quotes on canvas will usher a new level of elegance and success into your office.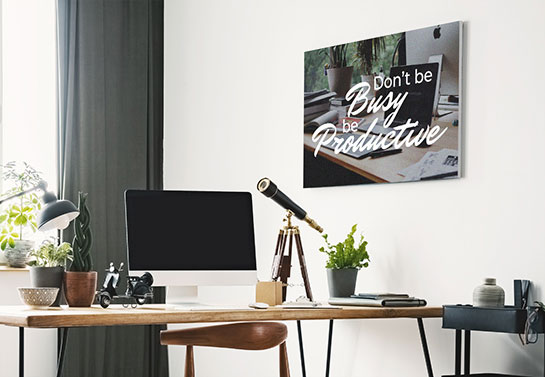 2 Bonus Canvas Ideas for the Hallway: Perfect Place for Progress
Idea 23. Photography Prints
It can be difficult to integrate family photos into a home with the right style. Thankfully, hallways offer the perfect wall space to include everyone. Canvas photos reflect an extra touch of care and class.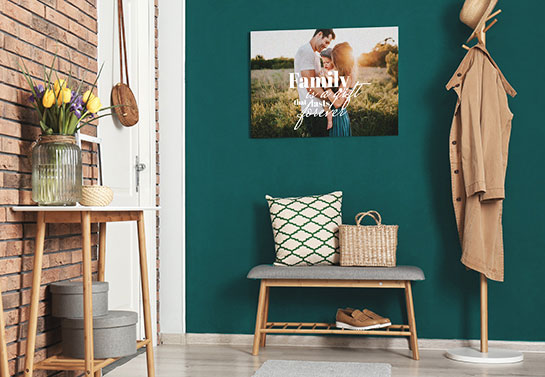 Idea 24. Sequence Prints
Take advantage of the natural progression created by a hallway with sequence prints. These can vary from successive motion shots to changing seasons, personal growth to baby bumps, or be more abstract. The sky--or rather the hallway--is the limit. Now let's move on to the best part...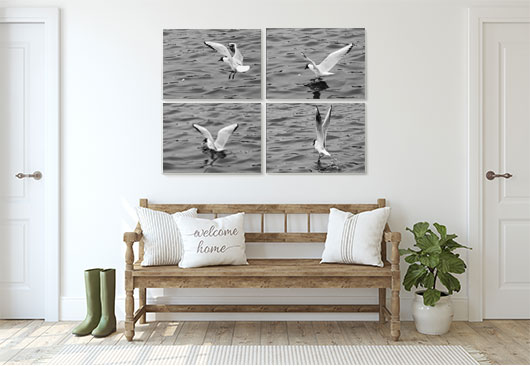 Start at Perfect
You made it! 22 + 2 suggestions for the year 2020! Before you get overwhelmed with too many ideas, check out our free and easy design tool, then start creating your canvas prints right from where we left off: the perfect hallway.