Outdoor celebrations are a great idea for both kids and adults. In either case, decorations make the party fun and extraordinary. Here are the coolest outdoor birthday party decoration ideas from welcome signs to vinyl banners. Jump to the second section if you need outdoor birthday party decoration ideas for adults and make sure to take a look at the final part for useful tips and highlights.
Outdoor Kids Birthday Party Decoration Ideas
A kid's party is synonymous with having fun! Throw a party your child will remember throughout their life. Read on for outdoor birthday party ideas for toddlers, preschoolers and adolescents.
Best Backyard Birthday Party Ideas to Welcome Your Guests
A welcome sign is a must when it comes to parties. Not only does it make the venue more welcoming but it can also provide much-needed information for guests. For example, it can note things like when the party starts, where the magic show will be and so on.
Give your guests a fun and flashy welcome with funky decors. These backyard kids' birthday party ideas will make an ideal start to the celebration.
Idea 1. Include a Simple Welcome Sign
A simple welcome sign is sometimes all it takes for guests to feel comfortable. This is especially true when your attendees are little kids. Use a sandwich board and get both sides printed with cute graphics. These may include favorite cartoon characters or just nice patterns. Make the selections based on the taste and age of your child.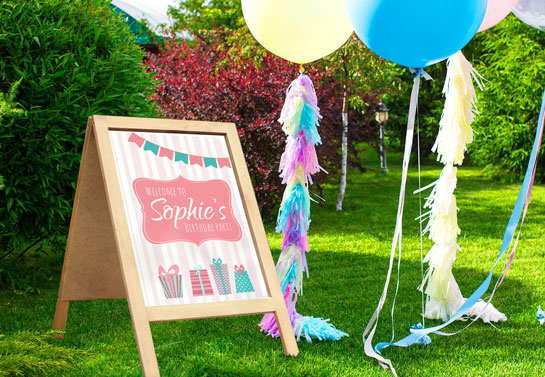 Idea 2. Add the Party Schedule
As stated above, a welcome sign can include miscellaneous information that your guests should be aware of. They can be a great help when it comes to outdoor kids' birthday party ideas for better organization. Include the schedule of the day on your welcome sign to let the little ones (and their parents) know about the fun activities you have planned for them. Your schedule won't be ignored! A wooden sign placed on an easel will do just great.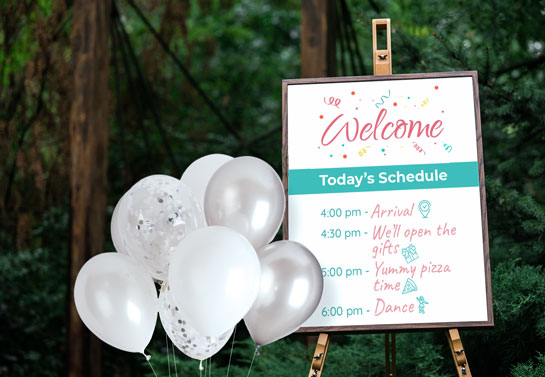 Outdoor Birthday Party Decoration Ideas to Embrace Sweet Treats
Sweets are a key part of backyard birthday party ideas for kids that don't require much ado. Besides being the most awaited treat for those with a sweet tooth (aka all kids), they can also be a part of the decorations. Read on to find out how.
Idea 3. Organize a Candy Bar With Colorful Decor
The candy bar is the heart of the celebration at any kid's party! Make sure to put on a spectacular display with colorful decorations. A garland and candy bar acrylic signs with balloons here and there will add a splash of sweetness to your party.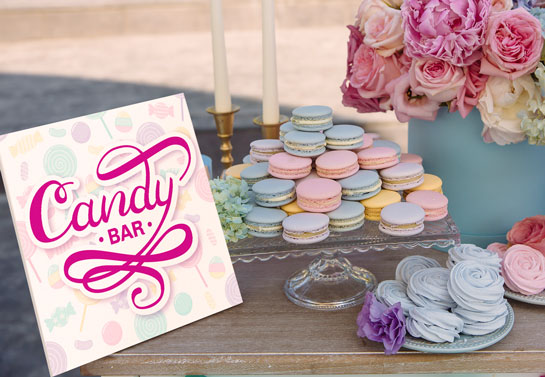 Idea 4. Include Candy-Shaped Decors
What are your child's favorite sweet treats? Cupcakes, twizzlers or maybe lollipops? Well, all of them are a dazzling source of birthday party decorating ideas for outside. Get dessert-shaped yard signs with double-sided prints to turn your backyard into a fairyland for the celebration.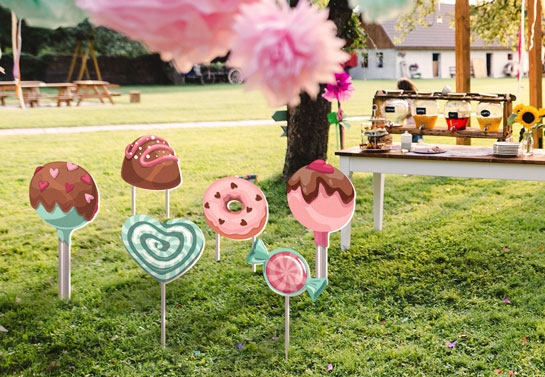 Fun Backyard Birthday Party Ideas for the Best Photos
Take your outdoor kids birthday party ideas to the next level with photo-worthy arrangements. Turn your backyard into a place to take superb photos that you'll cherish for years to come. Here is what you'll need to turn your backyard into a fancy photo zone.
Idea 5. Add Balloons… Lots of Balloons
Even the best backyard birthday party ideas can benefit from lots of balloons with different shapes, colors and sizes. You can go with helium balloons or simply hang and throw regular ones all around. When it comes to outdoor birthday decoration ideas for a photo shoot, go with a balloon garland or even a massive backdrop. Here is what it can look like.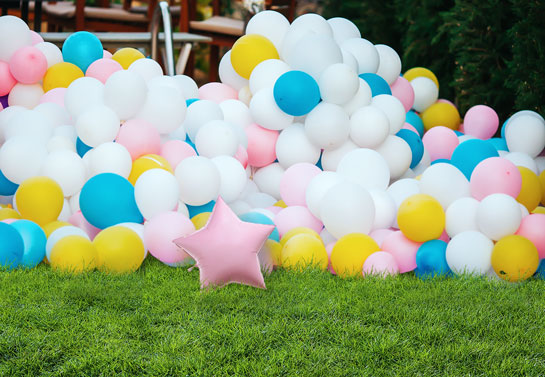 Idea 6. Use a Funny Backdrop
Banners are a must for a cool and funny background. The best thing about them is that you can get them printed with your favorite graphics and post them in your yard. Ask your child to choose the design for this special backyard birthday decoration idea.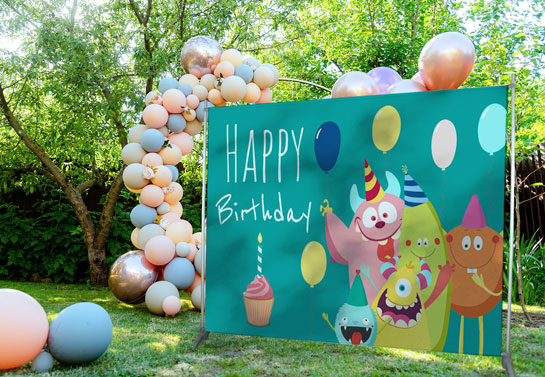 Our free design tool is all you need to bring these garden birthday decoration ideas to life. Choose one of our designer templates, create your own or upload a ready-made image. Your decoration will be manufactured and delivered in no time.
Outdoor Birthday Party Decoration Ideas for Adults
Need backyard birthday party ideas for adults? You're in the right place. Decorate like a pro and have an unforgettable celebration. All of these will make great decorations whether you are looking for 21st birthday backyard party ideas or want to throw a retirement party for your grandma.
Backyard Birthday Decoration Ideas to Surprise Your Loved Ones
A surprise party is sometimes the best gift. The surprise party should have surprise decorations as well, so let's see what we've got here.
Idea 7. Welcome the Celebrant
A welcome sign is not for guests only. When organising a surprise party, don't forget about a warm welcome sign for the celebrant. It'll be a cool hint of what's coming up! Take a look at an example below. It can be easily portrayed on corrugated plastic signs or custom aluminum signs.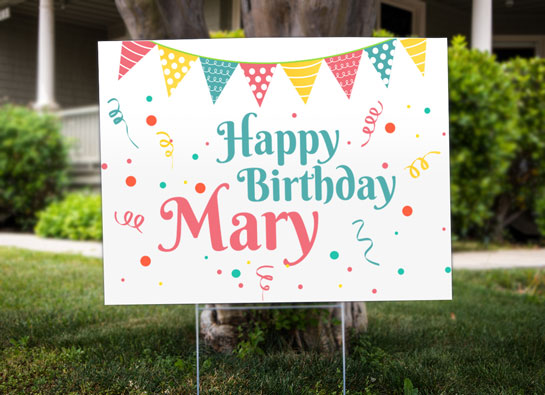 Idea 8. Involve Photo Prints With Sweet Memories
Photo prints with precious memories will be a valuable addition to all the other fun backyard birthday party ideas. You can use them in various ways like hanging them on strings or attaching them to a wooden board. You also have the option of printing them onto hard materials like Styrene or PVC and gifting them to your guests. These cool pieces can be used to decorate your home or saved for the happy returns of the day. Here is what it'll look like.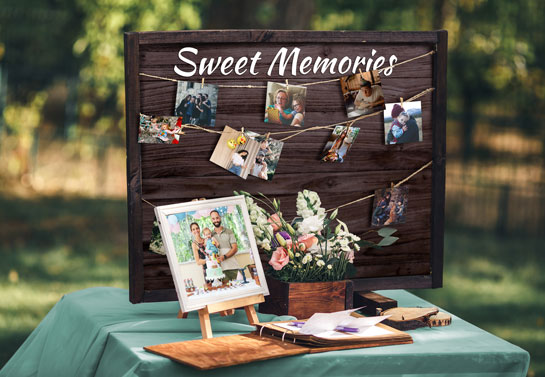 You may also be interested in our article on 13 Simple Outdoor Wedding Decorations. Choose from the magical ideas to celebrate your big day.
Outdoor Birthday Decoration Ideas for a Killer Photoshoot
If you're looking for the best backyard birthday party ideas for organizing a cool photoshoot then I've got the answer right here.
Idea 9. Get a Festive Photo Wall
A festive photo wall is one of the simple outdoor birthday decorations that add a bold feature without much effort. Free-standing step and repeat banners or retractable banners with cool graphics will do the trick and you'll end up with fun photos and memories for life.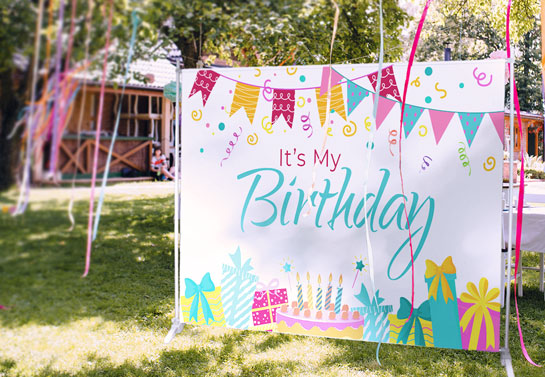 Idea 10. Create a Photo Booth
You also have the option to rent or set up a photo booth in your garden. Though it might require more work and maybe a little tricky, your efforts will be worth the results.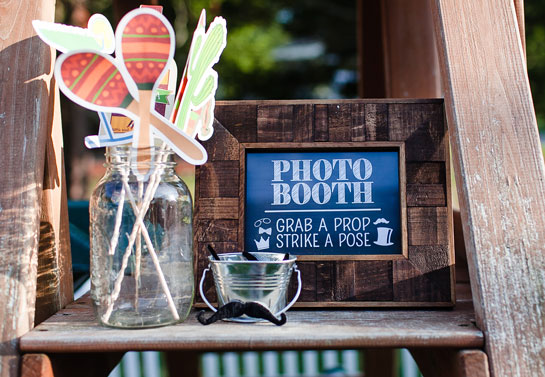 Our birthday sign templates will be very handy when creating your decors. Check them out and customize to your needs with the free design tool offered at Square Signs.
Simple Outdoor Birthday Decorations to Keep Things Organized
A good b-day party is one that's well organized. Now, that may sound easier than it actually is. Here are simple backyard birthday party ideas that will help you keep track of all you need throughout the party.
Idea 11. Hang Wayfinding Signs
Some of your guests may be coming to your house for the first time. Hanging wayfinding signs will be a great help for new attendees at the party. They'll avoid awkward questions so you can enjoy a cool party. This is especially true if you have a large backyard and plan on a big gathering. Get your signs printed on dibond, wood or other materials you like and hang them in visible places. Foam board printing and PVC printing will also work well if you're looking for a light and affordable alternative.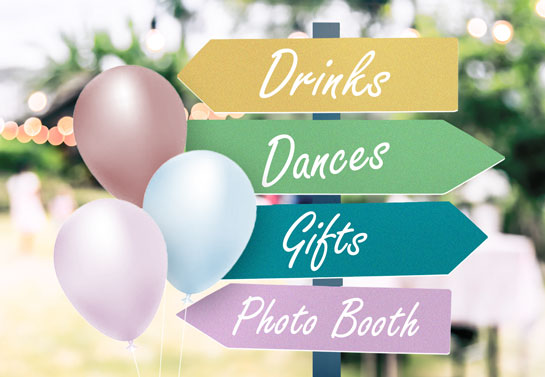 Idea 12. Use Sitting Cards That Can Double as Keepsakes
Sitting cards are must-have simple outdoor birthday decorations if you're planning to have more than 15 guests. It'll help you seat everyone in the right place so that no one feels alone or bored. You can design an artful name card that your guests can save for memories. Here is a nice example.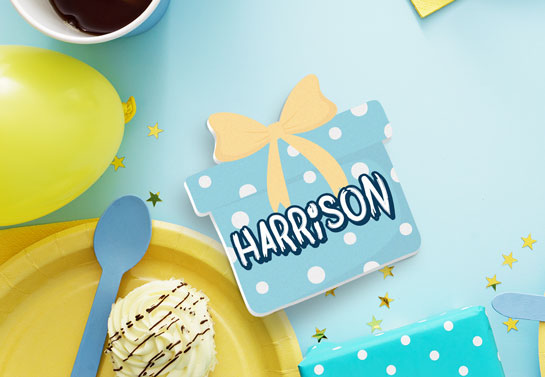 These are my top outdoor birthday party ideas for adults. Read our article on Outdoor Party Decor Ideas to get ready for any party you want to throw in your garden.
Tips and Highlights: How to Decorate the Backyard for a Birthday Party
Using the above garden birthday decoration ideas, you can be sure that your space will glow like never before. I've also included important tips and highlights you can use to throw the best party of your life. Read on to learn how to decorate your backyard for a birthday party.
Tip 1. Spread Pretty Quilts if You Don't Own Enough Furniture
Don't own enough furniture and don't want to spend a fortune on renting, either? No worries. You can always go with quilts spread on the grass for a picnic-style celebration. However, make sure to warn your guests ahead of time so they come ready to relax.
Tip 2. Include Things People Can Wear for More Fun
When choosing between backyard birthday party decorating ideas, make sure to include props people can wear to rep the party theme. Cardboard sunglasses or b-day hats will fill the party with colorful vibes and you'll get killer photos.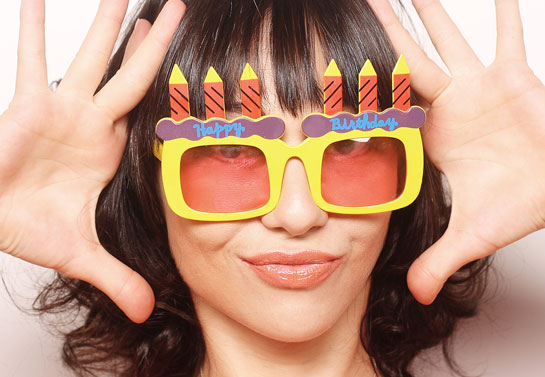 Tip 3. Always Plan Activities for Kids at an Adult B-Day Party and Vice Versa
Can you imagine the face of an adult who is bored during a kid's party? Not the thing you want to see. You also don't need to imagine all the noise that bored children can make during a celebration. Always plan activities for the kids and adults alike, even if it's just a small corner dedicated to each.
Follow this guide on garden decoration ideas for a birthday party for an experience that everyone will be sure to cherish for a lifetime. Create decorations on your own with our powerful design platform and we'll deliver them straight to your doorsteps.