Happy Labor Day to all! Here's another chance to rest and get together with loved ones. If you and your staff are taking a well-deserved day off, make sure your clients know. Communicate your plans by putting up personalized closed on Labor Day signs. Incorporating themed sign printing in advance will help prevent inconvenient situations. Order your custom signs now to let people know you won't be working on Monday.
Printable Labor Day Closed Sign Types
Getting ready for the long weekend? Announce your plans in a stylish way prior to the holiday. Discover various types of Labor Day closed signs to get the word out and honor your employees' achievements at once.
Hanging Closed Signs for Labor Day
Keep people in the loop about your celebratory intentions for Labor Day with attractive foam board printing or gator board printing. Hang these Labor Day closed signs on the storefront door to catch the eye of every shopper. Keep the design simple and highlight the message with large fonts. As for the color palette, include the colors of the American flag if they match with your brand image.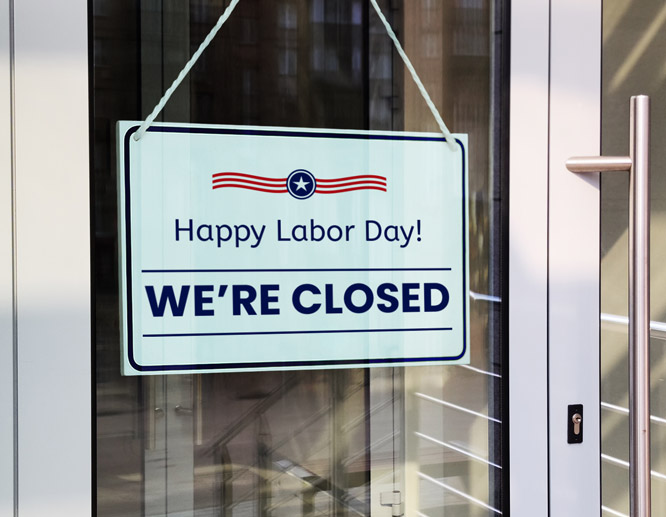 Check out our blog on "Closed for 4th of July" signs to get more design ideas.
Adhesive Closed on Labor Day Signs
Use space-saving media to notify your clients that you'll be closed on Monday. Get an eye-catching Labor Day closed sign on window decals to give your storefront a festive touch. Make it impossible to overlook by incorporating Labor Day symbols like hand tools or a helmet in the design. Create unique closed signs for Labor Day using our intuitive sign design tool.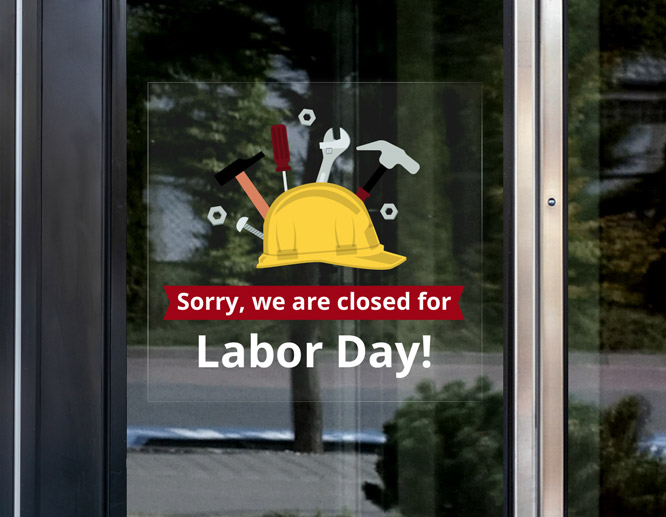 Here's our collection of closed for Labor Day sign templates to breeze through the design process.
Freestanding Labor Day Closed Signs
If you're looking for an unconventional solution, x-stand banners are ideal. Place this printable Labor Day closed sign near the entrance to your premises to best relay your message. You can also use retractable banners as alternative "office closed for Labor Day" signs. Thanks to the different size options, they can showcase as much information as you want about your schedule.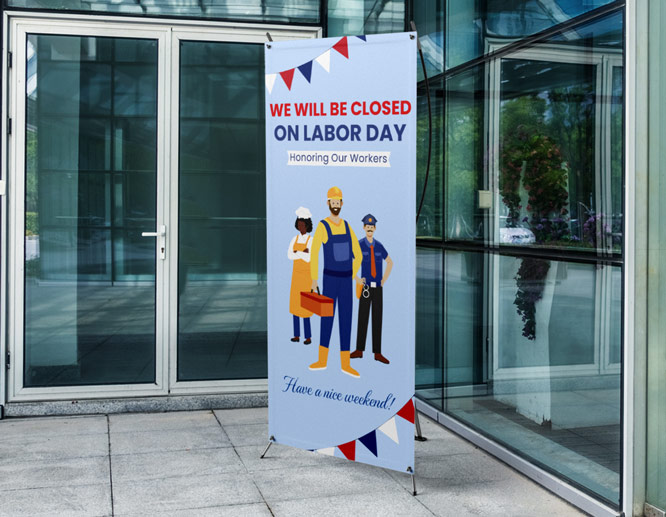 Did you know that it wasn't until 1984 that Labor Day was declared a national holiday?
Popular Closed on Labor Day Signs for Different Venues
Prepare for the holiday ahead of time to celebrate your employees' contribution. Here are a few "office closed for Labor Day" sign options suitable for different businesses.
Closed in Observance of Labor Day Sign for Institutions
It's no secret that some institutions and banks don't work on federal holidays. Make sure people are aware of the non-working day so that they attend to their financial needs beforehand. Get a professional-looking "business closed for Labor Day" sign in the form of vinyl lettering to communicate your message effectively. These office closed for Labor Day signs will be a nice addition to your exterior.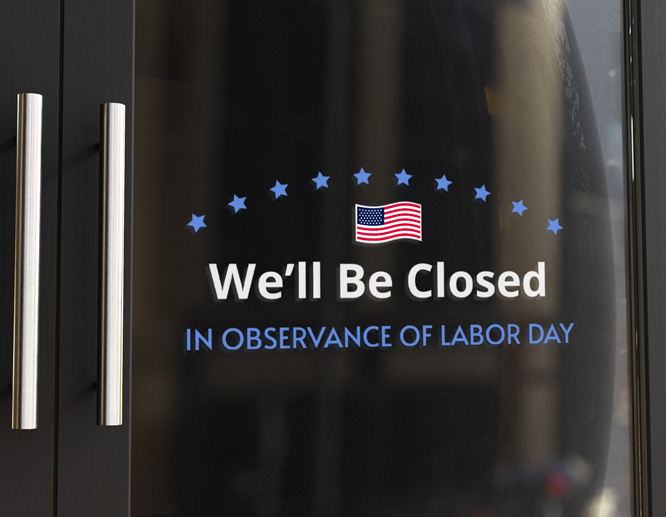 Office Closed for Labor Day Signs
If you're looking for a versatile medium, our reusable window clings will come in handy. An office closed for Labor Day sign on these products can be an efficient means when placed somewhere visible. How? Thematic static clings conveying a celebratory note will not only make the announcement but also add a holiday touch to your window.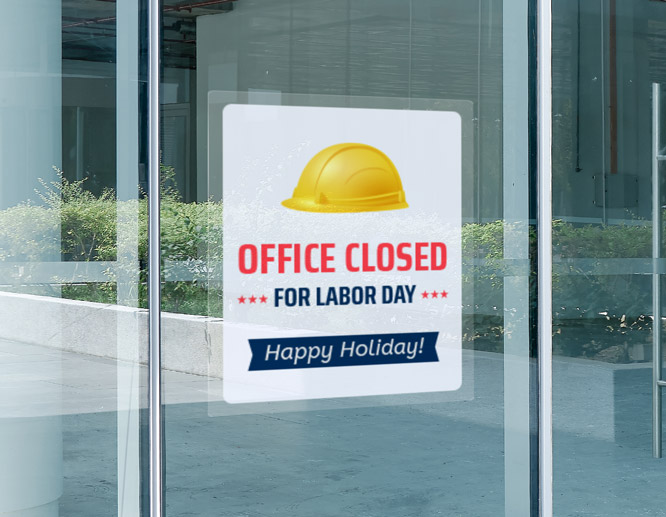 Were you aware that there was a rule not to wear white after Labor Day?
We Will Be Closed on Labor Day Sign for Stores
Labor Day, like many other holidays, doesn't go by without massive gatherings and hence, a lot of shopping. If you're closed for the day, informative closed signs for Labor Day are a must. Place sandwich boards out front a few days prior to the actual holiday to attract early shoppers. The double-sided variant with vibrant images will help expand your reach.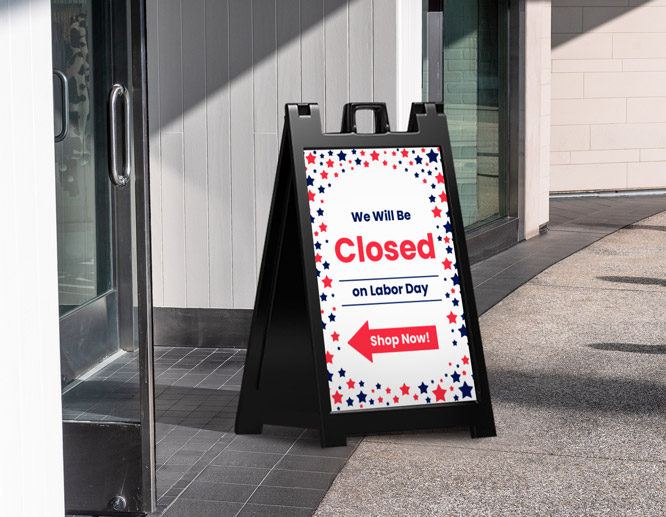 Restaurant "We Are Closed for Labor Day" Sign
Won't be serving mouth-watering dishes on Labor Day? Inform your clients about your plans with striking restaurant window decals. An appealing closed on Labor Day sign will save everyone the trouble. Are you working for a part of the day? Go for a business hours sign. Check out our sign templates to create your very own design.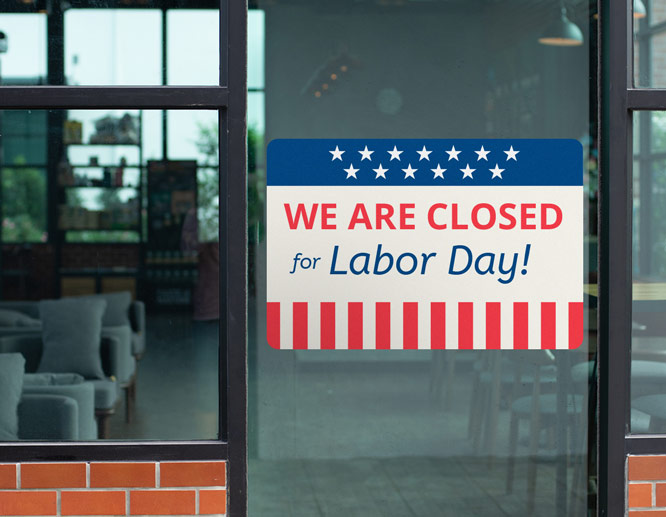 Explore our blog on Memorial Day closed signs to discover other options serving a similar purpose.