Here comes the merriest time of the year. It's the last stretch before jolly Christmas! It's time for businesses to join the vacay mood too. If you have similar plans, take a look at the "Closed for Christmas" signs we have for you in the first section of our article.
But if you intend to open, you'll want to explore some "Christmas hours" signs described below. People may already be a little stressed out, and you definitely don't want to add fuel to the fire. Our advice? Keep your customers up-to-speed through classy Christmas signs.
Closed for Christmas Signs Tailored to Different Businesses
Have you decided to close for Christmas? Check out the interesting options for "closed" signs we have listed below! 
Stores Closed for Christmas Signs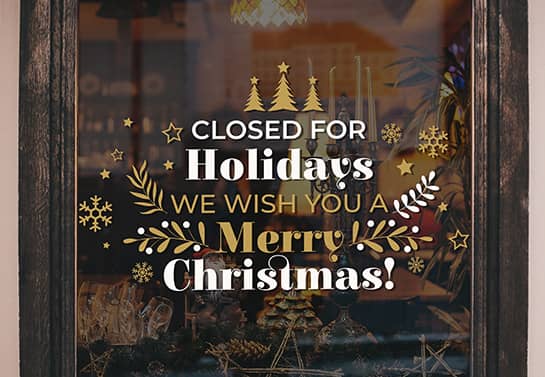 "Store Closed for Christmas" signs are a must whether you decide to close only for Christmas or the whole holiday season. Be classy and use some breathtaking window decals. Providing visibility from both sides of the window, they're perfect for decorations and promotions. Order one now and draw attention to your business during the hustle and bustle of holiday preparations.
"We'll Be Closed on Christmas Eve & Christmas Day" Sign

Give your customers time to preorder necessities by letting them know you'll be closed on Christmas Eve & Christmas Day. Order themed static clings for "Store Closed for Christmas" signs. They're cost-effective, easy to apply and ideal for storefront window decorations. Write a short note et voila! 
"We're Closed only for Christmas" Sign

Open for Christmas Eve? How considerate! Get a personalized sign to grab people's attention. Use our sign design tool and let your imagination run wild. To find printable "Closed" signs for Christmas, read our article on Christmas signs collections.
"Office Closed for Christmas" Signs
There's a lot to do before and during holidays, but putting up a "closed" sign should be on your to-do list. To save you time, we've prepared sign options you can use as is.
"Sorry, Office Closed for Christmas" Sign

Hang a themed PVC sign on your office entrance if you and your employees plan to celebrate Christmas with your families. Make it fun and decorate it with the Grinch's face. Pick from a set of different installation accessories suited to your needs. Laminate your sign to ensure it lasts long.
"Always Open Except for Christmas" Sign

Here's a witty alternative for an "Office Closed for Christmas" sign. Click on the picture above and get the template for your Christmas "out of office" sign. Craving more ideas? Take a look at other Christmas sign templates.
In case you can think of other locations that need decorating, read Christmas signs for different areas!
"Restaurant Closed for Christmas" Signs
Make sure your visitors know you won't be serving food on Christmas. Consider the following options to share the news so you don't cause a "surprise":
"Open on Christmas Eve, but Closed on Christmas Day" Sign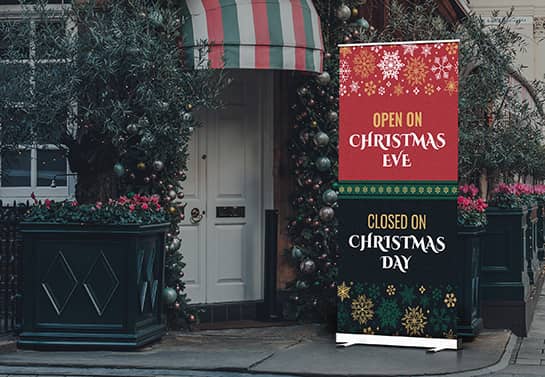 It's lovely of you to work on Christmas Eve and offer one more tasty dinner. This calls for a proper announcement. Get a vinyl banner and highlight two pieces of information at once. A "Christmas Eve hours" sign with a "Closed for Christmas" banner is a perfect combo! Sandwich board signs will convey the same message at street-level for passersby. Pick from more than one sign stand option. Place your "Closed for Christmas" banner in front of your restaurant to inform your customers.
"Closed until December 26" Sign

"Will Open after Christmas" means you're not helping with Christmas dinner. To soften the blow, make sure your "Closed for Christmas" sign is more than a note. Execute it with style to meet people's expectations. Here's how you can do it.
Did you know that Christmas was banned for a while?
"Christmas Hours" Signs with Different Displays
While unpacking ornaments, don't forget to add an extra touch to your decoration with special "Christmas Holiday Hours" signs.
Christmas Opening Hours Sign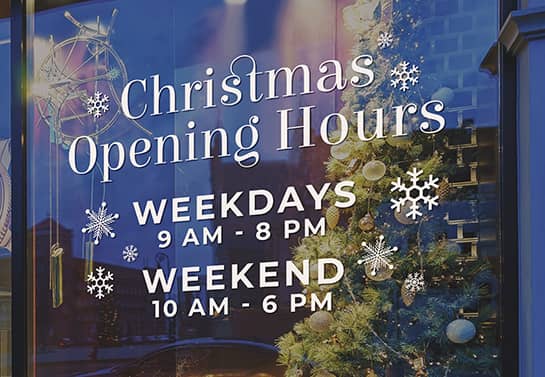 Found a win-win solution for Christmas and plan to open at certain times? Consider getting a "Christmas Store Hours" sign. Stick your holiday hours to the store window using vinyl lettering. It looks great and is resistant to different weather conditions. You can have a separate "Christmas Eve Hours" sign if you want to showcase your attention to details.
Christmas "Closing Early" Sign

Whatever minor changes you make to your business hours, make sure to keep customers in the loop. Hang informative foam board signs or gator board signs on your front door. Colorful graphics and a short message should do it. Choose the shape you want for your "Christmas Closing Hours" sign from the different cutting options available.
If you're thinking of bringing the festive mood indoors too, see office holiday decorating ideas here.
Christmas Opening & Closing Times Sign

Want to show your full holiday schedule? Get a "Christmas Store Hours" sign depicting both opening and closing hours for Christmas on one display. Be creative and make a personalized "Christmas Hours" sign with our design tool.
"Open for Christmas" Signs!

Store or restaurant, you're definitely everyone's favorite if you're open on Christmas. Put up an "Open" Christmas sign and kick off your holiday campaign. If there are no changes in the business schedule there's no need for a detailed "Christmas Hours" sign. Less is more, so a simple note will do. Take a look at our ready-made templates or use our design tool for more creativity