Christmas is not complete without window decorations. They create a joyful atmosphere and enhance other types of decor. Be it your home or business, these Christmas window decoration ideas are essential for celebrating the happiest holiday of all.
Read on for 16 unique Christmas window decorations. Get inspired and find the perfect window decals and ornaments for your home and business.
Make sure you reach the end for bonus tips and highlights that will help you optimize your window decorations.
Christmas Window Decoration Ideas to Spread Cheer
It can't be the most wonderful time of the year if you don't have your windows all done up. Here are all the ideas you'll need to set things right!
Winter Landscape Inspired Xmas Window Decoration Ideas
I've come up with two perfect ideas inspired by the mysterious winter landscape.  They make the best Christmas window decorations whether you're in Los Angeles or the North Pole.
Idea 1. Reflect a Winter Forest
What's more enchanting than a forest covered in fresh snow? Recreate the image of bare winter trees coated with thick snow on your windows. This idea can also make one of the most delightful shop window Christmas decoration ideas. It'll attract every window shopper passing by. Imagine how stunning your store will look when it's snowing out!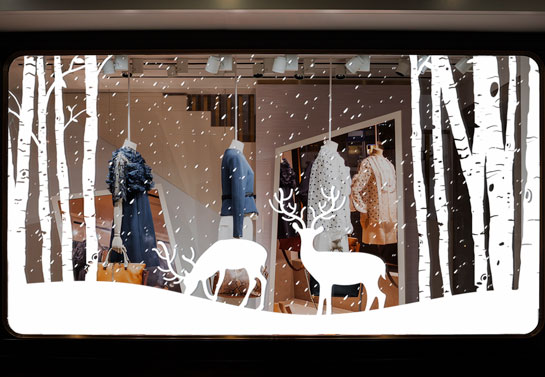 Idea 2. Make Sure to Include Evergreen Trees
Can you imagine Christmas without the iconic evergreens? Neither can I! Feature a landscape of fir and pine trees with snowflakes falling from the sky onto your windows. Use the example below and enjoy these natural wonders anytime you glance outside.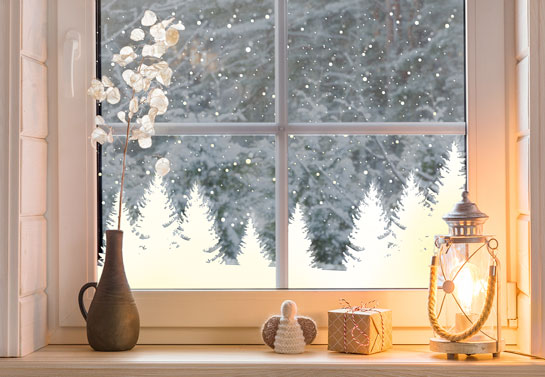 Read our article on Holiday Window Decorating Ideas and get inspired to knock any celebration out of the park.
Winter Fairy Tale Inspired Christmas Window Adornment Ideas
How would you like to spend the holiday season? Create a fairy tale around you with ways to decorate your windows for Christmas.
Idea 3. Create a Winter Town View
Spread warm vibes by recreating the view of a festive town on your windows. Accompany it with string lights and your fairy tale is set. All you need is a cup of tea with your favorite sweets and you'll soon be hearing the jingle bells.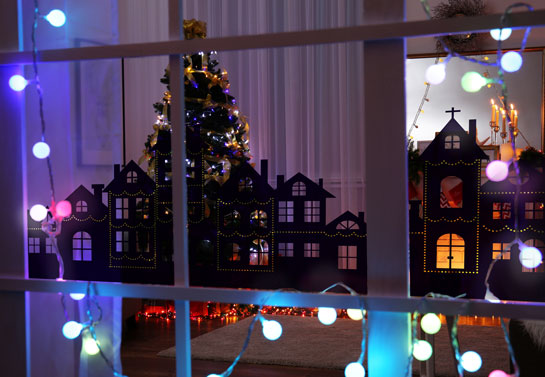 Idea 4. Invite Santa With His Sleigh and the Reindeer
Santa's in town! Or on your window, to be more specific. Feature Santa and his reindeer pulling the sled coming to fill the holiday with lots of gifts! Looking for shop window Christmas decoration ideas? Showcase promotional Christmas sales on the same window.  Let customers know Santa has gifts for them, too.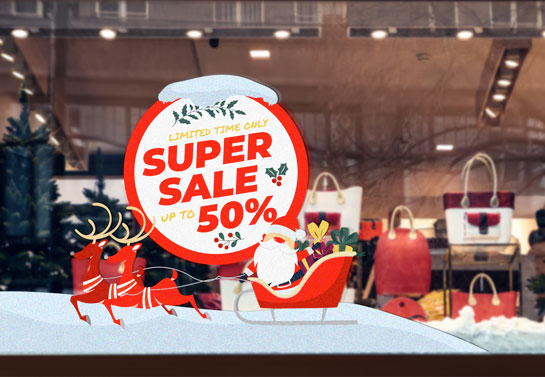 Need window decorations for other purposes? Our article on The A to Z of Window Decorating Ideas is the right one for you.
Thematic Christmas Indoor Window Decoration Ideas
We all have our favorite Xmas cartoons that remind us of the good old days. If you have kids, they are sure to have favorite characters associated with the holiday. Here are two ideas for a jolly Christmas story.
Idea 5. Invite Mickey and His Friends for Christmas Nostalgia
Do you miss those classic cartoon days of your childhood? No matter how old you are, you need to indulge nostalgic vibes from time to time. Mickey and his friends will be sure to take you back in time and give you the best Christmas Eve this year!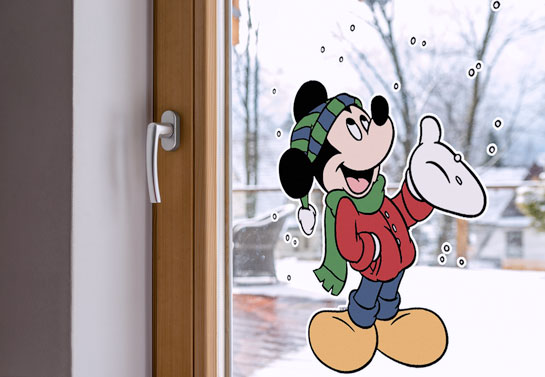 Idea 6. Spread Positive Vibes With New Disney Characters
Released during the holiday season, Frozen is a favorite among kids today. Decorate the windows of your children's room with characters from the film to present them with Xmas memories that will last a lifetime.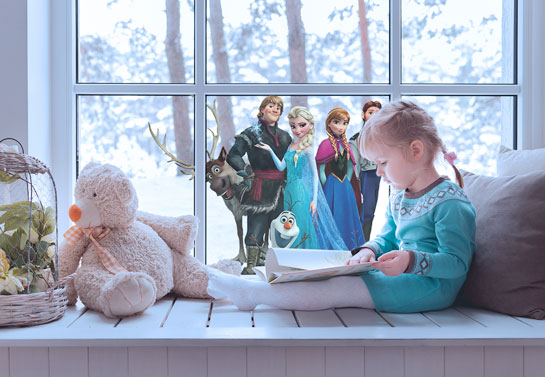 Use our intuitive design tool to upload your images or browse through our templates. Creating customized Christmas window decorations has never been easier.
Traditional Noel Window Decoration Ideas
No matter how many new ways to decorate your windows for Christmas you consider, there are essentials you can't skip over. Here are timeless ideas to represent with a unique twist.
Idea 7. Decorate With Christmas Ornament Shaped Stickers
Christmas ornaments are a must for the Eve. And if you want to know how to decorate a window with Christmas ornaments in a unique way, here is the answer. Use ornament shaped stickers that come in different colors and styles. All of them will work great as Christmas store window decoration ideas as well. They don't take up any space, look great from both sides and aren't in any risk of being broken. Here is what it will look like.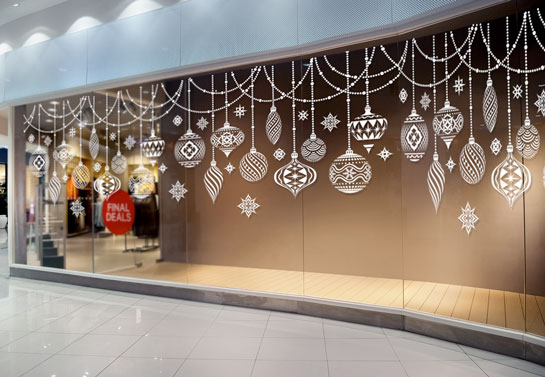 We've got you covered in case you are looking for Office Holiday Decorating Ideas to Get Into the Christmas Spirit.
Idea 8. Display Stockings as a Must
Santa's stockings represent the joy of the holiday season like nothing else. Feature them as stickers on the windows of your home or business for a joyful atmosphere. You can choose snow themed or colored ones to match other decorations you're planning to have.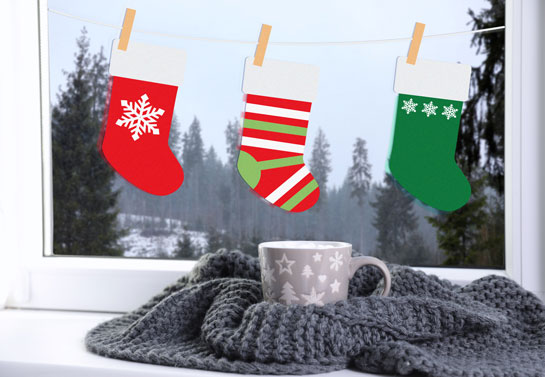 Idea 9. Use Snowflake Shapes to Decorate Your Windows
Let it snow on your windows with ornate snowflake designs as I have illustrated here. The best thing about this idea is that it can be accompanied by other decor and still look great. They can be used for both indoor and outdoor Christmas window decoration ideas. Here is what it will look like.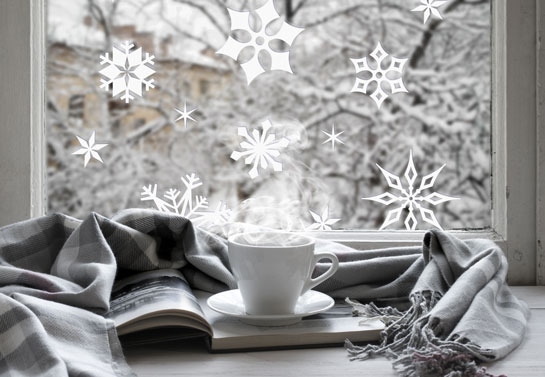 Read our article on Halloween Window Decorating Ideas and rock that celebration as well!
Unique Christmas Window Decoration Ideas Inspired by Nature
Natural elements are key when it comes to ways to decorate windows for Christmas. While you can't decorate the windows with real trees, you have lots of creative and unique options like the one featured below. These are especially great Christmas store window decoration ideas.
Idea 10. Use Patterns to Design a Christmas Tree
Recreate a Christmas tree on your windows using different patterns or designs. Snowflakes, stars, anything you can think of as long as you use the right combination of shapes and sizes. Here's an excellent option you can use. Tap on the image to get directed to the template.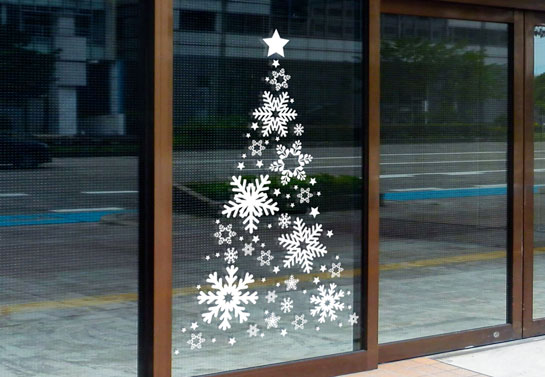 Idea 11. Decorate With a Spiral Christmas Tree
Here is another option for those who want to know how to decorate windows for Christmas in a distinctive way. Use a swirling pattern for illustrating your holiday tree. This idea will embellish your windows or storefront with a mystical flair. Make sure to go with adhesive acrylic as the medium for a high-end visual appeal.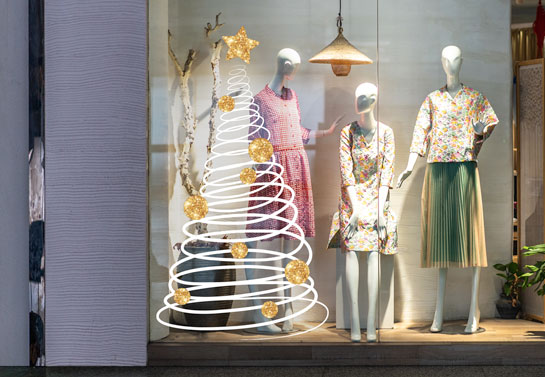 Idea 12. Go With a Realistic Image
Nothing can beat a realistic Christmas tree print on your windows. This example is exquisite as a Christmas store window decoration idea. You are free to use it on your home window as well! Here is how great it looks.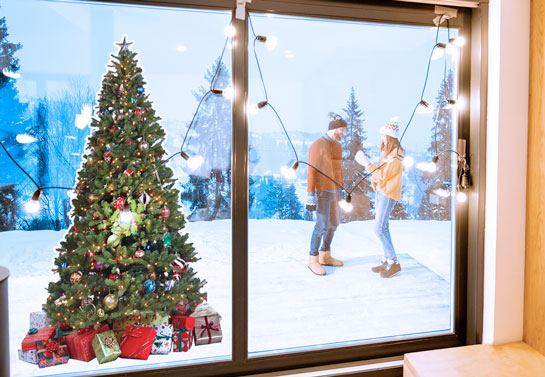 Create your design or pick one of our templates using the free design tool on Square Signs.
Christmas Quote Outdoor Christmas Window Decoration Ideas
Christmas would not be the same without the popular phrases and sayings associated with the holiday. Read on to see how you can turn them into the best Christmas window decorations with vinyl lettering:
Idea 13. Fill the Air With Christmas Vibes
Xmas Eve comes with a unique atmosphere you can never get at any other time of year. Prepare your windows for the celebration with this quote-decoration idea.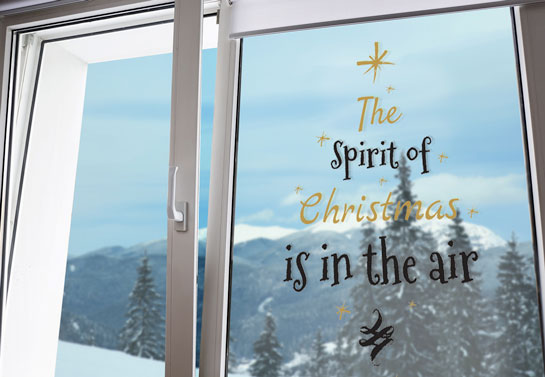 Idea 14. Show You Have Christmas as a State of Mind
Is there anyone who doesn't love Christmas except for the little Grinch? I bet not. However, there are amazing people who have Christmas as a state of mind year-round! Show that you are one of them with this sentiment.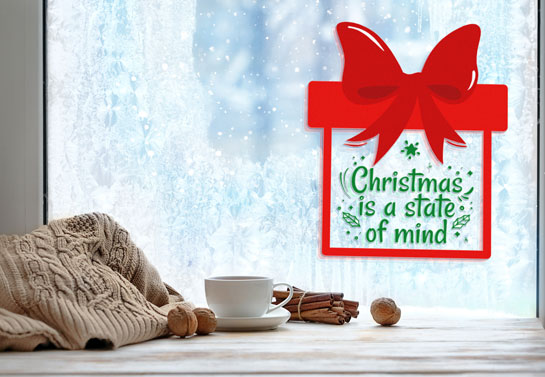 Idea 15. Wish Everyone a Very Merry Christmas
Christmas comes with cheer. Spread the joy by wishing your neighbors and passersby a Merry Christmas and a Happy New Year with this window decor.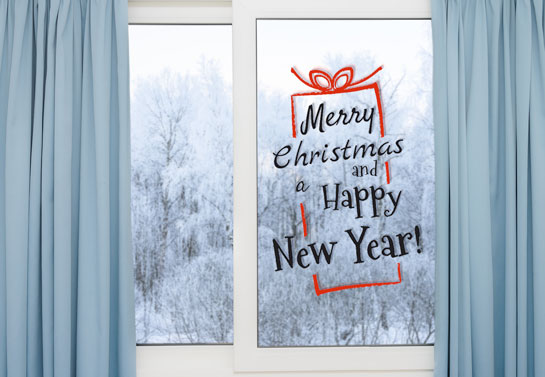 Idea 16. Rock Around the Christmas Tree
Here is another one from a range of ways to decorate windows for Christmas with prints. Use this lyrical idea for both your home and business and enjoy the Holiday to its fullest. Print lines from any song you love!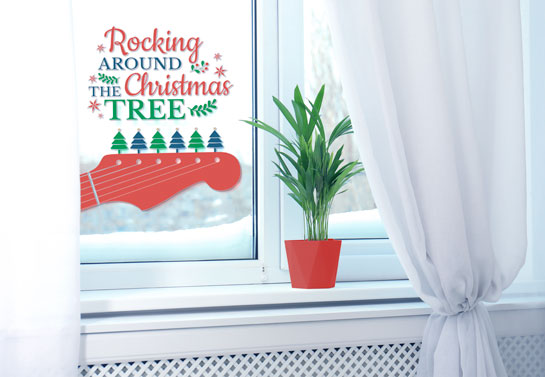 Bringing these ideas to life is a piece of cake! All of the above Christmas templates are available on our website for free. Modify them or create your own using our design tool. Make sure to double-check that you've selected the right material, size and other features before placing your order.
Tips and Highlights: How to Decorate Windows for Christmas
Choosing between so many brilliant designs is not an easy task. You can select multiple Christmas store window decoration ideas and a bunch for your home, too. The more, the merrier, as the saying goes. Now let's go over useful tips and highlights you'll need to consider before applying the adhesives.
How to Decorate Shop Windows for Christmas to Generate Traffic
Tip 1. Take Visibility Into Account
If you want to have large graphics on your windows, perforated window decals are your best choice. They offer one-way visibility and work perfectly for stores, salons and other kinds of businesses.
Tip 2. Combine Promotions and Decorations
Make the most of your decorations by combining them with promotional information. Winter or Christmas sales can easily be a part of your shop window Christmas decoration ideas.
How to Decorate Bay Windows for Christmas Wisely
Tip 3. Take Advantage of the Right Motif
When it comes to ideas for decorating a bay window for Christmas, it would be wise to use multiple smaller sized images for window panels rather than one big one. Here is a cute example.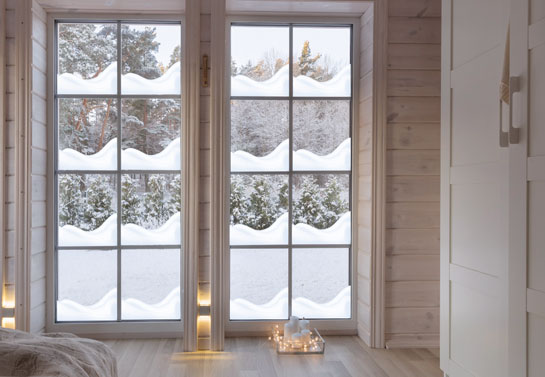 Tip 4. Make Use of the Free Space
The ideas for decorating a bay window for Christmas are endless. The free space bay windows offer is ideal for making a Christmas corner. Set your Christmas tree in the center, surround it with presents, decorate the windows, hang garlands and get ready for the festivities!
Bonus Tips for Even Greater Results
Tip 5. How to Get Reusable Window Decorations
Often, you want to have decorations you won't have to throw away when the holiday season is over. Unlike most types of decorations, static clings are reusable. They may be applied and removed indefinitely and can stick to most smooth surfaces.
Tip 6. Apply White Designs for a Double-Sided View
Go with all-white decorations to make Christmas indoor window decoration ideas look good from both sides. Red and green may not be the easiest colors to match but white is foolproof. Make sure to select second surface printing so you can stick them from the inside, too.
That's it. You now have a handful of ideas on how to decorate a window with Christmas ornaments. Our free design tool makes the best assistant when it comes to turning these ideas into reality! Get ready for the party with Square Signs and have yourself a merry little Christmas!