Are you planning on throwing a backyard baby shower for yourself or a loved one? Then you need to make it dreamy for the mother-to-be and her guests. Find the sweetest outdoor baby shower decoration ideas and useful tips below for an adorable celebration.
Backyard Baby Shower Decoration Ideas
This section is all about backyard baby shower ideas to host an unforgettable party. From wooden signs for welcoming guests to photo walls for insta-worthy memories, you'll find everything you need for the special day.
Welcoming Backyard Baby Shower Ideas
The first thing your guests will see when entering the venue is a welcome sign. Make sure it's worthy enough to honor a newborn's first smile. Here are examples you'll fall in love with.
Idea 1. Use a Wooden Board and an Easel
Allow garden baby shower decoration ideas to be your inspiration for the creative use of an easel. Instead of a canvas, set a printed wooden board onto it and with a welcome message.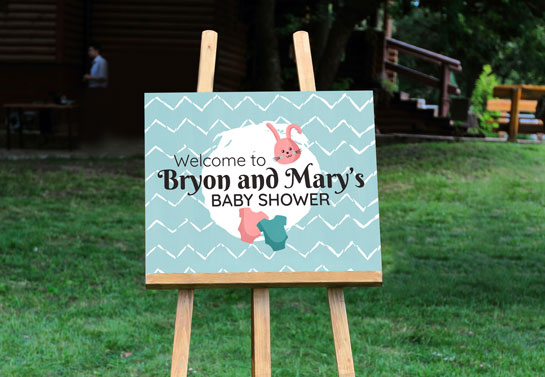 Idea 2. Welcome Guests With a Free Standing Sign
You don't own an easel? Not to worry. A free-standing yard sign with the right design will do the job just as well. A good idea is cutting the base into the shape of a baby bodysuit to welcome your guests with the cutest greeting.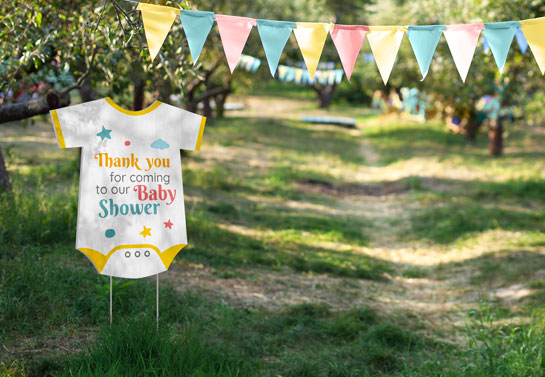 Check out more baby shower templates to create awesome decor for the party.
Outdoor Baby Shower Ideas for the Tables
Decorate the tables to make them look as great as the food on them will taste. While thematic centerpieces are obvious features to be included, don't forget little decor elements like stork napkins that will add a more unique touch to the tables. 
A gift table to keep things organized is another must. It also gives you an extra surface for beautiful colors, games and arrangements.
Idea 3. Make Sure to Use Sitting Cards 
Place cards are yet another opportunity to add individual flair to your party decor. Besides displaying names, prompt your guests to use them for guessing the baby's gender. Prepare small gifts for those who get it right! You can also include other fun guessing tidbits like the baby's birthday, weight and length. This game is bound to be a good ice-breaker for the party.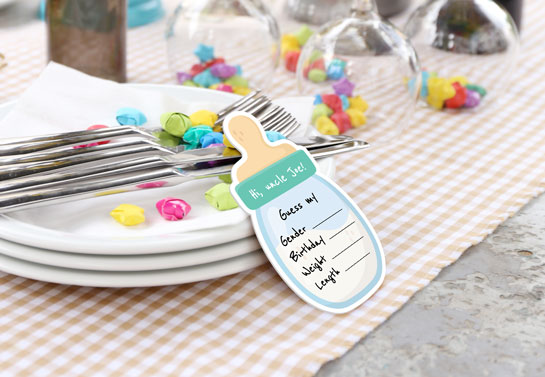 Idea 4. Display a Raffle Sign and Organize Games
Raffle games are common for baby showers. One of the most popular ways to have your guests participate is by asking them to bring diapers or other kinds of gifts to engage in games and win prizes. You'll also need to put up a sign to let people know where to leave their raffle tickets to enter the game. Here is what it can look like.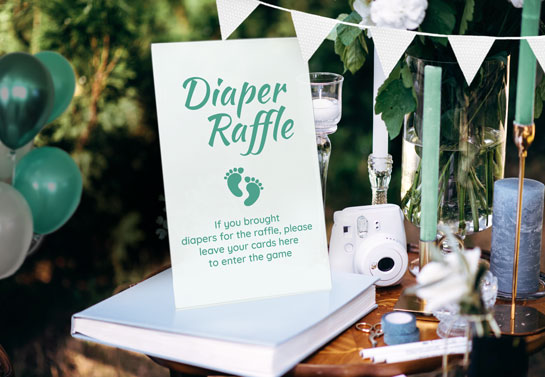 Idea 5. Create a Board for Wishes
Aside from gifts, everyone will have kind words they'd like to leave for the baby and family. Set up a message board to let them write their wishes on and save it as a memorable piece from your baby shower. You can use wood, acrylic signs or foam board signs for the display. Use permanent markers to write with or get it laminated with a matte finish so the text doesn't rub off. Place small ones for each guest or a big one near the gift table. Your kid will love reading these thoughtful notes once he or she is all grown up.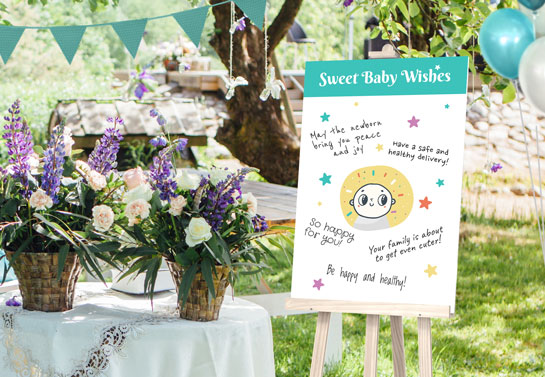 As long as these decors require custom design, our free designer tool will come in handy. It has lots of templates, elements, backgrounds and fonts you can use to realize the coolest backyard decorating ideas for a baby shower.
Outdoor Baby Shower Decor Ideas for a Photo Wall
Taking pictures is almost an inseparable part of any baby shower. Who wouldn't want to get a photo with the future mother and her baby bump? Create a photo-wall for the mom-to-be and her guests. The garden baby shower decoration ideas described below are my favorite so let's get to them.
Idea 6. Use a Baby-Themed Backdrop
It goes without saying that your party decor should have an overall theme. A traditional option is using a baby motif to print on vinyl banners for hanging in your backyard. You can also go with free-standing retractable banners if you don't have a place to hang it. Use balloon or flower garlands over the top or sides to make it look even more celebratory.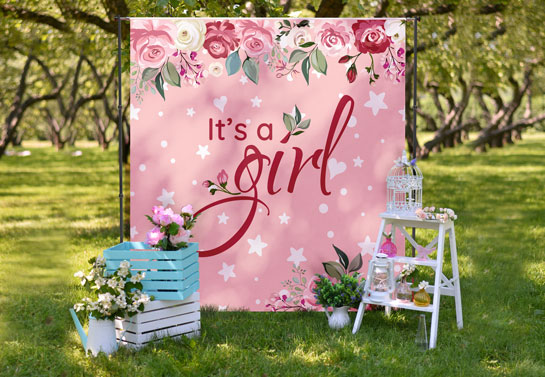 Idea 7. Decorate the Hedge or the Wall of Your House 
In case you don't have enough space, small backyard baby shower ideas will be helpful. For instance, you can use that awesome hedge or the wall of your house as the base for your backdrop. Hang balloon garlands, baby shoes, clothes, pictures and anything else to your liking to create a charming photo wall.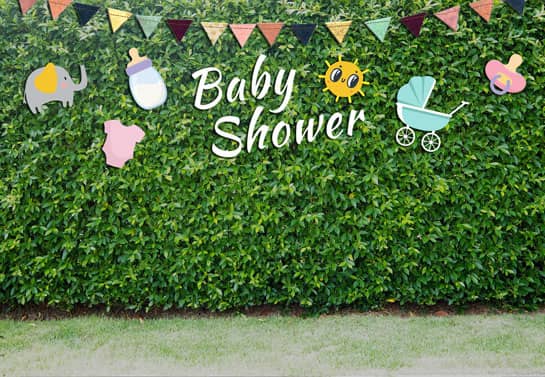 Are you planning for a birthday party as well? Here are Outdoor Birthday Decor Ideas you'll love!
To take your baby shower to the next level, I've also included bonus garden baby shower decoration ideas. These final touches will make the celebration even more unique and fun. Scroll down to see them!
Bonus Backyard Decorating Ideas for a Baby Shower
Let's get on with the final outdoor baby shower decor ideas you'll need in order to throw the party that you've been dreaming of. 
Idea 8. Entertain Guests With Cute Pregnancy/Baby Facts
Your guests will love reading surprising information about pregnancies and the newborn baby. Get these fun facts printed on corrugated plastic signs and place them around the parameter. They'll keep party-goers entertained and offer them new knowledge to top.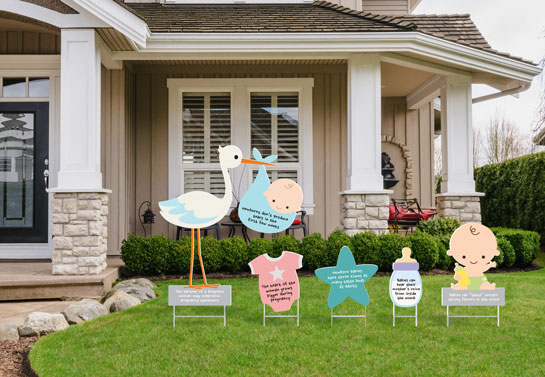 Not sure what facts to go with? Here are interesting ones you'll want to include:
The heart of the woman grows bigger during pregnancy
Newborn babies have three times as many taste buds as adults
Babies can hear their mother's voice from inside the womb
The partner of a pregnant woman may experience pregnancy symptoms
Babies can "taste" certain strong flavors in the womb
Babies can cry in the womb
Newborns don't produce tears in the first few weeks
Idea 9. Keep Things Organized With a Schedule Board
You'll want to let your guests know about the schedule of the party and a sandwich board is the best way to display it. Place it somewhere visible so that everyone will look forward to the fun activities you have planned for the day. Your party will be more organized and flow smoother than a baby's cheeks!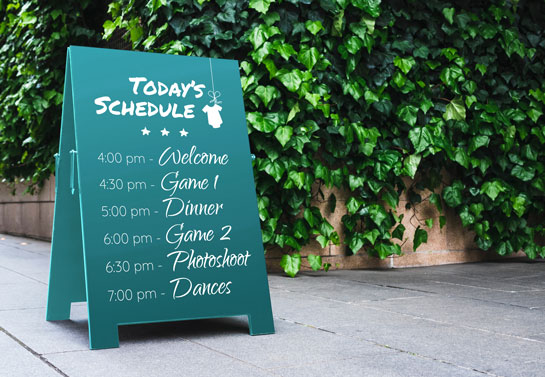 Idea 10. Treat Guests With Individual Chair Decors
Can you imagine the face of the baby's grandma when she sees the personalized card hung with ribbons on her chair featuring the words "grandma-to-be"? I bet she'll be in tears. Turn it into a durable souvenir by choosing a sturdy medium like PVC printing. All of your key guests deserve a special treat like that.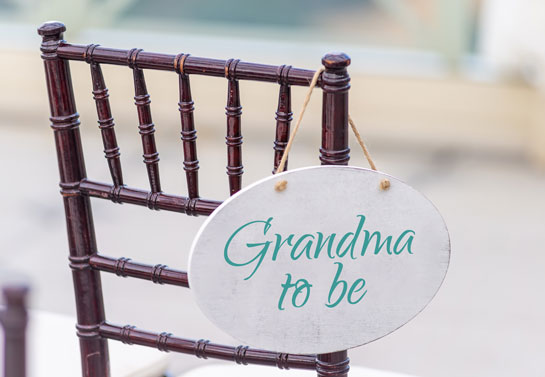 Outdoor parties are cool! We've dedicated an article to Outdoor Party Decor Ideas with a bunch of ideas to rock any garden celebration.
Now let's go on to see more effective tips for the special day.
Tips and Highlights: How to Get Ready for a Celebration
I know you can't wait to decorate your garden with the above mentioned outdoor baby shower ideas. Take a moment to read about these important highlights that'll ease the process and guarantee perfect results.
Tip 1. Have a Backup Plan for a Weather Surprise
When organizing an outdoor party, there's one question that always lingers on the back of your mind. What if it decides to rain or the weather changes during the celebration? It's a wise idea to have a backup plan so you can easily invite guests in if you need to. Don't let the worry prevent you from holding your baby shower in the garden but be prepared to move indoors just in case.
Tip 2. Fill in the Empty Space With Balloons
Balloons make great fillers if there are empty spaces you don't know what to do with. Use tied helium balloons to give your garden an airy ambiance. Go with baby shower-themed balloons or choose a color palette you like. It all depends on your taste!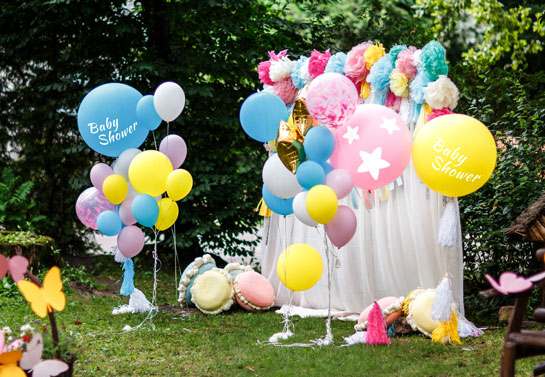 Tip 3. Save Decor for Your Grown-Up Child to See Later in Life
Even after the day goes by, precious memories will remain. Why not keep bits of those memories for your grown-up child to see in a few years' time? Many of the decors mentioned above can be reused and also saved as keepsakes for your child.
Are you ready to rock these outdoor baby shower decoration ideas? Design them with Square Signs and your decorative pieces will arrive at your doorsteps in no time.