Seasonal sales force customers and store owners to "lose" a little in order to gain a lot. If you have a store and want to benefit from discounts then you'd better have a catchy sale sign or two. The more compelling your retail sale sign, the more you'll gain.  
Find your perfect sale sign from the full collection below. To spare you the trouble, we've divided the list into two parts. The article begins with major discount events and is followed by holiday sale signs. 
Enough teasing. Read on to get the scoop!
Store Sale Signs for Retail Events
Want to be one of the top retail stores in the market and bring in people by the droves? Then you need to find the ideal sale sign. 
Clearance Sale Signs to Empty Out the Shelves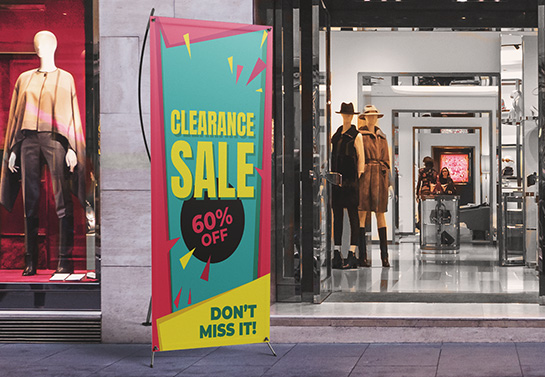 Have a pile of unnecessary stock from the previous season? Use it to your benefit to boost sales. X-stand banners are ideal for announcing seasonal specials and they make catchy clearance sale signs. There's no better way to highlight your deals than with these practical, informative and attractive sale banners. They're portable, easy to set up and can be placed wherever you like. Their vibrant prints will even serve as a storefront decoration. If that weren't enough, they're also financially rewarding. You can keep the clearance sale sign construction and replace the display graphics with new offers for future occasions. Get one and let people in on the sizzling offers you have going on!
Did you know that a clearance sale is also called a closeout or a blowout sale?
Liquidation Sale Signs to Sell Your Entire Stock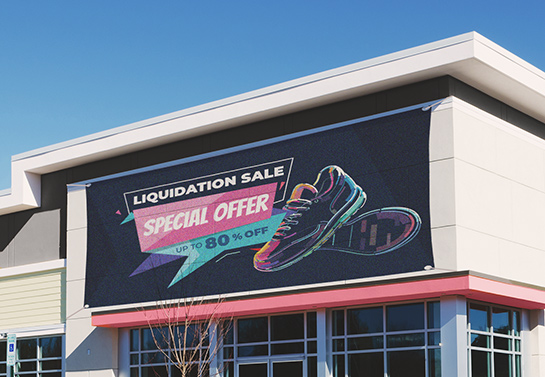 If "everything must go," your liquidation sale sign must be huge. It should also be eye-catching and super functional. Mesh banners match all these requirements. Created of weaved material, they're resistant to harsh weather conditions like strong winds and perfect for outdoor advertisement. Massive dimensions, versatile installation options and vibrant graphics make them attractive from afar. These sale banners are perfect store sale signs to guarantee crowds of people, so get ready.
Seasonal Sale Sign Ideas for Major Holidays
When the holidays approach, people start hunting for bargains. More sales mean higher revenue so leverage your sign choice to hit the mark. If you're looking for a versatile sign, consider floor decals for any occasion. The product can be used as a mall or supermarket sale sign and still be suitable for small areas where an in-store sale sign is needed. 
Keep reading to learn about other retail sale signs, categorized by season. Pick a suitable option and let your customers know about the seasonal savings you'll be offering. 
Winter Sale Signs 
Signs for Winter-Worthy Discounts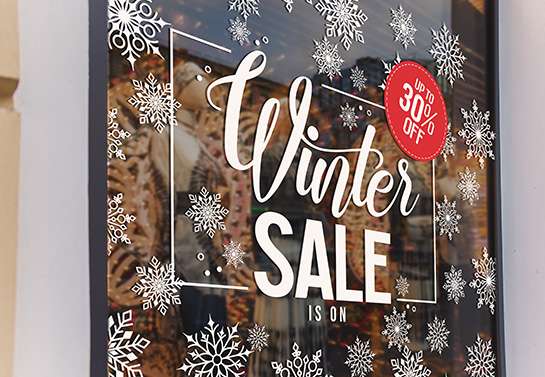 Most people automatically associate the winter holidays with sales. To make the most of this expectation, check out one of the most popular winter sale sign ideas. If you were in your clients' shoes, what do you think would make you turn your head? Store windows decorated with a Christmas theme are a surefire win here. Get elegant window decals to adorn your shop for Christmas and the New Year. Easy to apply and remove, they'll serve well for advertising as well as decoration. To find more retail sale signs for the most wonderful time of the year, take a look at these Christmas sale signs.  
Sale Signs for Federal Holidays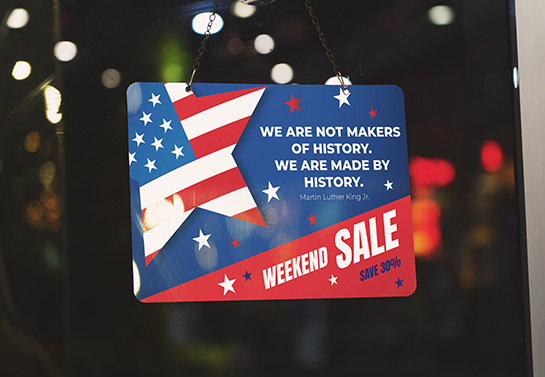 If you're a store owner, MLK Day is not the time for you to rest. It's one of the most important federal holidays celebrated during winter. Offering sales for it? Then you're half-way there to help people celebrate. If you're tired of oversized displays, high-quality foam board signs with Martin Luther King quotes will be a great touch. The same goes for President's Day. To showcase your discounts in style, order a President's Day sale sign with vibrant graphics. Decorate our UV-printed displays with the colors of the US flag and hang them on your front door. 
Here's a fun fact: President's Day falls between president Lincoln and Washington's birthdays.
Valentine's Day Sale Signs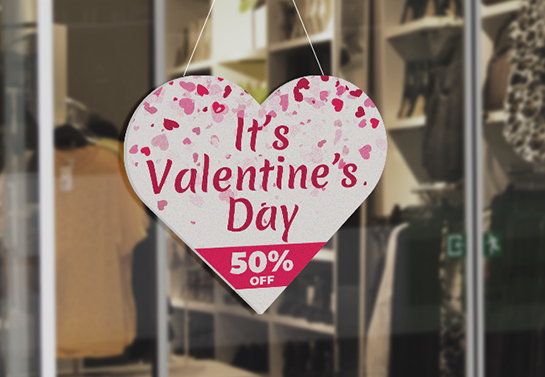 Love is always in the air, finding its way even into store decorations. Millions of people celebrating Valentine's Day means lots of shopping. Why not share the affection by offering sales? Hang PVC signs decorated with rose petals on your storefront doors to let people know about them. Take advantage of the outline cutting option and get them heart-shaped. They're practical, romantic and memorable. You can also repurpose them as store sale signs for boutiques and anniversary sale signs to widen your clientele.
Spring Sale Signs
Sale Signs for Feminine Holidays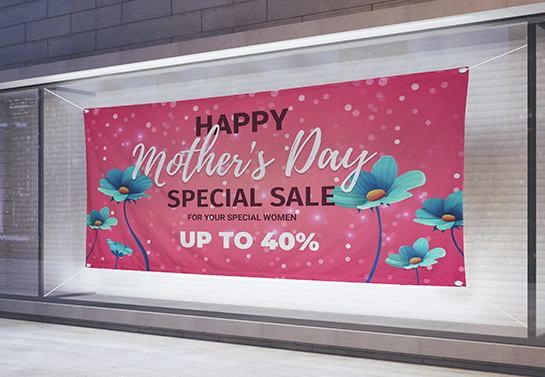 Mother's Day and Women's Day are two of spring's top holidays. Yet a simple retail sale sign alone won't motivate people to buy presents from your store. To gain favor, consider fabric banners designed with flowery themes for your Mothers Day sale signs. The same signage will also be applicable for Women's Day. Place the themed discount banner outside your store to honor all women. Your female customers will appreciate it and the ones buying them gifts will know where to go. 
Sale Sign Ideas for Cultural Holidays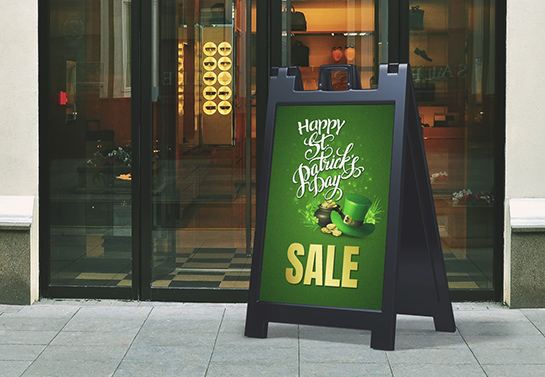 Cultural holidays require appropriate retail sale signs like sandwich boards. With two printable sides, you can convey detailed information and gorgeous graphics for every holiday. On St. Patrick's Day, you can share the Irish spirit on one side and announce the day's lucky sales on the other. These store sale signs are just as fitting for other cultural holidays like Cinco De Mayo. Celebrated every year on the 5th of November, this celebration brings its own colors and flavor. Get creative and make sure to express them in your sale signs.
It's interesting to note that Cinco De Mayo is celebrated in the US because the battle it commemorates may have had an indirect influence on the American Civil War.
Discount Signs for Easter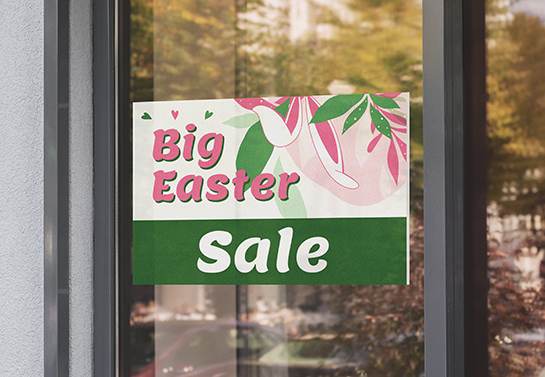 Traditionally, stores offer sales on Easter. Sales hunts are like the adult version of a treasure hunt. If you plan to join in on the fun, get a unique Easter sale sign for Spring's biggest holiday. Use our sign design tool, choose the product you want and get down to business. Take a look at our ready-made sale sign templates for cool ideas. You can create weekend sale signs or whatever you need with our handy platform.
Summer Sale Signs
Signs for Sales on Father's Day and Juneteenth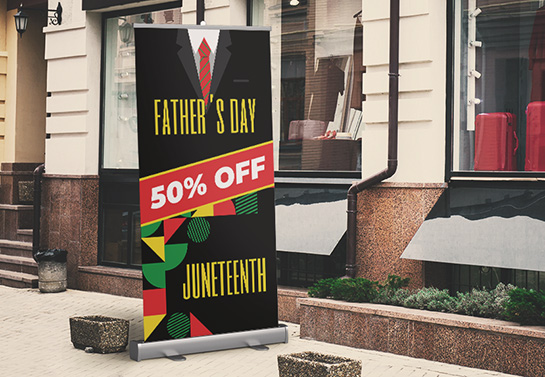 Some People are known to have FOMO or the "fear of missing out." Don't let it happen to your customers. Decorate your store entrance or wall with outstanding vinyl banners. Use them to encourage shopping and display an honorary note for Father's Day. As Juneteenth often falls on or near the special day for dads, you can find the place on your 50% off sale sign, for example, to mention both. See the picture above.
Read our article on summer sale sign ideas for more seasonal inspo.
Independence Day Signs for Sales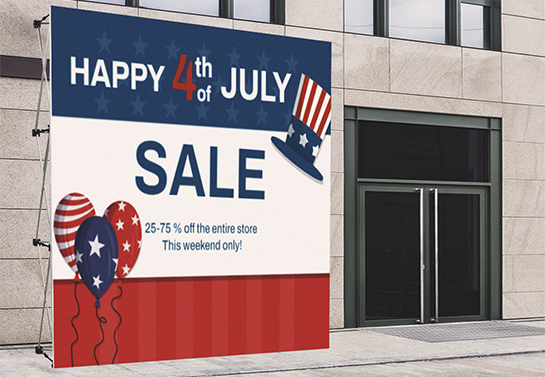 It's tough to reach out to passersby in the red, white and blue overload of this festivity. You need exceptional store sale signs like pop-up displays for the occasion. These displays are made to stand out. They're durable, portable and easy as American pie to assemble. In case you want more than a sale sign, look over our 4th of July decoration ideas. 
"Off to School!" Sale Sign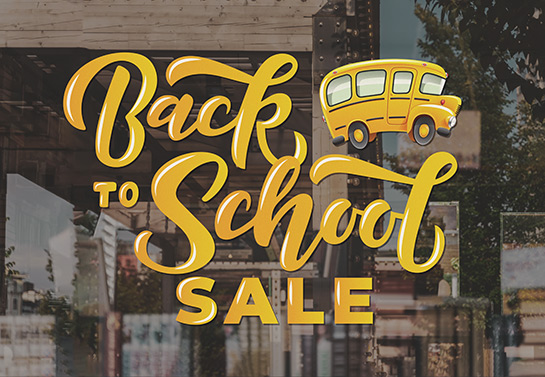 The last month of summer is like the last ray of sunshine: you want to enjoy it to the fullest. Make the best of it and help families prepare for the new calendar year. A back to school sale sign is among the most sought after displays during this time. Announce special offers right on your store window and guarantee a big crowd of shoppers. Even simple lettering on a banner will do the job.  
Fall Sale Signs
Discount Signs for Federal Holidays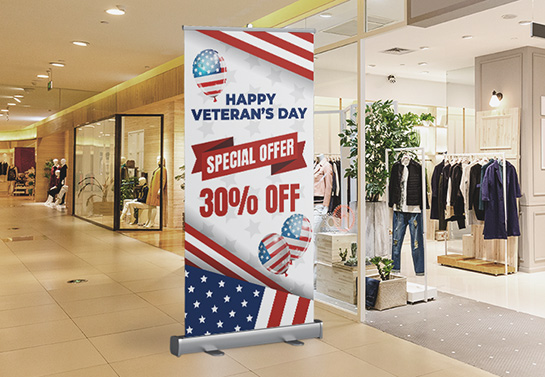 When federal holidays approach, streets get decorated with themed ornaments. To harmonize with your surroundings and simultaneously promote sales, use retractable banners. You can apply these sale banners either as in-store sale signs or outdoor displays. One of the top advantages of this sign type is that you can use its stand for other occasions. For instance, you can order it for Labor Day and keep the stand for later use to display a Veteran's Day sale sign. Speaking of which, take a look at these Popular Veterans Day Signs.
Sale Signs for Family Holidays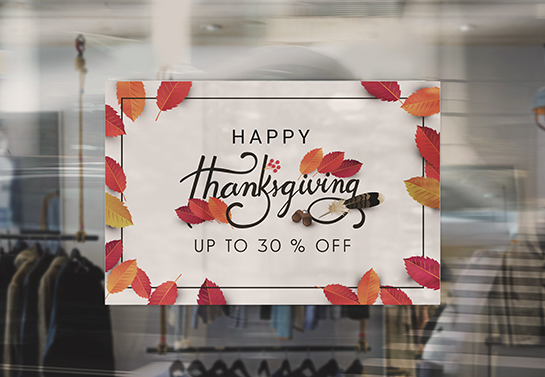 Halloween and Thanksgiving are key dates of the so-called "sales marathon." To get ready for the festivities, get different static clings, each decorated for the specific holiday. They're a must-have signage solution whether you're selling Halloween costumes or groceries for Thanksgiving dinner. Check out our collection of Thanksgiving Signs for Different Areas while you're at it. Apart from informative texts, remember to add symbols to your decal for visual appeal. To get even more inspo, explore these spooky Halloween window decoration ideas. 
Signs for Highly-Anticipated Fall Sales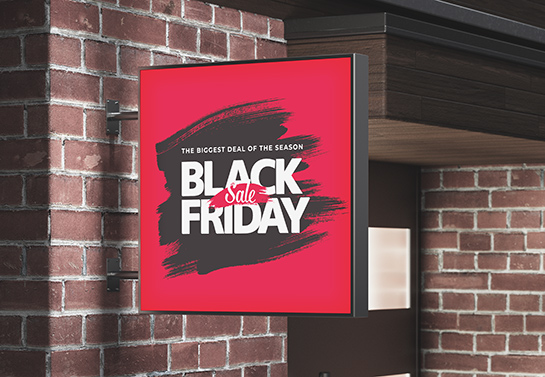 One of the trendiest displays to showcase your Fall discounts are backlit decals. On days like Black Friday and Cyber Monday, your sale signs should stand as beacons in the shopping craze. This illuminated signage option with bright and colorful graphics will make a bold Black Friday sale sign. See other sale signs for the most popular shopping day of the year in our article on Black Friday Signs.
Remember, there's no loss in a successful sale. Display captivating signage and you'll have door-busters lined up for every occasion.