It's the most thrilling time of the year. Those candy-robbers will be drawn to the charm of your outdoor Halloween signs. They'll be knocking on your door begging to join the party… or at the very least, they'll be asking for some sweets. Are you ready to let them in? Take a look at some mind-blowing outdoor Halloween sign ideas if you yearn to throw a bone-chilling celebration. 
Let's dive in.
Outdoor Halloween Signs
You shouldn't worry about the weather on that gruesome night. The moon will be casting its light down upon your town and leaving all the ghouls trembling in fear. All you need to do is organize your open-air decorations with creepy Halloween porch or yard signs. Ready for some inspiration? Keep on reading.
Spooktacular Halloween Porch Signs
When thinking about outdoor decorations, the porch is the first place that comes to mind. So hurry up and liven up the mood by displaying your spooky ideas on outdoor Halloween porch signs. Both wooden signs and window decals can be used for this kind of decoration. Need unique Halloween porch sign ideas to stand out in the neighborhood? Jump in to find them below. 
1. Spooky Welcome Notes
A little adrenaline is a good thing when it comes to Halloween. So welcome your guests with creepy Halloween wooden porch signs to send shivers down their spines. Since the material is lightweight and easy to move, customize your desired Halloween note board signs on wood and set them up anywhere you want.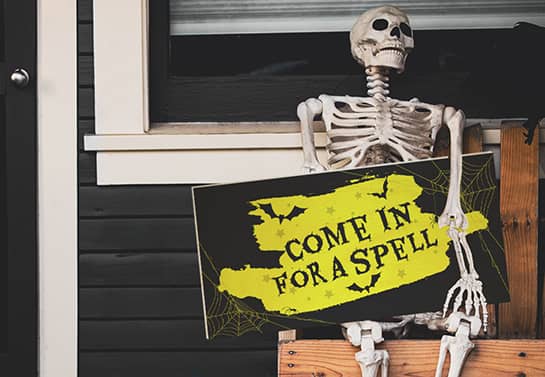 Use the creative idea shown in the picture above. You can also go to our free design tool to personalize your DIY Halloween porch signs with a few clicks.
2. Ominous Halloween Porch Signs
Another great idea to make a spectacular Halloween porch sign is featuring creepy notes all over your windows. Create your decor, get it printed on reverse window decals, and stick them to the inside of your windows. What's scarier than a Halloween party in the yard of a haunted house? 
Do you need more Halloween porch sign ideas to feature on your windows? Find your inspiration reading our article on Halloween window decor ideas.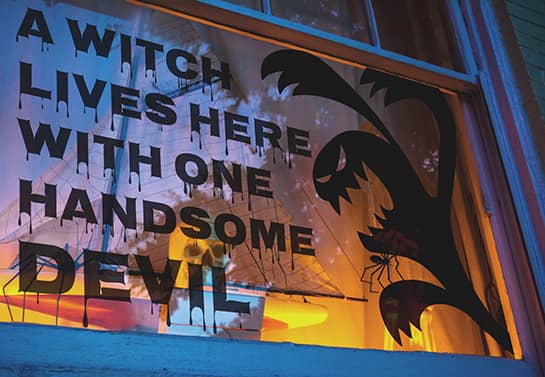 3. Thematic and Bone-Chilling Signs
Did you know that most people love a good scare because they need an average amount of adrenaline? If you have thrill-seeking friends, get thematic Halloween porch signs on wood with custom-shaped designs. Why wood? The material has a lifespan of a year and is resistant to harsh weather. Place your frightening wooden Halloween sign near the front door and let it add some thrill to the mood.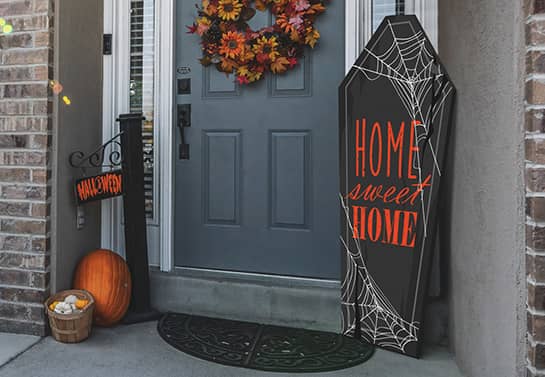 Planning to design your decoration? Check out our Halloween sign templates for your DIY wooden Halloween signs or go to our sign design tool to create your template.
Halloween Yard Signs to Welcome Your Ghost-Guests
Let's be honest. You're really fed up with the pandemic, and to top it off, you realize your favorite holiday is right around the corner. What if we told you that you can still make the best of it? Stay virus-free and organize a freaky party in your garden with striking Halloween lawn signs. Keep on reading to find some inspirational Halloween yard sign ideas.
1. Warning Signs to Trick the Passers-by
We know that you want to set yourself apart from the rest of the neighborhood with your eye-catching yard decoration. For this purpose, you can get decorative Halloween yard signs and hang them from trees. Custom aluminum signs are the best choice to elevate your lawn decoration because they don't rust and have a lifespan of at least 10 years. Personalize metal Halloween signs for outdoor decorations and keep everyone on their toes for the "fearless" party.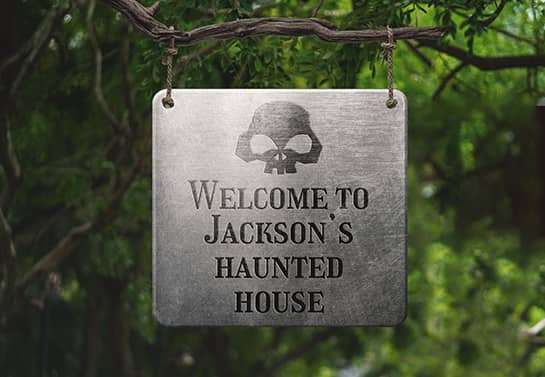 2. Directional Halloween Yard Signs to Make Fools of Your Guests
There's no memorable holiday without some mystery, and Halloween is no exception. Give the celebration a boost by installing spine-chilling directional Halloween corrugated plastic signs in your garden. Metal Halloween signs are a good choice for outdoor decor. But coroplast yard signs are the best since they're rigid and hold up well in harsh weather conditions. 
Ready to mislead your guests and send them down paths unknown? Show them the way with our retractable banners! You're a few steps away from setting your sinister plans into motion. Our user-friendly tool will help you customize your daunting outdoor Halloween signs.
If you need additional ideas for a happy celebration, go ahead and have a look at our Happy Halloween Signs collection.
3. Hair-Raising Character Displays
Once all the lights go out in the haunted night, hurry up to chill everyone to the marrow with creative Halloween yard signs. Find another great idea while you're preparing to throw an eerie celebration. Custom metal Halloween signs are a perfect fit for this. Decorate the yard trees with cute thematic silhouettes to give your guests a memorable welcome.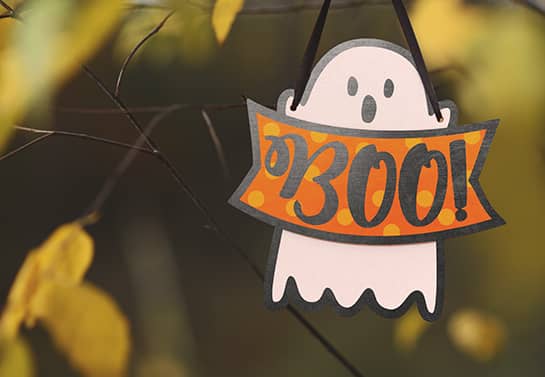 Ready to set a mysterious mood? Go to our design tool. Create DIY Halloween yard signs using our designer-made Halloween sign templates.
Outdoor Halloween Party Signs for those Feigning Bravery
There is no such thing as Halloween without a party at night. Here you'll find some ideas on how to get the best Halloween party signs.
1. Cautioning Welcome Sign for Party Monsters
If you want to charm your guests upon arrival, let them know that there are tricks awaiting them around every corner. Create a haunting Halloween party sign and install it on your porch or lawn. Use vinyl banners since they're tear-resistant and better suited for outdoor decoration.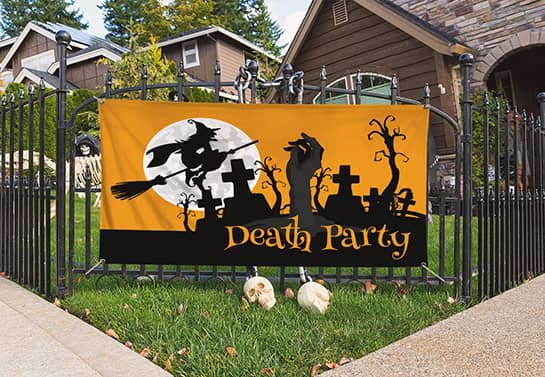 Need an alternative solution for your party decoration? You can get wooden Halloween signs which work great for both indoor and outdoor celebrations.
2. Halloween Party Signs for Treats
Large-sized decorations are a must for a festive mood. Get a Halloween party sign and set it up in your garden with a basket of sweets next to it. Full-color step and repeat banners are a good choice for this occasion as they take up less space and display clear graphics.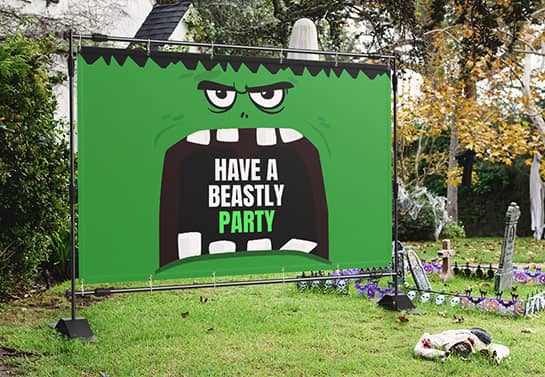 You can easily customize all the templates displayed here with just a few clicks. Change colors, texts, elements, backgrounds, upload personal images and beyond! Pick your favorite product from our wide collection which includes custom acrylic signs and sandwich boards to match all your needs.
Take a look at our full collection of Halloween signs too.
Indoor Halloween Signs
Are you just itching to have astounding interior Halloween decorations but don't know how to put your ideas together? You'll find your inspiration once you read the part below.
Banging Halloween Door Signs
It's impossible to imagine an indoor celebration without interior door decorations. Whether you're aiming for funny or spooky, either can be featured on your creative Halloween door sign.
PVC signs
are an ideal solution for this decoration because they're lightweight and cost-effective. Create your Halloween door sign using our
thematic templates
like the one shown below. Once it has been adhered to the inside of the doors, you will be daring your guests to turn the door handles.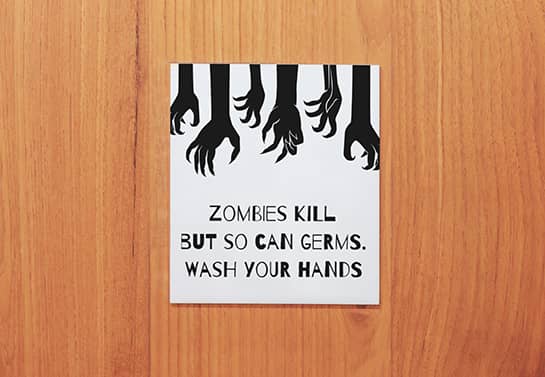 You can easily customize all the templates displayed here with just a few clicks. Change colors, texts, elements, backgrounds, upload personal images and beyond!
Do you have your own ideas? Go to our sign design tool and personalize custom Halloween door signs to your liking.
Spine-Chilling Halloween Wall Signs
Turn your house into a haunted castle with Halloweeny wall artwork. Get appealing Halloween wall signs and feature them all over your walls. You can use custom
wall decals
since they are self-adhesive and easily removable. With good care, your Halloween wall signs will last for three years at the very least.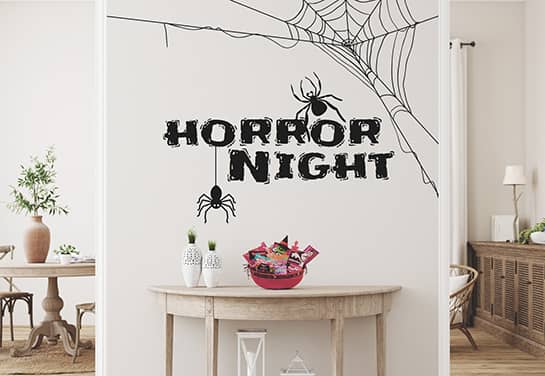 Fearsome Halloween Mantel Signs
Now crack your knuckles and prepare for the most vivid indoor decoration. Get cute yet frightening indoor Halloween party signs and install them on your mantel. Since
foam board signs
and
gator board signs
are lightweight, they're the perfect choice to get your favorite custom figures. You can also use them for years to come.
 Get Halloween wall signs as well or hang
acrylic photo prints
and let them rule the ghostly party.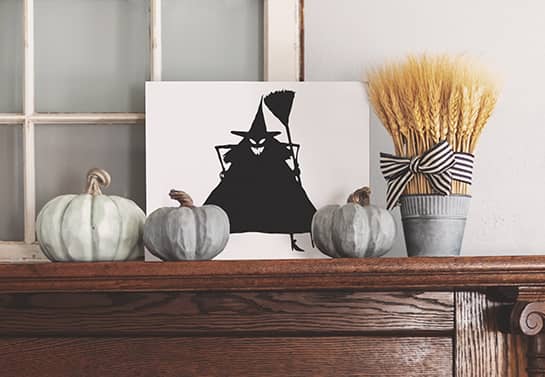 You can easily customize all the templates displayed here with just a few clicks. Change colors, texts, elements, backgrounds, upload personal images and beyond!
Now that you've got that awesome idea, take a coffee break and get started with the preparation. Have a BOO!-tiful Halloween!