Father's Day is around the corner! Make your dad happy by planning something extraordinary. Read on to discover 6 unusual Father's Day gifts for the hero of the day! We'll also share 4 decorating ideas for Father's Day to make it the most memorable celebration to date.
Set the day up for success with cool alternatives to gift cards. You can opt for different sign printing options to bring personalized Father's Day gift ideas to life. Read on to find perfect ways to demonstrate your effort and creativity.
Unique Father's Day Gift Ideas to Amaze the Most Important Men in Your Life
Whether you want to find a gift for your dad, grandpa or husband, check out these unusual Father's Day gifts to make them feel loved. Explore the custom signs below to find unique things to get your dad for Father's Day.
Idea 1. A Super Gift for Your Superhero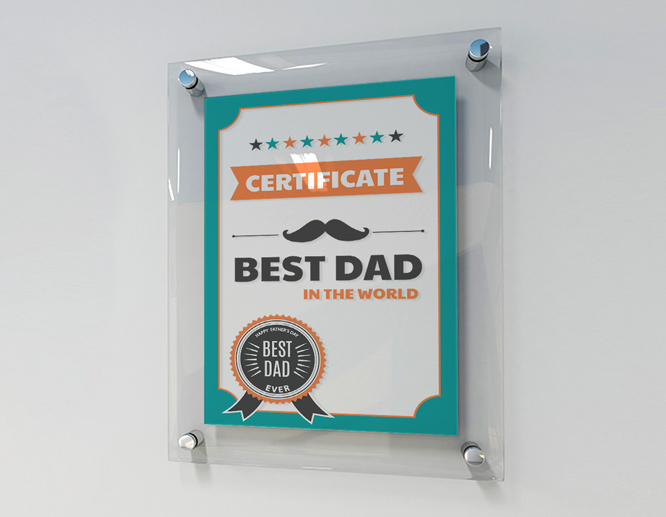 Personalized Father's Day gift ideas are meaningful and make people feel special. Present the coolest dad with acrylic signs or pvc printing featuring his favorite quote. The products are available in custom shapes and sizes, and can be applied to different settings. Want an element of surprise? Mount the decor piece to a main wall before the holiday.
Idea 2. Present Your Dad With a Nice Gift From the Whole Family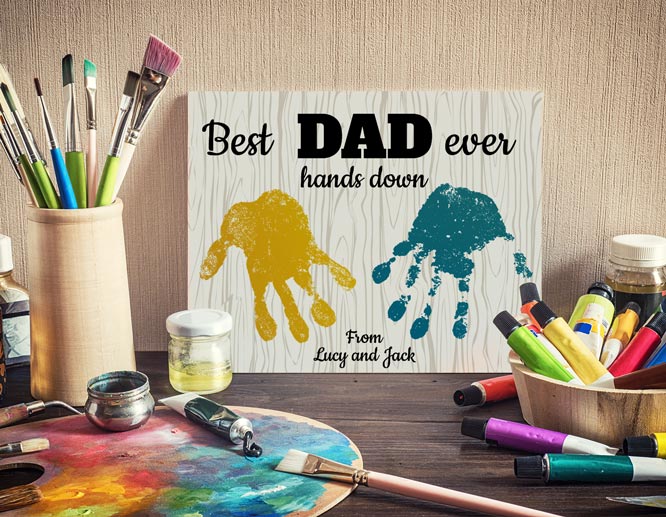 Thoughtful wooden signs are some of the most unique Father's Day gift ideas for a husband which you can get as a common present with your kids. Decor items with children's handprints always make a wonderful keepsake. They're fun to make and treasure for a lifetime. Get this item for Father's Day and paint your handprints onto it with a printed wooden effect on the background. It will become your husband's all-time favorite and always remind him of that special touch.
Idea 3. A Timeless Gift Idea That Will Result in Awe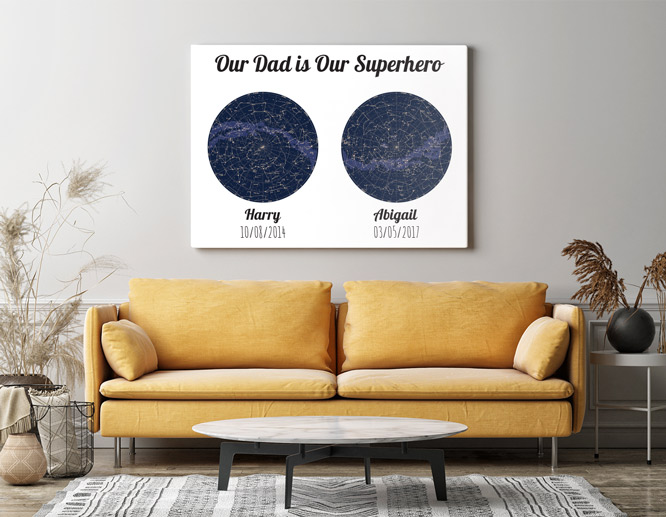 Dads are hard to shop for. If you've run out of things to get your dad for Father's Day, consider choosing personalized gifts. Custom canvas prints showcasing the star maps of your birthdays is a spectacular option. The luminous illustrations and a sweet quote above them will make for an impressive present.
Idea 4. Decorate the Car as a Surprise for Father's Day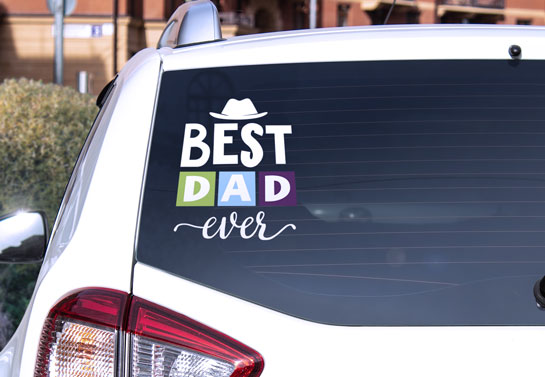 No one loves their cars as much as a father does. Decorating your dad's car with Father's Day car decals will be a nice surprise. This simple yet heartfelt decor element will bring an appealing touch to his driving experience. If you're thinking of getting one for the glass, opt for smaller sizes to avoid obstructing blindspots. Here's one example of these heart-warming car window decals for your dad to show off on the road.
Idea 5. Get Him a Picture He Can Always Have Around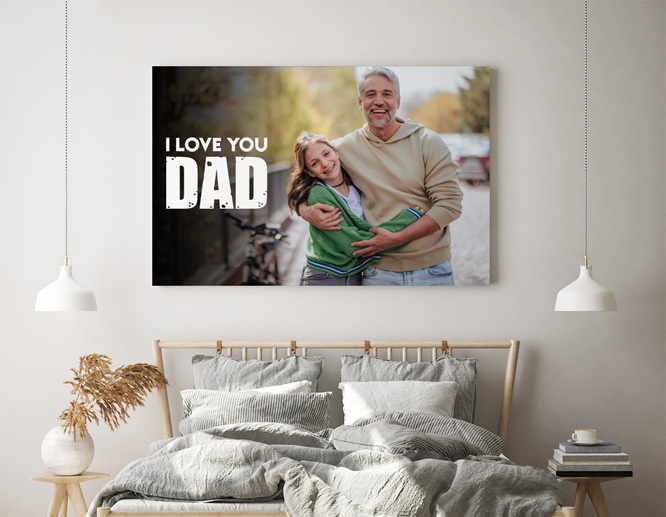 Foam board printing of his favorite art piece, quote or family photo will continue to remind him of your love and care. You can consider similar personalized Father's Day gift ideas for grandpa as well. The alternative option is acrylic photo prints that will add extra depth and appeal to the decor.
Check out our father's day templates to create unique adornments meant for the occasion.
Idea 6. A Trendy Decor Item for His Special Corner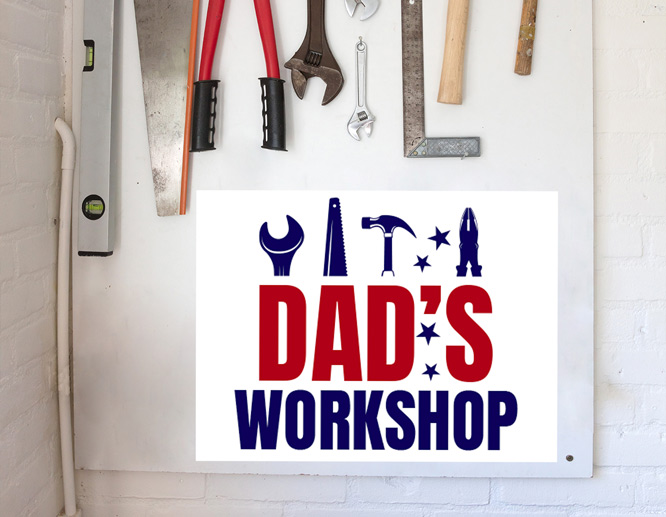 Does your dad like to spend time in the garage to indulge in his hobbies? If yes, creating a special corner for him is a terrific idea. Whether it's the garage or his workshop, personalized wall decals will give it an exclusive touch. An adhesive design showcasing a tool collection or something related to his hobbies will be an out-of-the-box solution.
Have you found the perfect match in our list of decorating ideas for Father's Day yet? Create and order your own decor pieces using our free sign design tool. We'll deliver the best quality products right to your (father's) door!
Decorating Ideas for Father's Day for a Happy Home Celebration
Wondering how to make Father's Day celebrations unforgettable? Decorations can be your greatest assets in this case. Here are some unique father's day gift ideas to have the funnest celebration ever.
Idea 7. Start the Festivity at Your Front Door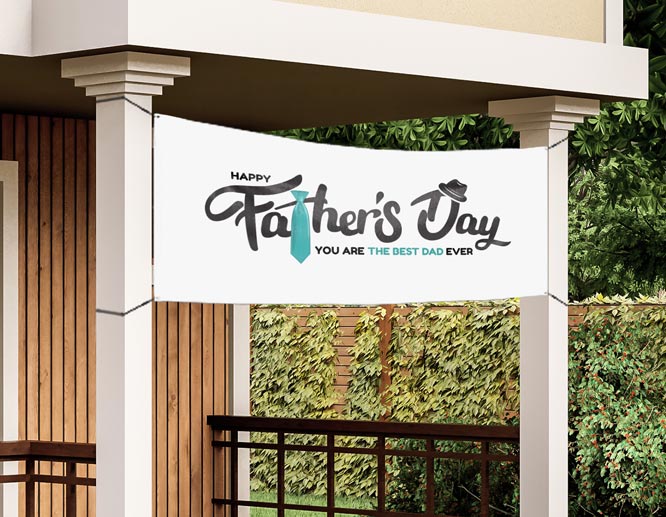 Want to go big and celebrate the holiday with the whole neighborhood? Set up a grand post at your front door with themed vinyl banners. These decorations displaying a celebratory note or your dad's favorite quote will make for a pleasant surprise. Not only will they add a festive touch to your house for the day but also leave a lasting memory in your dad's heart.
Idea 8: Make Memories for Life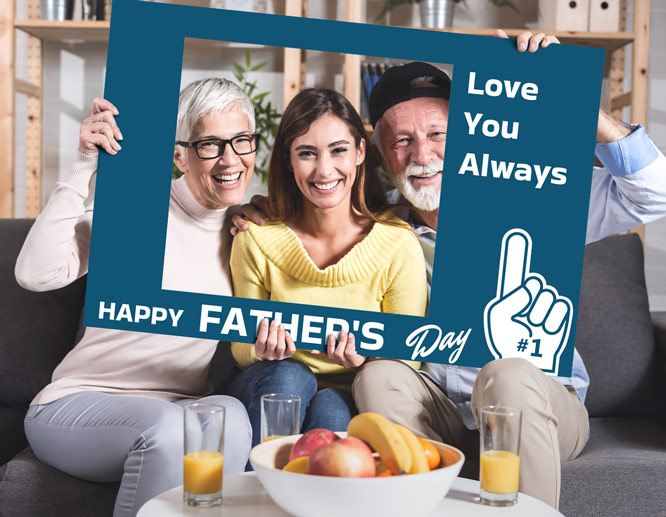 They say things end but memories last forever. Make this Father's Day celebration unforgettable by setting up an interactive photo corner. Selfie frames with thematic quotes will showcase your creative side. They'll get people to have fun and encourage them to take group pictures. In case you're leaning towards a more traditional photoshoot, opt for free-standing retractable banners for backdrops. Hold up beers or mustache props to make the images pop.
Idea 9. Organize a Thematic Party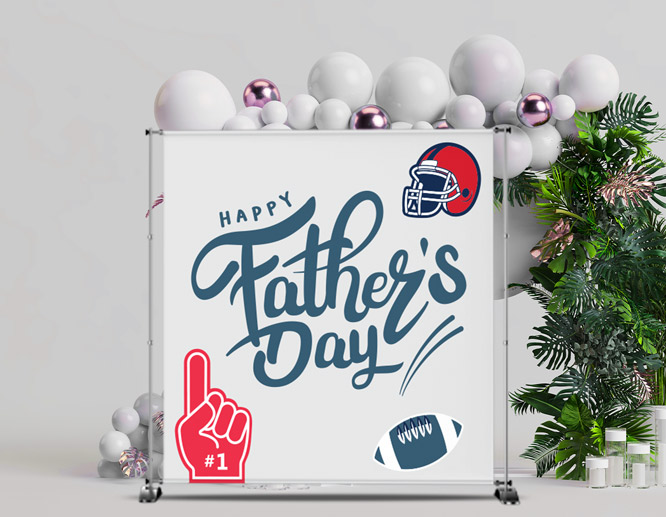 It's safe to assume that most dads have a favorite sport or movie. Organize a themed party and decorate the house accordingly. Step and repeat banners featuring an illustration of your dad's favorite sports team and a celebratory quote will serve as the perfect backdrop. It will set the mood for the holiday and bring the family together for dynamic photos. Check out our modifiable sign templates to design cool visuals.
Idea 10. Decorate Your Yard for an Evening Celebration
An evening celebration in the backyard could be just the thing your dad needs. Get creative instead of choosing traditional decorating ideas for Father's Day. Besides balloons, bulbs and garlands, get custom yard signs to show an extra gesture of attentiveness. Corrugated plastic signs with holiday themes are a great way to get into a celebratory spirit.
Now you know what to give your dad for Father's Day and how to decorate the house for a fun celebration. Remember to use our free design tool to bring all of these ideas to life. Choose a template, upload an image or create the design from scratch using artistic elements and tools. Any of these ideas will make it easy for you to rock this Father's Day – have fun!