Gratitude can turn every day into a Thanksgiving celebration. Still, this holiday is a good opportunity to appreciate all that we have been blessed with in our lives.  We're here to help you have a heartfelt celebration with Thanksgiving banner and backdrop ideas. You'll also find Thanksgiving banners for businesses in the second section of this article. Let's explore what we have in store for you!
Thanksgiving Banners and Backdrops for a Meaningful Celebration
These Thanksgiving backdrops and banners will certainly please your guests' eyes and warm their hearts. We've also included the products you may want to use for the ideas below. From step and repeat banners to fabric backdrops, we have a huge selection for you to choose from.
Thanksgiving Banners For Indoor and Outdoor Decorations
Banner materials can be used both indoors and outdoors. Place a Happy Thanksgiving banner on your fence or use one to decorate your living room wall. You're free to choose any design that suits your taste. Take a look at these Thanksgiving banner ideas and bring them to life with our design tool.
1․ Thanksgiving Welcome Banner
Hang Thanksgiving Day banners on either side of your front door. Choose a thematic design like the one shown in the image below to give your house a holiday feel. As for the material, you can go with vinyl banners that come in custom sizes. Don't forget to choose pole pockets from the options section of our tool before you place your order so that you can hang the banners.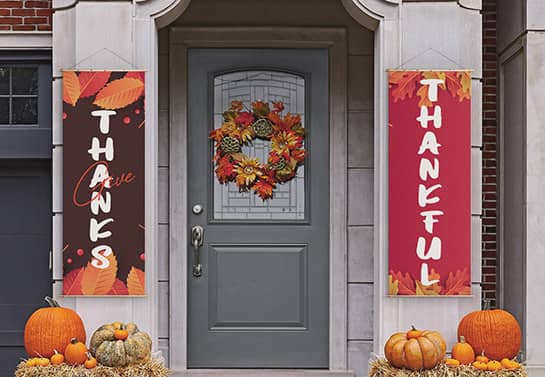 2․ Happy Thanksgiving Banner
Congratulate neighbors and passers-by with a Happy Thanksgiving banner tied to your fence. Choose a design to match the autumnal landscape of your yard. Here's one you'll immediately fall in love with.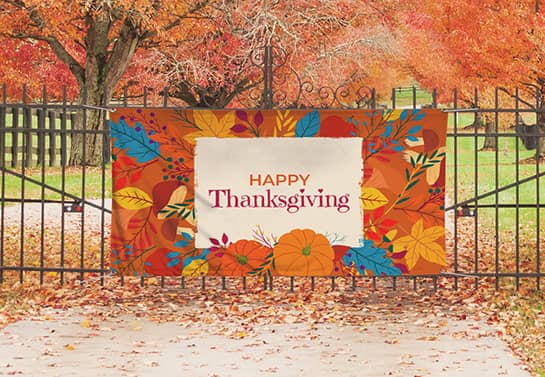 3․ Grateful Thanksgiving Banner 
Thanksgiving is the time to reflect on the blessings we have in our lives. Remind yourself and your guests to be thankful with this Thanksgiving printable banner. Order your banner decor with pole pockets to hang it on the wall. You can use any kind of pole or rope that suits your taste and design.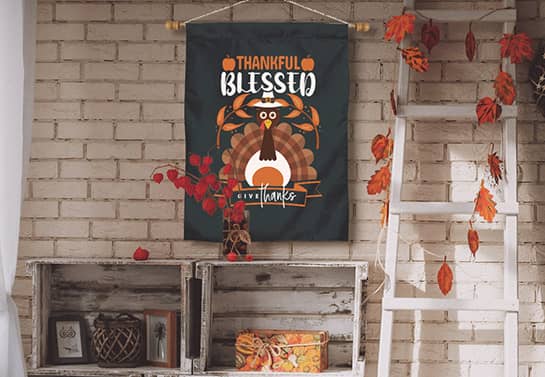 We have a great collection of Halloween signs for a thrilling celebration. Don't worry if you missed them this Halloween, you can always come back next year.
Thanksgiving Backdrops for Large and Small Parties
There are always people you can be thankful for. Thanksgiving is all about everybody coming together and enjoying the company. Take a minute to choose one of these Thanksgiving backdrop ideas for the party. We'll take care of manufacturing and delivering them while you're busy with your shopping list. Bear in mind that fabric banners are a good choice for Thanksgiving backdrop ideas since they don't reflect flash and look better in photos.
4․ Personalized Family Thanksgiving Backdrop
A personalized Thanksgiving photo backdrop is ideal for family gatherings. Add your last name and the date on a Happy Thanksgiving banner. You'll get plenty of photos for the family album. Take a look at this Thanksgiving printable banner that can be customized with our design tool.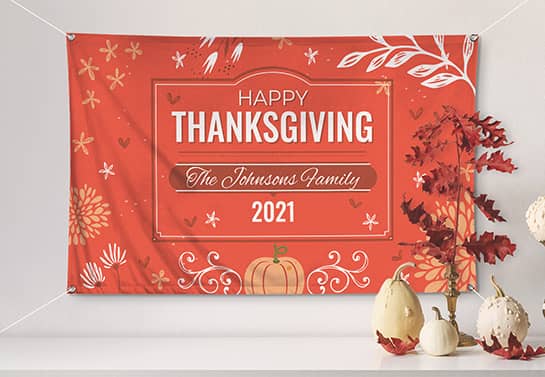 Check our designer Thanksgiving sign templates. They are free to use in our tool and can be fully tailored to meet your specific requirements.
5․ Harvest-themed Thanksgiving Backdrop
It's widely believed that the holiday originated with a harvest festival back in 1621. Since then, the harvest theme has been inseparable from the celebration, so incorporate it into your party with harvest-themed Thanksgiving backdrop ideas. Take a peek at the example below for inspiration.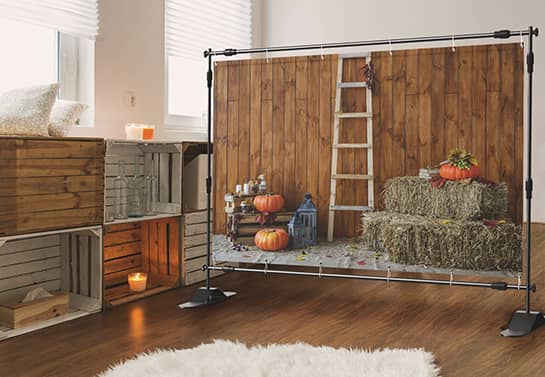 6․ Friendsgiving Backdrop
Friendsgiving is when you throw a party with friends instead of holding a family gathering. Get a Thanksgiving printable banner for your party photoshoot. Pop up displays can be the right choice for a big celebration.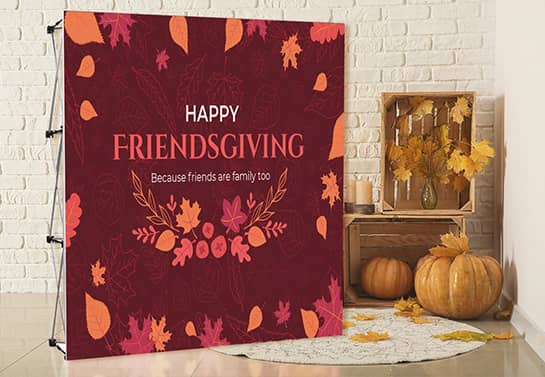 Find even more Thanksgiving signs for a heartwarming celebration of gratitude.
Thanksgiving Banners for Businesses
Thanksgiving is a national holiday and businesses have no choice but to be involved in the celebration. Your business may need Thanksgiving printable banners for promotions, charity events, and more. Here are a few you'd want to take a look at.
7․ Thanksgiving Sales Banner
While most businesses are closed on Thanksgiving, they still offer discounts prior to the holiday. Combine a Happy Thanksgiving banner with a promotion for your business. Boost sales and give your venue a holiday feel in one shot.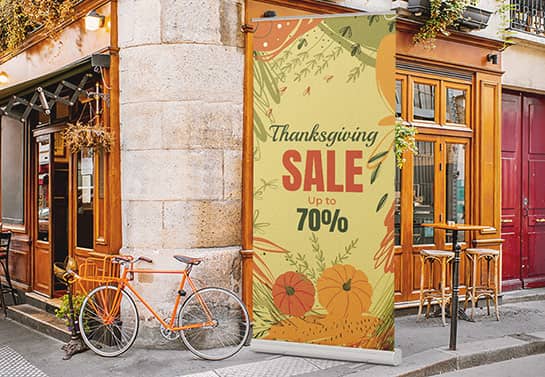 Take a look at our Closed (and Open) for Thanksgiving Signs for Businesses.
8․ Special Menu Banner
Does your restaurant or cafe offer a special Thanksgiving menu? X-stand banners are the ideal choice to display the specials. Choose a thematic design to grab attention. Appetizing food images would do a great job in attracting customers too.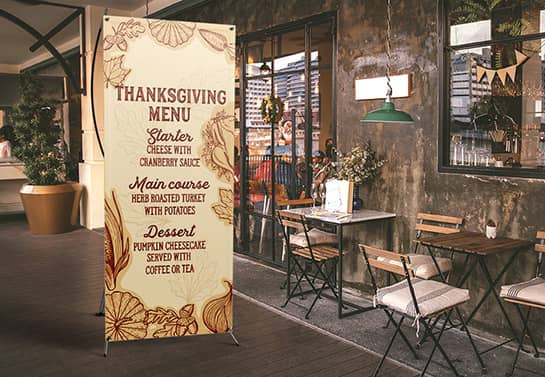 9․ Charity Event Informative Banner
Helping others is a good way to express gratitude for what we're blessed to have. Do you think charity is the best way to give back this Thanksgiving? Banners will help you announce events and provide all the necessary information. That may include volunteer sign-ups, event dates, and more. Retractable banner stands could be the ideal choice for this idea.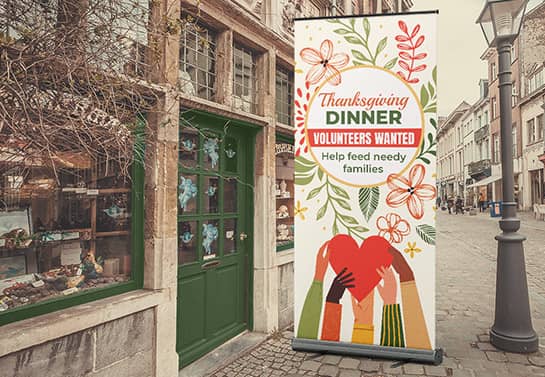 Visit our design tool to create your Thanksgiving banners in a few clicks. Our tool offers a wide array of templates, design elements, backgrounds, font options, and everything else you might need. You can also upload your own images and order your sign.
Get ready for the holiday and be thankful, just as we're thankful for great customers like you!