Presidents' Day is right around the corner. The holiday pays homage to the leaders of the country past and present. Some workplaces close their doors on this day while others make special offers. The day also features themed decorations which flood the streets.
If you've made up your mind to close for the holiday, a "Closed for Presidents' Day" sign is a must-have. Get themed custom signs to notify your customers about your plans. Read on to learn about sign printing ideas for a festive and professional result.
Presidents' Day Office Closed Sign Applications
Are you taking Monday off to celebrate Presidents' Day? If so, make sure you keep people up-to-date and avoid inconveniencing customers. Here are the most common Presidents' Day closed sign options that might come in handy.
Presidents' Day Closed Sign for Banks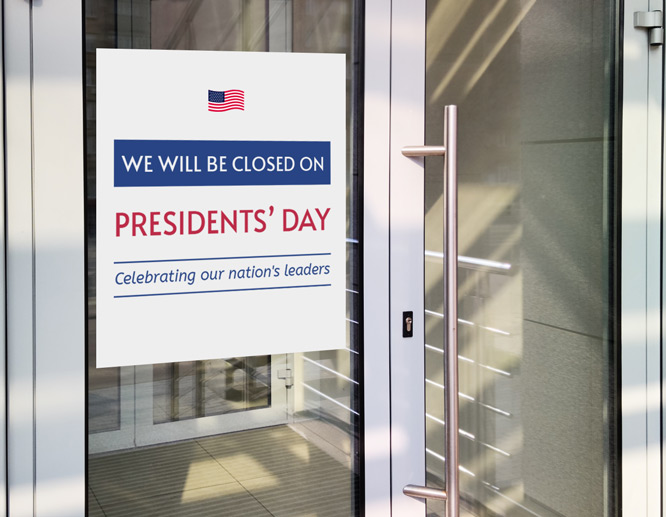 Display a Presidents' Day "office closed" sign to tell your client's you're not working today. Paper poster printing will make your clients settle their banking needs before the closure. Foam board printing with state symbols will also serve as a thoughtful addition to your branding on this and any other bank holiday. Check out closed signs for Martin Luther King Day for more inspiration.
"We Will Be Closed for Presidents' Day" Sign for Schools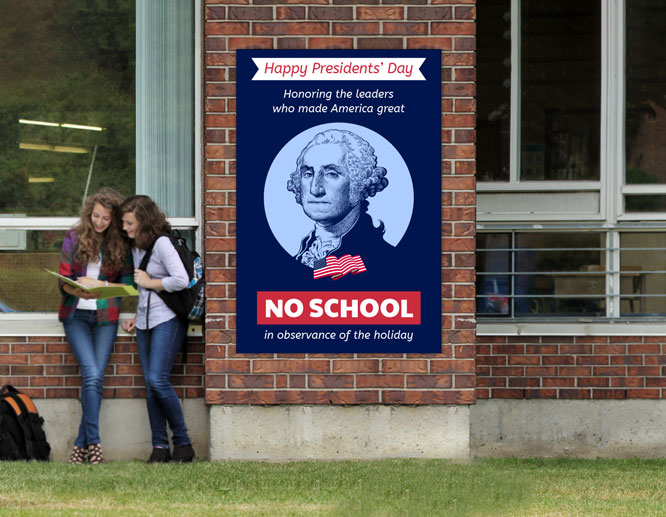 Make sure parents and students alike know what the holiday is about. Get styrene posters a few days before the holiday to make sure they learn about the occasion. A portrait of George Washington and a note will serve the purpose. Don't forget themed retractable banners if you plan classroom celebrations as well. These easy-to-set-up, tailor-made items will serve as complementary teaching materials.
"Closed For Presidents' Day" Sign for Post Office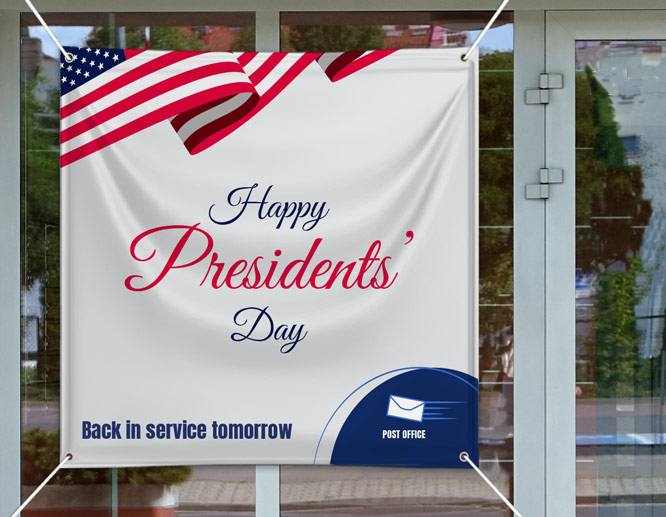 Notify your customers about the day-off with simple, attention-grabbing media. Design your custom vinyl banners with the colors of the US flag and a "back in service tomorrow" note in bold for better exposure. You can add an element of creativity by featuring an illustration of an envelope or a postal stamp. Fabric banners of such design will grab attention both indoors or outdoors.
Presidents' Day Closed Sign Types
Considering the significance of Presidents' Day, you should pay special attention to decorations. Share festive vibes with an "office closed" sign for Presidents' Day fitting your needs. Here are the main types of solutions you can apply for a wide range of uses.
Adhesive Presidents' Day "Office Closed" Sign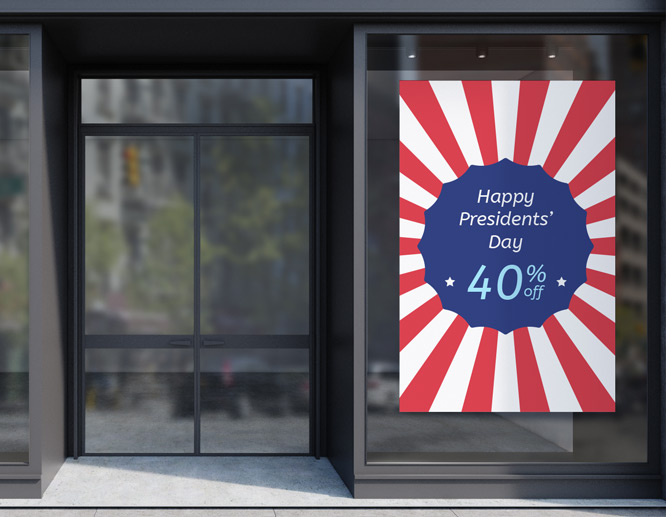 Bring the festive mood right to your storefront with themed window decals. A "We will be closed for Presidents' Day" sign in a vintage style will turn your windows into appealing informative boards. In case you're offering pre-holiday sales, make sure to include them in the design as well. Direct more people's attention towards your business by decorating the empty outdoor walls with wall decals. Combine them with other decor items like thematic custom acrylic signs for a refined look indoors. Large sizes and vibrant colors will deliver your message to all who see it.
Hanging Office Closed for Presidents' Day Sign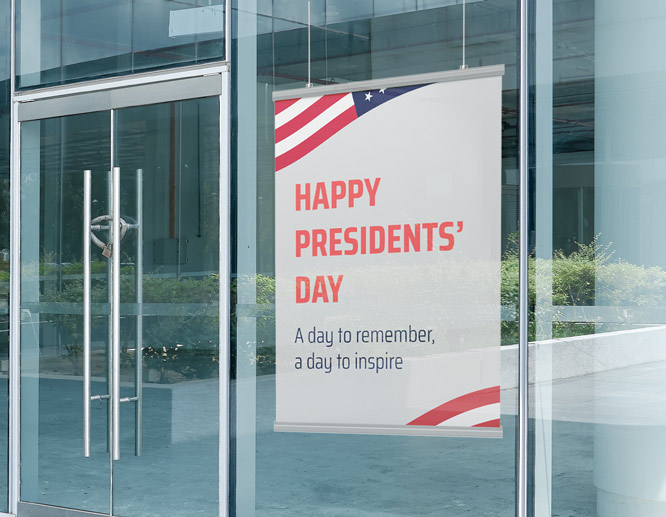 Looking for something other than adhesives? Thematic snap hanging posters are another practical option for any storefront design. Hang them inside your windows to communicate your message effectively. Gator board printing makes a good option for "closed" signs. They are lightweight, inexpensive and feature superior print quality. Designed with the US flag and big-font patriotic quotes, the items will show you're closed for the holiday. For more exposure, use complementary PVC signs for the counter as well. Pole banners with stunning designs can reach even more people. In case you're making special offers, their size will help inform your customers about promotions from a distance.
Freestanding Presidents' Day Closed Sign and More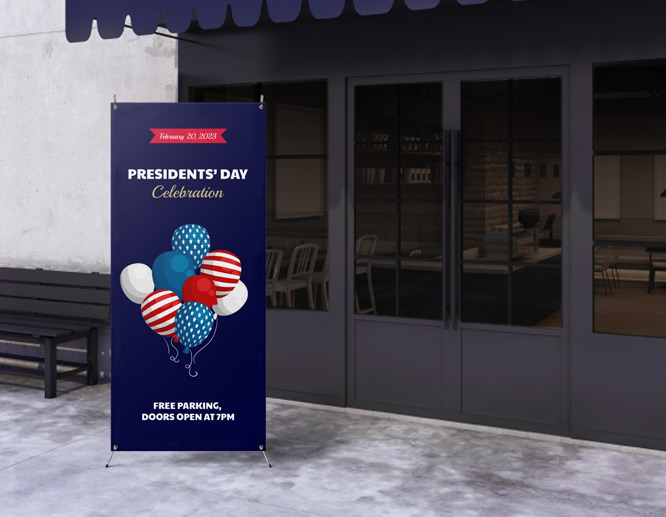 Are you looking for a unique way to announce the day off or any events for the holiday? X-stand banners with your business logo and an illustration of any presidential landmark are ideal. A classy design with relevant information will get your message through. Get a few of these versatile items to communicate your message at various locations. Explore our Veterans Day Signs to find similar options fit for you. Explore adjustable sign templates to draw inspiration.
Closed For Presidents' Day Sign Templates for Custom Decorations
Getting your business ready for special occasions is easier than ever. Create decor items for Presidents' Day within minutes using our Presidents' Day sign templates. The unique designs with adjustable elements will allow you to create remarkable items. Use our intuitive sign design tool to let your creativity loose. Personalized decorations with patriotic themes will highlight the importance of the holiday and attract attention.