Family is a value we all share, whether it's a nuclear or extended family. When it comes to showing our love for our family members, we struggle to find adequate ways.
After careful consideration, we thought that family tree wall decals are one classy medium to celebrate family ties. Apart from being a beautiful way of expressing your feelings, these sticky graphics can also serve as a focal point in the room. No wonder so many people use these custom wall decals in their interior design.
Applications of Family Tree Decals for Walls
Originally, the graph called "a family tree" was used to visually explain the relationships between individuals in a single family spanning different generations. With time, it has evolved and can now be depicted through house design. Today, we see adhesive home wall decals of different shapes in many interior design projects. Family tree decals for walls are among the most popular designs. Read on to explore their applications.
Family Tree Wall Decals for Living Room
Most people spend plenty of time in the living room. So make it comfy while paying attention to the elements placed in the room. To draw some inspiration, look into your ancestry. You can get living room wall decals to showcase your favorite quote on the matter or portray good memories.
Minimalistic Family Tree Graphics With Names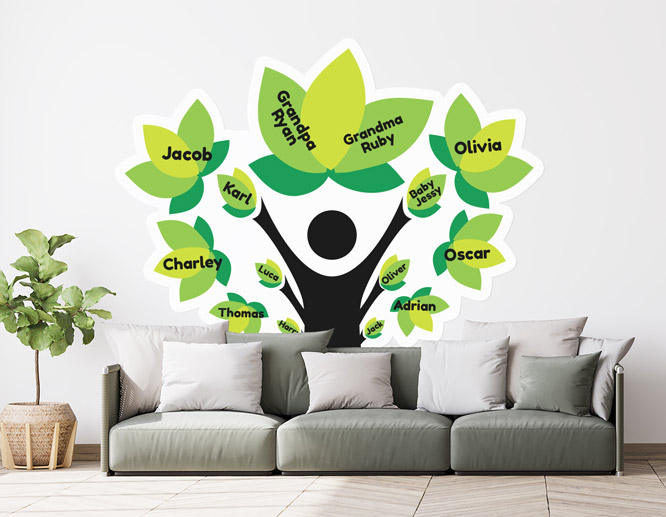 Elevate your living room design by choosing family tree wall decals as a key element for the interior. They're creative and thoughtful, and they'll grab your guests' attention as soon as they enter the room. A big family tree wall decal can seem complicated in design by itself. We recommend that you opt for a more plain look as a solution. A black family tree wall decal with the names of your family members imprinted on the leaves will create a simple yet aesthetic look. Despite being a large family tree wall decal, it will add a classy touch to the interior without being excessive. This will save you the trouble of finding photos of your ancestors.
Creative Family Tree Graphics for the Room Corner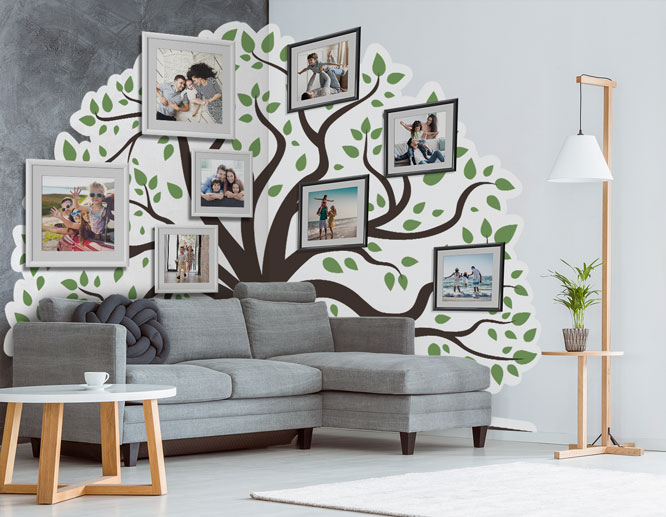 In case your room already features different decor elements, find another way to tell your family story. Square Signs offers a corner family tree wall decal as a creative alternative. This medium is functional, visible and interesting, and it can give the space some extra appeal. The graphics spanning two adjoined walls can bring the design together conveying a finished look. Check this article to learn more tips on how to decorate living room walls.
Family Tree Vinyl Wall Decal for Foyer
The entryway, which is sometimes overlooked, is one of the most important places in the house. That's where you set the tone for the whole interior. Some go with bold colors, others add wall art decals. Yet, to attract attention, you need to exert some extra effort.
Tree Crown Graphics for a Compact Photo Gallery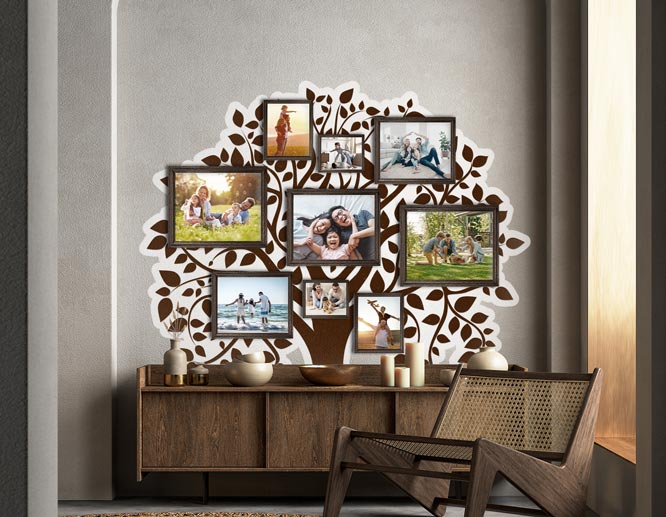 Seize the opportunity and create the best first impression by adding your family tree graphics over the foyer table. Adorned with your family photos, it will tell your guests more about yourself than you would presume. Choose overline or outline cutting options to magnify the design. If you ask us, a space designed in nude colors will look better with a brown family tree wall decal. It will help you avoid the unwanted noise, and create the impression of being in nature.
Tree Graphics Designed With Kitchen Utensils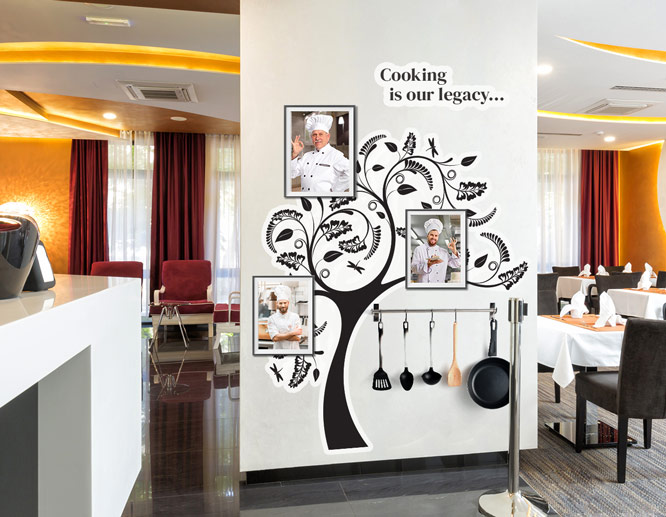 Not a house, but a restaurant reception area? These sticky graphics are still relevant. At present it's all about storytelling. With this in mind, you can use this appealing medium to share your legacy with your visitors. If a photo gallery wall is old-fashioned for you, our removable family tree decal for walls should be perfect. Go for this durable product to pay tribute to the previous family members running the place. 
Explore our decoration sign templates for other design ideas.
Family Tree Wall Decal for Staircase
Beautiful yet tricky to design, this part of the house needs stunning illustrations as well. If you want to present your family history and there are no empty walls in the rooms, this is the solution.
Tree Graphics for Large-Scale Ascending Photo Gallery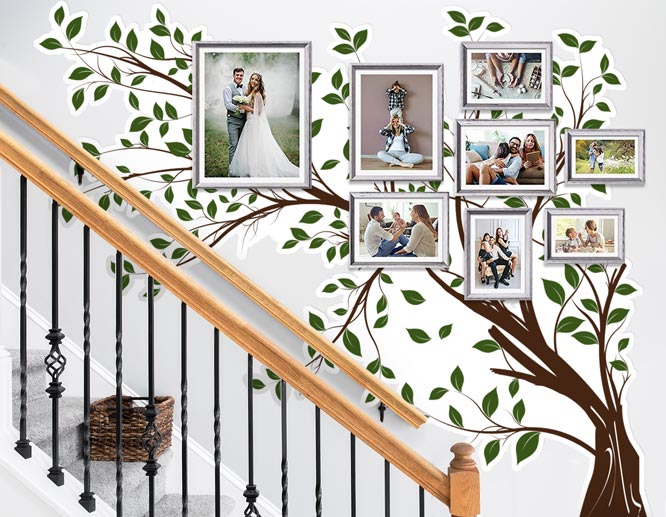 Some consider a staircase wall difficult to decorate. We're here to prove that it's not. Large-scale family tree wall decals are elegant tools to create a gallery wall. They can add style to the space, while giving you the opportunity to add photos of family members later. For example, you can start at the base with photos of your elders and move upwards with the younger generations.
Family Line Tree Branch Graphics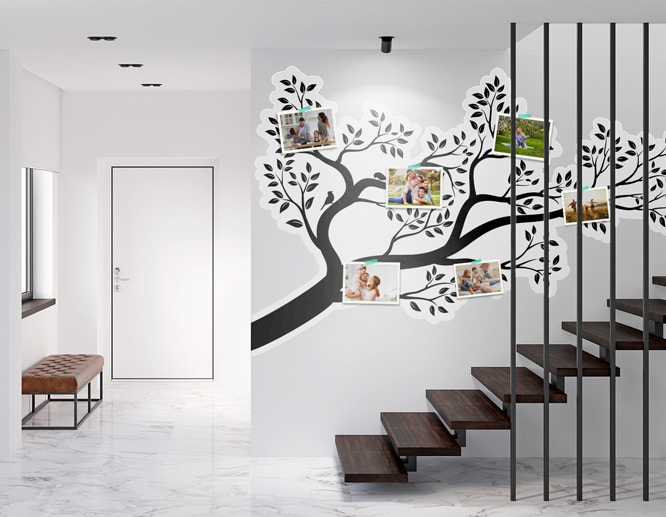 If you like the idea, but think a family tree wall decal for staircase design is too complicated, get a single tree branch. Choose the size and color you want and these simple graphics will give you more freedom with their placement. You can display photos of different styles in different frames. To magnify the design, check out acrylic photo prints, gator board printing or foam board printing. Consider this tip; order small or midsize images as they'll be viewed close up. It will be a nice mix of simplicity and creativity.
Family Tree Vinyl Wall Decal for Bedroom
The bedroom presents a challenge from a designing point-of-view. A place where you relax and recharge for the next day requires special attention. You need to go the extra mile to get the perfect result.
Huge Headboard Tree Graphics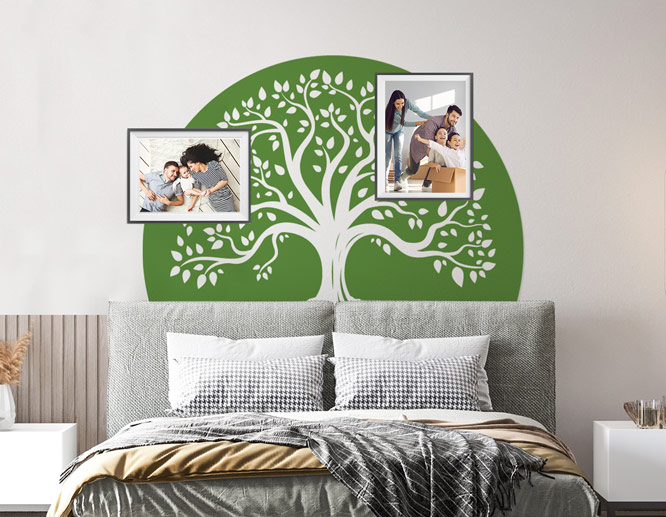 As challenging as it seems, you can enhance your headboard's design by incorporating bedroom wall decals. If you want something that's both delicate and thoughtful, go for a white family tree wall decal. Attach these large graphics over your bed, and use them as an alternative to a headboard.
Nuclear Family Tree Graphics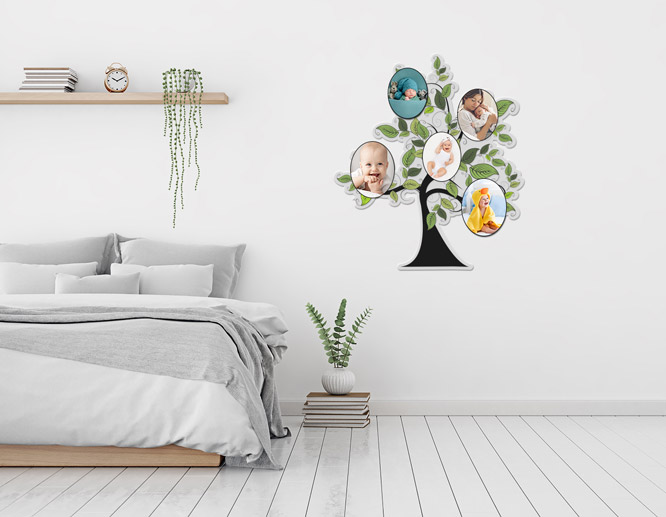 If you can't find space for a giant family tree wall decal, you can opt for a smaller one. Small-scale decor elements are known for their easy application. Show off your family lineage just right. Choose stunning custom canvas prints for your photo gallery. Make sure not to order graphics which are too small.
Creative Family Tree Decals for Walls
By and large, family trees are actually tree-shaped. However, there are many other styles of graphics out there you can use for the same purpose. Continue reading to learn what you can do.
Photo Frame Family Tree Decals For Walls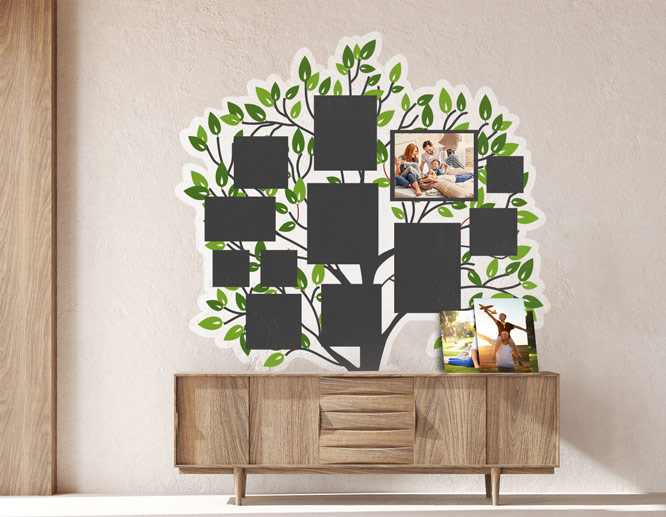 Family tree wall decals portraying photos in frames stand out with their practicality. First, this family tree wall decal for pictures saves you the trouble of deciding where to place the photos after adhering the main medium to the wall. Second, you're free to choose the actual frames to put the photos in. You can get creative and include frames of different styles to get a dynamic look. You can also use custom acrylic signs or metal photo prints to complement the adhesive family tree and give your display a dimensional look. 
Circle Family Tree Wall Decals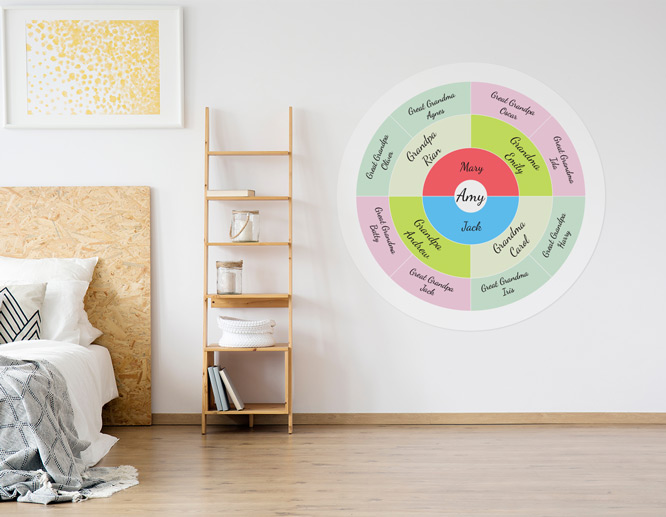 If you prefer modern designs, get a "family tree" in the shape of a large circle holding many smaller circles within. It's an unorthodox, yet artsy and fun way which will leave your guests awestruck. Symbolizing unity, it's the most appropriate symbol to define the idea of a family. To personalize the design, go to our intuitive sign design tool. Put the name of the youngest member in the middle. Continue filling circles with the names of other family members, working from the center to the edge. Use associative colors for all the sections.
Balloon Family Tree Decals For Walls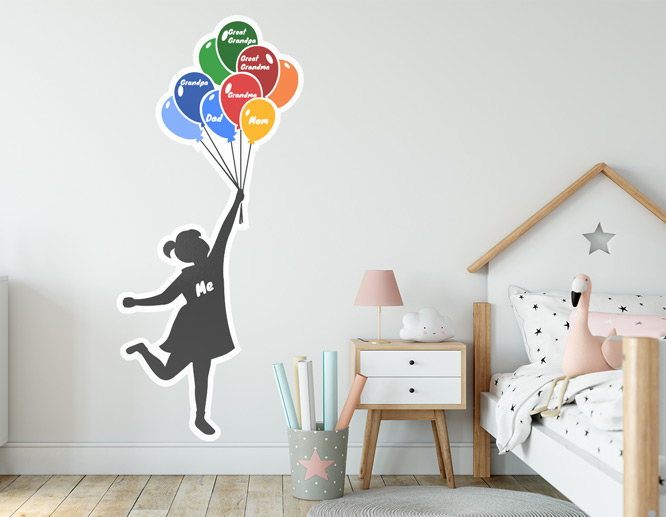 A family tree in the form of balloons is a creative way to present a family line. It has an engaging design which makes it suitable for decorating children's rooms. They'd love the colorful decor elements even more if they had their say in the color choice and the placement.
Bonus Idea
Large Family Tree Wall Decal for Companies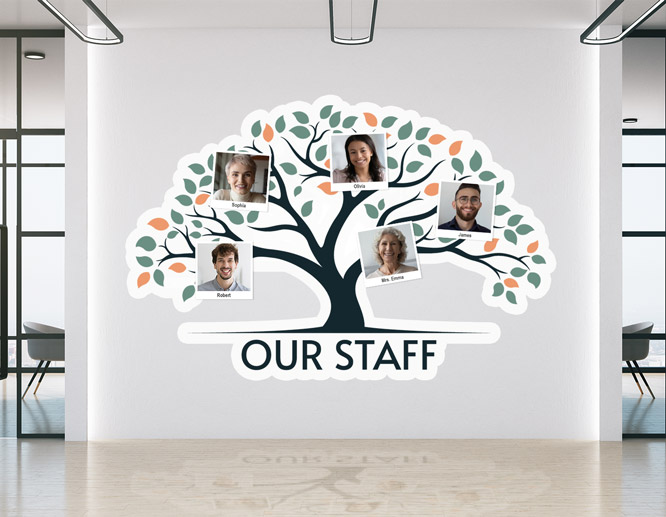 Although family tree wall decals are primarily used to showcase family histories, they can serve other purposes as well.
At present, companies seek to establish a positive culture to create a fruitful working environment. To build and support the idea that staff is also a family, employers include different decor elements, like artwork or vinyl lettering.
Graphics shaped like trees are a beautiful way to do it. Order large tree graphics for the office and pin your staff's pictures on it to show off your second family. Not sure about the design? Check our designer-made sign templates to find the perfect fit. With modifiable elements and different fonts available, you have room for creativity.
Installation Tips
The installation of these adhesives is pretty much the same as that of others. Yet, compared to home window decals, there's only one installation method applicable: dry mounting. Here is the brief must-to-follow guide that will guarantee you a beautiful final look. 
For a quality application, first and foremost you need a clean surface. You should slowly peel the backing paper off the graphics and attach it to the wall. It's a bit tricky when it comes to a large family tree wall decal, but no worries. Remember to start from the top and work your way down. Use a squeegee or card to get rid of air bubbles and ensure a smooth finish.
Conclusion
Family tree wall decals are sophisticated and thoughtful elements for interior design projects. Available in different styles, colors and sizes, it's an interesting solution for appreciating your family through decor. Give a special touch to the place by adding a family tree decal for wall design to any room you like.