If your home office feels boring it might be because it's missing character and charm. These 10 rustic home office decorating ideas will give your workspace that much-needed makeover.
Rustic decor is all about bringing the countryside's beauty into your home. Natural materials, earthy colors and time-worn pieces of furniture are welcome. Handmade blankets, woven file boxes and wooden signs can likewise have a spot in your workspace.
Take notes on these essential rustic home office decorating ideas and get ready to transform your office atmosphere.
Don't worry if you're not decor-savvy. These decor ideas are beginner-friendly.
Upgrade your decor game with these rustic home office ideas!
Tip #1: Label areas in your rustic home office decor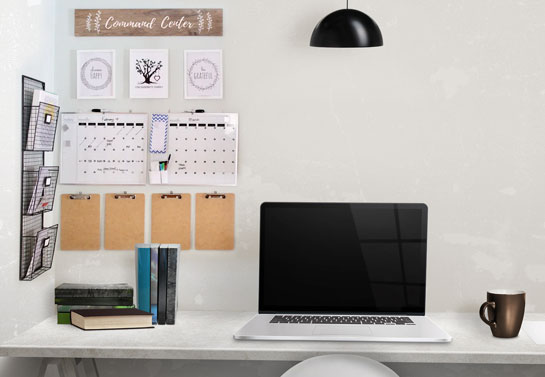 Your office does not have to look perfect; that's the beauty of cottage decor. Make your home office look like a workshop.
You may want to add wooden or acrylic signs to label different parts of the space, such as your desk and command center. It doesn't get more rustic than that!
Related: A Quick Tour of Fundamental Home Office Decor Ideas.
Tip #2: Print patterns on the walls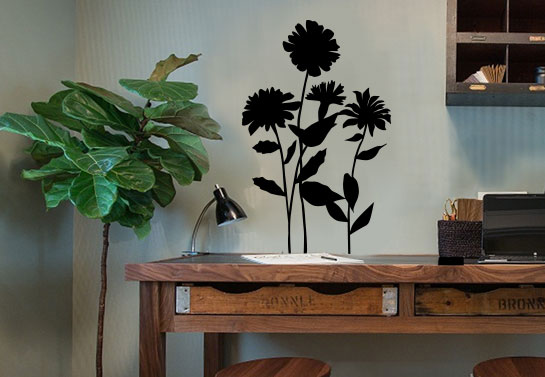 Patterned and colorful wall decals add warmth to your interior. Don't hold back from getting floral pattern prints on an accent wall.
If you're not into flowers, decorate your wall with decals of hills, ice-capped mountains or whatever floats your boat.
You can also work with foliage, tree trunks or branches. These home office decoration templates can serve as your guide.
Tip #3: Use a farmhouse table as a desk
There's no better way to make your home office scream rustic than by using a farmhouse table as a desk. What I love about farmhouse tables is that they are large and sturdy. Rest assured, you'll never run out of desk space.
Plus, farm tables are made of wood, the preferred material for decorating a rustic home office that's bound to turn heads. If the wood looks weathered, even better - it's a huge plus!
Tip #4: Decorate your wall with art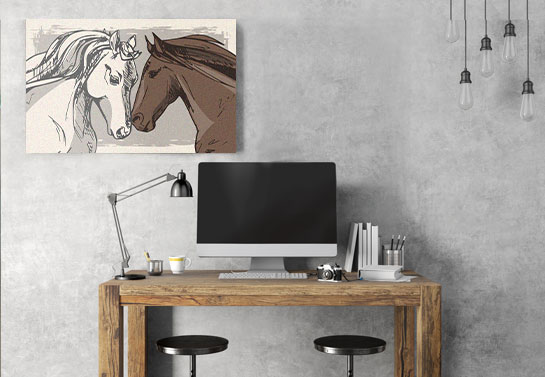 There's nothing like nice artwork to motivate you to work harder. You can never go wrong with canvas prints for your walls. You can choose lighter options as well such as gator board printing or foam board printing. Adorn your office with paintings of dandelions, bird's nests, feathers, horses, deer or other nature scapes.
Note: If the space you're working with is small, avoid going overboard with the wall decorations. There's a fine line between making your office cozy and claustrophobic.
If your office space is limited, you might want to check out the following contemporary home office decor ideas.
Tip #5: Add warmth to your home office with cozy accessories
You know what they say: life is friendlier in the countryside. Replicate this welcoming atmosphere in your rural home office with cozy accessories.
You can go crazy with colors, textures and patterns. Arrange pillows, rugs and quilts made of materials such as cotton, linen or wool.
These don't even have to match! Mismatched pieces of furniture and frill is another key element of rustic interior. Make sure that they look a bit worn out, too.
You can find treasures in flea markets, thrift stores, older relative's attics and vintage shops.
Tip #6: Stay organized with a command center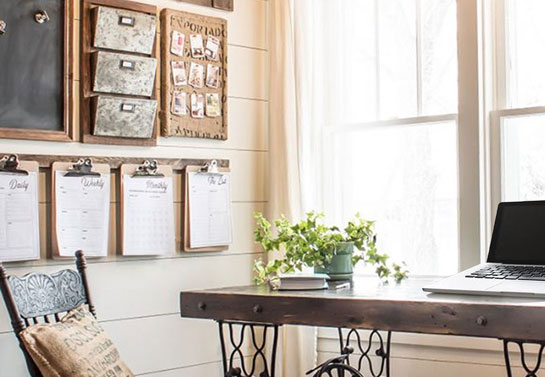 With all the eccentric features and alluring patterns in the room, you'll have to find a way to stay focused. A command center is a designated space in your home or workspace that allows you to keep track of tasks.
Setting up a command center is as easy as pie and on the list of must-try rustic home office ideas.
To set up, you'll need a calendar, memo board, file sorter, supply holder and a whiteboard. Equip your command center with pens, paper and sticky notes.
Add an accent piece such as a quote which cheers you up if you're feeling extra.
Learn the basics of rustic home office decor!
Tip #7: Use a color scheme inspired by nature
One of the key points to consider regarding country home office decorating ideas is the right color scheme. Rustic decor aims at emulating the charm of the countryside. Needless to say, one of your goals is to invite nature into your home office space.
Choosing natural colors is the best way to imbibe a sense of the outdoors. It makes your in-home work zone feel cozy and inviting. The base tones should be grounding ones like brown, beige, gray and black.
Adding a pop of color to complement the foundational layers will make your workspace look more bubbly. Brick orange and any shade of green will do the trick.
Tip #8: Embrace natural materials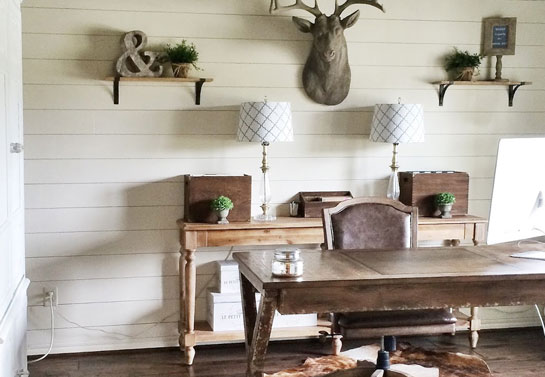 Using a natural color palette is only one element in the process of creating a rustic home office. Next, you'll want to upgrade your decor game using natural materials.
Ditch plastic desks and synthetic blinds. Instead, embrace natural materials such as wood, stone, cotton, wool and metal. You get the idea!
Keep these rustic home office decorating ideas in mind next time you want to revamp your interior design.
Tip #9: Brighten your office with natural light
If you're looking to add an authentic charm to your home office, embrace natural light. You don't want to ruin the rustic atmosphere by relying too much on LED lights or having a dimly lit environment. An essential farmhouse home office decor idea is placing your desk next to your windows.
Tip #10: Let your interior be an extension of the outside world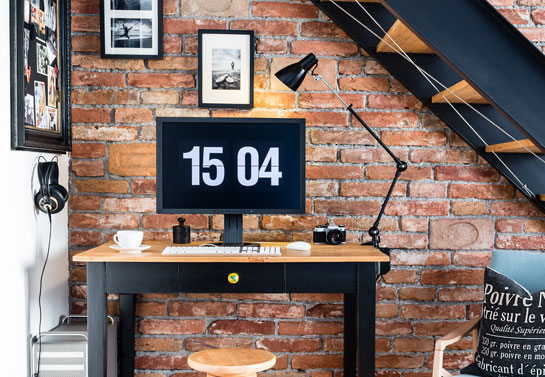 Everyone who sets foot in your office should feel like they've been transported to the countryside since it's intended to be an extension of a rural landscape. This is the impression that we're going for with rustic interiors.
One of my favorite cottage home office decorating ideas is merging your office with nature by building a stone accent wall. You can also add an electric or wood-burning fireplace.
These rugged home office decor ideas will help you get a feel of what it's like to live in the countryside.
Use our sign design tool to tailor your home office to your needs. Apply these cottage home office decorating ideas to decorate the coziest workspace ever.