You've come to the ideal place for home office decor ideas. The workspace you've always envisioned is just a few smart decor tips away.
From coordinating the right colors to finding glamorous furnishing, these 9 categories of interest will ensure a thriving office.
Let's go on the journey of giving your office a dazzling and professional makeover.
Home office decor ideas: The essentials of room design
This section covers the groundwork for mapping out an in-home office.
Understanding the fundamentals of interior design will help you establish a cohesive work zone. Therapeutic color combinations and dainty accents are vital for a splendid set-up, for instance. Once you master these principles, you'll be able to arrange the house office of your dreams without a hitch.
#1 Pick a color palette to facilitate focus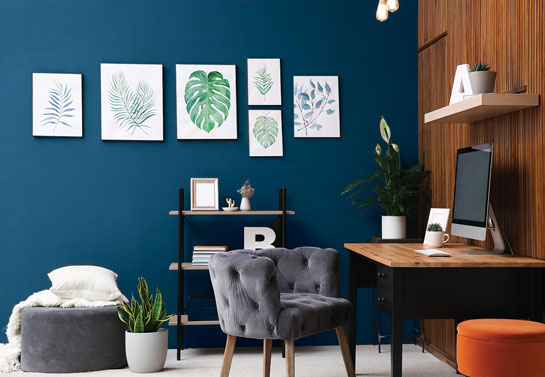 Let's start with the color selection. Knowing color psychology will help you prepare the mood of your room and determine an overall theme. Certain tones are more conducive for concentrating and others are more relaxing, for example.
"Cool tones" create comforting feelings. Blue, green and neutrals produce a tranquil environment.
"Warm shades" energize the workspace. Red and orange power you up and boost productivity.
Introduce colors through an accent wall, artwork such as canvas prints or acrylic photo prints as well as through furniture like accent chairs.
Choosing your preferred colors is only the first step. You'll also need to be mindful that the shades go well together. Take a look at these home office decoration templates to stir up your imagination.
Choose a harmonious color combination to establish balance in your decor.
Monochromatic colors are different shades of a single hue, analogous ones follow each other on the color wheel, and complementary ones are opposites like yellow and purple.
Follow the 60-30-10 rule. The dominant color should comprise 60% of the decor, while 30% and 10% should be dedicated to a secondary color and an accent shade, respectively.
Learn about color psychology and color combinations in more detail here: 8 Home Office Color Ideas and Schemes to Rock Your Work Mood!
#2 Give your room a professional look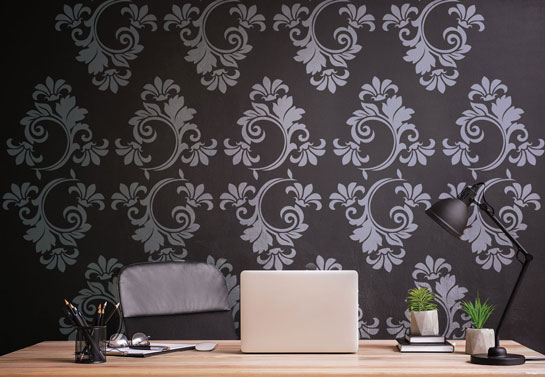 You're on the right track if you're wondering how to make your home office look professional. Home office room decorating ideas that aim for elegance should also prioritize efficiency.
Great office decorating ideas share the following critical elements.
Unlike modern or simple office themes, upscale ones put an emphasis on wall decor. Adorn your walls with paintings or sophisticated patterns. Features like picture frame moldings will further refine your study.
Dignified decor shows off your cultivated taste. Arrange your titles in a wooden bookshelf and store your files in an antique armoire. You know you've succeeded if your office has the air of a classy library.
As for colors, stick to neutrals and earth tones such as brown and forest green. Brown commands authority and green establishes nature's tranquility.
Design a professional office if you have trouble staying on task. When needed, invite your clients to a cultured space that attests to your respectability. How to make your home office more inviting or focused depends largely on your attention to these details.
Check out more classy home office decorating ideas here.
#3 Turn any extra area into a study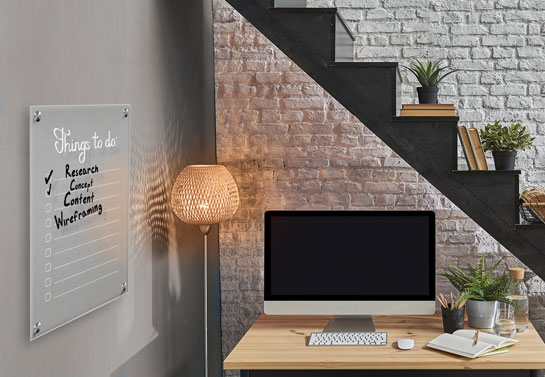 You don't need a spacious room to build an office. Why not get resourceful with a nook or a guest room?
Find the quietest corner of your home and convert it to a work zone with fitted furniture like an L-shaped desk.
Instead of using papers that clutter drawers, hand up an acrylic dry erase board or a PVC printing with some additional space on which you can write notes.
Use the surface area of your walls as a clever storage unit. You can organize your supplies on a wire grid or upon hanging shelves.
There's always room for decorative pieces. Add flair to your nook with mini illustrations and cool decals.
Dive into this article to discover more space-saving decor ideas for a small home office.
A good hack you may have missed is that your guest room can also double as a work area.
Must-try decor ideas include a desk that serves as a nightstand.
Separate the bedroom area from the office zone with a bookshelf.
Make your guests feel welcome and boost your own morale with words of encouragement printed on gator board signs and placed on the wall.
Keep your documents secured in drawers that lock. This way, you won't have to move them before your guests arrive.
Building an effective area in your guest room is totally feasible. Don't let limited quarters stop you from executing great office decorating ideas.
If you are wondering how to arrange this room from scratch, here is a more thorough article on home office guest room decorating ideas.
Additional decor ideas for setting up your home office
Start by choosing your preferred decor style. Are you leaning towards fun or sophistication? Either way, your workspace should be functional. Reflect on the ideal environment to define your office decor.
Elevate your office ambiance by adding stylish elements. Classic paintings and impressive wall decals add character to your decor.
For a smart office, install cabinets to organize your files and hang a dry erase board for brainstorming.
Your home office interior decorating ideas must be carefully considered to achieve optimization.
Find more home office decoration tips here.
Home office decor themes to style up your space
Now that you know the basics, it's time to add the cherry on the cake. Styling your office gives you the freedom to express yourself. The ideas below will help you decorate an office that matches your personality.
#4 Devise a charming work environment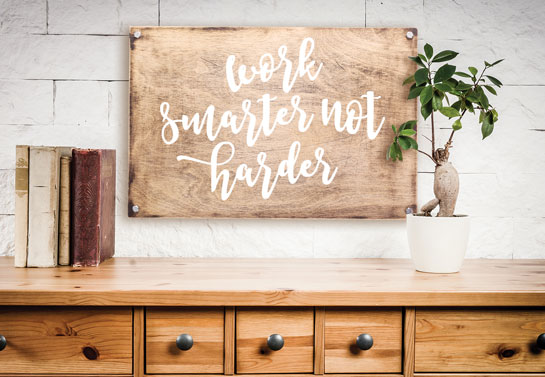 A workspace that carries homely vibes is all you need while pulling an all-nighter. Incorporate countryside chic for a grounding interior.
Select a color scheme that introduces nature to your office. Brown, beige, gray and black work great in a working environment.
When choosing the furnishing, make sure they're made of organic materials like wood, cotton and wool.
Get yourself a large farmhouse table instead of a dull plastic desk.
Mismatched furniture, textured rugs and wooden signs will add a cute touch to your office. Feeling the warmth of the countryside will lift your spirits and empower you to tackle your goals.
Read everything you need to know about decorating a rustic home office.
#5 Match your workspace with your identity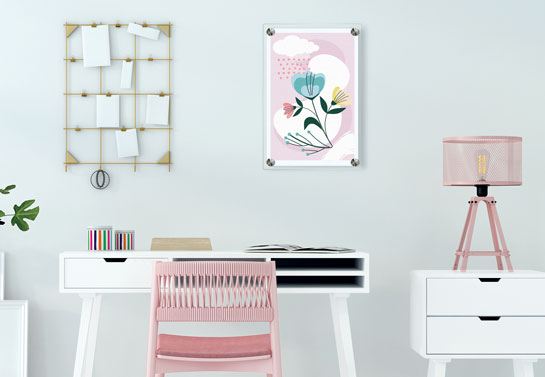 Decorate a studio that reflects your style and personality. The good thing about home offices is that they don't have to look bland and generic.
Say goodbye to boring white desks and grey chairs. You have full creative control over how you want your work area to look.
Find decorating ideas for your home office space that match your preferences.
Add plants to your decor if you appreciate nature.
If you enjoy a feminine feel, embrace blush color combinations such as pink and peach.
Add a girly touch to your workspace with stylish accessories such as chenille shag rugs and throw pillows.
Brass desk lamps and a brass bookshelf will bring a quintessential feel to your office.
Learn more about feminine home office decor to build a cute work station.
#6 Bring your space up-to-date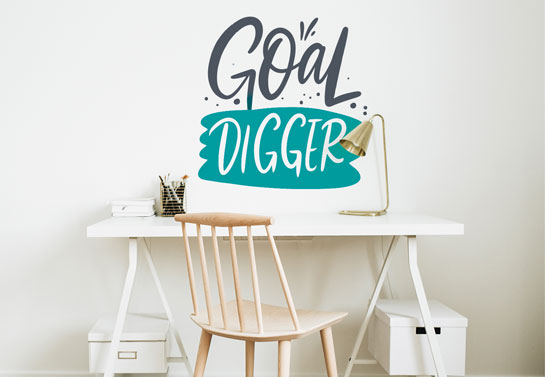 Focus on contemporary features if you're all about trends.
Modern design embraces shelves that emphasize horizontal lines as well as wall decor.
You may want to add succulents to incorporate much-needed greenery to the ambiance.
If you work from your living quarters, chances are you video conference a lot. A captivating backdrop is imperative when you're on a video call. Create a captivating background using custom acrylic signs and wall decals.
Check out these decoration templates to get started.
Browse the web to spark up your imagination; it's the best place to find decorating ideas for a home office space. Get a grasp on contemporary home office decor tips to pull off a trendy makeover.
#7 Give your workspace a creative twist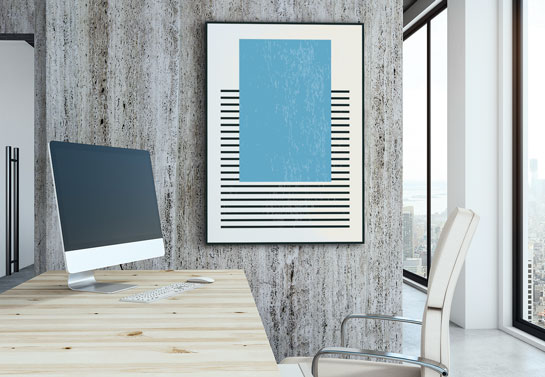 Home office decor inspiration with dazzling fur chairs and splendid chandeliers is only the beginning.
Curate an art gallery in your work area with mesmerizing canvases and signs. Choose traditional paintings or abstract designs, depending on your interior.
You can also adorn your walls with your own photography and family portraits.
If you're a nature lover, consider arranging potted plants on your shelves or desk. You can also hang your plants on a grid wall for a unique approach.
Intriguing attributes will define the character of your station. Check more home office wall decor ideas to elevate the vibe of your environment effortlessly.
Bonus home office decor ideas: Build with minimal resources
#8 Shop for affordable decor pieces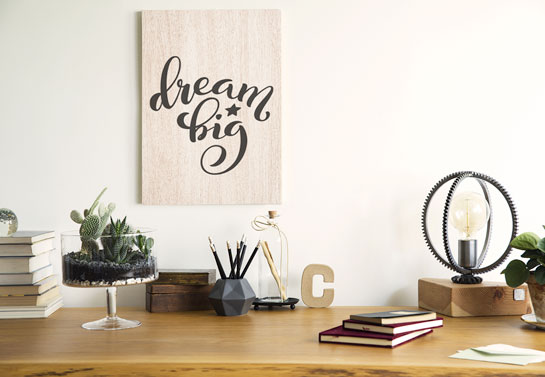 Revamping doesn't have to cost an arm and a leg. It is possible to design an ingenious workplace within reasonable financial means.
Here's how to make your home office look professional on a budget:
Make the decor pieces yourself. Organize your pens in mason jars and give the lids a brass finish for a vintage look. Mason jars can also double as cute flower vases.
Another idea would be repurposing old furniture. Turn an old trunk into a filing cabinet using a file frame system and spray paint.
Simple items like fairy lights can upgrade your office. Your decor will instantly look more expensive than it really is.
You'll be surprised at how much you can do with limited supplies and crafty DIY tricks. Check out these budget-friendly home office decorating tips to upgrade your workspace at a low cost.
#9 Opt for minimalist features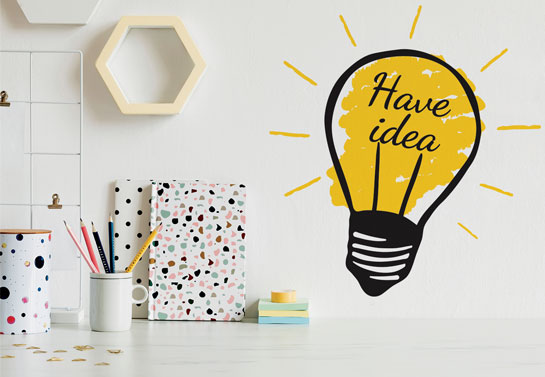 You know what they say - less is more. The best home office decor is not flamboyant; it's harmonious and refined. You can achieve elegant and alluring decor with simple elements, too.
Adorn your office with minimalist designs and save space with wall-mounted furniture.
Keep your office neat with an organized desk and a cute trash bin.
Instead of an elaborate chandelier, embrace natural light. Sit next to a window to see clearly.
Make your room even brighter by choosing neutral colors such as beige, white, pink or light blue.
A simple office doesn't have to be boring. Enhance the design with succulents, small paintings and throw pillows.
Read more about simple home office decor if you want a neat workspace.
Conclusion: Sum-up of the best home office interior decorating ideas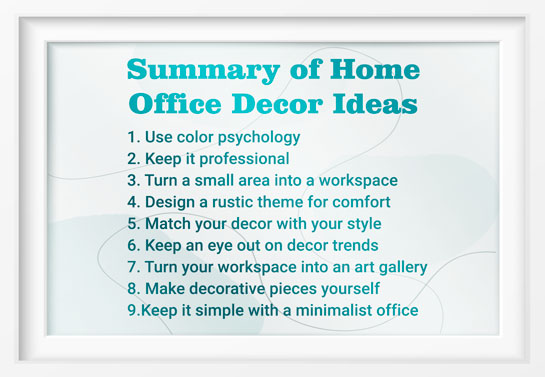 Lay the foundation of your studio using color psychology.
Keep your office professional to welcome clients at home.
You can turn even the tiniest area into a functional work zone. A corner or your guest room are wonderful places to start. There are many home office den decorating ideas to choose from.
Build a rustic base to feel comfortable while working long hours. Charming interior decorating ideas for a home office will make you feel the warmth of the countryside.
Incorporate your style and personality in your decor. There are endless home office decor themes to choose from.
Keep an eye out on decor trends to maintain a modern work studio.
Your work area can also double as an art gallery. Adorn your walls with artwork such as canvas prints and decals.
You can build a refined workplace on a small budget. Craft the decorative pieces yourself or shop at garage sales and flea markets.
Keep your office neat with a minimalist design. Equip it with intentional furniture and decorative pieces only.
Now that we've covered fashionable interior decorating ideas, it's your turn to test them. Take these tips and ideas a step or two further by staying current with decor inspiration. Use our design tool to create custom designs for a pleasant work environment. You'll enjoy a fresh and thriving office in no time!