Here comes the most significant day of the year for America – Independence Day! It brings forth massive celebrations and a unifying spirit that reminds us of its historical significance. Streets transform into festive exhibitions of red, white and blue even before the holiday's arrival.
Make this year's celebrations unforgettable by going beyond pinwheels and patio flags. Incorporate unique 4th of July yard signs into your theme to show off your love for America. Patriotic yard signs and similar printable media will turn your outdoor space into a spectacle of celebration.
Expressive 4th of July Yard Signs for Festive Transformations
Decorative media for Independence Day have gotten increasingly creative over the years. These new ideas for happy 4th of July signs look great alongside traditional ones. Modern sign printing can take your festivities to new heights. Read on to find the trendiest 4th of July yard signs to uplift any space for the holiday.
"Welcome" 4th of July Yard Sign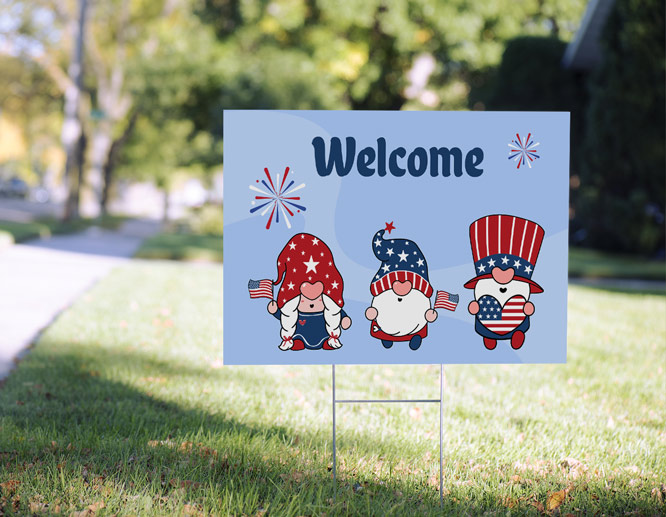 Give your front yard a jubilant appearance with fourth of July yard signs. Use corrugated plastic signs featuring welcoming notes to create an inviting atmosphere. Include stars and stripes in your 4th of July yard sign design to reflect a patriotic spirit and draw the attention of passersby. Amplify the celebratory mood by complementing your happy 4th of July yard sign with themed wooden signs. Place them on your porch or doorstep for a warm welcome.
"God Bless America" 4th of July Yard Sign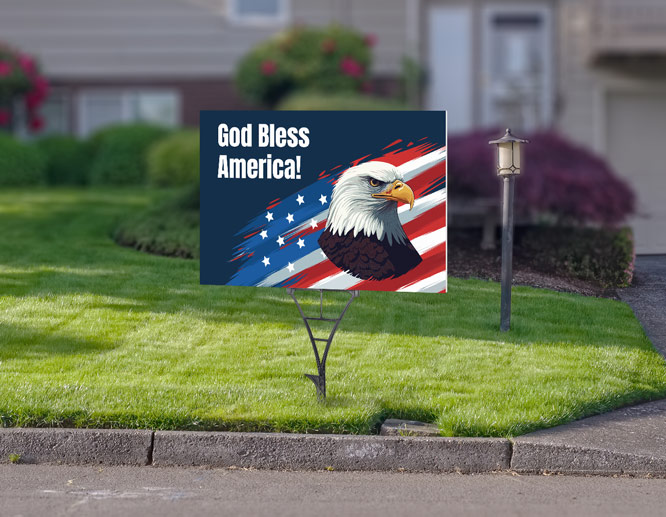 Join the celebrations with meaningful fourth of July yard signs. Get outdoor custom signs to set the mood for the whole neighborhood. Display a "God Bless America" or  "Happy 4th of July'' sign that reflects the heart of America. Show off the majestic bald eagle or another thematic symbol near the flag. Why stop there? Opt for vibrant window decals in any shape to achieve a cheerful make-over. These "Happy 4th of July" signs will contribute to enhancing your party's overall atmosphere.
"Happy 4th of July" Sign for Backyard Parties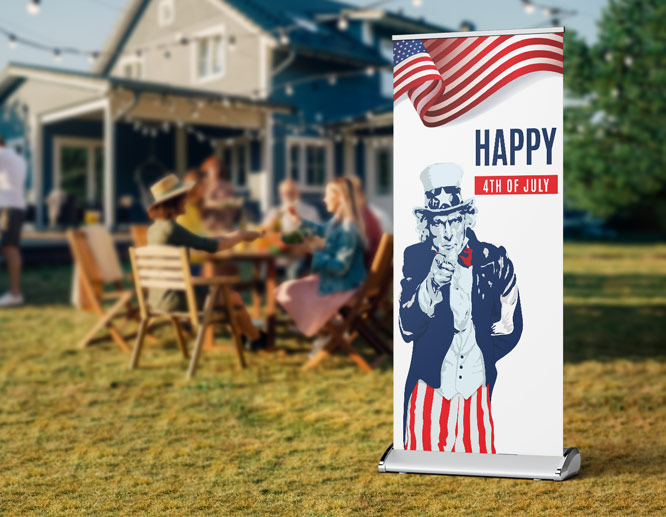 Hosting a 4th of July backyard party has become a cherished tradition for many families. Spice up the delicious cookouts and elevate your outdoor party space. Set up a photoshoot corner with a cool "Happy Fourth of July" sign for an unforgettable experience. Medium to large retractable banners featuring Uncle Sam will create familiarity and bonding. Similar 4th of July yard signs will set the perfect scene for patriotic photoshoots.
4th of July Yard Sign for Special Offers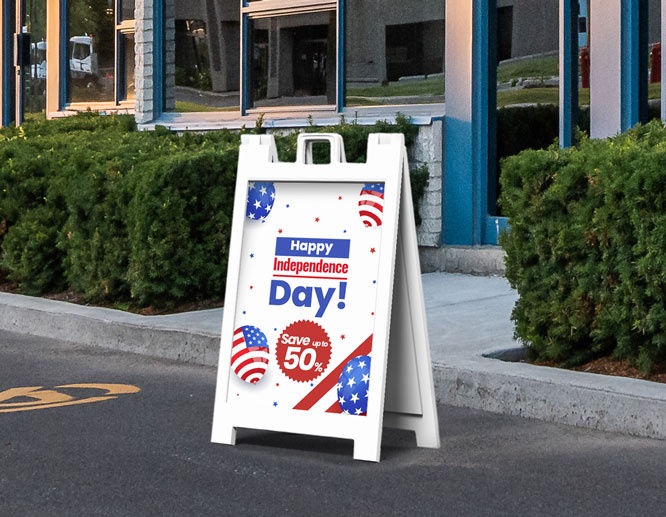 With Independence Day around the corner, retailers are scrambling to come up with ideas for announcing huge holiday deals. If you want to drive foot traffic towards your business, opt for eye-catching sandwich boards. Easy to set up and reposition, these American-themed 4th of July yard signs will generate extra footfall. For those seeking a more sophisticated "Happy 4th of July" sign, custom aluminum signs will be a suitable option.
Explore our blog on Closed for 4th of July Signs if you plan on closing your business for the day.
Custom Happy 4th of July Signs for a Personalized Touch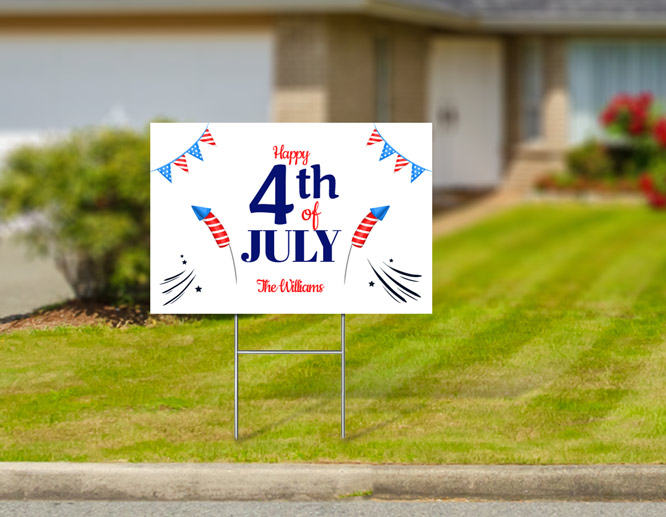 Get ready for Independence Day with happy 4th of July signs that stand out. Make the holiday a little more personal by incorporating bespoke designs. Start a wave of patriotism throughout your neighborhood with 4th of July yard signs that showcase your signature. Experiment with a family coat of arms or a company logo using our sign design tool. You can add anything from classic American flags to personal photos and quotes. We offer numerous 4th of July yard sign templates so you can create happy 4th of July signs that match the American spirit. 
Discover more sign templates for Independence Day or any other occasion that requires a special touch.