Hand-crafting adds unique value to gifts, especially when it comes to Mother's Day. Nothing beats the feeling of receiving a gift that's been created just for you.
Put your crafting skills to good use by making gifts for your mom with these Mother's Day woodworking ideas. Celebrating motherhood warrants your extra effort. From wooden signs to photo albums, we have a list of charming things to make out of wood for Mother's Day.
Easy Mother's Day Woodworking Ideas
Wondering about a few easy yet cute things to make out of wood for Mother's Day? These Mother's Day woodworking ideas with instructions will help you make your loved ones feel special. 
1. Handwritten Shelf Decor: Express Your Love
Handwriting on a plaque of wood may sound too simple but it can actually look very artistic. If your handwriting isn't good enough, you can use stencils and spray paint. Applying vinyl lettering is another easy option that will grant a neat appearance. Keep in mind that there is a range of things to make out of wood for Mother's Day using handwritten quotes, from wall plaques to photo frames.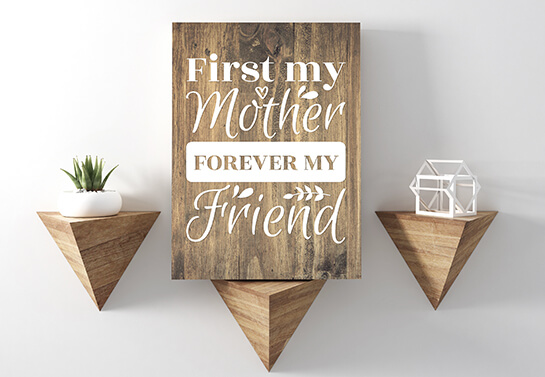 2. Wooden Hanging Board: Get Decor to Hang
Do you need things to make out of wood for Mother's Day that can be used outdoors and indoors alike? A hanging board that says "Happy Mother's Day" on one side and "Welcome" on the other is a good option to go with. Just like the idea above, this board can be used on the bedroom or front door to welcome guests.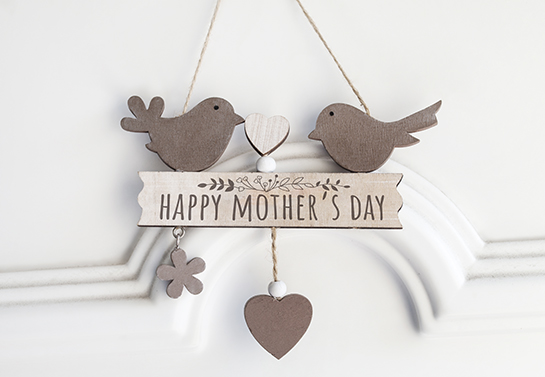 Take a look at these Mother's Day Sign Ideas for more gift and decor inspiration. 
3. Wooden Coasters: Make a Handy Gift
If you're looking for things to make out of wood for Mother's Day that will be used daily, then this one's for you. Cut small pieces of wood into the shape you prefer and put your drawing skills to use. Choose waterproof paints to prolong the lifespan of your coasters.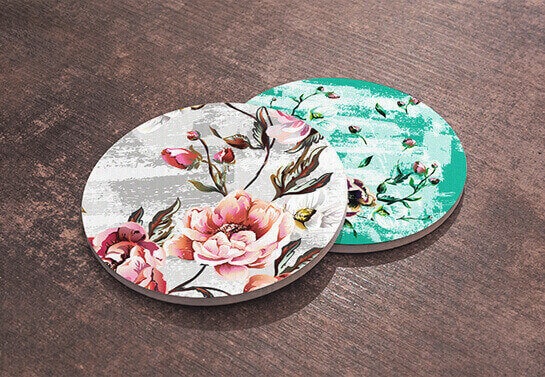 4. Animal Family Puzzle: Make it Cute and Meaningful
What's cuter than wooden animal puzzles? These are one of the most heartwarming things to make out of wood for Mother's Day. Show how much you appreciate your mother's presence in your family. An easy way to craft animal puzzles is by printing out stencils of the design and placing it on the wood to mark the lines you need to cut. Make sure to sand the surface after cutting to make the pieces safe and easy to collect and separate.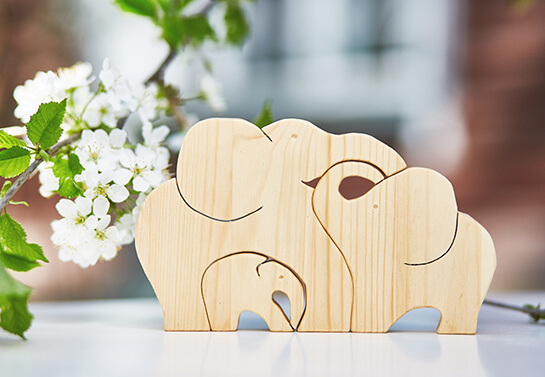 5. Wooden Photo Displays: Transfer a Picture
Looking for more unique Mother's Day woodworking ideas? Transferring a photo print onto wood may not be the easiest task but it's worth the effort. First, mirror-print your picture on a piece of paper. Apply image transfer glue on the wood and place the printed picture onto it, facing down. Rub the paper with a squeegee and let the board dry for a few hours.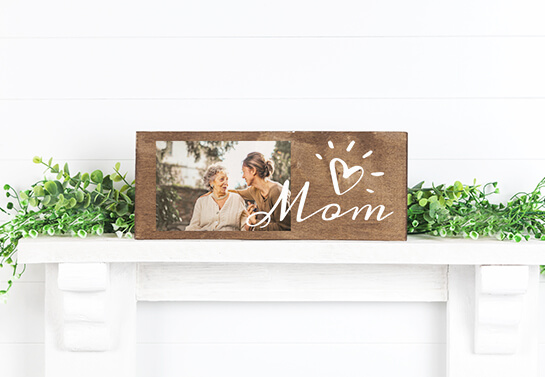 Keep in mind that the picture should be printed with an inkjet printer. Scrub off the print paper with wet cloth and your photo will be revealed on the wooden board. You can add a quote to the sign to make it even more special. 




For more techniques on things to make out of wood for Mother's Day, read our guide on How to Make Wooden Signs in 3 Steps. 

6. Wooden Jewelry Holder: Combine With Accessory Gifts

Do you need more Mother's Day woodworking ideas? Make a jewelry holder using a wooden board. Nails can be used as necklace and bracelet hangers on it whereas strings can be used for hanging earrings. Apply vinyl graphics or draw simple designs on the display to make it look more appealing. 

7. Wood

Painting: Draw a Simple Picture
There are even more unique things to make out of wood for Mother's Day if you've got basic drawing skills. Paintings on wood look classy and warm. The image can be a simple one but I bet your mom will love this wall art more than a professional painting. You're free to add a frame or leave the wooden edges visible.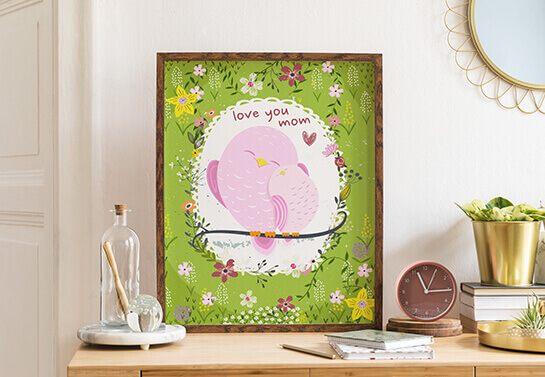 If you're not sure about your painting skills, our design tool allows you to upload the image you like and get it printed on wood. You can later DIY the frame or paint over the surface if you want a more hand-crafted look. 
Mother's Day Woodworking Projects
Need more inspiration for Mother's Day woodworking projects? The ones below require a little more time and effort but are sure to leave your mom pleasantly surprised. You can even craft them together and spend time bonding. I bet she'll love the idea!
8. DIY Photo Album: Reminder of Nice Memories
Mother's Day woodworking ideas with photos are a nice way to keep the best memories in one place. Print photos of your most precious memories and stick them onto thick paper sheets. Then, get to handcrafting the wooden album cover. Here you are free to choose from the image transferring, handwriting, printing and other techniques mentioned above. Once the design is ready, drill evenly spaced holes on both the papers and wooden covers. Use twine to fasten the papers and cover together for a rustic look.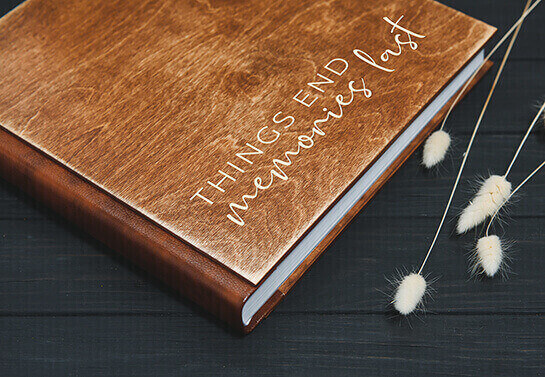 9. Family Tree Wall Art: Create a Family Corner
Choose photos of your family members and get them printed on wood. You can also go with transferring the pictures as described in idea 5. Draw a tree on the wall and hang the wooden images near the branches to create a family tree. If you don't want to draw on the wall, go with adhesive graphics.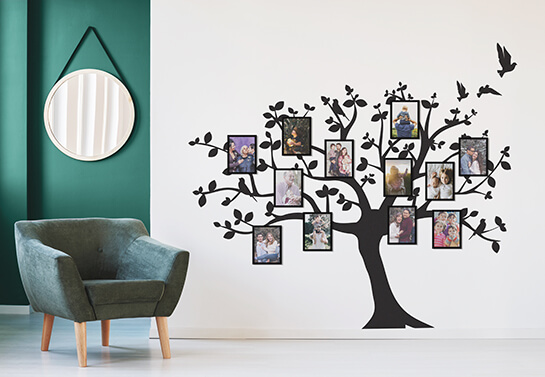 10. Scrabble Wall Art: Collect Family Names 
Here is another option for family decor. Get adhesive letters that read the names of family members and stick them onto wooden blocks. Another option is to handwrite or print letters onto the wood surface. Either mount each letter piece directly onto the wall or on a larger board for repositionable decor.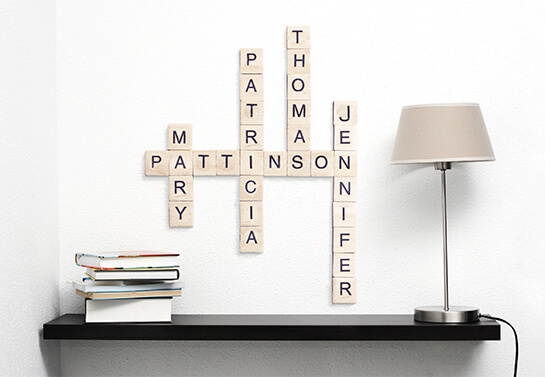 Use our design tool to design and order adhesive graphics for your Mother's Day woodworking projects. 
Bonus: Tips for Mother's Day woodworking ideas
Here are handy tips to help you with your Mother's Day woodworking projects:
1. Excess wood glue can be easily cleaned by rubbing the affected areas of the board with sawdust to absorb the glue. 
2. Staining the wood gives you a deeper surface color and more visible wood grain. If you don't have wood stain, a small amount of olive oil will do the trick. 
3. When choosing the material, consider using plywood as it's easy to work with and considerably more durable than regular wood. 
4. Ask the hardwood shop you buy the material from to cut it into the shapes and sizes you need. This will save a lot of time and effort.
5. If you need a rustic look, sand the ready design carefully with fine sandpaper. This works on painted wood but not if you have adhesive graphics on the surface.
With these Mother's Day woodworking ideas, you'll make your mom's day brighter and more memorable. Check our design tool with cool Mother's Day templates and powerful features. Create and order your Mother's Day woodworking projects within minutes.