You'll be surprised to know that there are countless ways to decorate even the tiniest home office. A dash of creativity is all it takes to add flair to any office nook.
These 10 genius small home office decor ideas will help you build a cozy but professional workspace.
Your work area will look less like a cubbyhole and more like an office straight out of a magazine. These decor ideas will do wonders to make it happen in no time.
Check out how to decorate a small home office!
Tip #1: Adorn your niche with small illustrations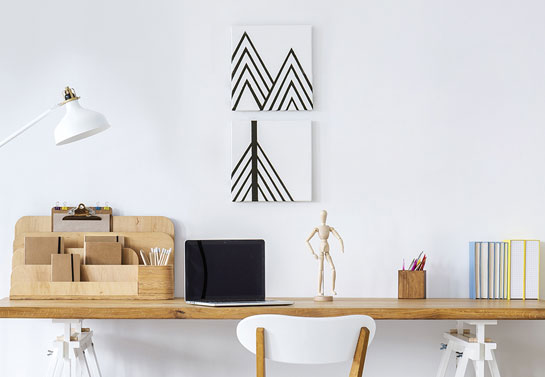 Your home office deserves to be decorated, no matter how small it is.  Add mini canvas prints or PVC printing on your wall, shelves or desk to elevate the decor of your work environment.
Arrange your canvases in an aesthetically pleasing manner to turn your office space into a micro art gallery.
Tip #2: Write your notes on a dry erase board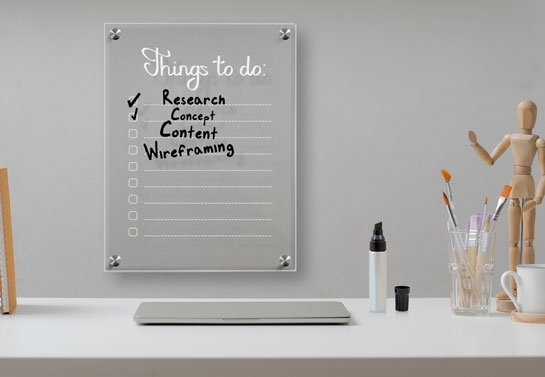 Acrylic signs serve as elegant decorative pieces and they also have practical purposes. Ditch paper pads and sticky notes as they add clutter to your desk and drawers. Instead, write your tasks on a dry erase board made of acrylic.
You can use a stand to display the board on your desk or you can mount it onto a wall. Accentuate the decor by spray painting the standoffs with a brass finish.
This is one of those small home office decor ideas that will make all the difference.
Related: A Quick Tour of Fundamental Home Office Decor Ideas.
Tip #3: Decorate your wall with adhesive graphics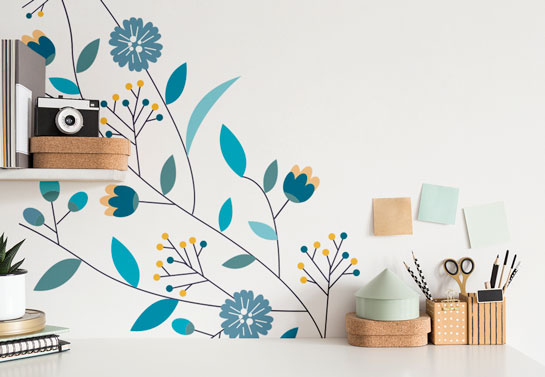 The less office space your decoration takes up, the better. Consider adorning your cozy nook with cute wall decals.
Adhesive graphics are easy to apply and remove since they don't leave any residue behind. The best part is that you can easily change them whenever you feel like giving your office a new look. Use our design tool to customize decals and project creativity onto your walls.
Tip #4: Personalize your workspace with favorite quotes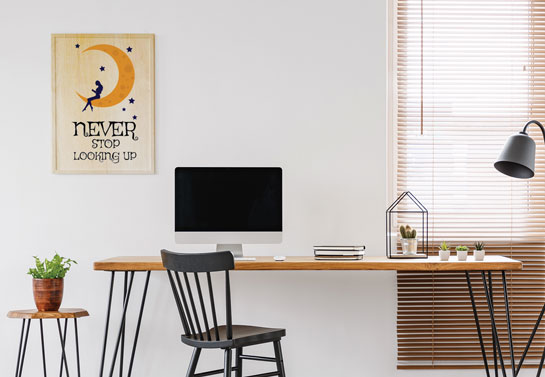 There's nothing like a motivational quote to inspire you to get work done. Print your favorite inspirational words and phrases on wooden signs, gator board printing or foam board printing to help you get back on track. You'll never run out of home office ideas for small spaces as long as you keep an open mind.
Give these small home office decor ideas a try!
Tip #5: Get an ottoman that has storage space
Ottomans make perfect accent pieces for your small home office. They can also double as storage space. Adorn your office with an ottoman to store your belongings. It's a genius space-saving trick that will enhance your decor.
Tip #6: Organize your supplies on the wall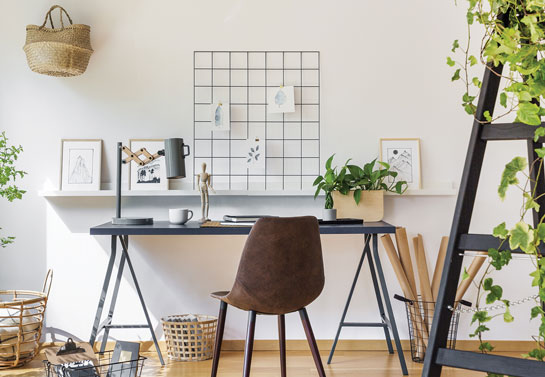 Desks with drawers can take up a lot of space in a small home office. Instead, get a floating work desk and arrange your supplies on a wire grid panel. You can attach it to the wall above your desk or near it. Install a hook on your pencil holder and other such items to mount them onto the grid.
Add hooks on the panel to hold scissors, tapes, baskets or even small potted plants. Making use of an empty wall is ideal if you lack storage space in your small home office.
Tip #7: Save space with a folding table
You can turn any tight space into your personal office. Lucky for you, designers keep getting more creative with crafting space-saving furniture.
Instead of buying a desk, why not get a folding table? After finishing your work, close it back up and place it behind your couch or wardrobe.
With foldable tables, you can have a new workspace whenever and wherever you feel like it. Reply to emails in the living room and write your report on the porch. Make sure to add this tip to your list of creative home office ideas for small spaces!
Tip #8: Turn your closet into an office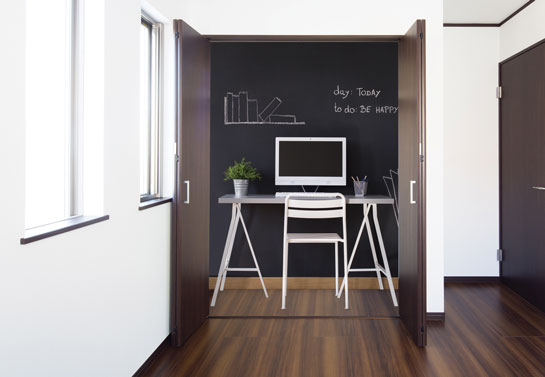 Necessity is the mother of office invention. If you don't have a spare room, consider turning your closet into a workspace.
To achieve this, your closet needs a floating desk, drawers and shelves. Since closet space is usually tight, find creative ways to store your belongings.
Not only will you be saving space but you will also be able to hide clutter. If someone comes over, just shut the doors and forget about the mess.
Bonus tips on how to decorate a small home office like a pro!
Tip #9: Create an office space in your guestroom
You likely don't have guests spending the night over at your house all the time. Go ahead and make use of the extra space in the meanwhile. Set up a home office in your spare room.
A roll-top desk would add a vintage element to your guestroom. Also, budget for wall-mounted cabinets to optimize the space and protect your files.
To make sure your guests still feel at home, add small details such as a candy jar and a note that reads the WiFi password. Try these home office guestroom decor ideas to use the space efficiently.
Tip #10: Take advantage of your corner space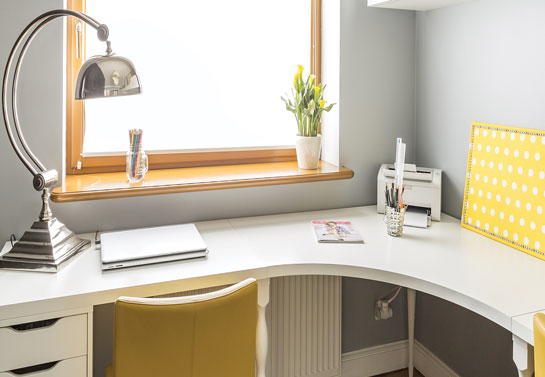 You don't need a spare room to have a functional home office. Think smart and turn your favorite corner into a cozy workspace. You'll need a corner desk or a regular one depending on how you plan to arrange the furniture.
Include floating shelves to store your supplies. Also, invite nature to your alcove by introducing plants to the decor.
Now that you know eight creative home office ideas for small spaces, it's your turn to try them out! Apply these genius hacks or brainstorm a few home office ideas for small spaces on your own. Check out these home office decoration templates for further inspiration. You've got this!