Believe me when I say that there are pocket-friendly ways to decorate your home office.
Whether it's painting your old desk or decking your chair with faux-fur, there are many home office decorating ideas on a budget that you can put to good use.
These 8 home office ideas on a budget will show you how to revamp your workspace without breaking the bank.
Give these home office decorating ideas on a budget a try!
Tip #1: Print a funny quote on the wall
Start your day with uplifting sayings. Create vinyl lettering of a funny quote and apply it to your wall. This way you'll have a good laugh every time you glance in that direction.
This decor tip is perfect for those looking to introduce a positive touch to their home office.
This is one of the coolest cheap home office ideas that will enhance your interior. Alternativelly, feature the quotes on lightweight foam board printing or gator board signs.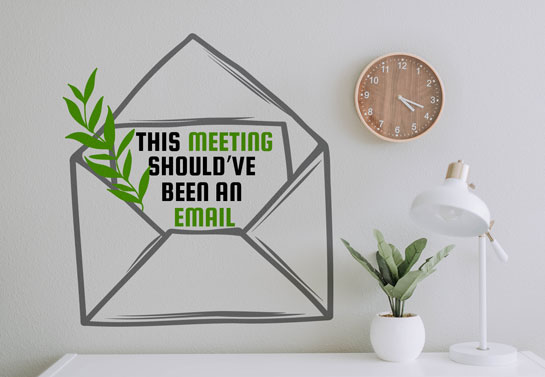 Prices start as low as $25.67
Tip #2: Stay organized with a dry erase calendar
Staying on track is paramount for finishing your projects on time. It's a good thing that both acrylic signs and PVC signs have decorative as well as practical purposes.
Get yourself a calendar on these materials and write out your tasks using a dry erase marker.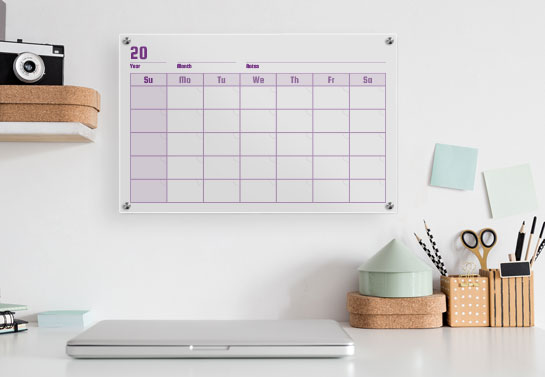 Prices start as low as $32.22
Tip #3: Cover your walls with captivating graphics
If you don't feel like painting an accent wall, I've got a better alternative for you. Install wall decals to revitalize your home office design instantly!
Wall stickers are easy to apply and remove. This gives you the ability to change them whenever you feel like your work zone needs a fresh look. It's an effortless way to furnish your office with a stimulating sense of pizzazz.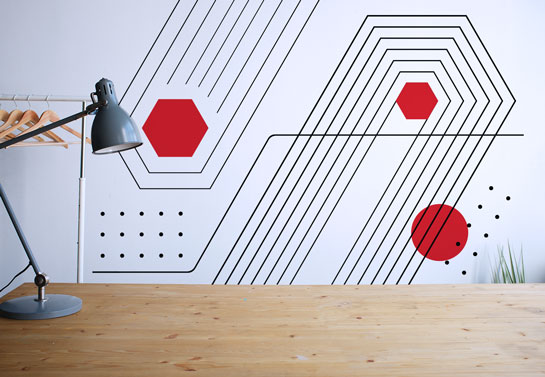 Prices start as low as $30
Use our design tool to create customized adhesive graphics. Make sure to add this tip to your list of easy home office decorating ideas!
Tip #4: Adorn your shelves with fun-sized paintings!
Consider integrating a sense of cuteness into your home office. Arrange mini canvas prints of whimsical paintings on your shelves. Make sure they match the mood of your workspace.
Alternatively, you can go for acrylic photo prints to turn your office into a personal art gallery. Your visitors will instantly get familiar with your exquisite taste.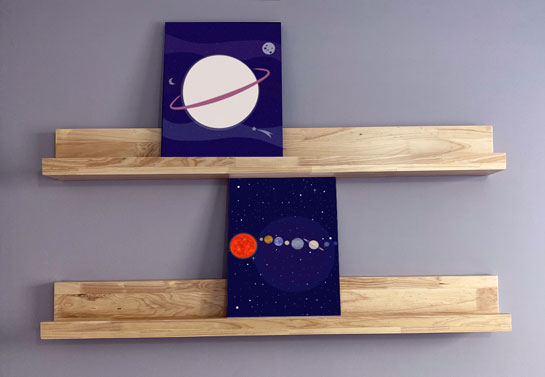 Prices start as low as $37.34
These home office ideas on a budget will make your workspace stand out.
Follow these tips on how to decorate a home office on a budget!
Tip #5: Give your desk a much-needed makeover
You will spend most of your time sitting at your desk so it might as well look aesthetically pleasing. If your desk's color is boring, don't think twice and revamp it with a new shade.
This style tip is a game-changer if you're looking to remodel your office nook without making a huge time or money investment. These decor ideas for a small home office will transform your space with ease and ingenuity!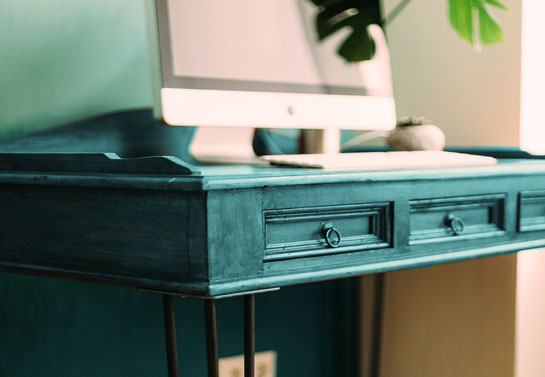 Tip #6: Use mason jars to organize your pens
Most of us have mason jars lying around in the kitchen cabinet. Grab one (or more) and spray-paint the lid with a brass finish to achieve a vintage look. Organize your supplies in different jars.
Mason jars can also double as flower vases. Incorporate an element of nature into your home office by keeping fresh flowers around.
Rest assured that the world will never run out of cheap home office decorating ideas!
Tip #7: Install fairy lights to add magic to your office
Hang fairy lights in your home office to feel the magic of Christmas all year long. This is one of those easy home office decorating ideas for people fond of glitter and wall art.
You can ornately position your fairy lights on an accent wall or near your desk. This way, you'll see and feel better if you're pulling an all-nighter for an important deadline.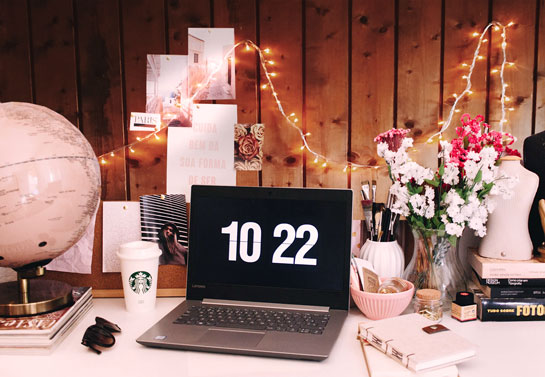 Tip #8: Set up a station to organize your devices
Organize all your hand-held devices in one spot with this genius DIY hack. Instead of buying a phone charging station, save the extra bucks and place your flat-screen devices into a letter holder.
You can place usb cables into paper clips on the edge of your desk. This will neatly arrange them so you may locate all excess wiring when needed. You won't lose your chargers ever again! The beauty of DIY home office decor ideas is that they are always fun, rewarding and make great use of otherwise neglected items.
Bonus tips: DIY home office decor ideas you're going to love!
Tip #9: Add glam to your office with a faux-fur chair
Those who appreciate cheap home office decorating ideas are sure to love this tip!
If you want to achieve contemporary glamour, get a faux-fur chair for your home office. The fur will make you feel cozy at all times. If you enjoy sitting in an ergonomic chair, this will serve as an exquisite accent piece that also adds extra comfort.
A faux-fur chair doesn't have to be expensive because you can make it yourself! Buy faux-fur from the nearest fabric store and glue it onto your chair using a hot glue gun. Lastly, cut off any excess fabric. Home office decor ideas are even more satisfying when they put you to work. There's nothing like the feeling of accomplishment once you're done.
Who would've known that cheap home office ideas can be magazine-worthy?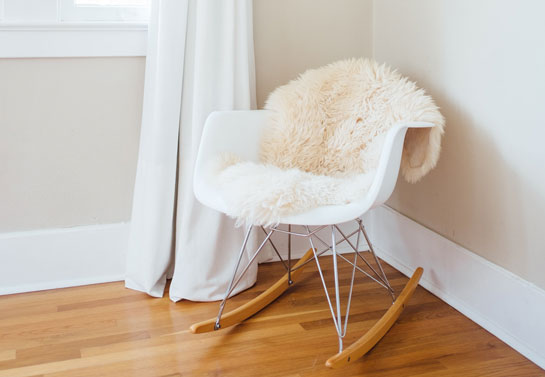 Tip #10: Turn a trunk into a filing cabinet
You don't want your office to look like a lifeless corporate zone. Make your workspace more personable and alluring by turning a trunk into a filing cabinet.
You will need to attach legs and add a file frame system to the trunk. Feel free to spray-paint it in the color of your choice.
There's nothing like DIY home office decor ideas to customize your office!
Now that you know how to decorate a home office on a budget, it's time to make it happen. Give your workspace a makeover that will boost your flair and productivity. Also, use your creativity to come up with home office decorating ideas on a budget that are unique to your taste. Check out these home office decoration templates to get inspired.