What is the best color for a home office, you ask? Let's dive into select paint buckets, their proper combinations and the effects they have on productivity.
Determining home office color schemes is an essential part of decorating a workspace.
This article features 8 home office color ideas to create an environment that will enhance your mood while you work.
Best home office color ideas to improve your productivity
Give these cool home office color ideas a try for a serene workspace
Choose cool colors for your home office to create a calm working environment. Maximize your output without feeling burned out.
Color #1: White for a distraction-free home office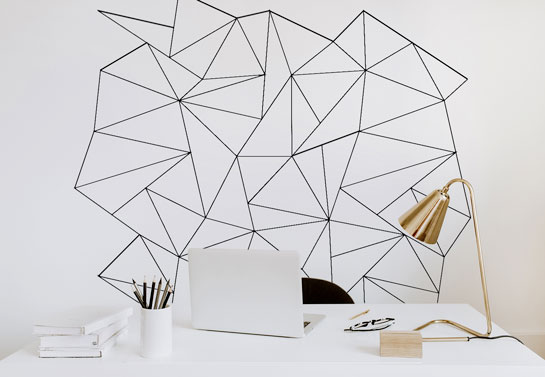 Create a workspace that fosters focus by decorating a diversion-free environment. Color psychology states that white is a non-distracting color, making it the best color for a home office if you want a clean work slate.
Introduce black elements to add variety and accentuate lines for depth. Black and white home office decorating ideas include wall decals. Embrace decals in geometric shapes to establish a sense of balance in your workspace.
You won't have trouble creating a classy aesthetic because there are endless black and white home office decorating ideas to choose from. Check out these home office decoration templates to get inspired.
Color #2: Purple for a creative home office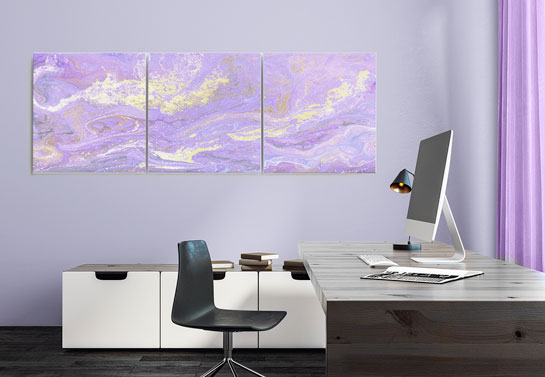 Are you looking for an imagination booster? It is said that purple gets your creative juices flowing, making it a prime color for those who have a profession in the arts.
Whether you're a graphic designer, an architect or an art director, consider making purple your main home office color.
Lighter shades of purple work well for small office spaces. Introduce darker shades of purple through an accent wall or pieces of furniture.
Purple canvas prints will add much-needed artwork to your home office. Hang the canvases on the walls or arrange them on shelves. This tip is on the list of trendy home office decor ideas so make sure it's on your list, too.
Color #3: Blue, green and neutrals for a laid-back environment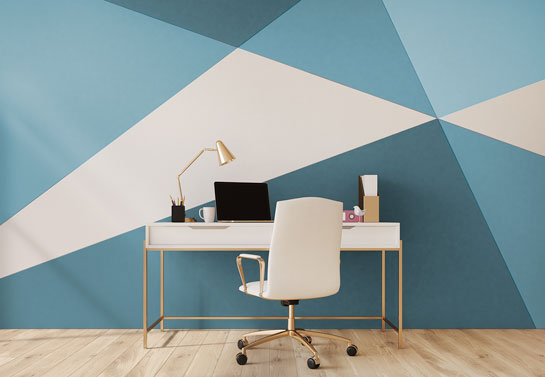 You might be wondering what is a good color for a home office. Well, it depends on your preferred work setting. If you want to work in a calm environment, consider choosing blue, green and neutral colors for your home office.
Blue is mentally soothing, making it an ideal choice for feeling comfortable in your home office. Go for softer shades of blue to evoke serenity. Avoid darker blue shades as they can elicit feelings of sadness.
Green brings to mind lush scenes of nature and adds tranquility to your decor. Choose shades of this color to feel at ease and maximize your clarity and focus.
Add plants to your desk and shelves to incorporate green into your office. Succulents are great for this because they take up little space and thrive in the shade with minimal maintenance. This is a refreshing decor idea that will breathe life into your space.
Related: A Quick Tour of Fundamental Home Office Decor Ideas.
Color #4: Beige for a clean office space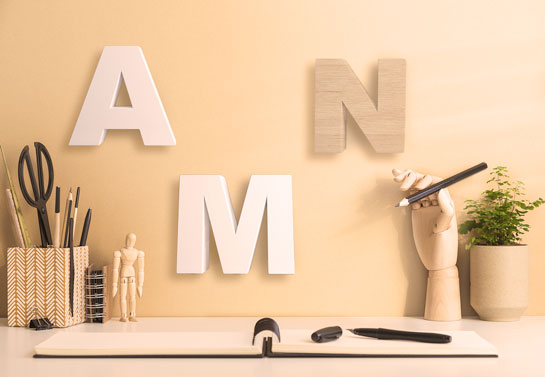 There's nothing like an office that achieves a balance between coziness and efficiency. If that's what you're looking for, then consider decorating your workspace in beige.
An elegant office that also feels homey is what you need when you work long hours. Beige is a versatile color since it matches well with almost any other tone.
Adorn your walls with wooden signs and letters. Outline cuts will provide features that suit a cozy office perfectly.
Apply these warm home office color ideas for a dynamic vibe
Go with warm colors to decorate an office that charges you up with energy and inspiration. Get work done like never before.
Color #5: Brown for a powerful impression
Select brown for your home office to express structure and power. It's no coincidence that lawyers' offices are typically brown - it's because their goal is to command authority.
Introduce the color to your office through an elegant wooden desk with a glossy finish. Pair it with a leather chair and a bookshelf and you'll have yourself an office that exudes confidence.
Color #6: Yellow for a happy place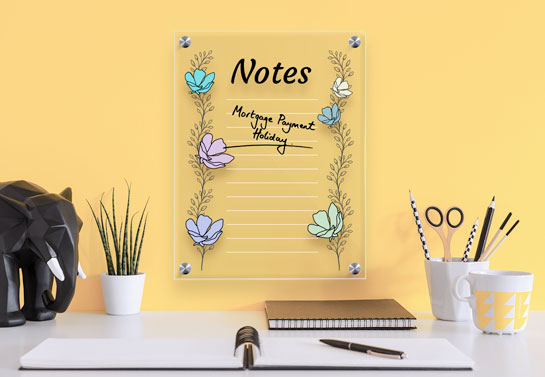 Yellow will set a happy tone to anyplace it peeks through. It's an excellent choice for inviting sunshine into your workspace.
Too much yellow can be overly zealous and cause frustration, however. Instead, incorporate yellow through furniture or an accent wall.
For cool yellow home office decorating ideas, furnish your desk with a yellow lamp or other knick-knacks that will brighten your office. Make your work area more bubbly by hanging a tinted acrylic sign on the wall and use it as a dry erase board.
Yellow is the best color for a home office that invokes cheer and optimism.
Color #7: Orange for an office that powers you with positivity
If you're looking to maximize your potential then an orange office is what you need. Orange has an energetic effect which will help to boost your wellbeing.
Orange is an exhilarating color, but using too much of it can be intense. Consider pastel orange if you want to incorporate vitality without overwhelming your emotions.
Color #8: Red for a dynamic workspace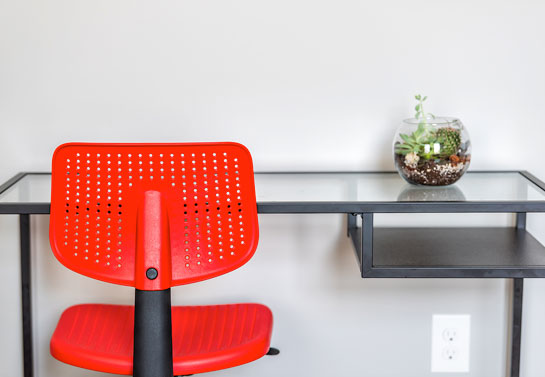 Red is a stimulating color that induces a physical response. That's why red is a favorite color used in decorating gyms. Considering its fierce impact, you should use red carefully when decorating your home office.
Painting a wall in red can make your office feel claustrophobic. To lighten up the effect, decorate your workspace with red accessories such as chairs, desk lamps and shelves instead.
Home office color scheme basics to improve your workflow
So what is a good color scheme for a home office? Whatever colors you decide on, make sure they go well together. This section will show you how to select the best home office color scheme ideas.
1. Monochromatic colors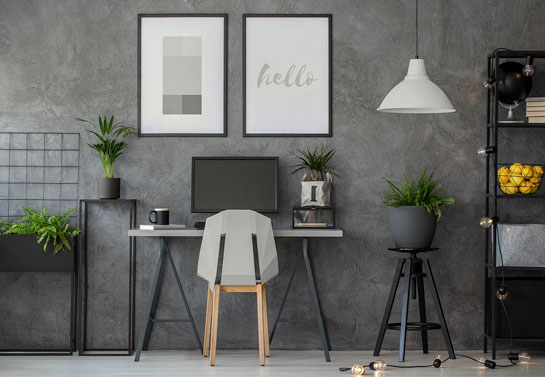 A monochromatic color scheme includes colors of the same hue. When you decorate a monochromatic home office, you use the same color in different tones throughout your decor.  That includes the walls, furniture, decorative pieces and even the floor. You can get monochromatic graphics printed on gator board signs.
2. Analogous colors
An analogous color scheme combines three colors in a row on the color wheel. Green, blue and purple are analogous colors, for example.
The trick is to use the 60-30-10 rule to create an ingenious color scheme. This decor rule states that 60% of the color palette should be dedicated to a dominant color, 30% to a supporting shade and 10% to an accent shade.
If you want your home office to be colorful and full of life, go with an analogous color scheme.
3. Complementary colors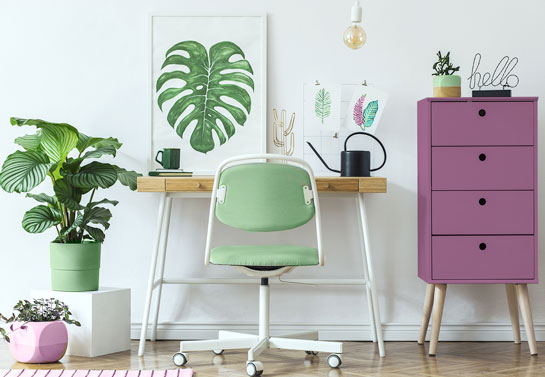 Colors that are opposite to each other on the color wheel are complementary - red and green, for instance.
Complementary colors result in a high contrast look so use them sparingly. Pair them with neutrals to offset the exuberance and establish harmony. You may also add lush vector art on foam board printing
Now that we've covered the top tips on what is the best color for a home office, it's time to revamp your room. Choose home office color schemes that strengthen your theme, like going with yellow home office decorating ideas for a sunny feel.
These home office color scheme ideas will help you decorate an office that sets the tone to increase your productivity. Use our intuitive design tool to create the custom designs you've always envisioned with just a few clicks.