Trade shows are major events that present vast opportunities. They're also competitive arenas where participants make every effort to stand out.
If you plan on participating in a trade show, be mindful of how you present yourself. Use your setup as a means to raise brand awareness.
Give your trade show banner design some serious thought to ensure high visibility. Setting up custom graphics, be they retractable banners or pop up displays, will bring your presentation to a higher level of professionalism.
Explore exhibition banner design tips to excel during the most anticipated events.
Essential Exhibition Banner Design Tips
Drawing attention to your booth can be challenging when surrounded by hundreds of competitors. Nonetheless, many decor items can help you do that if well-designed.
Expo Banner Design Imagery Tips
To surpass everyone with trade show booth banner design, delve into the basic expo banner design tips discussed below. Learn about important features and turn your design into the hit of the night.
Image Type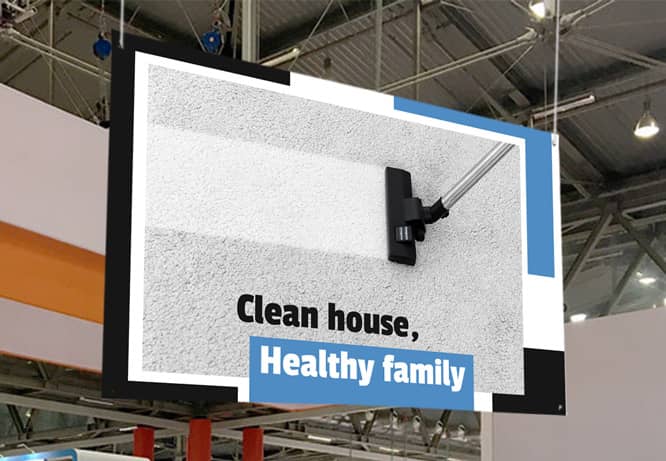 Visual elements, by and large, play a major role in design. The right imagery captures attention, conveys information and leaves a lasting impression in people's minds.
Think of images as a source of trade show banner design inspiration. Bold and assertive product photos, especially ones demonstrating how they work are the most efficient of all. In case you have relevant data to highlight, consider including charts.
Reassess the power of imagery since many people are visual learners. Along with the brand logo, incorporate easy-to-interpret visuals that relate to your brand. Get personalized fabric banners that draw visitors to your spot.
Check our article on Trade Show Display Ideas to boost creativity.
Image Quality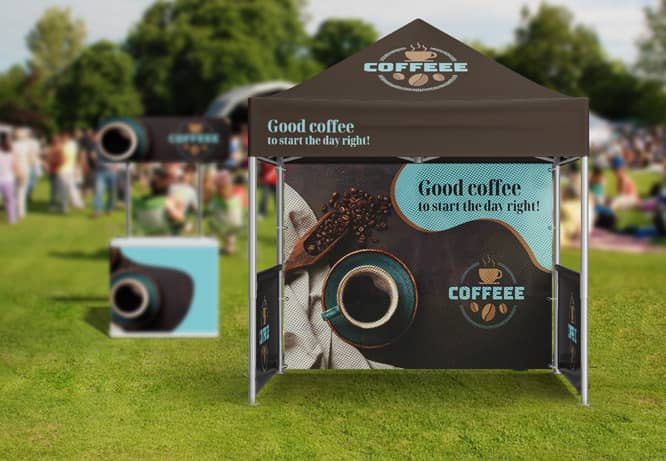 "Don't take quality printing for granted" is one of the best exhibition banner design tips you can get. Perfectly chosen visual elements are useless if they're poorly made. Blurry, pixelated images don't charm anyone in this era of advanced technologies and clear graphics.
To enhance your brand visibility, put up durable graphics with quality illustrations. They might be costly, but the effect they have on potential customers will pay off.
Keep this in mind for both indoor and outdoor events. To catch the attention of passersby, portray high resolution images on mesh banners. This will also protect your products from possible weather changes.
Try out our intuitive sign design tool and create best trade show banner designs.
Trade Show Banner Design Textual Guidelines
Trade show booth banner design also includes using elements other than images. Consider using textual elements to amplify the impact of your design.
Typography Rules for Big Event Graphics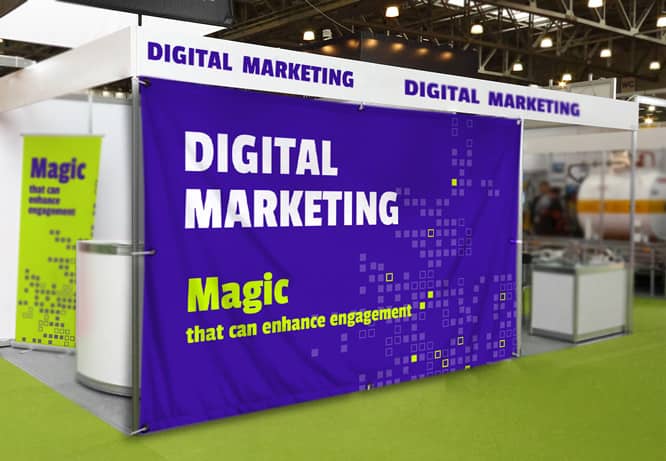 Textual elements provide constant verbal communication. Uppercase writing or decorative fonts which were quite popular are no longer the only design options at hand.
Don't limit yourself to a single size or font. Take "everything is good in moderation" as a rule of thumb and get creative. The combination of upper and lower cases or fusing different fonts is very appealing. If applied correctly, it can ensure instant readability. Fonts, for instance, will work best if they belong to the same font family. Note that a mixture of too many fonts can give your graphics a messy, disorganized look.
Gather some feedback before printing to get the best trade show banner designs.
Best Text Overlay for Different Portable Graphics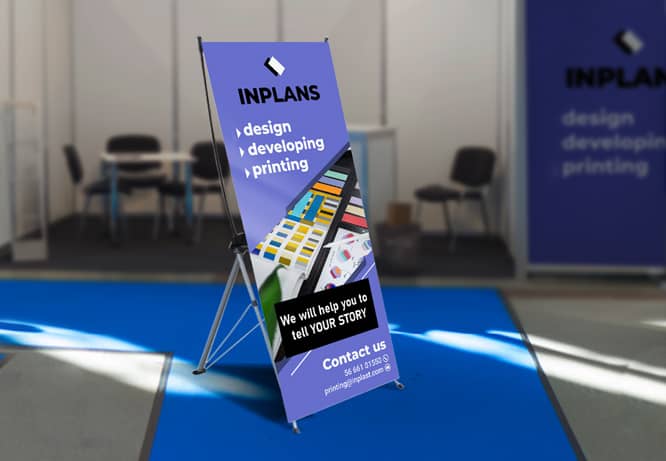 Text overlay is a focal point of trade show backdrop design.
The placement of textual elements is directly connected to your stand type. Its vertical or horizontal orientation changes the text format.
Natural text scanning patterns show that people start reading from the upper left corner and work their way down. Keep this in mind when creating your expo banner design to avoid confusion.
In case of stand-alone vertical tools such as x-stand banners or sandwich board signs, avoid placing texts on the bottom. Keep everything important at eye-level for convenience.
Don't know how to design a trade show banner? These templates will come useful.
Efficient Text Volume for Expo Graphics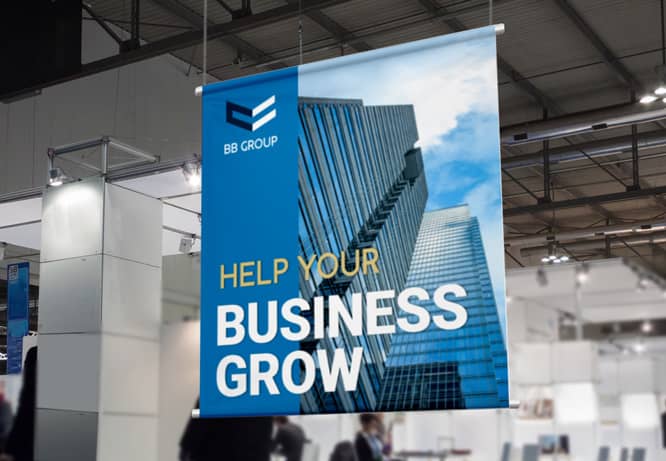 When working on an exhibition stand banner design, long texts are a big no-no.
Trade shows are busy events, where focusing on something specific is difficult. You have little time to impress passersby. So if you want attendees to get to know your brand, go for the short, to-the-point message.
As for relevant details or product specifications, your representatives will have them covered.
Trade Show Banner Design Color Tips
Help your audience understand your message by integrating colors in your design.
Colors That Resonate With Your Brand's Message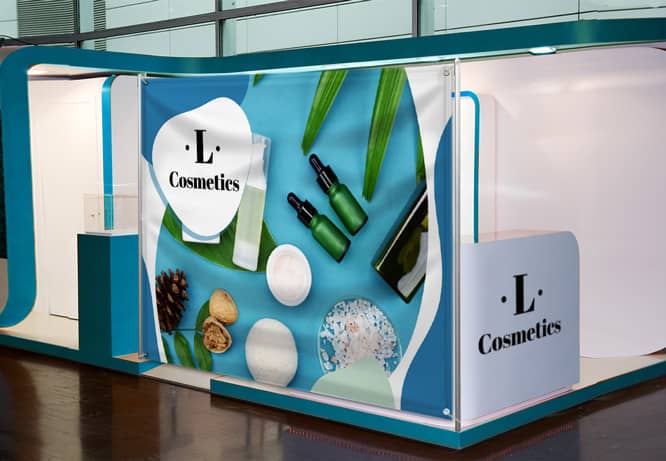 Color is an associative characteristic of every brand. By using colors that resonate with your brand's messaging, you help people make links. The latter leads to brand image enhancement and reels in new customers.
Use full-color vinyl banners to ensure high visibility and achieve your promotional goals. With quality printing, they'll showcase the colors of your trade show backdrop design.
Color as a Marketing Tool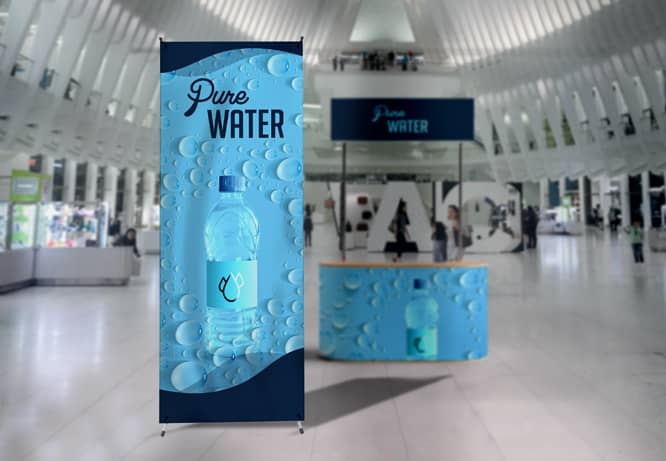 Color is a powerful marketing tool, as it builds connections by evoking emotions. It directly affects human perception, communicates information and even inspires us to take action.
Every color has a meaning. To deliver your message effectively, you need to differentiate between different colors and their shades. Use color-related trade show banner design tips to decide. Choose them carefully to set the right tone for your audience.
Color as an Assistive Means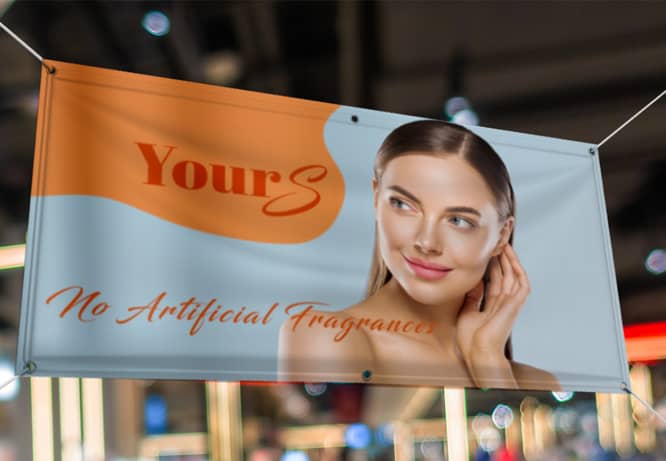 Color is also an assistive force. Properly chosen colors for the exhibition stand banner design will not only catch the audience's attention but also increase readability. This mainly applies to neutral colors. Beige and other neutral colors are usually used as a background to avoid distracting visitors. As for brighter colors, they're good for highlighting key facts.
Take these exhibition banner design tips into consideration to find the right color combination and tell your story successfully.
Branded Trade Show Banner Design Tips
To keep your brand ever-present in the minds of trade show attendees, you need to stay true to your image.
Consistent Brand Image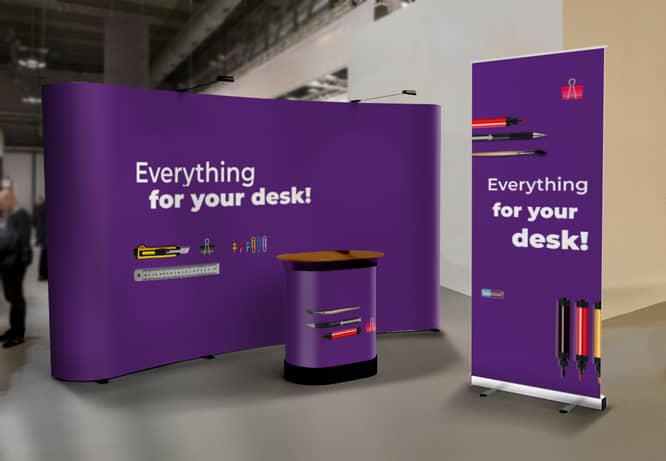 Consistency is crucial when it comes to brand representation. It increases the chances of being recognized, builds trust and eliminates the possibility of being confused with other brands. Follow your branding guidelines in your expo banner design. Apply the same themes and colors you always do to guarantee success.
"The Clearer, the Better" Look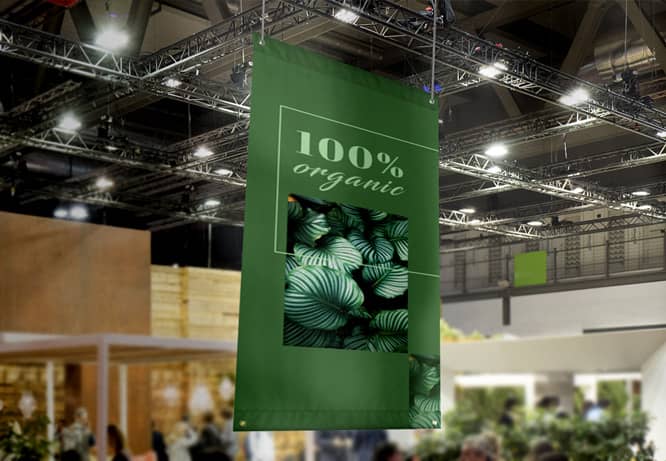 More brands are striving for simplicity in their design nowadays.
Simpler designs are generally more appealing; they can be instantly understood. During crowded events such as trade shows, you need to incorporate this trend into your expo banner design. Keeping your graphics simple and concise will get your message through faster and easier. Besides, having your design overflowing with too many elements might conceal the primary information.
You might also take interest in Business Window Decal and Decor Ideas to draw attention to your business.
Graphics Format Impact on Design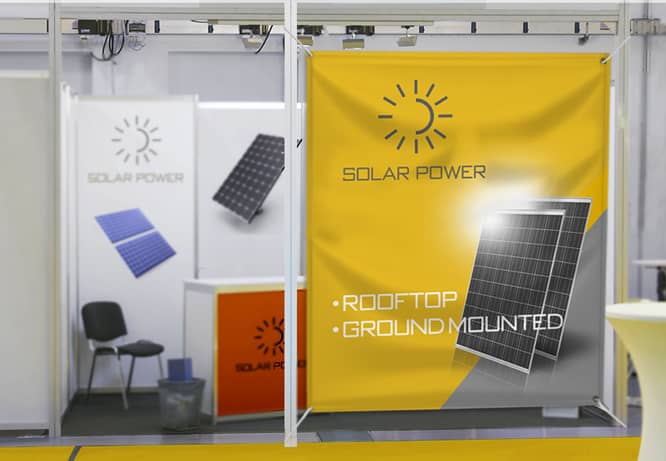 Trade show booth size and location play a crucial role in determining the format of your trade show booth banner design.
Limited space implies smaller graphics. This in turn means you need to pay more attention to detail. Even though you're short on space, you can still incorporate catchy elements. As for textual elements, a short, to the point headline can set your brand image.
As for large graphics, you can include bulleted points to keep the text volume to a minimum.
Bonus Trade Show Booth Banner Design Tips 
Apply tasteful colors and avoid crowded backgrounds to get the maximum effect.
Trade Show Backdrop Design Tips
To create a memorable first impression, consider adding captivating features to your graphics.
A "Wow" Factor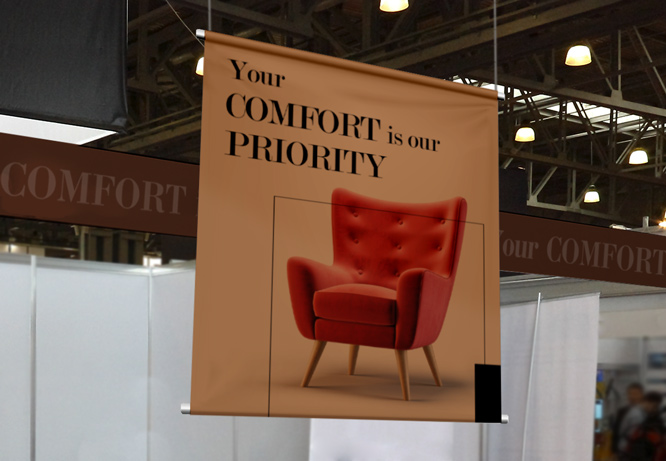 Spare no effort when creating your exhibition stand banner design. Don't be afraid to come up with interesting ideas for your backdrop that'll leave people in awe.
Creative and dynamic illustrations will make your presentation persuasive. For instance, a 3D rendering of your product combined with your motto will create an exclusive look. That's something people won't miss.
Memory Corner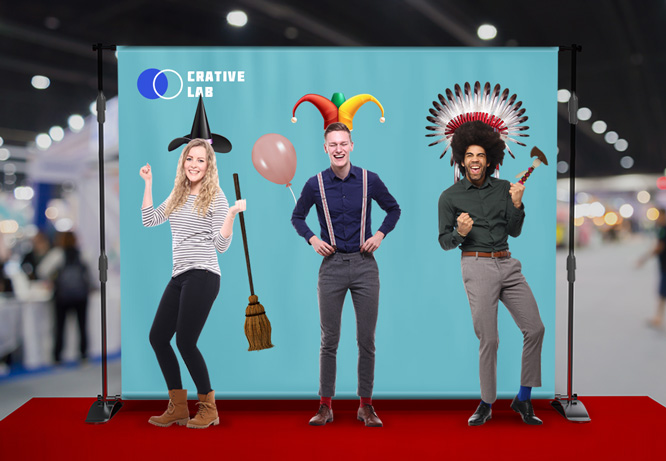 While working on trade show backdrop design, think of the graphics as a photoshoot background. Order step and repeat banners with killer designs from Square Signs. Depict something other than your products: funny characters or breathtaking views people will want to take photos or videos near.
Promotional Media Design Tips
Spice up your booth decoration by preparing dazzling promotional graphics.
CTA Usage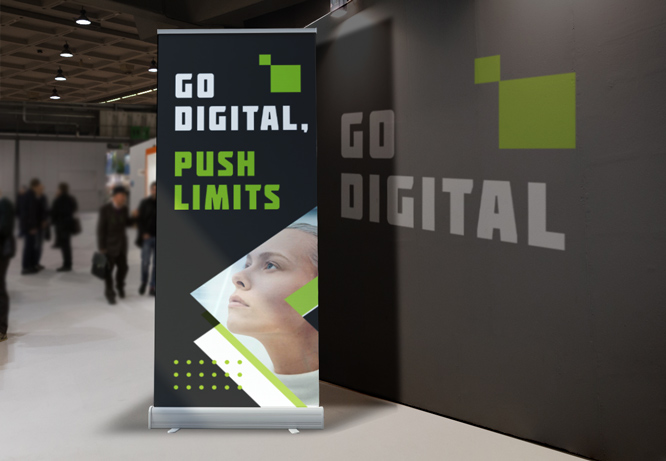 Apart from the exhibition banner design tips we've already seen, think about including a catchy CTA. Write up something that sounds like a motto that's instructive at the same time.
To make the CTA more illustrative, use assistive elements such as colors or images.
For more ideas explore our article on Trade Show Promotional Items.
Useful Feature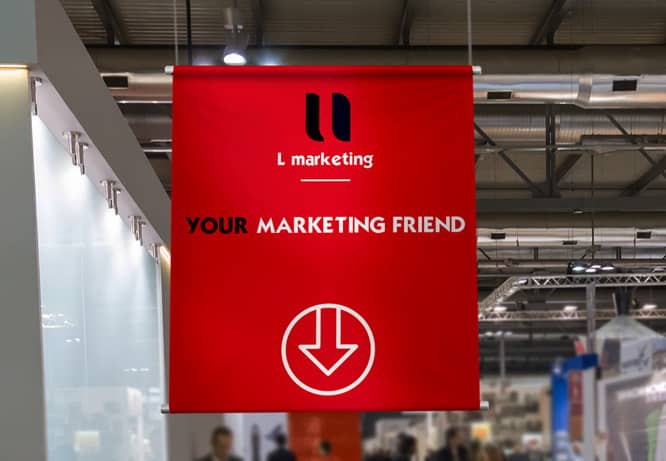 Trade shows held in large venues can render it difficult for people to find their way to a particular booth. To help potential customers find you easily, consider incorporating assistive elements in your expo banner design. By making your graphics appealing and useful, you can eliminate the cost of printing fliers and brochures for instance.
Follow the trade show banner design tips discussed above to make the most of any trade show. Achieve success by amassing sufficient professional knowledge.