Halloween is right around the corner so let's decorate your windows to spice up the mood. Even if you can't throw a party because of COVID-19, these 12 decoration ideas will bring in the spirit of the holiday. You'll even find Halloween shop window ideas for your business but be warned - idea 12 could knock your visitors dead!
Make sure to also read the tips I'll share in the second part of the article to get the most out of these Halloween window decoration ideas.
Creepy Halloween Window Decoration Ideas for a Ghoul Fest
You can't imagine Halloween without certain characters, symbols and scenes. You can represent them with a unique twist to avoid being cliche. Take a look at these 12 window decals and learn how to decorate a window for Halloween.
Halloween Window Ideas With Imaginative Characters
Imaginative characters from cartoons, movies and stories are always key players on All Hallow's Eve. Here are a few chilling examples of how you can use them to decorate your windows for trick-or-treaters.
Idea 1. Feature a Silhouette of a Witch
There is no such thing as a Halloween party without witch-themed decor. This one will enchant your windows. Use this timeless image for a supernatural celebration.
Click on the images to use them as templates and create your own decorations. Our free design tool will let you customize size, color, materials and other features.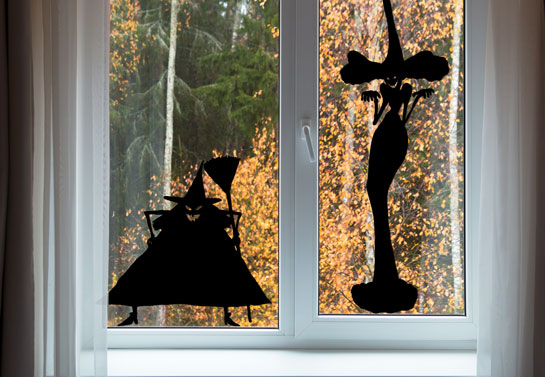 Idea 2. Welcome Guests With Ghosts
A ghost sticker or two will make ghastly greetings for your guests and passersby. Use these stickers on storefront windows to attract more customers and welcome them in with style.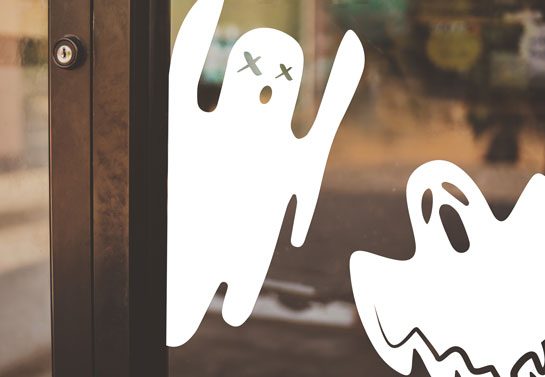 Idea 3. Use Cute Monster Images
Do you find all of those monsters from movies and cartoons cute or creepy? Either way, they'll look great featured on your windows. Choose the ones you like most and get them printed on decals. Here is an example of how the scene will look.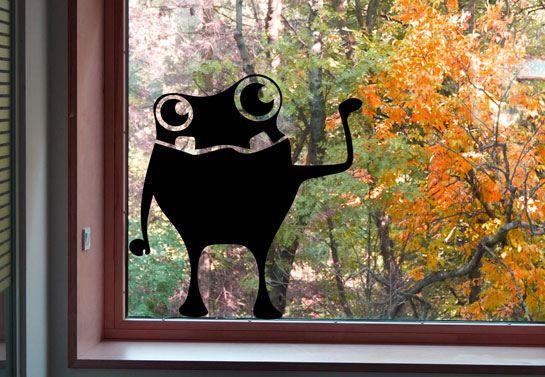 Cool Halloween Window Decorations With Animals
Here are a few must-have window decorations for this Halloween, inspired by animals.
Idea 4. Let a Haunted Cat Guard Your Home
Black cats are cute, even if they are haunted. Use a cat sticker like the one below as if it's prowling your house at night. Terrify your neighbors and guests but try not to be a scaredy-cat yourself.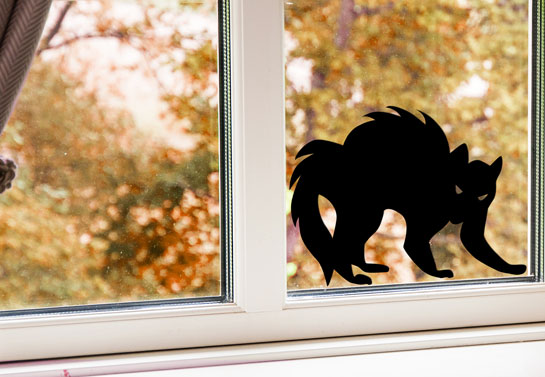 Idea 5. Cover the Windows With Spider Webs
Give your house a monstrous look by covering the windows with spider webs. The best way to do so is by using adhesives. You can even go with an actual spider-shaped sticker for a more realistic effect. Get them printed and cut on clear vinyl and your windows will be ready for Halloween at the snap of a finger.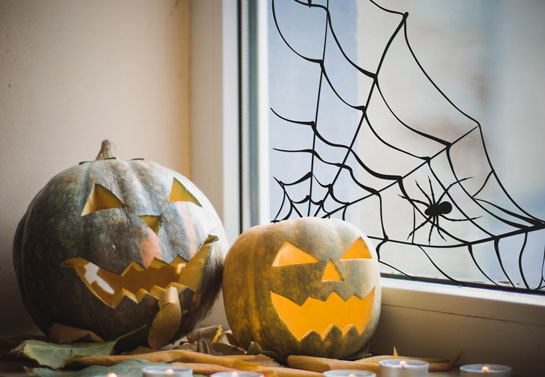 Idea 6. Make Sure to Include Bats
Make your windows spooktacular with bat-shaped decorations. With the correct lighting, you'll get a scene straight out of a horror movie. Take a look at what you can do with this featured specimen. Click on the image to use it as a template for your window decorations.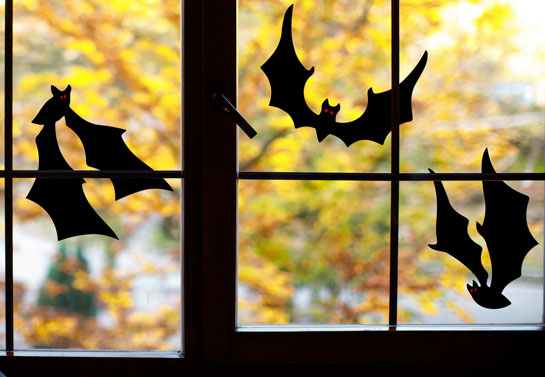 Take a look at more Window Decoration Ideas for every occasion and purpose.
Cute Halloween Window Decorations With Themes
There are symbols that say Halloween like pumpkin says spice. The 3 cool ideas coming up need to be on your windows or else.
Idea 7. Light Up Cute Lil' Lanterns
Jack-O'-Lanterns are everywhere around Halloween time. Yet you can use them without having to carve out a mess by getting them printed on adhesive vinyls instead. Decorate with these cute Halloween window decorations all around the house. When you turn on your lights, the lanterns will smirk at all the trouble-makers passing by.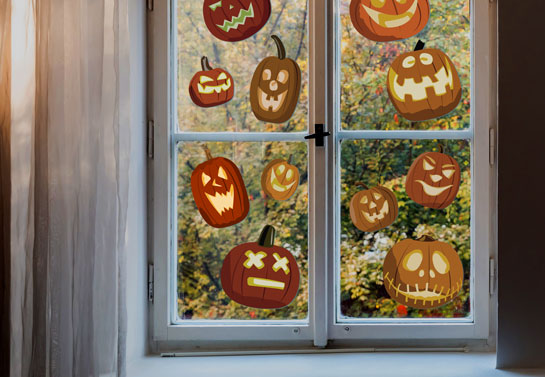 Idea 8. Use a Skeleton Silhouette
Skeletons are another symbol of Halloween you can't be caught dead without. Whether you decide on a funny or scary one, this idea will be sure to make trickster hearts skip a beat or two. Take a look at this example!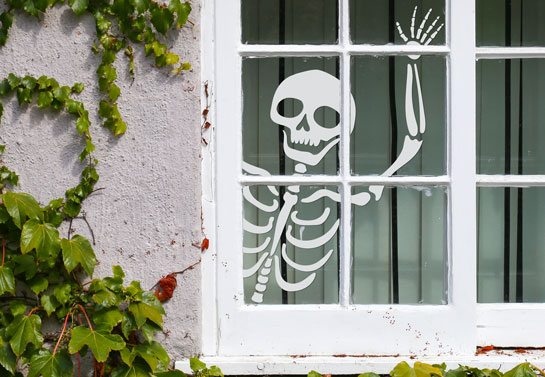 Idea 9. Reflect a Witch's Broom
Stick a broom-shaped decal on your windows as if the wicked one has just arrived from her long ride. Let your neighbors know that the witch is in town. They won't be able to lock their windows this Halloween!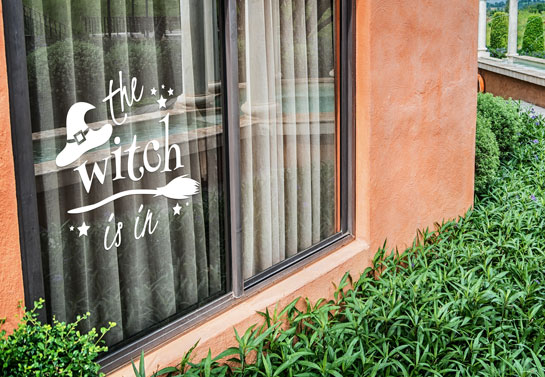 Our article on Holiday Window Decorating Ideas will give you a full pack of decorations for the most important Holidays of the year.
Halloween Window Decorations to Make Your Business BOOm
Every holiday is an opportunity for businesses to promote their products and services. To do it in a creative and effective way, consider using one of the ideas below.
Idea 10. Feature Classic Candy Treats 
Candies are the sweetest part of the festivities. Displaying them as stickers is a colorful Halloween shop window idea. Select different kinds of classic decal candies and stick them to your storefront windows. Make sure to include your special offers and sales as well with vinyl lettering. See how nice it will look in this example!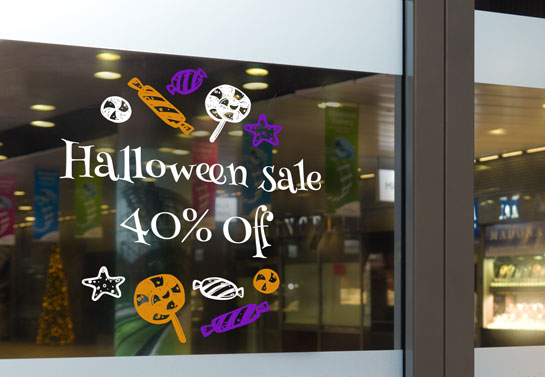 Idea 11. Use Traditions to Your Advantage
What's the favorite activity of all kids on Halloween? Trick or treating, of course! So how can you use this custom to boost your business? Take a look at the picture below to learn the answer.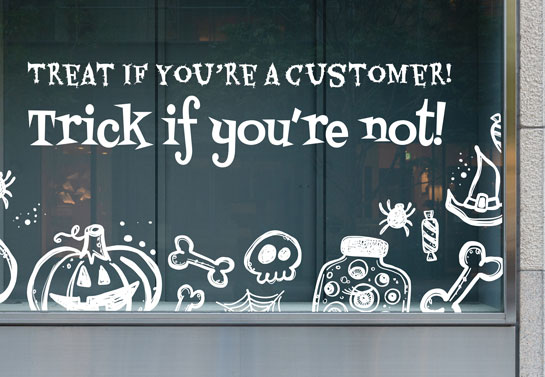 Idea 12. Let People Know About Sales and Special Offers
If you offer services or products, then you definitely need to consider Halloween sales. Of course, you'll also need to let people know about your specials in a spooky way. Here is an idea that will intrigue passersby to enter and make a purchase - or risk peril.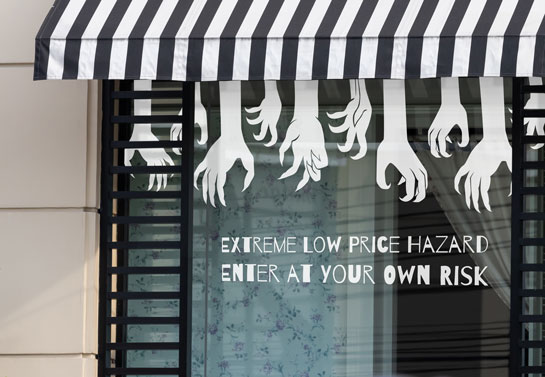 Halloween Window Ideas With Scary Scenes
There are scenes that remind us of scary tales about Halloween. Feature them on your windows to give your house a mystifying appeal.
Idea 13. Feature a Dark and Dreary Forest
Imagine looking out your window and into a dark forest. You can almost hear owls screech and wolves howl in the distance. It paints a chilling scene for Halloween. Cover your windows with large graphics and play monster sounds on repeat from your computer. The combination will set a spine-chilling mood for the Eve.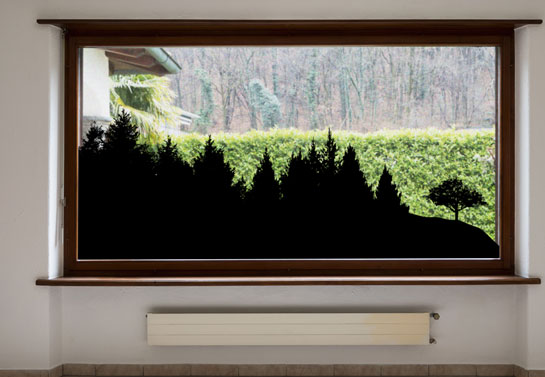 Idea 14. Include a Witch House of Horrors
Turn on Halloween mode by featuring a witch's house on your windows. These graphics will do the trick to prepare you for the fest this year. Feel free to include it alongside other ideas mentioned above.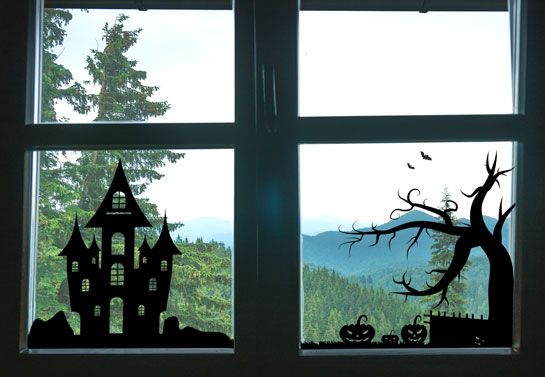 As soon as Halloween is over, don't forget to read our article on Christmas Window Decorating Ideas to keep the celebratory mood going!
Idea 15 Bonus. Since 2020 Has Been a Year-Long Fright Fest
Let's be honest, what can frighten those of us who have (almost) survived 2020? Show your sense of humor with this widely shared sentiment. Get inspired by this quote to create your own using our user-friendly design tool.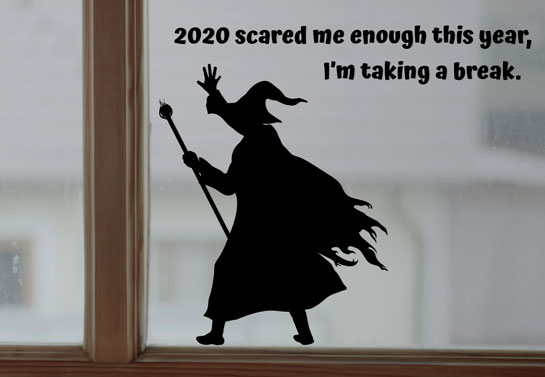 Quote inspiration:
I witch you a Happy Halloween
Stop in for a spell, I'm brewing spirits
Please park your brooms at the door
Bring the above-mentioned ideas to life using our ready-made Halloween templates. Customize them with the help of our design tool and order right away. You can choose your favorite material, size and other options like cutting and printing style.
Read the next section on how to decorate a window for Halloween for important advice to get the most out of your decorations!
Tips and Highlights: How to Decorate Your Window for Halloween
Here are the promised tips and highlights on how to decorate your windows for Halloween.
Tip 1. Achieve a Mysterious Look With the Right Material
When it comes to Halloween decorations, an air of mystery is definitely a plus. Frosted window decals, known for providing privacy, will look just right with the above-featured graphics. Make sure they cover the whole window and choose the standard cutting option for sharp edges.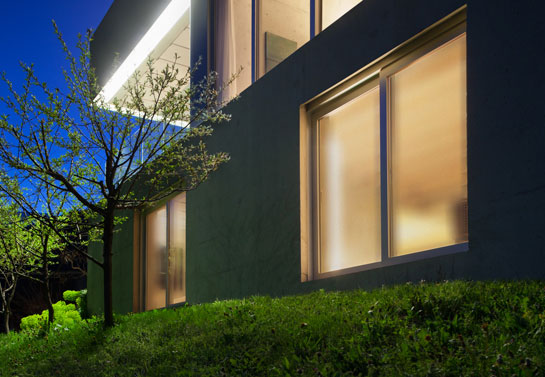 Tip 2. Choose the Correct Colors for Lighting
You can use red, orange, green or other enticing colors for your Halloween lighting. As long as you choose the frosted stickers, any shade will look foggy and hypnotizing from the outside.
Tip 3. Go With Reusable Stickers 
Choose static clings as an alternative to temporary adhesives. This way, you'll be able to reuse them after taking them off. They also stick to other glass-like surfaces.
Tip 4. Get Double-Sided Letting for Visibility 
Choose vinyl lettering if you want your stickers to look nice from both sides of the window. Keep in mind that the second surface printing option will allow you to apply them from the inside.
With the ideas and tips we've covered, you're now ready to decorate your windows for Halloween. Create your decor with Square Signs using our online tool. Our designers have provided cool templates in case you don't have an eye for eerie beauty. You can also upload your own graphics. Get started on your window decorations now for a monster celebration this Halloween!