Halloween Sign Ideas With Various Display Themes
Getting ready for the spookiest holiday is as exciting as the celebration itself. We're here to help you out with a full list of the best Halloween signs imaginable. Do you want to get funny, scary or cute Halloween signs? Or maybe vintage is your style of choice. Well, we have it all! Make sure you get to the end to find a guide on how to create custom Halloween signs with our intuitive design tool.
Excited? So are we! Let's get started. 
Funny Halloween Signs
This holiday is all about fun! Make it even more delightful with these funny Halloween signs.
Idea 1. "Flying Lessons" wall decor 
Be extra this Halloween with this sign good for both indoor and outdoor use. Aluminum signs and pvc signs are both popular choices for either setting. They have a polished print quality and are highly weather resistant. Get inspired by the design sample below and order your own signage for the holiday.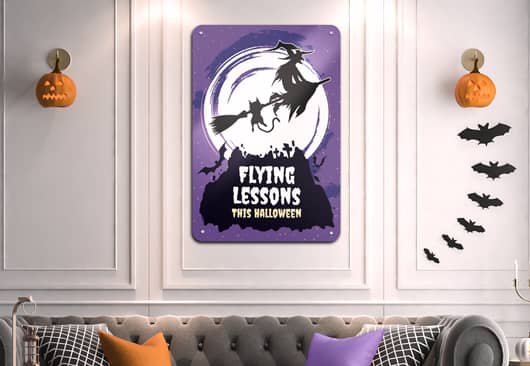 Idea 2. Witchy Halloween quote sign
Decorate the windows or other glass surfaces with window decals. Use a witchy quote like the one in the example below. BTW, we have original templates ready to go so you can order them within seconds. Just click on the image to open the design, modify it if you wish, choose a material and go straight to check-out. Our free design tool gives you a great range of features for customizing and ordering your funny Halloween signs.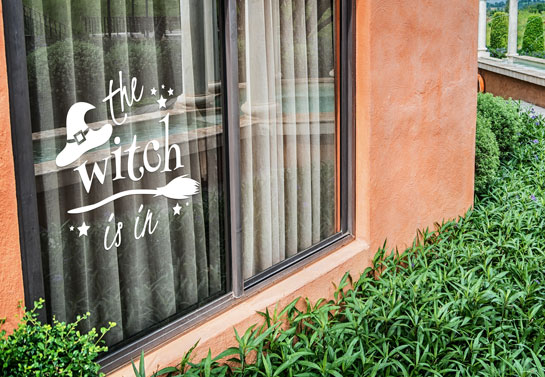 Go to our design tool to create and order the best Halloween signs now!
Scary Halloween Signs
Spooky Halloween signs are a must for this dreary autumnal holiday. While you should still keep things light for the faint of heart, here are scary Halloween signs you can safely include in your decor. 
Idea 3. Witch signs for Halloween
As witches are one of the most recognizable symbols for the holiday, you can use them for various scary Halloween signs. Frosted window decals will give off the mysterious vibe you're looking for on any glass surface. Order gator board printing or foam board printing in the form of witch silhouettes, then hang them on the walls and doors. You can get them printed with all kinds of creative graphics - get wicked!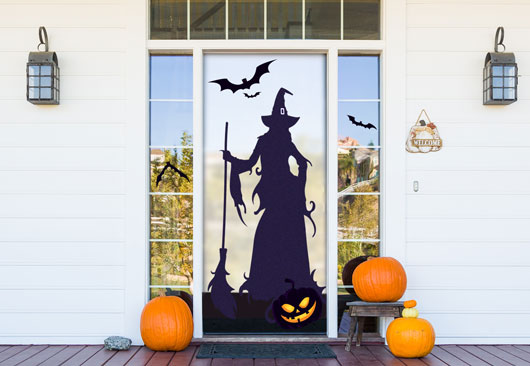 Take a look at our collection of 12 Halloween Window Decoration Ideas for a Spooky Celebration.
Idea 4. Spooky Halloween signs to print with creepy quotes
Wall decals are another adhesive medium you can use for Halloween decor signs. Get a creepy quote or phrase printed onto it with a thematic design like in the example below. Our design tool includes cool fonts, elements, backgrounds and many other features. You can easily use it to bring your Halloween sign ideas to life without having any design training.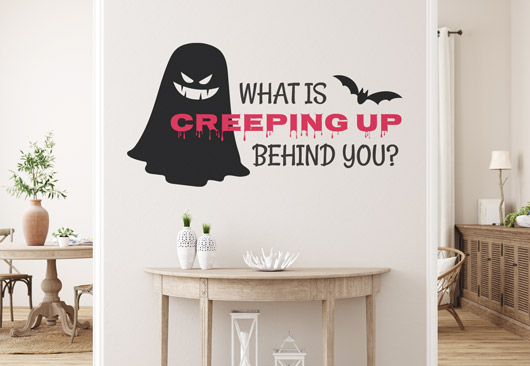 Read our article on Halloween Signs for Different Areas and decorate like a pro.
Cute Halloween Signs
Besides being funny and scary, Halloween signage should also be cute. This holiday is for kids, too, after all. Take a look at these cute Halloween signs for inspiration.
Idea 5. Cute Halloween welcome sign
Welcoming Halloween decor signs are a must if you're going to throw a party. Use this cute mummy template for your yard signs. You can easily customize the colors, text and anything you like on it to get a fully personalized Halloween sign. Ordering sandwich boards or corrugated plastic signs would be the best option in this case.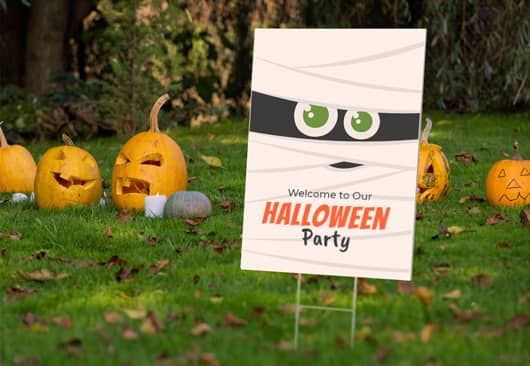 Check out our Halloween sign templates for use in your projects. Order Halloween decor signs with designer-made graphics now!
Idea 6. Halloween candy sign for the kids
A Halloween trick or treat sign for the little ones should be adorable. Use vinyl banners or one of our free-standing constructions to display your graphics outdoors. The tiny trick or treaters will be in glee over these! BTW, did you know that Halloween only became popular in the USA in the second half of the 19th century? Little by little, the trick or treating tradition was adopted as a beloved part of the celebration.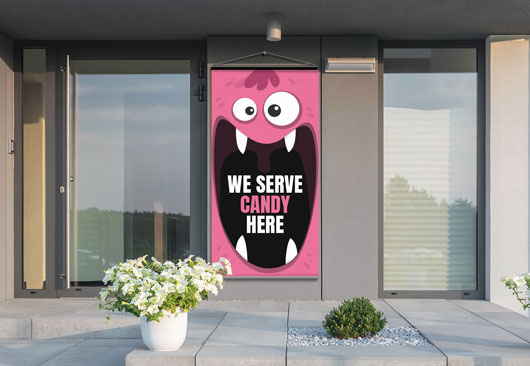 Take a look at our article on Halloween banners for more ideas. We've got everything you need.
Vintage Halloween Signs
Vintage is one of the most popular styles for Halloween decor signs. With that in mind, we've got lots of vintage Halloween signs for your festivities.
Idea 7. Vintage Halloween town sign
Get a welcome to Halloween town sign to greet your guests as they arrive at your party. You can also get the design printed on retractable banners to make a cool backdrop. It will set the scene for the best photoshoot ever. Make sure your guests remember the celebration for the rest of their dreadfully delightful lives. You can customize the text or graphics in our design platform just like we did for this example.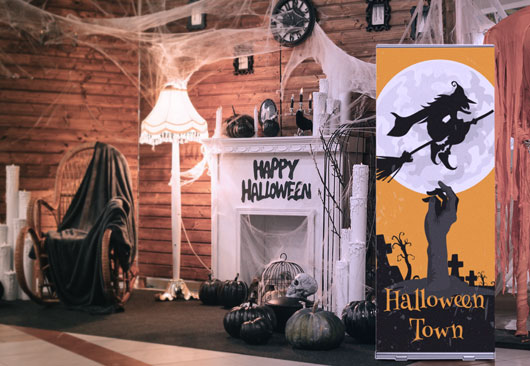 Explore more Halloween Backdrop Ideas and choose the one that suits you best.
Idea 8. Vintage beware Halloween sign
Wooden signs are ideal for vintage style 'beware' displays. You can place them on shelves, use them as centerpieces or have them decorate the walls. Custom acrylic signs are another recommendation for this kind of Halloween display. We offer a number of mounting accessories for all our signs. Choose the one you need from the menu in our design platform.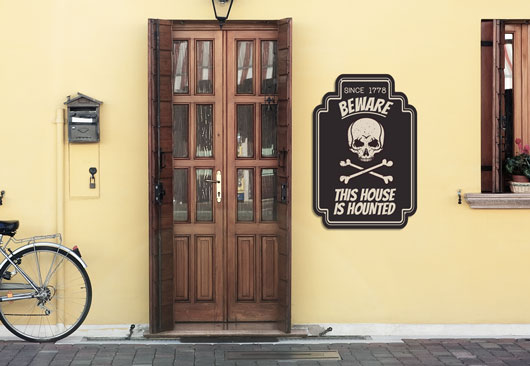 Check out our article on Happy Halloween Signs to find more exciting celebration ideas.
Bonus: No Halloween Sign
You have the full right to refuse celebrating Halloween or any other holiday for that matter. Whatever your reasons, we have a 'not participating in Halloween' sign just for you. Customize it the way you want with our design tool. It's as easy as no-pumpkin pie. Speaking of pumpkins... Did you know that originally, turnips were used to carve jack-o'-lanterns? As time went on, people started using the pumpkin in North America because it proved much bigger and softer for carving.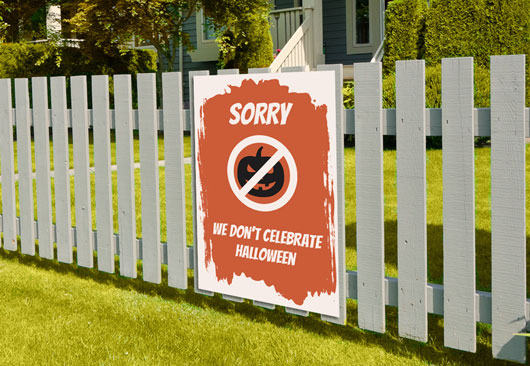 Nervous about bringing these Halloween sign ideas to life? Don't fret! Design your custom Halloween signs to print with our user-friendly tool for design. Read the next section for step-by-step instructions.
How to Make Halloween Signs with Square Signs
Your Halloween decor signs are just a few clicks away with Square Signs. Follow these easy steps or watch the video below to learn how you can bring your Halloween sign ideas to life before time runs out.
Step 1. In the left-hand menu bar of our design tool, choose the product you want to use. We have various materials to suit your needs.
Step 2. Specify the size of your sign. We've included a comparison chart with an average person's 67-inch height reference to make things clear.
Step 3. Go on and specify the options and accessories. They include things like shape, mounting method and so on to satisfy all your needs.
Step 4. Design! Choose from thousands of templates, elements, backgrounds and fonts. You can even upload your own images to print or modify.
Step 5. Double check all the product options and accessories. Add the item to your shopping cart and follow the steps given to place your order.
Certain images used above are based on our free, designer-made templates. Click on them to open up the sample from one of our many categories. From there, feel free to click on 'design now' to add your own final touches to the display. Watch the video below for more in-depth instruction on how to use the features in the platform.
Go to our design tool now and enjoy creating your own Halloween signs. We hope you have a killer celebration this year!