If you're wondering how to decorate an office at home, you're in the right place. You won't have any trouble feeling motivated and productive once your home office becomes your favorite place around.
Accent pieces and refined arrangements are key home office decor ideas you'll want to emphasize in order to create an uplifting environment.
This article will show you 12 home office decorating tips to create an incredible workspace.
Here's how to decorate a home office from scratch!
Tip #1: Embrace art for a sophisticated look
Creating a visually pleasing atmosphere is crucial for a room you'll be spending a lot of time in. Reinvigorate your surroundings with stunning canvas prints or foam board printing. One or two intriguing pieces of artwork can instantly elevate the decor mood regardless of your home office style.
We often wonder how to decorate a home office without drilling holes in the wall. In this case, you can arrange the canvases on shelves instead of hanging them.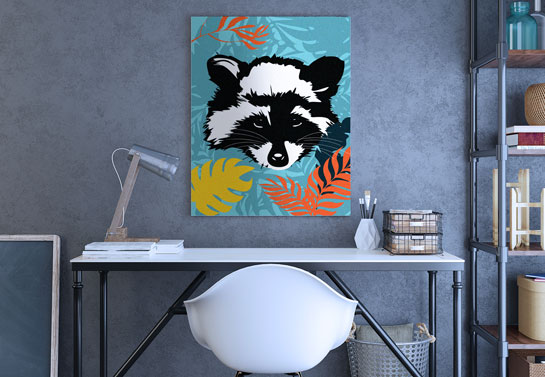 Tip #2: Make your home office stylish and functional
If "how to decorate my home office while keeping it functional" is a question you've asked yourself, then this tip is for you. A coffee break is all it takes for you to get back on track. Create a coffee station in your home office to help you stay focused.
Wooden signs can come in handy for this decorating approach. Install a hook rack to hang your mugs onto. Place a decorative wooden plaque above the cup rack for the finishing touch to your coffee station. This is an ingenious space-saving hack!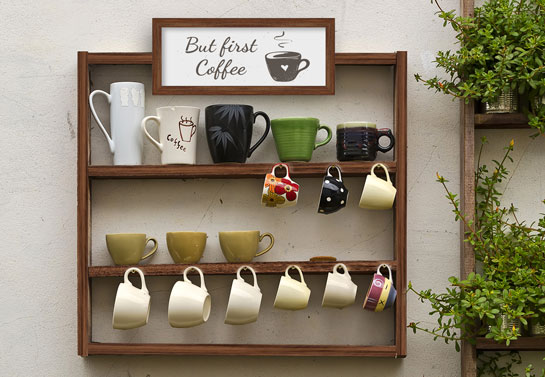 Tip #3: Boost your morale using power words
If you're still wondering "how to decorate my home office," then why not write uplifting words on the wall?
A few words of encouragement is all it takes to get back on track. Print motivational texts on the wall to get inspired. Vinyl lettering is a great way to accentuate a dull surface.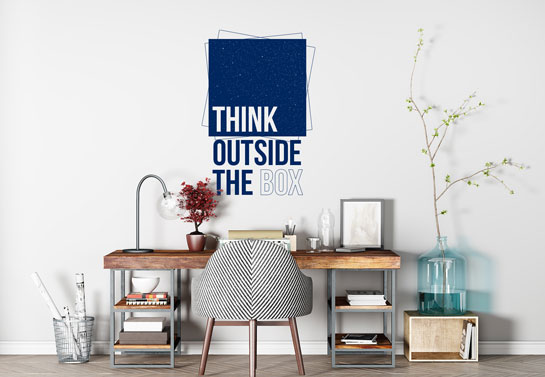 Tip #4: Upgrade surfaces with eye-catching designs
Wall decals can confer liveliness when you select the right ones. Experiment with large decals if you want to add a pop of originality to your workspace. You can also use small decals to integrate interesting elements into your interior design. Have a look at these home office decoration templates to get inspired.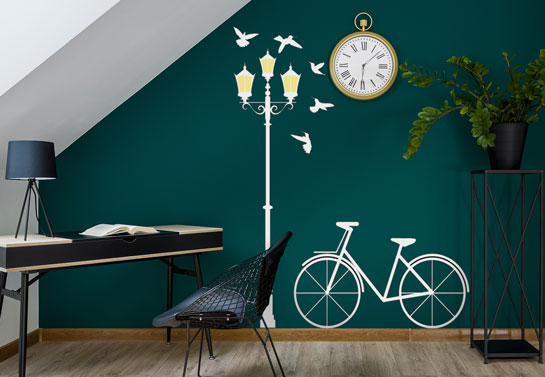 Focus better with these home office decorating tips!
Tip #5: Adorn the room with souvenirs
Think of your workspace as the canvas of your life and let it tell your story. Adorn your walls, shelves and desk with souvenirs and photos from your travels and nights out.
If you like crafting, create a memory board where you can pin your favorite photos. Seeing photos of fun memories will improve your mood drastically.
Tip #6: Keep the messy papers out of sight
The last thing you want is your workplace to resemble a jungle. Organize your files and papers into cabinets for a neat and accessible set up.
Consider organizing your drawers with dividers. It's the best way to keep your elegant office from chaotic jumbles. Cabinets achieve that classy home office decor vibe by clearing away unnecessary items.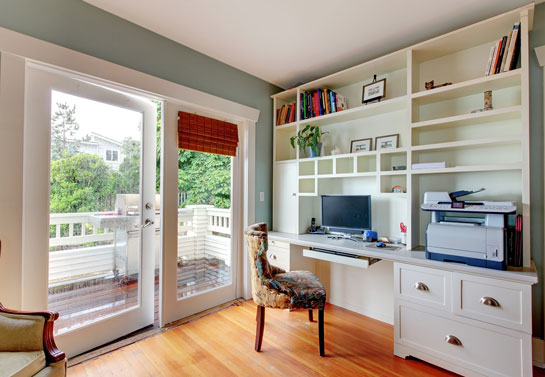 Tip #7: Stay polished with simple decor
You've probably wondered about how to decorate a home office space to make it look bigger and more inviting. Here's the trick: less is more.
Adorn your office with simple furniture and don't clutter it with things you don't need. For instance, get a folding table if your workspace is tight. As far as home office decorating tips go, this one's a winner for limited spaces.
Tip #8: Choose a calm color palette
Work can be frustrating from time to time. Take it upon yourself to make your home office as relaxing as possible. Being intentional with details and embracing natural light is a great place to start. You might want to choose a pastel or sky blue as your office's main color.
According to color psychology, blue has a soothing effect on people and it helps you to relax. That's why blue is a common bedroom color. So, trust the science and incorporate blue into your home office as much as you can.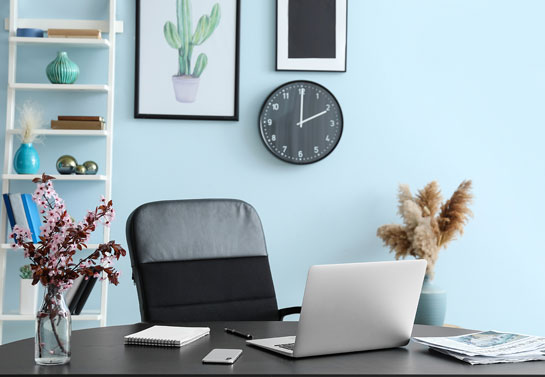 Check out these home office color ideas for inspiration.
Tip #9: Invest in exercise equipment
You don't need a gym membership to stay fit. Create a workout corner in your home office and furnish it with light exercise equipment. Dumbbells, resistance belts and an aerobic stepper will do the trick. Schedule breaks during the day to work out. This will boost your concentration, keep your body in shape and improve your mood all at once.
Tip #10: Make your office a fun place to work
Make your home office look like a bohemian dream by getting a hammock chair. Fun and relaxation will both be guaranteed during your breaks with this addition.
Lounging in a hammock will reduce your stress and thus improve your productivity. Decorate it with patterned throw pillows and you'll be good to go.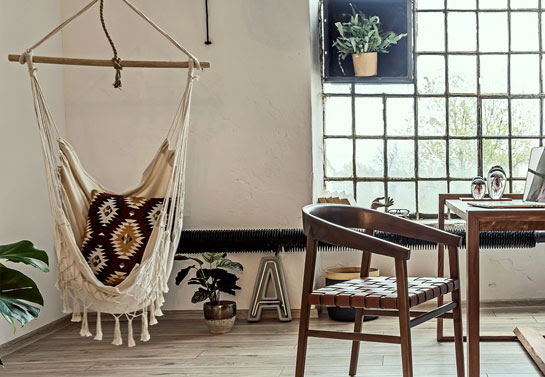 Tip #11: Stay organized with a whiteboard wall
Skip the paper and organize your thoughts on a whiteboard wall. Paper takes up too much space in your office, especially if the room is small. A board with an acrylic surface will look high-end and professional.
Plus, having a whiteboard wall will force you to stand up to write once in a while which will be beneficial for your physical health. Sitting in your chair all day is one of the worst things you can do for your body. Don't forget to stretch your legs and take short walks, too.
Tip #12: Give yourself a nice view
You'll be spending most of your days at the office so you might as well have a nice view. Place your desk in front of the window to glance outside whenever you have low energy. This is how to decorate a home office space that will empower you to reach your dreams! If you don't have big windows or they don't provide a nice view, you can get massive custom acrylic signs or custom aluminum signs printed with natural scenes and install them on your walls.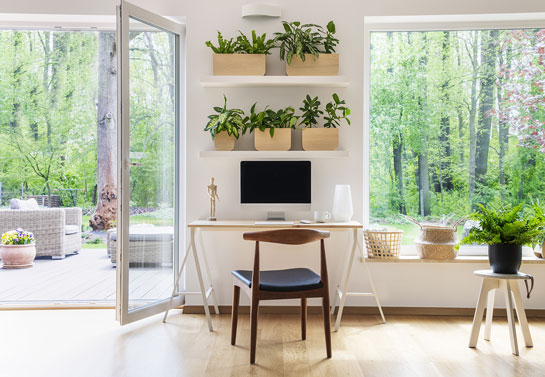 Bonus tips: How to decorate your home office like a pro
Tip #13: Make yourself at home
We all need to rest from time to time. Before you lay down on your bed or couch and feel tempted to take a long nap, get an ergonomic lounge chair instead.
Lounge chairs are perfect when combined with a laptop or an intriguing book. They are comfortable but not too comfortable to want to nap on, making them perfect for your home office.
Tip #14: Make your office pet-friendly
This one's for all pet owners! Make your office cat-friendly by setting up cat shelves and perches on the wall.
This home office decor tip is not only adorable but it also helps you save space. This way, your cat will never get bored and will even get the workout it needs.
As for dog owners, Fido will appreciate a dog bed next to your desk.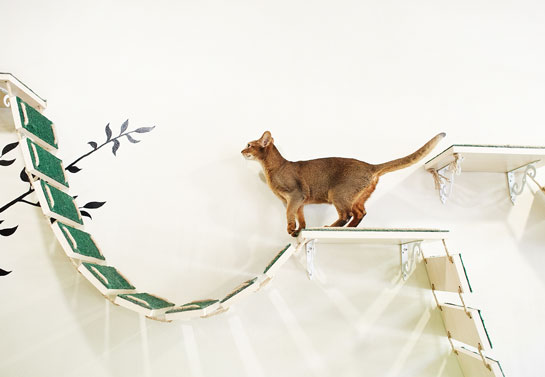 Tip #15: Make a stylish statement
Let your office be both functional and chic. Add a pop of color with a textured rug. An accent piece is all you need to elevate the decor of your home office. A rug adds warmth and defines a room's character, so make sure to invest in a stylish one.
Now that we've highlighted the coolest tips on how to decorate your home office, it's your turn to try them out. Refer to this article next time you ask yourself how to decorate an office at home. Use our intuitive design tool to create custom designs.