Looking for outdoor party decoration ideas? Then you're in the right place. This is a complete guide on how to decorate the backyard for a party. We've included decor ideas for special occasions and simple gatherings that will leave everyone happy. From wooden signs to banners, balloons and welcome boards, you can find the perfect idea for your celebration here. I'll also share important tips and highlights in the second section to bring it all together so you can get the party started!
Outdoor Party Decoration Ideas
Whether you want to throw a party for your kid's birthday or a wedding in your backyard, you'll need garden party decoration ideas to brighten up the mood. Keep your guests entertained with these highlights and throw a party no one will forget.
Cute Backyard Party Decoration Ideas for Babies
Toddler parties should be colorful and whimsical. These outside party decoration ideas for a baby birthday or shower will help you celebrate your precious one as well as parenthood with style.
1. Baby Shower
Baby showers are typically gender-neutral so parents can reveal the gender of their baby during the party. In any case, feel free to use your favorite colors in combinations that feel good for you. Here are a few outdoor party decor ideas you should use:
Welcome guests with sandwich boards or retractable banners
Arrange lots of balloons with cute prints
Use curtains as backdrops for a breezy feel
Hang up cool and colorful thematic garlands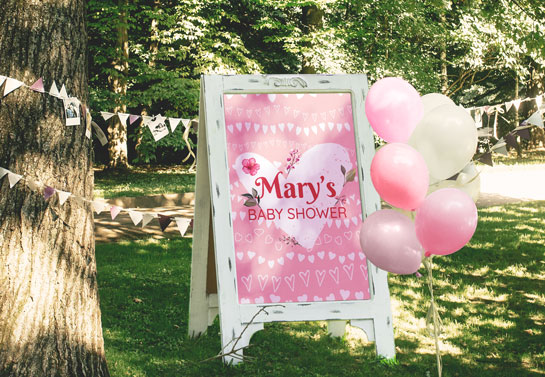 Whichever style you choose, remember that your decors should be playful. Finally, organize different games and gift raffles to make the party not only beautiful but also engaging.
Make sure to read our article on 10 Backyard Baby Shower Decoration Ideas For A Bumpin' Party to make the joyous occasion even more remarkable.
2. Birthday Party
Planning to host an outdoor b-day party for your little one? There are a lot of outdoor party decor ideas to fill the air with giggles and good vibes.
Fill a pool with mini air balls for your little guests
Hang photo prints of your child's monthly milestones
Get a photo booth or backdrop with a step and repeat banner
Set up a gift table with cute signs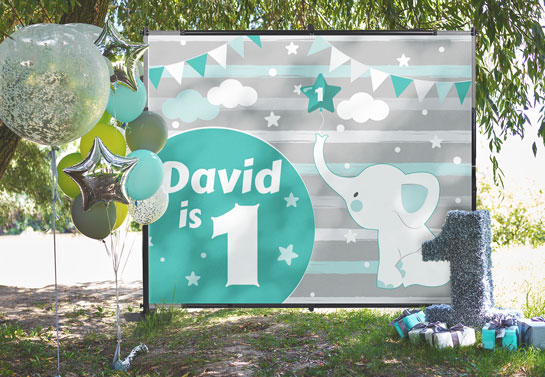 These cute and simple backyard party decorations will make your party unforgettable. Don't forget to think of activities for older kids so they don't get bored and ruin the whole party. You can arrange a craft table or organize different games to keep them entertained.
Cool Outdoor Party Decor Ideas for Teenagers
Parties for teenagers are a lot of fun. Whether you want to host a birthday party or a movie night in your backyard, these garden decoration ideas for a party are ideal for adolescents.
3. Outdoor Movie Night
All teenagers love movies. They'll love it even more if you organize an outdoor movie night. To make the party special, make use of these cool yet simple backyard party decorations.
Use a clapperboard or camera-shaped yard sign
Spread pillows and quilts for everyone to sit on for a cozy vibe
Use star-shaped decor pieces to give the space a Hollywood make-over
Go for thematic decors according to the movie you chose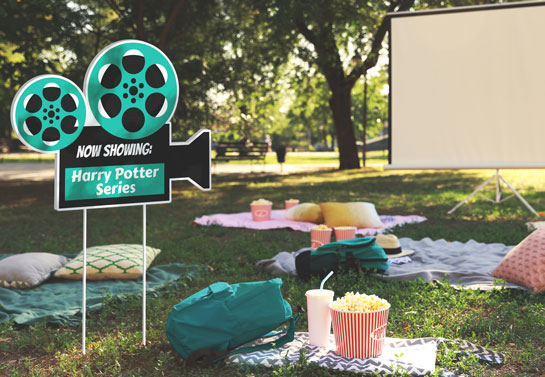 These ideas will make the night extra cool or groovy or whatever they call it these days. You can also have a snack table for popcorn and sweets to keep things sweet and organized. Take it to the next level by sending out invitation cards that look like movie tickets. This will add an authentic touch and make the invitees feel like VIPs.
4. Teenager Birthday Party
A teenager's b-day celebration should be nothing less than fabulous lest you want to deal with their angsty side. These outdoor party decor ideas will help you throw the most unforgettable party for the celebrant.
Put up an "official teenager" and "cheers to 13 years" on corrugated plastic signs
Prepare an Instagram photo booth frame
Display number decor to showcase the age of the celebrant
Use a disco bulb to fill the party with colors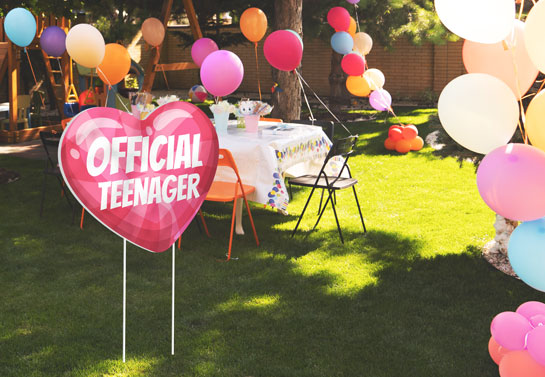 The guests will love these backyard party decoration ideas. Make sure to prepare cardboard sunglasses or mustaches for extra flair at the photoshoot.
Go on and read our article on 12 Cool Outdoor Birthday Party Decoration Ideas For Kids And Adults for even more inspo.
Fancy Outside Party Decoration Ideas for Adults
Speaking of outdoor parties for adults, they are no less fun than that of kids or teenagers. You can either throw a party for a special occasion like a wedding or just have a relaxing time with your friends. In any case, you'll want to decorate your venue to make it as welcoming as possible.
5. Spa Party
Do you need some rest and relaxation time with your girlfriends? Then you deserve a spa party! Take a look at this list of outside party decoration ideas to turn your garden into a 5-star sanatorium.
Add an ethereal touch with flowing white curtains or a tent
Organize supplies for different tables and set up acrylic signs on each
Use cute stickers to identify all the supplies
Fill the pool with foam, bath bombs or balloons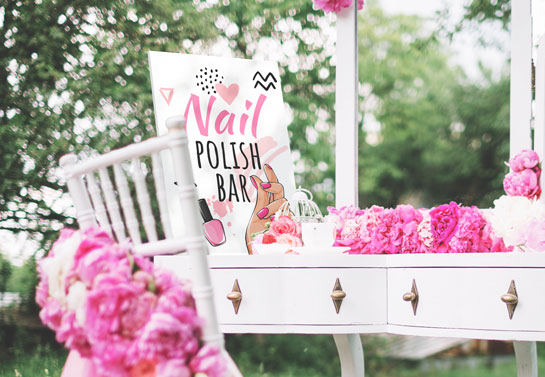 Colors set the vibe of an event so make sure to choose the right color theme. Finally, make your guests feel special by preparing a basket with headbands, nail and makeup supplies, candles, and chocolate for each of them.
6. Wedding Celebration
Decorations are the key to transforming your outdoor wedding party into a fairytale. Here is a list of outdoor ceremony decor ideas that will make the big day an ideal start to a new life.
Get a wooden board printed with your favorite quote
Prepare an arbor with floral arrangements
Showcase photos of the happy couple 
Use candles to light up the evening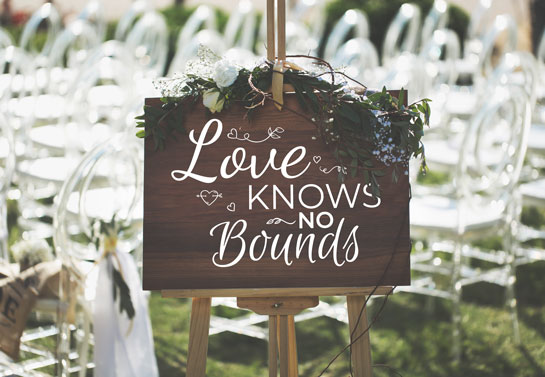 Whatever decorations you choose, they should also have a common thread. You can keep everything in harmony with a certain color palette or overall theme.
For more magical ideas, read our article on 13 Simple Outdoor Wedding Decorations.
Elegant Backyard Party Decorations for the Elderly
An outdoor party for the elderly? That sounds like a good ol' time if you ask me. No matter what occasion you have planned, you'll want to turn your garden into a classy and relaxed venue. Or get crazy, who knows.
7. Retirement Party
Retirement is not about getting old, it's about getting your long-deserved vacation! You deserve a show-stopping party for the day. Here's a list of decorations to prepare.
Arrange funny quote prints all around

Hang a prominent "Happy Retirement" garland

Set up an honorary achievement board 
Display a travel wall with a map of countries to visit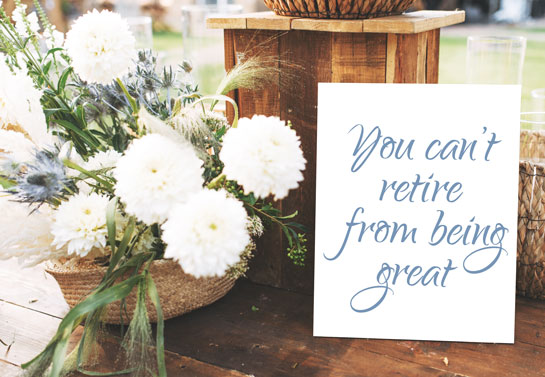 You can use these decors for different occasions. Prove the neighbors wrong in case they don't think you can still throw a wild party just because you've grown more mature.
Use our event templates to bring these ideas to life. They are easy to customize and can be used on various products
8. Wedding Anniversary
Are you planning for a big wedding anniversary celebration after all these years? Throwing an outdoor party is a perfect way to mark the grand occasion! Take a look at these elegant backyard party decorations for a truly memorable day.
Get a sassy "Just Married Again" sign

Hang a string bulb for ambiance

Arrange a family tree with photos

Use foil whirls to decorate your outdoor plants

Your wedding day was certainly a memorable one. To stir up that bittersweet feeling of nostalgia, go with the same theme and style as the original.
Bonus DIY Outdoor Party Decorating Ideas on a Budget
Throwing a party and want to spend as little as possible on it? Or maybe you're looking for DIY garden party decoration ideas? This section is the right one for you. Take a look at this list of cheap backyard party decorating ideas you can easily DIY.
Make a sculptural balloon backdrop
Hang hand-made paper lanterns
Use mason jars as candle holders
Cut and use fresh flowers from your garden
Use bandanas or paper cut-outs for garlands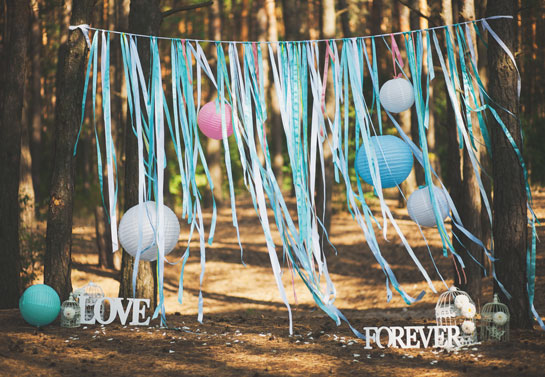 These backyard party decorating ideas on a budget will make your party glow. Make sure to store all the reusable decorations from this party in a safe place so you don't have to buy or make them again next time.
Tips and Highlights: How to Decorate the Backyard for a Party
Besides the DIY backyard party decoration ideas, I'd also like to share important tips on how to throw and decorate any party like a pro. Take a look!
Tip 1. Use Outdoor Rugs
Cover up the ground with outdoor rugs to give the space a more tidy and luxurious look. They'll also help you designate the spaces you want your guests to relax, not to mention make them feel like kings and queens.  
Tip 2. Get Creative With Light Strings
LED light strings can be used to create an enchanting atmosphere in your garden. Here are a few methods to try. Put water-proof ones in the ice basket to light up drinks, wrap twinkling ones around trees or hang color lights around the tables. Use outdoor lighting to illuminate your home and garden with a touch of magic.
Tip 3. Use the Decorations You Already Have
Make sure to repurpose decorations you kept from previous parties or ones you already use indoors. Your living room decors can be used as cool backyard party props. Just be selective so you don't ruin expensive items.

Bonus Tips: How to Organize a Flawless Outdoor Party
Let's face it. However fun parties are, they can also be stressful. Decorating your garden, thinking of activities to keep everyone entertained, taking care of food and other supplies can all be overwhelming. Here, I have tips that will ease the organizing process and help you enjoy the party to the fullest.
Tip 1. Make Use of Disposable Supplies for an Easy Clean-Up
Use disposable tablecloths and other supplies so you don't have to clean everything up for three days after the party's over. You'll want to use eco-friendly or recyclable materials so you don't create needless waste and give your conscience a break.
Tip 2. Keep Mosquitoes Away
Unfortunately, mosquitoes can be a real nightmare when it comes to outdoor activities. Get rid of them simply by having two or three fans around the parameter or arranging beautiful lavender bouquets to repel them with the scent.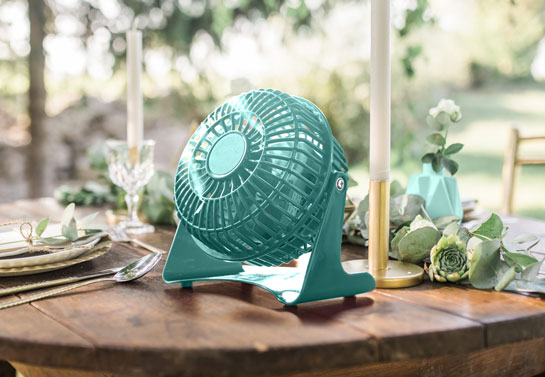 Tip 3. Have a Fun Ice-Breaker Game
You want your party to be fun, don't you? Organize an ice-breaker game to get the party started. An ideal game would be one that helps people get to know each other while they get into a fun mood.
Ready to have the most memorable outdoor party of your life? Square Signs has you covered. Create your decor with our sign design tool. We'll take care of production and have them delivered straight to your door.