The average American spends about 8.5 hours in their car every week. That's more than a full working day! With that said, the least you can do to make the most of this time is to personalize your car. These 15 funny and cool rear window decals make an ideal choice for satisfying the witty side of you! I'll also share effective tips and highlights you should take into consideration to determine the right designs.
Cool Back Window Decal Ideas to Distinguish Your Car
Car decals come in a range of types and serve various purposes. You'll get a full package of ideas below! Let's get into them right away.
Funny Family Decals for Back Windows
Family or stick family stickers are the most recognizable car decals around and they're a lot of fun. Here are 3 cool ideas to creatively decorate the rear windows of your car with these.
Idea 1. Feature the Hobbies of Family Members
Each member of the family has a favorite activity that characterizes them best. This is a good visual to start with when creating a stick family. Feature each member getting busy with their favorite activity. The more specific you get, the funnier the outcome will be! Here is an example.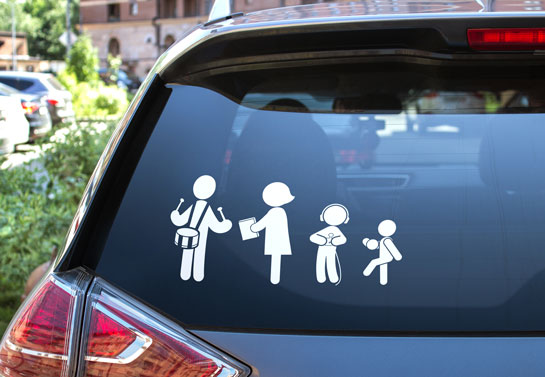 Idea 2. Show a Humorous Approach to the Single Mother/Father Status
Missing a partner in the family? Embrace a little bit of humor and your stick family will be ready to rock rush hour nevertheless. Who knows, this could be your opportunity to fill in that empty position with true love! The road is your oyster, after all. This is what it will look like.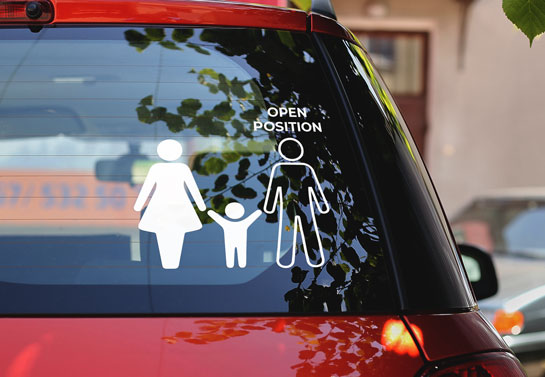 Idea 3. Do You Have a Family of Superheroes?
Let your imagination run free and choose the perfect superhero characters to represent your family members. Consider movies or cartoons that are family favorites. Here is what it will look like for inspiration!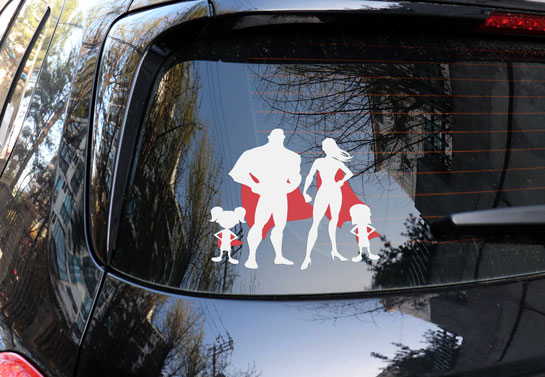 Need a design other than the above examples? Maybe your family would rather embody animals or at least include the pets? Create your own funny family decals for the back window with our free sign design tool.
Cute Back Window Decals for Child Notice
Regular notices are so widely used they don't grab much attention anymore. This is why you need an alternative like the ones included here.
Idea 4. Use Eye-catching colors
When it comes to important notices, it's wise to choose colors that will draw attention. Yellow is often used for child notice stickers because it's easy to spot. Here is an example.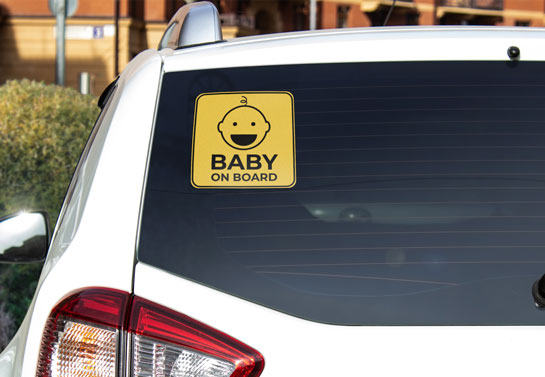 Idea 5. Let People Know That a Baby Is on Board… With a Twist
"Children on board" notices are very important and they don't have to be dull. Featuring a baby on a real surfboard is a cute alternative. Here is a good one to stick to the rear window of your car.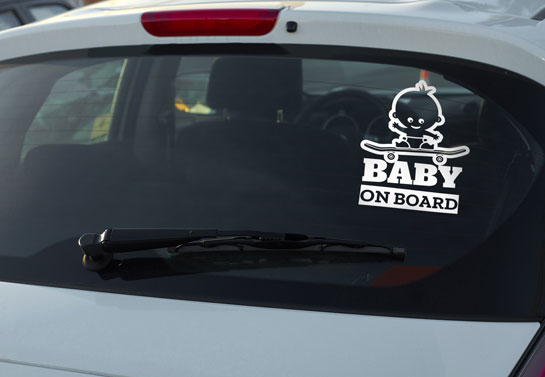 Idea 6. Choose a Cute Silhouette Image
Sometimes a cute image of a baby is enough to make for the best back window decal. This sweet idea will make the driver behind you smile and drive more carefully.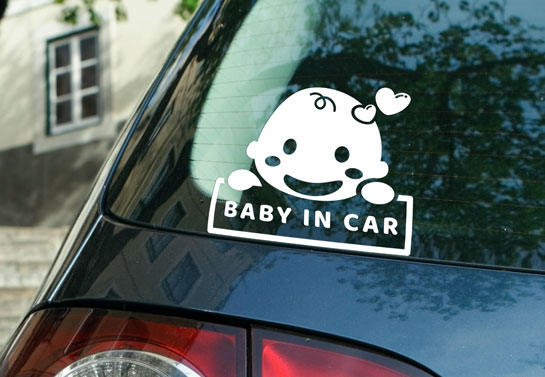 Do you need to decorate the windows of your home? Our article on Home Window Decoration Ideas will help you out!
Idea 7. Tell Them Who the Boss Is
Who doesn't love the Boss Baby? This character will make funny back window decals for your car. With a lot of options for it on adhesives, here is a classy one you can get behind.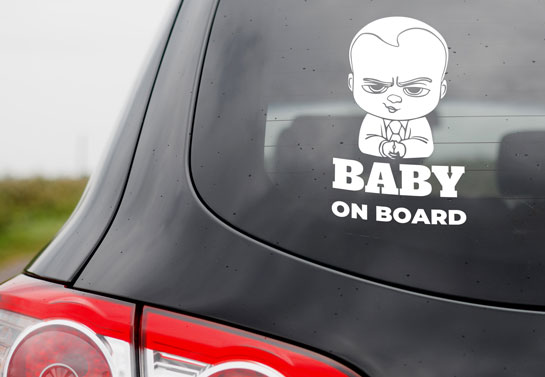 Bring these and more cool ideas to life without a hitch. Our designers have created decoration templates you can use free of charge. Choose the one you like best, customize it with the free design tool and order right away!
Cool Back Window Decals for Keeping Distance
With social distancing now being the main focus, people are even more likely to forget about car distancing. No matter how fast you go, there are still those people who like to drive you nuts by driving right behind your car. Sarcastic quotes make for a clever way to ask them to back off.
Idea 8. "Welcome" the Driver of the Car Behind You
Is the driver behind getting too close to your car? "Welcome" them in with this satirical quote for the back window. Click on the image to use this template and order your sign or scroll down for more cool rear window decals.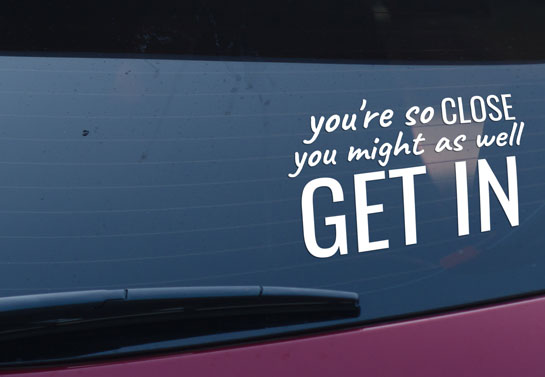 Idea 9. Kindly Inform Tailgaters Their Strategy is Counterproductive
There are people who think they'll make you drive faster if they drive very close to your car. Let them know it's not going to happen. They can either keep a safe distance from your car or slow themselves down even more. Here is what it will look like.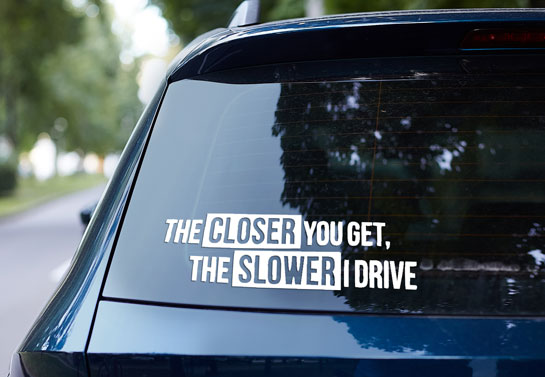 Idea 10. Add a Little Humor
Approaching the situation with humor is always a good idea. Drive safely and encourage other drivers to keep the 2-second distance rule.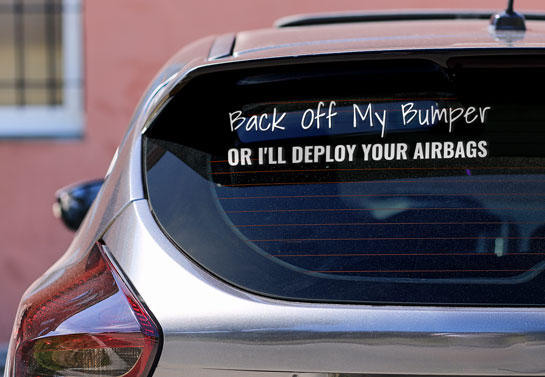 Idea 11. Keep Up With Trendy Topics Everyone Relates To
Which is the most used term in 2020? Hint: it's COVID-19. It always helps to look at tough situations through a humorous lens. This idea makes a perfect choice to stand out, lighten the mood and look hip.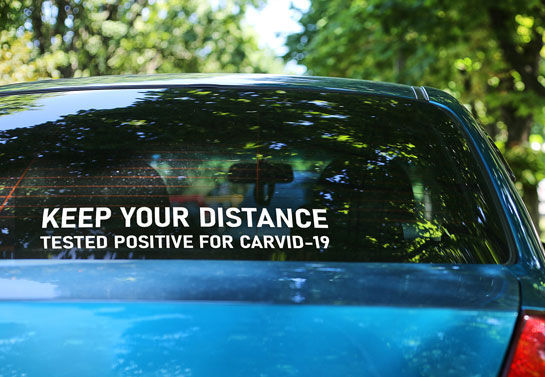 Funny Rear Window Decals With Hilarious Quotes
Funny quotes make great rear window decal ideas. To create them, vinyl lettering is your best medium. Here are a few quotes that will tickle your imagination!
Idea 12. Do People Say You Don't Drive Well?
Since we are speaking frankly here, it's unfortunate that you can't be a perfect driver for everyone. To make up for it, you can crack them up with funny back window decals like the one below. This idea is especially fitting for new drivers without much experience.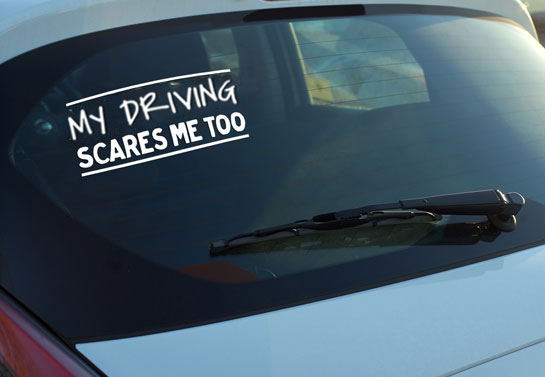 Idea 13. Have Fun and Make Other Drivers Laugh Too
Do you ever get the feeling that someone is following you? Or maybe you thought you could get right to where you needed to go by following the driver in front? This wacky quote is ideal to make your car stand out.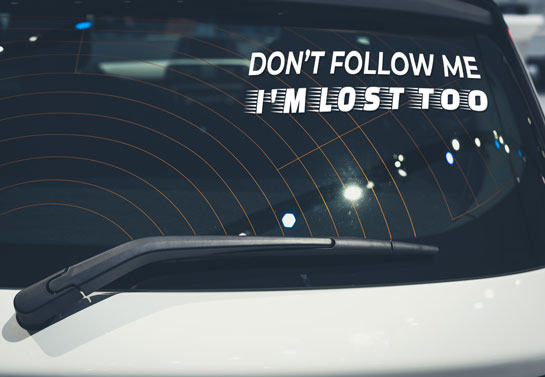 Idea 14. Drive Slow and Steady to Win the Race
Aren't you just the biggest fan of driving fast? Not if you're racing for the win! Slow beats fast anyday and is safer for everyone. Let other drivers know your pace with funny rear window decals. I have a cool example here. (Make sure to take into consideration the state regulations in regards to speed!)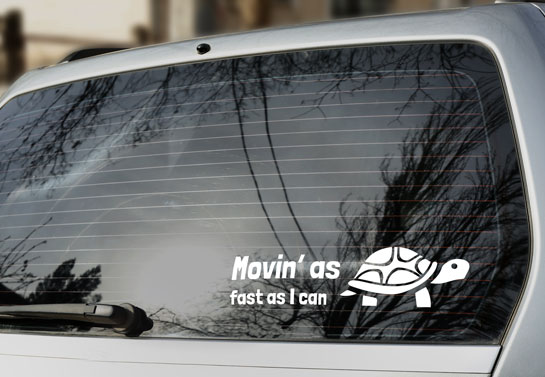 Related: Check out our article on Window Decoration Ideas for your home, business and beyond.
Best Rear Window Decals for Privacy
Privacy is essential even inside a car.  Perforated window decals are your best choice as they obscure sight from the outside without blocking your view from within the car. Just make sure to double-check whether they are allowed in your state. Here are the best back window decal ideas for creating privacy.
Idea 15. Promote Your Business
Use the surface area of your vehicle wisely and advertise on the go! Car branding is a commonly used promotional tool. The rear window makes a widely viewed and affordable option to advance your brand, products and services. It's an ideal choice for small business owners!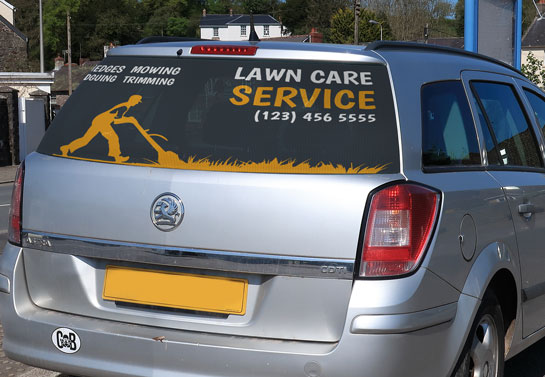 Idea 16. Personalize With Your Hobbies
We all want to personalize our cars with stand-out back window decals. What about using that one activity that makes your soul shine? Hiking, surfing, mountain biking… anything of your choice. Here is one for paradise lovers.
Create your own designs with Square Signs! All the above-mentioned ideas are based on the templates available on our website. Use them or create your own from scratch and enjoy the best back window decals to ever hit the road.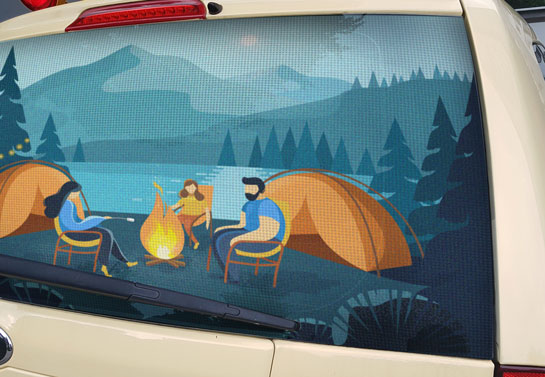 Bonus Back Window Decal Tips and Highlights for Optimization
Now it's time for useful tips to help you with choosing and applying your clever rear window decals.
Tip 1. Look Out for State Regulations
The regulations for adhesive car decors differ from state to state. When it comes to rear windows specifically, only some states allow them as long as the two side-view mirrors function properly. In other states, the law cracks down on their usage. You may get a ticket or need to remove them right away. The size of the sticker plays a crucial role in the qualification as well.Restrictions are different for promotional stickers. Make sure to check local rules and regulations to avoid any unwanted attention from law enforcement.
Tip 2. Take the Curves Into Account When Measuring
The rear window of a car has curves and angles that should be taken into consideration when deciding on correct size and placement. This is especially true with larger stickers.
Tip 3. Consider Wet Installation
When it comes to installation, it's not as easy as it may look. Consider wet installation for a smoother experience.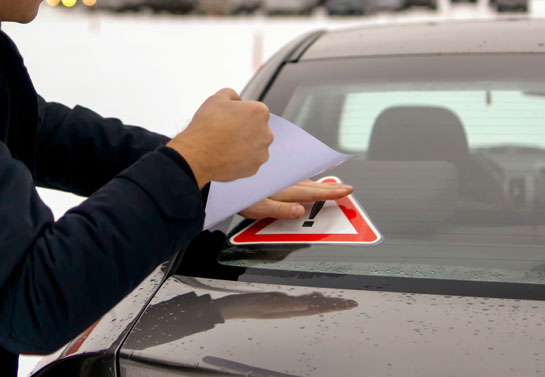 For more information, read our article on How to Make and Apply Car Decals.
Tip 4. Get Lamination for a Longer Lifespan
When used indoors, these products have a long lifespan, often exceeding 3 years. Lamination will prolong it even further! You can even choose between matte and glossy finishes. Choose the second surface printing option to stick them from the inside for yet another way to extend their life-cycle.
Now it's time to choose the best rear window decals for your car. Order with Square Signs and enjoy a wide selection of free templates, our intuitive design tool, high-quality products and exceptional service.