It's Fiesta time! Get ready for mouth-watering tacos, nachos and margaritas. Kick off the festivities with Cinco de Mayo banners and set the tone for the holiday.
Professional sign printing will turn your home into a festive hotspot. Our themed custom signs will enhance Cinco de Mayo decorations indoors and outdoors. Go the extra mile and get fun step and repeat banners as backdrops or put up retractable banners for a lively touch.
Cinco de Mayo Signs for Different Businesses
Make your business stand out this holiday by incorporating personalized 5 de Mayo posters in your branding. Read on to find different decorative mediums including Cinco de Mayo banners which match your venue design.
Cinco de Mayo Signs for Restaurant Events
Are you serving Mexican food or do you simply want to be part of the celebrations? Notify your customers about your special dishes and beverages using Cinco de Mayo bar signs. Restaurant window decals showcasing special menus will attract attention. Give your customers another surprise and set the holiday menu on the tables. Double-sided PVC signs are ideal for this purpose.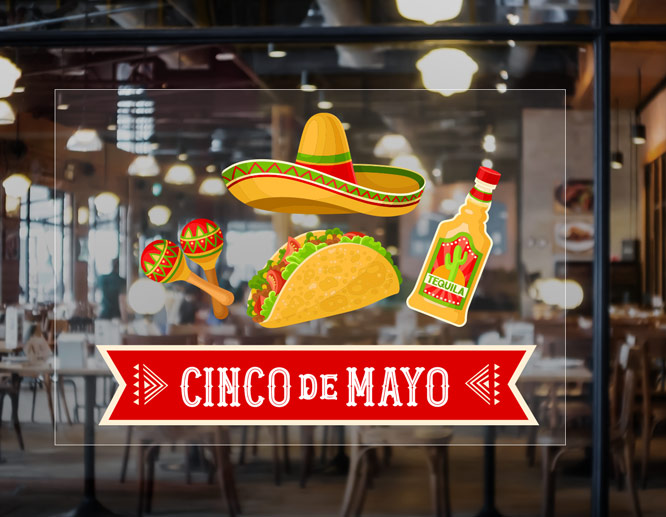 Cinco de Mayo Party Signs for Office Celebrations
Cinco de Mayo is a great opportunity for bonding with your team. If you're planning to celebrate the holiday at work, build anticipation around the elaborate party with a "Happy Cinco de Mayo" banner. Put up alluring x-stand banners at the entrance to display the event details in bold fonts. A Cinco de Mayo printable banner with a dancing cactus wearing a sombrero will catch the eye. If you also want to give your windows some flair, order complementary static clings in different shapes.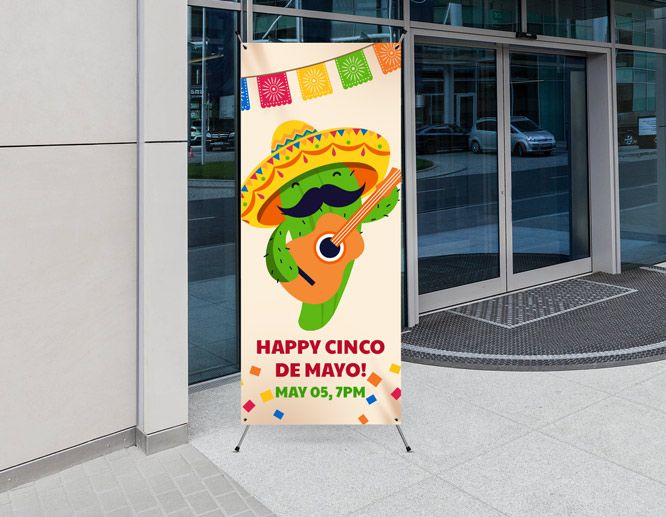 Did you know that Cinco de Mayo commemorates the battle of Puebla?
Cinco de Mayo Signs for Storefront Advertisement
Whether you offer thematic Cinco de Mayo merchandise or Mexican food, make sure to announce it with storefront 5 de Mayo signs. Let people know about your holiday sales and promotions through vibrant store window decals. The colors of the Mexican flag and easy-to-read fonts will make your "Happy Cinco de Mayo" sign even more effective. To gain more visibility, show off promotional sandwich board signs nearby.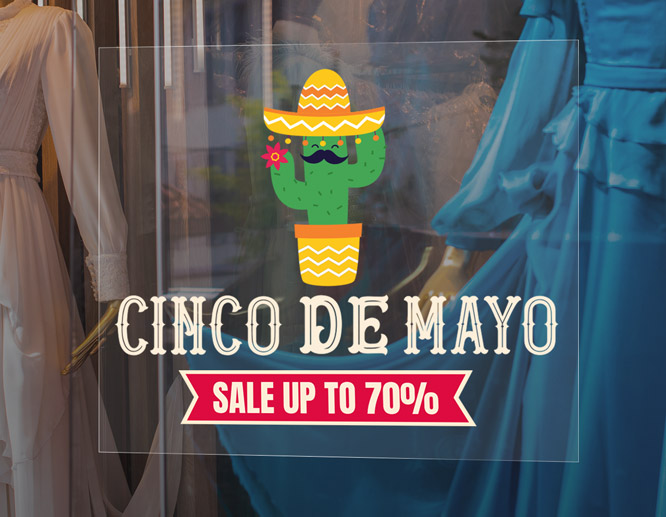 5 de Mayo Banners for Public Festivals
Celebrate Mexican culture with 5 de Mayo banners. If you're hosting public events like festivals and concerts, sizable custom vinyl banners will come in handy. Get a large "Happy Cinco de Mayo" banner to welcome festival-visitors. Use the Cinco de Mayo banner template featuring musical instruments to spread the holiday spirit. Display 5 de Mayo posters in highly visible areas if you want a bigger audience.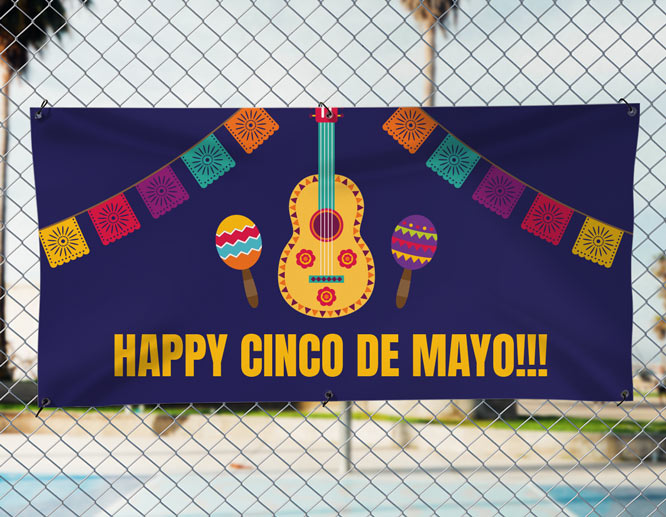 Happy Cinco de Mayo Signs for House Decoration
Decorate your house and set the mood for yourself and your family to celebrate Cinco de Mayo. Explore the following Cinco de Mayo banners and other decorative items to share the festive spirit.
5 de Mayo Posters for Interior Decor
Planning a family dinner for the holiday? Set the scene for the celebration with an appealing Cinco de Mayo sign. Enhance your interior decor by placing personalized foam board printing on shelves or hanging gator board printing on walls. The graphics of maracas or other instruments will give the setting a festive touch. Use a Cinco de Mayo poster template with adjustable elements to create unique illustrations.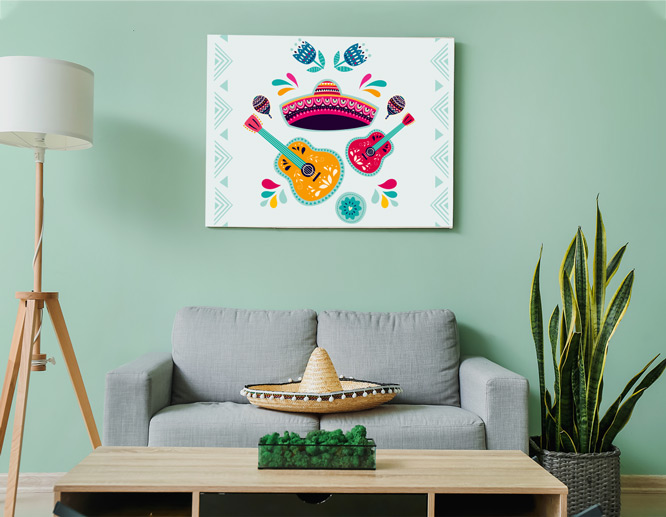 5 de Mayo Banners for Front Door Design
Join the festivities by decorating your house with Cinco de Mayo banners. Hang fabric banners on your fence to let everyone know about your family's cheerful mood. A "Happy Cinco de Mayo" banner illustrating a skeleton or colorful piñatas is a good idea to spread positive vibes. Take exterior design a step further by incorporating window clings. Funny "Cinco de Mayo" signs will add extra appeal to your house.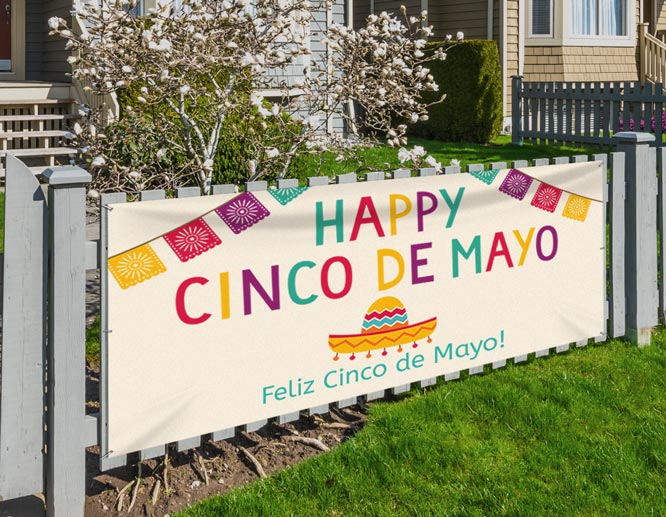 Happy Cinco de Mayo Signs for Yard Decor
Add a pop of color to your outdoor space with a unique Cinco de Mayo sign. Order custom corrugated plastic signs which will add a holiday feel to your lawn. Place your "Happy Cinco de Mayo" sign along the edges of your yard to congratulate passersby. Don't forget our intuitive sign design tool if you want to craft original Cinco de Mayo banners within minutes. Themed sign templates with adjustable elements will help you make unique Cinco de Mayo banners. They'll elevate your home decor and honor Mexican culture in all its colors.