Shine bright like a star with these celebrity inspired Christmas decorations!
It's no secret that celebrities know exactly how to decorate their humble mansions for Christmas - or at least their designers do. To spare you the envy of drooling over them all, I've gone the extra mile and searched for the coolest features of celebrity Christmas decorated homes.
Here, you'll find ideas inspired by celebrity Christmas decorations to create your own winter wonderland. They're easy to get your hands on so you can decorate like the rich and famous without being either. Make sure to reach the end for celebrity Christmas party themes and a bonus color chart to help you along. Feel luxurious this holiday season with decors ranging from wooden signs to colorful adhesives. You deserve the best after a tough year.
Get Designs Inspired by Celebrity Christmas Decorations
Idea 1. Kylie Jenner Christmas Decorations
What comes to mind when you think of Kylie Jenner? Glam and more glam, of course. The pink and gold Kylie Jenner Christmas decor she showed off on her Instagram stories inspired us to create our own. What do you think? I'm sure any girl will appreciate creative home window decals in her bedroom.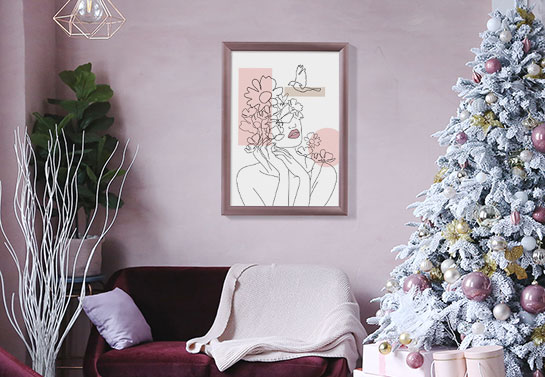 Idea 2. Kris Jenner Christmas Decorations
"The bigger, the brighter, the bolder, the better." This sounds so much like Kris Jenner, doesn't it? Her iconic Christmas decorations from each year continue to inspire us and we can't wait to see Kris Jenner's house decorated for Christmas 2020. You surely remember her huge red bear sculpture made of iron and glass, don't you? This acrylic sign is what you need as an alternative to add stylish celebrity Christmas decorations to your room.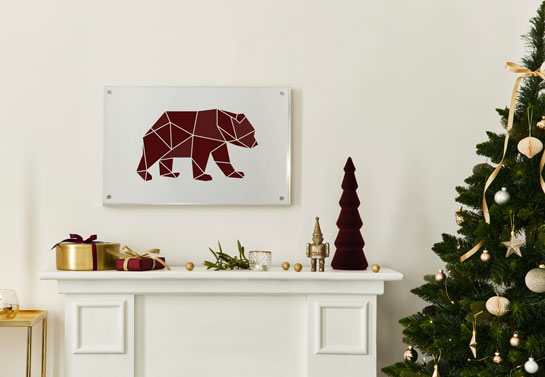 Idea 3. Mariah Carey Christmas Decorations
Mariah Carey's Christmas ornaments and of course hit song is an inseparable part of Christmas. If you need affordable celebrity Christmas decorations that look designer-made, here is one for inspiration. You can choose from a variety of lightweight materials like gator board printing, which is inexpensive yet high quality.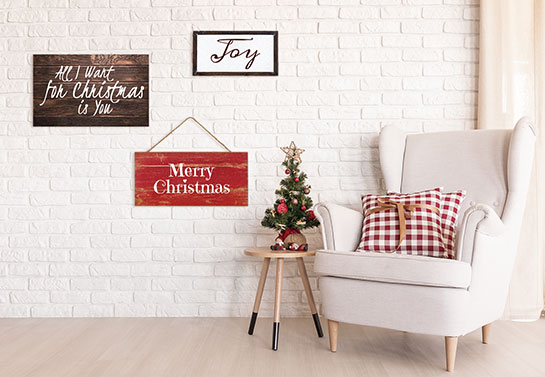 Idea 4. Kathy Najimy's Christmas Decorations
"Sister Act" star Kathy Najimy is not only an actress but also a Christmas enthusiast. Her celebrity Christmas decorated homes are a source of inspiration for us each year. Here is one simple yet stylish decor for your mantelpiece.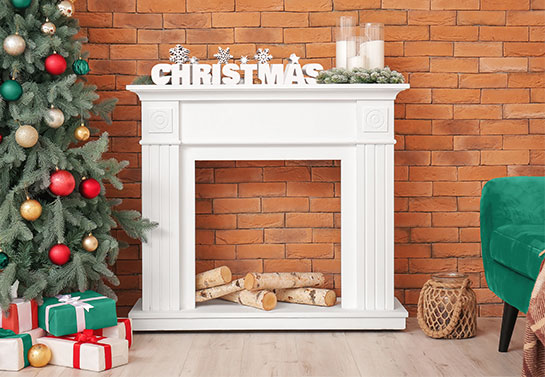 Idea 5. Christina Milian's Christmas Decorations
Christina Milian has some snowy celebrity Christmas decorations for us to get crafty with, too. Along with designer Charles Neal, she's created huge wall art for her Christmas-themed home decor. The winter look canvas prints we've designed will make your home look no less than the celebrity's Christmas decorated home.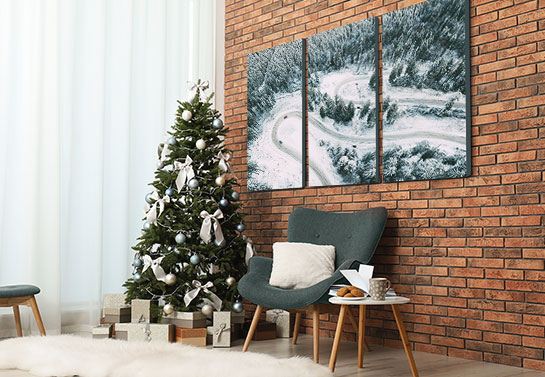 Idea 6. Kourtney Kardashian Christmas Decorations
The whole Kardashian family is fond of Christmas decorations. The klan's celebrity Christmas decorated homes are no doubt some of the best ones in Hollywood. If you've been keeping up with their decorations from year to year, you may have noticed that they're especially fond of gingerbread houses. Kourtney Kardashian was the one to make them a tradition starting back in 2015. Opt for foam board printing or custom aluminum signs to adorn your Christmas celebrations year after year.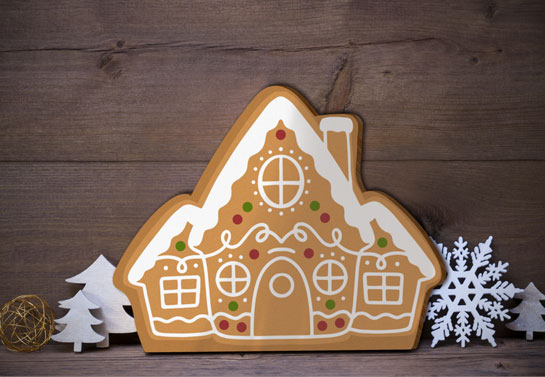 Idea 7. Gigi Hadid Christmas Decorations
Gigi Hadid stands out with bold style when it comes to celebrity Christmas decorated homes. We get inspired looking at the fashionable celebrity's holiday decorations. Here is an idea to decorate your home in Gigi style․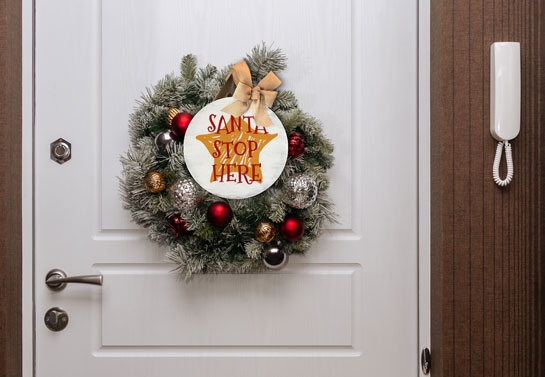 Interested in decorating your office for Christmas? Take a look at these 40+ Office Holiday Decorating Ideas and get your workplace in a festive mood.
Get Inspired by Celebrity Decorated Christmas Trees
Celebrity homes decorated for Christmas are not complete without grand and creative evergreen trees that sometimes aren't even green!
Idea 8. Choose Minimalist Decors like Victoria Beckham
Victoria has gone minimalist this year and decorated the tree with simple white and gold ornaments and lights. Her two-color Christmas tree idea may be just what you need this year. It's effortless, elegant and will clear your mind after all the overwhelm.
Idea 9. Don't Be Afraid to Mix It Up like Billie Faiers
Add all the ornaments you like from flamingos to ballerinas like Billie did. This eclectic style gives you freedom in colors and shapes. You can even gather favorites from family members. Billie's son adores the celebrity decorated Christmas tree and your children are sure to like yours, too.
Idea 10. Keep Up With the Kardashian and Go White
The Kardashian's Christmas decorations have managed to stay lush even with Kim K going all white with this year's Christmas theme. Her snow-dusted Christmas tree has absolutely no decorations other than lights. It looks natural and is easy on the eyes just as it is on time.
Idea 11. Place Multiple Trees at Once Like Demi Moore
Celebrity homes decorated for the holidays are often surprising. Demi Moore has shown off her indoor Christmas tree farm and it's enough to create a Hollywood holiday mood. You can ask each of your family members to decorate their own tree and have a Christmas tree family this season.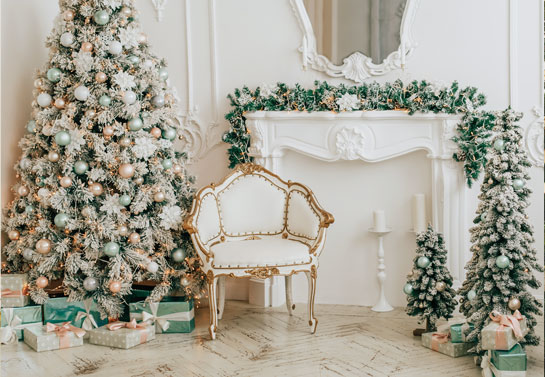 Spread holiday cheer with these 16 Christmas Window Decoration Ideas and Tips.
Celebrity Christmas Party Themes to Party Like a Pro
Celebrity Christmas party themes don't always require huge investments. You can create them yourself with the right colors and ornaments. After exploring all sorts of celebrity Christmas house decor ideas, I've gathered themes and styles you can easily use for your party this year. 
Kardashian Christmas Decorations Theme
Kris Jenner's house decorated for Christmas is an extravagant bouquet of elements. Her famous "Kandyland-chic" style decorations will long be remembered. Create your own party theme based on that of Kris' with red and white colors and candy cane ornaments.
Jennifer Lopez Celebrity Christmas Decorations' Theme
Jennifer Lopez has chosen a mild theme this year for Christmas decorations. Her white and silver Christmas tree exudes elegance and serenity. This is a gorgeous celebrity Christmas party theme especially if you have a white or creme interior and plan on having a classy cocktail evening.
Madonna's Celebrity Christmas Decorations Theme
Madonna is up for DIY projects this year! She and her kids created ornaments for their Christmas tree and put them up together. They crafted decors in the shape of stars, snowmen and a lot more! Hand-made pieces are a bold way to show your personal style. Plus, you'll have a great time making them with your family.
Bonus: Christmas Color Trends Chart
Colors of the year? We have an interesting palette this time around. From Oxford Gray to Golden Straw, the choice falls primarily on mute colors. You can, of course, choose your own palette when it comes to Christmas decorations. Here is the one we're in love with.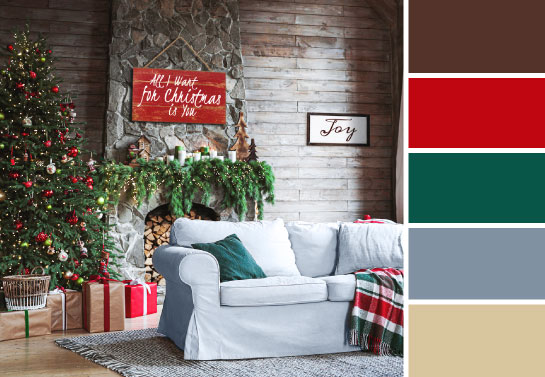 Are you ready to create your own celebrity home Christmas decorations? Make your house shine as bright as those of the brightest stars in Hollywood. The best part is that with the free design tool from Square Signs, you won't have to spend a fortune to do it. Time's almost up - create your decorations today!