The start of a new academic year is right around the corner. This season symbolizes the continuation of students' academic careers and their path to greater knowledge and wisdom. While parents are busy roaming around stationery shops, schools are decorating their campuses. Gear up for the new academic year by using unique back to school signs. Professional sign printing can help you establish a setting design which transforms the school grounds into a festive venue. Benefit from a wide range of custom signs to set up an inspiring atmosphere and make a positive impression.
Popular Back to School Banner Themes
The new school year is an occasion for enthusiasm. However, it might also carry some stress along with it. Alleviate it by embellishing the area with decorative media. Thematic decor elements with motivational quotes and appealing visuals will serve to encourage your pupils.
Welcome Back to School Banner
The way you greet your students back for a new academic year can affect their mood and how they perform throughout. Put up an eye-catching welcome back to school banner to garner a positive attitude. In case you're looking for easy-to-assemble media, retractable banners are ideal for the purpose and have the added benefit of taking up little storing space. This welcome back to school banner doesn't require much space and stands out with its high resolution images. Design the medium with bright colors for a lively setting or make it consistent with the overall school theme to ensure a professional look. Raising the flag on the first day of school can also be a great tradition.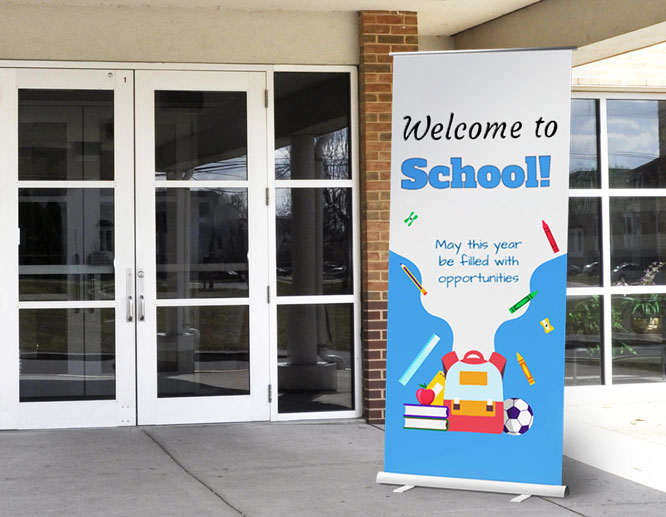 Congratulatory Back to School Banner
Do you want to kick off the new school year on a positive note? Turn the first day back into a festivity by congratulating your students on the fresh start. Get back to school banners featuring motivational quotes to pique interest in learning. Large "Get Set for the Best Year Yet" vinyl banners on the school fence or the building facade will grab attention and instill enthusiasm. If you want to have a more personalized back to school sign to celebrate your students' achievements, explore our user-friendly sign design tool.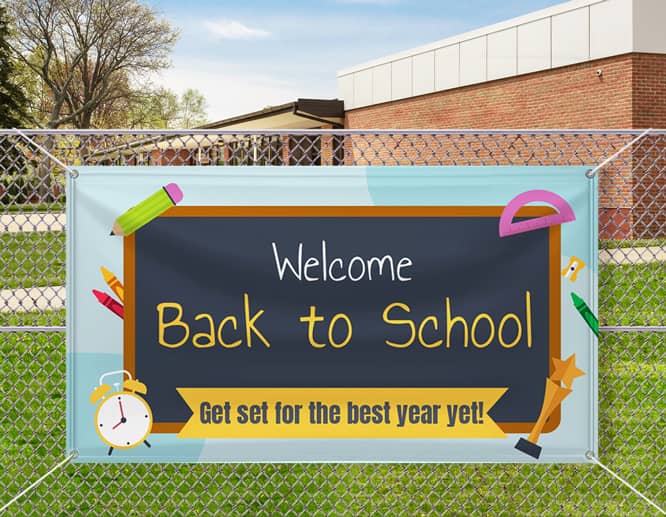 Photoshoot Back to School Backdrop
New academic year - new memories to be made! Set up a thematic back to school photo backdrop for your students to create memories from the start of the year. Beautifully designed step and repeat banners highlighting your school logo will become everyone's favorite as photo backgrounds. Your students can take pride in the school they study at by posing near this unique back to school photo backdrop. Want more? Consider adding an engaging element to your back to school backdrop. Vibrant and funny selfie frames will be the perfect solution to ensure an unforgettable experience.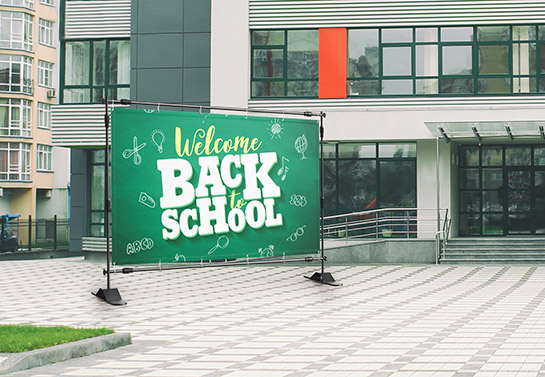 Check out our blog on different school banner ideas to find the best fit for any area.
Printable Back to School Signs for Different Purposes
The back to school sign ideas in this section are tailored for different purposes. If you're looking for trendy options, we've got you covered. Read on and find items that will upgrade your school design.
Personalized Back to School Gift Signs
Gifts are an inseparable part of any celebration. Go beyond the traditional and surprise the children with thoughtful personalized presents. Custom foam board printing or gator board printing showcasing the child's name and school year are ideal for the purpose. Such printable back to school signs are suitable for all age groups. College students will absolutely love the idea of having unique decor items to add to their dorm room essentials. If you're looking for other rustic items, wooden signs designed in a similar way are also a nice alternative.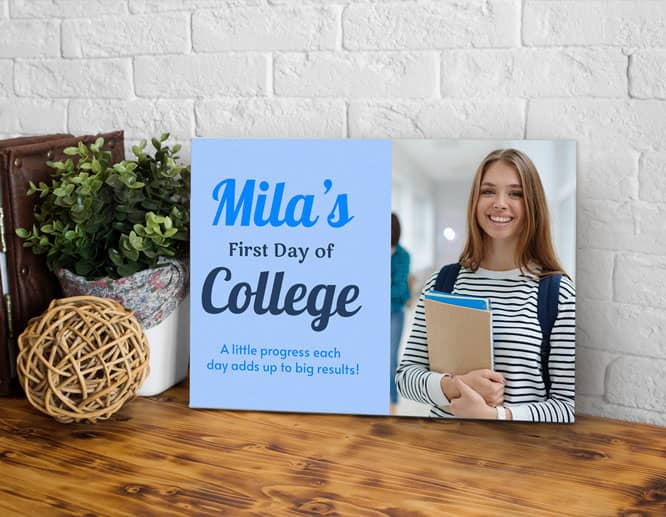 Explore our selection of party banner ideas in case you're organizing a special event for your students.
Decorative Back to School Display
Every academic year is a huge event in and of itself. Mark the new beginnings with catchy back to school banners to create a festive and inviting atmosphere. Decorative fabric banners will help set the tone whether placed indoors or outdoors. Thanks to the versatility of the material, they can also serve as a back to school backdrop. Go the extra mile and decorate classrooms as well. Paper poster printing suited for the age-group present in class will be a nice addition to the setting. Such a personalized back to school poster will promote school spirit.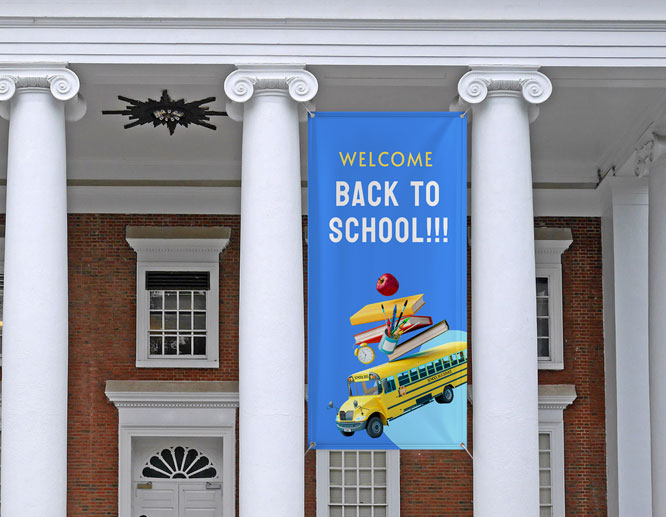 Browse our back to school sign template collection to draw inspiration for your very own design.
Wayfinding Back to School Sign
Wayfinding printable back to school signs are a big asset for the upcoming academic year. Directional x-stand banners placed in the hallways will help your students and teachers find their way around the school effortlessly. These free-standing tools will help newbies adapt to unfamiliar surroundings. If you're looking for even more compact media, go for vibrant floor decals in shapes of arrows or including labels. Use bright colors in the design to have an engaging element for young students.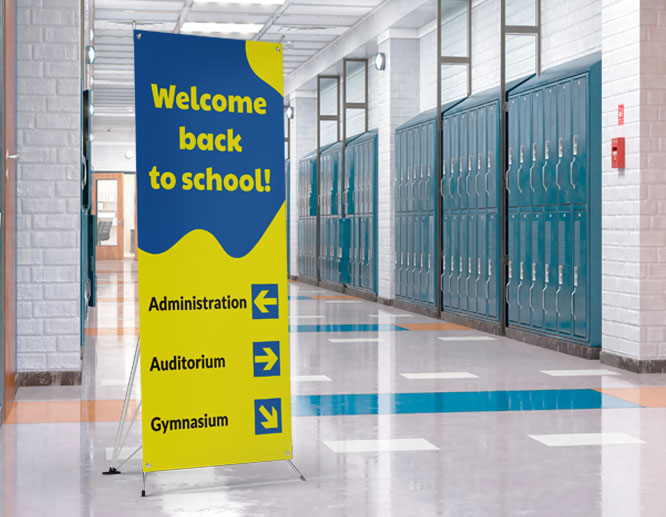 Promotional Back to School Sign
Some schools may provide their students with their own books, uniforms and even stationery. However, people usually hunt for sales during the back to school season. It's even considered as one of the largest family spending events of which many retail stores take advantage. Stores can let parents and students know about this by placing corrugated plastic signs out front. They'll be more visible than a window display for passersby and people driving near. Use our editable sign templates to design illustrations to match your needs.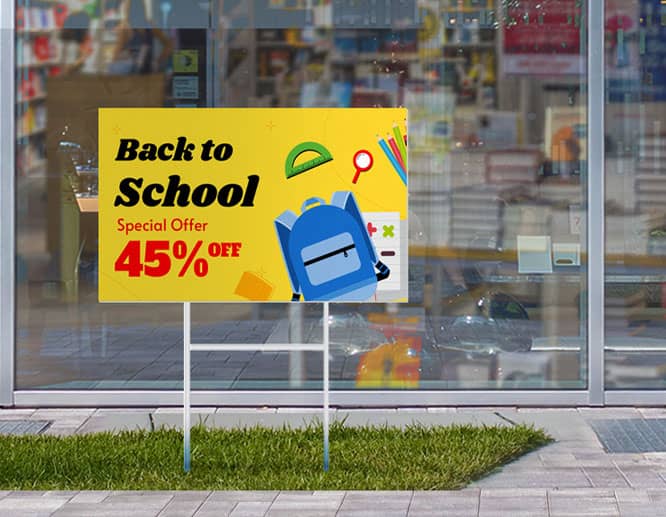 Festive Back to School Yard Signs
The beginning of every academic year feels like New Year with friends reuniting after months apart. Adorn your outdoor grounds with cheery yard signs to add a festive feel. Make sure your welcome back to school yard signs grab attention to create a memorable impression. When placed strategically, the media play a huge role in school-community interaction. They'll promote the school image while building anticipation for students.