Ready for an Easter egg hunt? That's right, it's time for the season's festivities. One of the most widely-celebrated Spring holidays is about having fun with family and friends and while remembering the resurrection of Christ. Thus, many businesses close their doors on this day to celebrate with their loved ones.
If you're planning a day-off too, make sure you notify your customers with "Closed for Easter" signs. With so many different sign printing ideas floating around, you get to pick an attention-grabbing "Closed for Easter" sign to stand out from the crowd. Check out the custom signs we make in various shapes and sizes to find the best "Closed on Easter" sign for your business.
"Closed" Easter Sunday Signs for Different Businesses
Make sure your customers don't come all the way to your premises just to find out that you're closed. Use eye-catching "Closed for Easter" signs to make the announcement. Mediums like gator board printing or foam board printing are among the most popular options. If you're wondering what other "Closed for Easter" signs you can incorporate, explore the list below.
"Closed for Easter" Sign for Stores
Easter is celebrated in different traditional ways and each one of them needs a lot of preparation. Allow your customers purchase necessary items and supplies ahead of time by putting up a visible "Closed for Easter" sign. Whether it's a huge grocery store or a small shop, custom store window decals will communicate your message effectively. Your clients will appreciate you keeping them informed. To make your "Closed on Easter" sign unmissable, pay close attention to the design. Use the holiday's symbols like bunnies, eggs and flowers. Want a small "Closed for Easter Sunday" sign for the front door as well? Get PVC signs in matching colors to keep it consistent.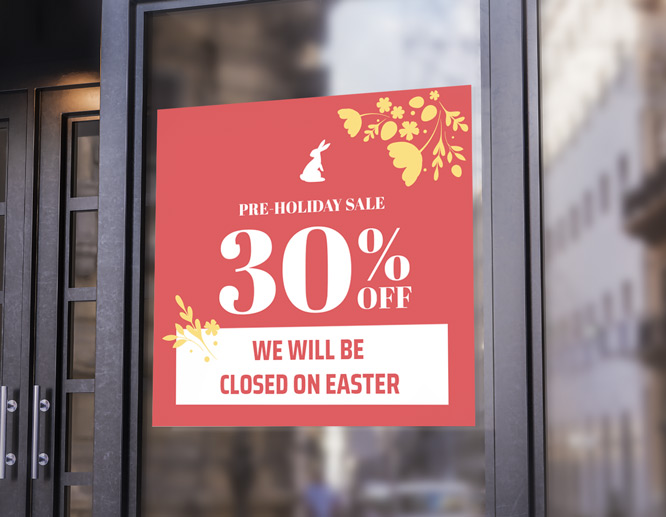 Take a look at our Good Friday closed signs blog to prepare the business for the entire weekend.
"Restaurant Closed on Easter" Sign
People will be looking forward to tasty meals once the fast is over. If you're planning to close your establishment for the holiday, a "Closed for Easter Sunday" sign will be vital. Get restaurant window decals to inform people about your plans and elevate exterior branding. Choose one of the four material variants available to make the most of the medium.
Use cheerful colors for your "Closed" Easter Sunday signs and add a note to explain your absence. You can also showcase a preorder menu for people who want to grab some food a day before you close. An illustration of an Easter basket full of dyed eggs and seasonal sides will appeal to the eye.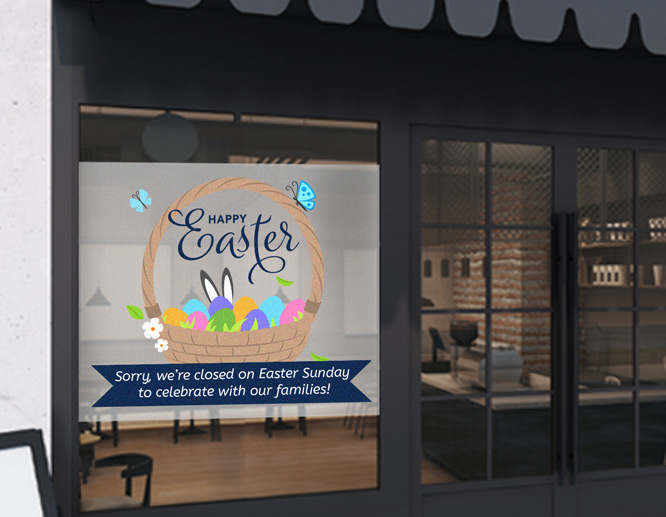 A 2022 survey found that 57% of American families cook something special for Easter dinner.
"Closed on Easter Sunday" Sign for Banks
Inform your clients about the Easter day-off ahead of time not to let them down. Opt for vinyl lettering to keep it simple and professional. Pastel colors such as yellow or baby blue will add a festive Easter spirit to your "Closed for Easter" sign. Apply the tailor-made "Closed for Easter" sign in a visible area to expand your reach. If you have more information to communicate, large opaque window decals will come in handy. You can use these "closed" Easter Sunday signs to enhance your branding efforts and showcase alternative banking options at once.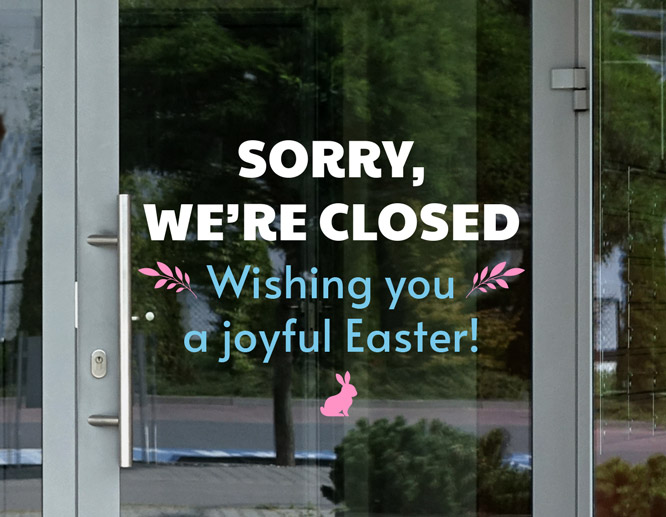 "Closed for Easter" Sign Options for Other Institutions
Irrespective of the type of business you run, displaying an "office closed" sign for Easter is a thoughtful thing to do. If you're looking for a professional tool to display operating hours during the holiday, get striking office window decals. These "closed" Easter Sunday signs are perfect for different departments within stores such as pharmacies. Set up your "Closed for Easter" printable sign before the holiday to save everyone time. Suitable for indoor and outdoor applications, the adhesive "Closed for Easter" sign with a congratulatory note will add a festive touch to any setting.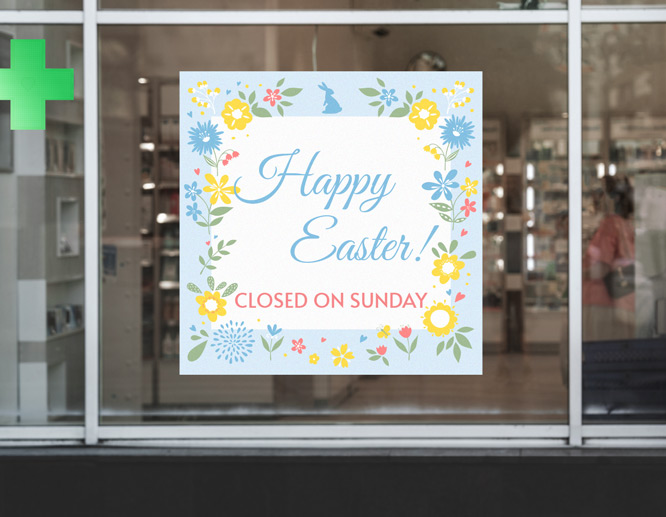 Printable "Closed for Easter" Sign of Different Types
Easter is observed by millions of people around the world. The holiday is accompanied by plenty of decorations. For your "Closed for Easter" signs to stand out, you need to find the perfect fit for the venue. Here are some "Closed for Easter" sign options suitable for different businesses.
"Business Closed for Easter" Sign as a Window Notice
Display a printable "Closed for Easter" sign at the storefront early on to notify people about your day-off. Apply eye-catching window clings to save space and capture attention. To benefit more from the "We Will Be Closed for Easter" sign, use it to encourage pre-holiday shopping as well. Highlight your holiday deals on the "Closed for Easter" sign to make it impossible to overlook. The informative medium designed in Easter themes will evoke a festive mood among passersby. In case you're looking for an adhesive alternative, window decals in cheerful colors are ideal.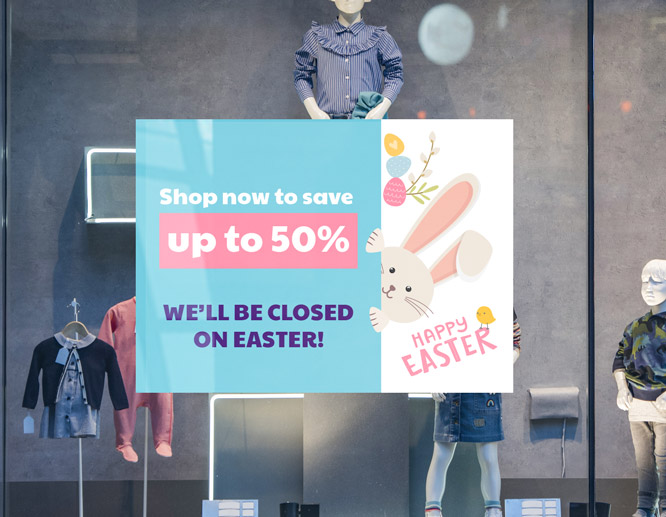 "Closed for Easter Weekend" Sign for Storefront Announcements
Are you looking for an out-of-the-box solution for your "Closed for Easter Weekend" sign? Put up appealing retractable banners in Easter themes right on your doorstep. Be brief and concise to convey the message about being closed for Easter weekend. Don't forget to thank your customers for their understanding and wish them a Happy Easter. If you want to communicate more information, choose a larger "Closed for Easter" sign. Complement it with reusable static clings for a festive look.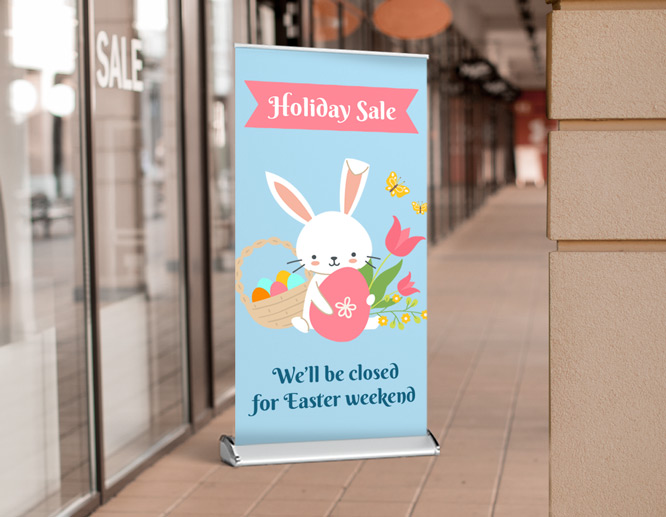 Did you know that the Easter bunny was introduced to America by Germans?
Printable "Closed for Easter" Sign for the Lawn
Want to reach as many people as possible? Set up a branded yard sign reading "Happy Easter, We Are Closed" on the side of the road. Keep your "Closed for Easter" sign simple and use bold letters to deliver your message effectively. To give the medium a festive touch, design it in cheerful colors and illustrations. Make your "Closed for Easter" signs more effective by including the date and time of reopening. Or have it in simple design to use in the future as well.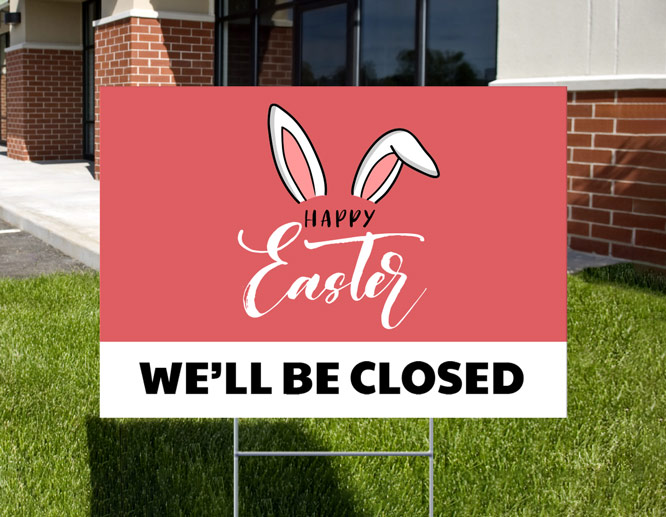 "We're Open on Easter Sunday" Decor Item
Are you one of the few businesses that operates on Easter? Make your customers happy by sharing the good news appropriately. Create your own "Closed for Easter Sunday" sign with our sign design tool. Experiment with colors and explore different fonts to make it unique. Choose from our adjustable sign templates to get started easily. Pick up the "Closed for Easter" sign template you like most and customize it to match the overall setting. Anything from free-standing "Closed for Easter" signs to space-saving media with a well-thought-out design will offer you great exposure.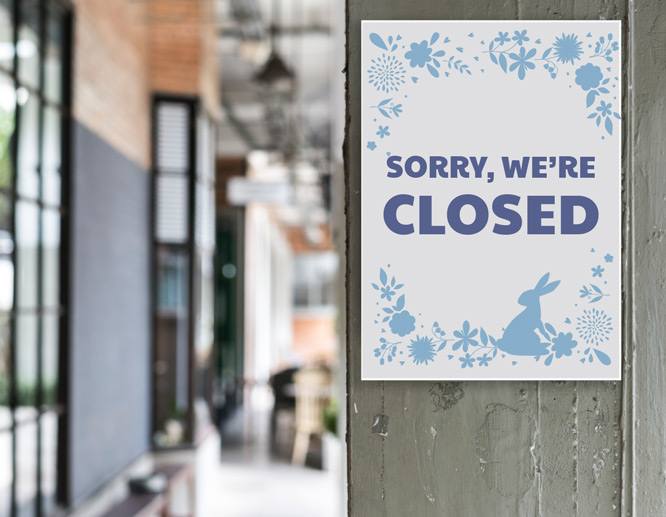 Explore our blog on Closed Signs for MLK Day for more similar ideas.