Ready to liven up those dull walls around your home? Not ready to spend a fortune on artwork or drill holes to hang them? Wall decals are the solution you're looking for. I have 26 funny wall decals that will create a cheerful atmosphere in each room of your house. Funny wall decal quotes and tips await you at the end of the article, too. Let's start!
Funny Wall Stickers: Ideas to Brighten Up Your Home
As promised, here are crazy wall stickers to add laughter to each room of your house. Choose the ones you like and add lasting entertainment to your walls within minutes.
Wacky and Funny Kitchen Wall Decals
Wanna give your kitchen a brand new look? These humorous wall stickers are what you need! Apply them and enjoy the lighthearted atmosphere they create.
Idea 1. Feature the Menu of the Day
"I don't wanna eat this soup," or "I wanted fries..." Sound familiar? Most moms know what I'm talking about. If you do, too, then this humorous wall decal can spare your vocal cords the trouble when needed. Your kids will learn to eat whatever you prepare or starve, their choice.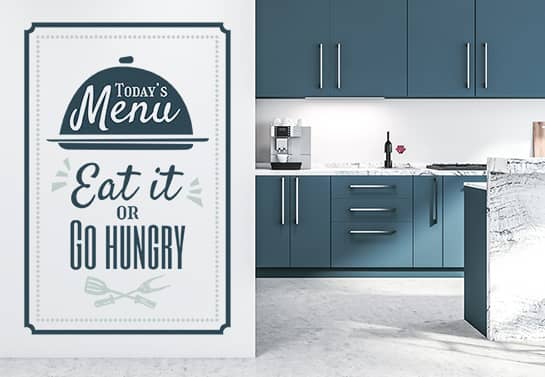 Idea 2. Show Your Love for Coffee
Nothing beats a good coffee in the morning. It's the most reliable source of energy for the duration of a long day. Showcase your love for lattes with this funny kitchen wall decal idea. Personalize your kitchen and enjoy a morning cup of Joe in style.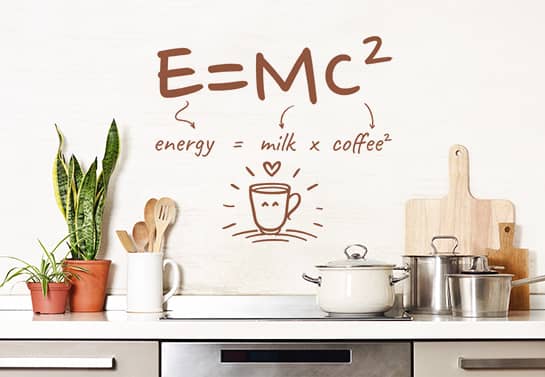 Idea 3. Hate Cooking? You'll Love This Idea
Not fond of cooking? Decorate your walls with comedy. This way, you'll have something to look forward to in the kitchen. Crazy wall decals such as the one in the image below will fill your empty walls with at least one thing worthy of your time.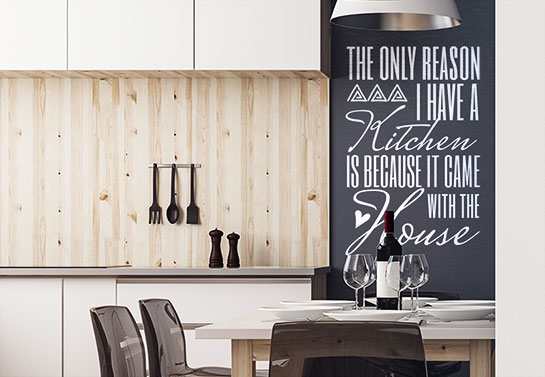 Idea 4. Don't Wanna Do the Dishes?
Ask Alexa! Your virtual assistant should be there for you whenever you need help, right? Well, is there a worse chore than doing the dishes after a long workday or a house party? Not if you've experienced either! This weird wall sticker will help you do the task with at least a half smile on your face.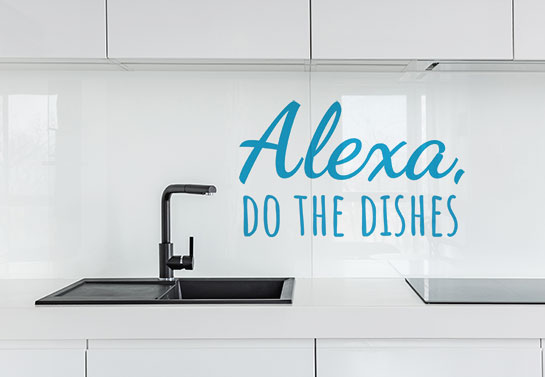 Idea 5. Use Funny Sayings for Decor
The love of cooking can't truly exist without the love of eating! Use this quirky saying to spice up the walls of your favorite place in the house. No one will stay indifferent to it and you might even learn how sassy skinny people can get!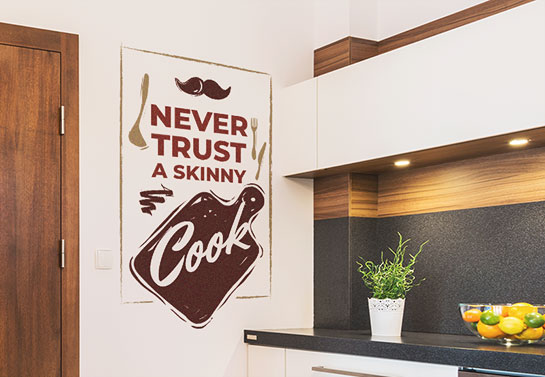 Idea 6. Go Simple With Your Humorous Wall Decals
While decorating your walls with funny wall art stickers, you can still pay homage to simplicity. After all, just one piece of decor can change the whole appearance of a room, right? Here is an idea that will make your kitchen look bold yet minimal all at once.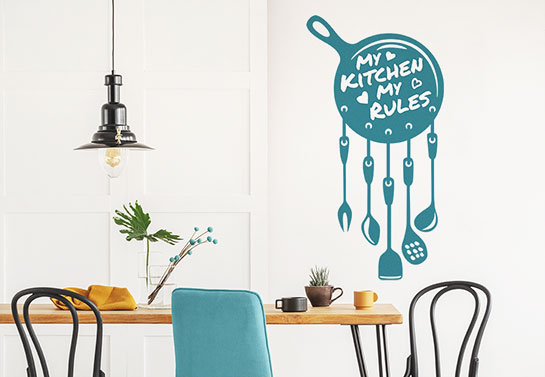 Silly and Weird Wall Stickers for the Living Room
Weird wall stickers will make your quirky character stand out along with your walls. The living room is where you can express your personality to whoever's worthy of an invite into your home. So here we go with cool ideas to use in your living room.
Idea 7. Bart Simpson Is Here
Basically, the light switch can become a creative part of your wall decor with the use of these funny wall stickers. What we have below is only one example with Bart Simpson sneaking up from behind it. Get creative with this idea and give your living space an interesting twist of decor.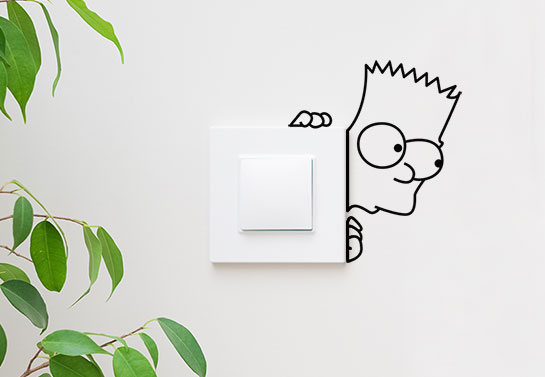 Idea 8. Pet Lovers! This One's for You
Whether you own a pet or not, these crazy wall stickers with pet themes will give you the warm-and-fuzzies with every glance. This one is for cat lovers. Don't worry, everyone else, we have more animal themed ideas coming up!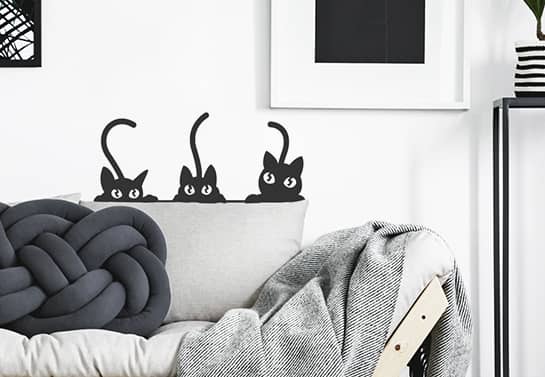 Idea 9. Do You Own the Door to Another Universe?
The black hole that takes you to another universe is real… and a masterpiece of your funny wall stickers for the living room! Your interior will become unforgettable to every guest that attempts a grand escape into a parallel reality.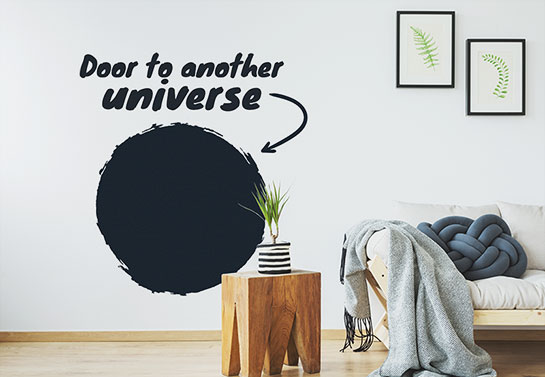 Idea 10. Embrace It, You're Limited Edition
Do you get told that you're different? Well, that's cool! Take pride and make a statement of it for everyone to see. Use vinyl lettering to decorate your living room walls. If this humorous wall decal doesn't float your boat, I've included other funny wall decal quotes at the end of the article.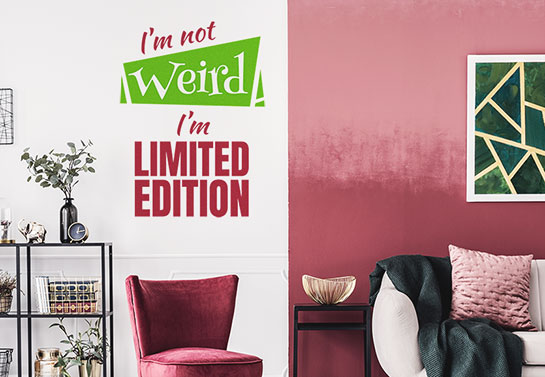 Idea 11. Make Things Go Right
We could all use extra inspiration during difficult times. Funny wall stickers are here to put a smile on your face even when nothing else is going right. Take a look at the idea below to get inspired.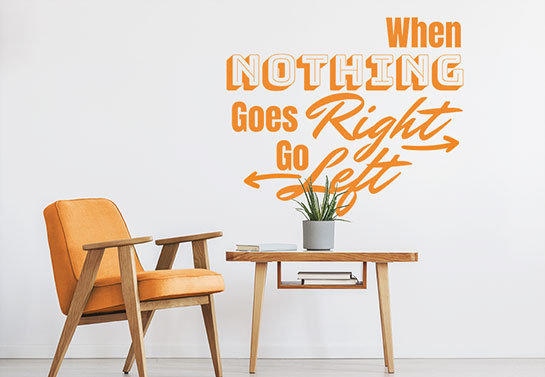 The walls of your living room deserve a good treat. We have an article to help you decorate them with style: 6 Must-Have Accents Plus Useful Tips
Amusing and Crazy Wall Decals for the Bedroom
Cool quotes and graphics are no less important for your bedroom walls. Here is a list of funny wall decals that will make your bedroom walls as entertaining as… your bed?
Idea 12. What's the Schedule of the Day?
Is your schedule dull? That may be the case for most of us some of the time but let's not forget the best of times. Embrace your favorite day schedule with this cool idea and decorate your walls at the same time. You can customize it based on your hobbies by using our free design platform.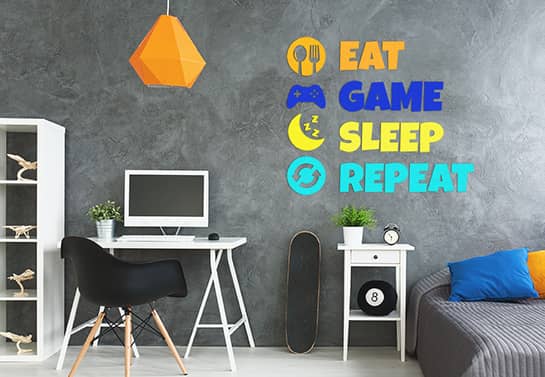 Idea 13. Welcome These Funny Penguins
I promised more animal-themed ideas so here's the cutest one. You're going to adore it. These hilarious penguins will jump off your walls and give your mood a boost no matter what.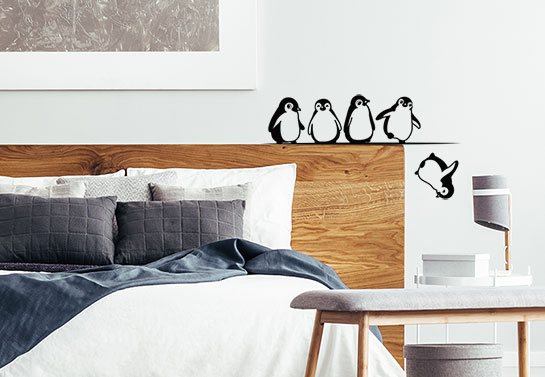 Idea 14. Whose Side Is Bigger?
Inside jokes never get old. Her side of the bed is definitely the bigger one but we're all privy to that one. Men joke about it and women rightfully take advantage. It's a win-win. Who knew that funny wall art stickers were full of wisdom, too. Anyway, this is what it looks like: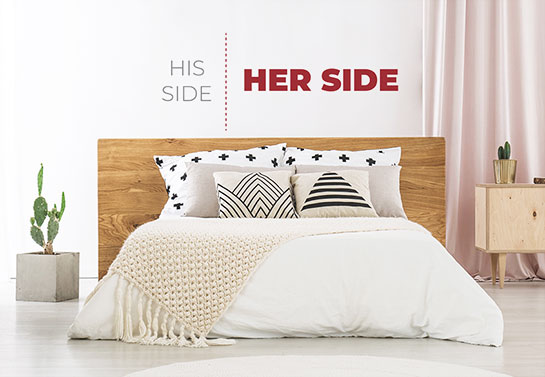 Idea 15. Alexa Comes to the Rescue Again
If Alexa can do the dishes, then she can also make the bed! Do your chores with more enthusiasm by adding these funny vinyl wall decals to your room. I'd suggest that you leave your kids' rooms out of this one, though.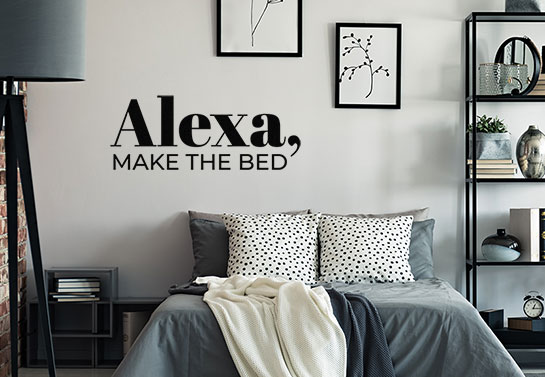 Idea 16. Don't Let Anyone Disturb Your Precious Sleep
A good night's rest can recharge you for the whole day ahead. Remind people to not disturb your sleep by mounting this funny wall sticker above your bed. Looks cool and works wonders!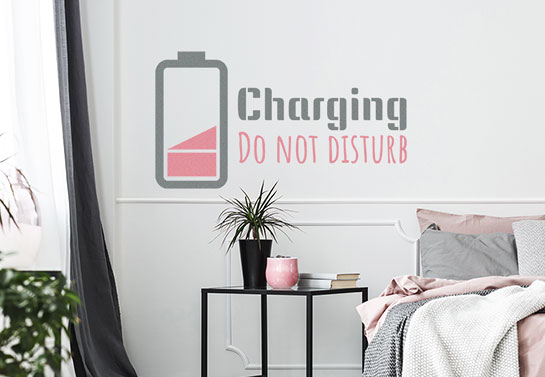 Bizarre and Funny Bathroom Wall Decals
The bathroom can take on all the crazy wall decals you want. These ideas will inspire you to let your freak flag fly, even if only in the privacy of the powder room.
Idea 17. Who Has the Worst Job?
There is no such thing as a sticker that's too weird or preposterous for the bathroom. Feel free to use ideas that test boundaries like the one below. This one will make your toilet paper look irresistible.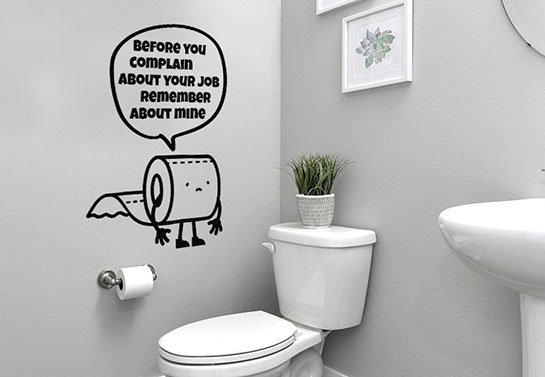 Idea 18. Don't Forget About Funny Quotes
Carrying on with the funny bathroom wall decals theme, this lettering can present a whimsical way to personalize your bathroom. Another option is to get the quotes printed on waterproof PVC signs. Customize this idea with the help of our design platform to suit your preferences.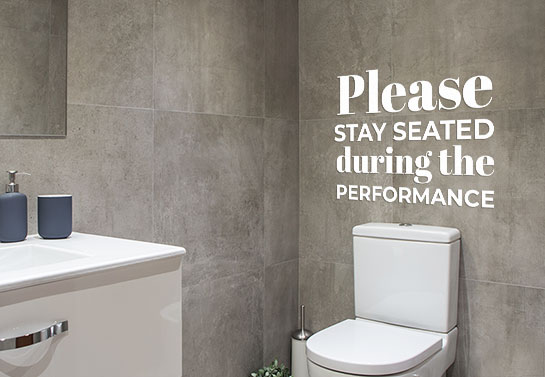 Idea 19. Get Even More Animal Themed Ideas
There's no such thing as too many crazy wall stickers of pets and animals in any room of your house. If you have tile walls, this idea will work especially well to level up the overall appearance of your bathroom.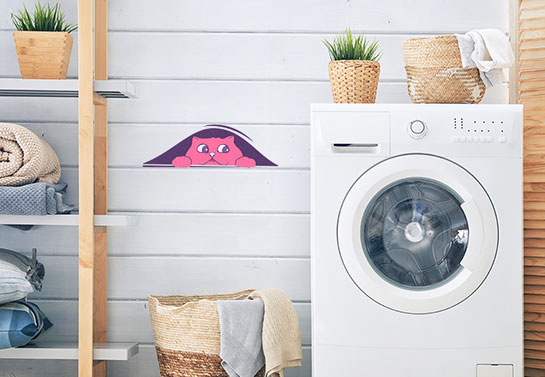 Idea 20. Forgot to Brush Your Teeth Again?
I know the struggle. You're all cozied up in your warm blankets but then the dreaded moment comes… you remember that you forgot to brush your teeth. Don't fret. This funny wall sticker will always remind you to brush your teeth. Of course, assuming you want to keep them.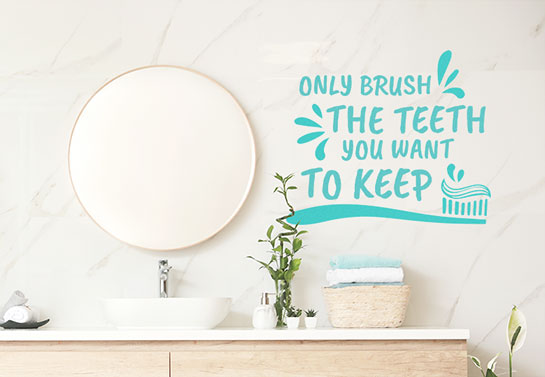 Idea 21. Are You the Fashionably-Late Type of Person?
Most women spend hours doing their hair and makeup before going anywhere important. No judgment here. You want to look your best even if that means you'll be an hour or two late. Stick this on for extra sparkle.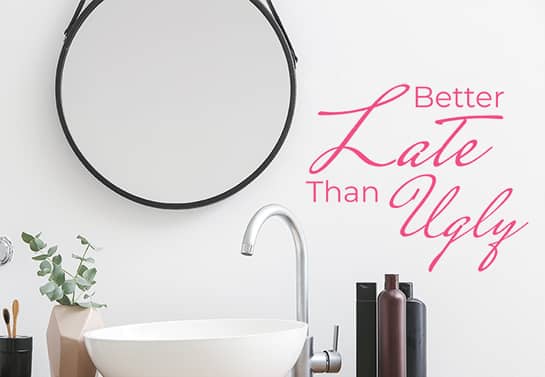 Weird and Funny Home Office Wall Decals
Nowadays, many of us have had to adjust to working from home. Consequently, we're all looking for ways to turn our home office into a productive space. A study has even shown that working from home one day a week boosts output by 13%. However, you should have a well-organized home office to reach or top that score. Motivational and crazy wall stickers will create a room you'll want to work in.
Idea 22. Relieve the Stress
No matter how much you love your job, there are times it can get stressful. Use funny office wall decals like the one below to relieve your anxiety. Obviously, we don't recommend that you literally bang your head. In fact, doing so can cause serious damage so be warned. Just an acknowledgment will do the job.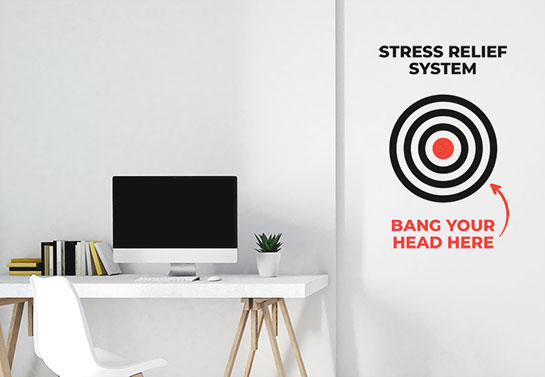 Idea 23. Is Your Work Schedule Too Busy?
Busy work days and sometimes weeks or even months happen! Well, sorry to say that funny vinyl wall decals won't do your job for you. They can make you smile though and take a load off your shoulders by creating a relaxed atmosphere.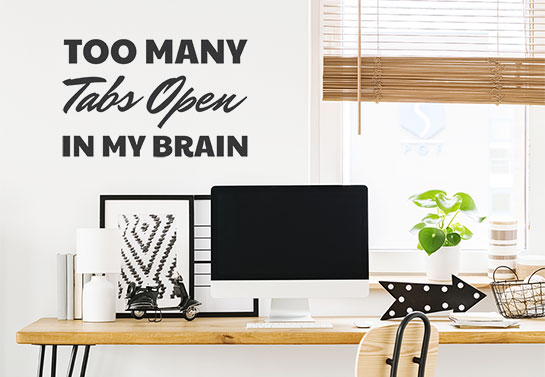 Idea 24. Just Use Your Brain
Here comes another stroke of genius for your home office walls. Use your brain to make your walls empower you.  This decal will push you to produce the brilliant work you're capable of. Another option is getting the graphics on acrylic signs which exude an air of professionalism.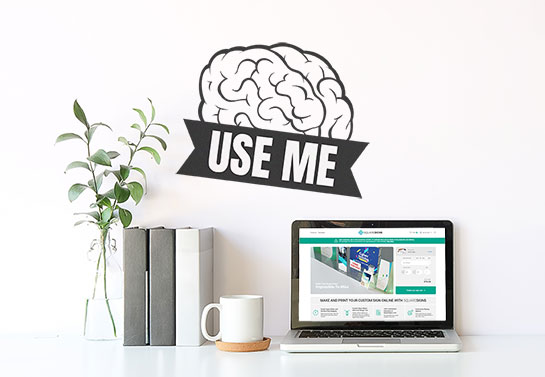 Idea 25. A Little Self-Praise Won't Do Any Harm
When working from home, you'll need a strong sense of self-worth to stay motivated. Here is a crazy wall sticker that will remind you who you really are… an evil genius at work, of course!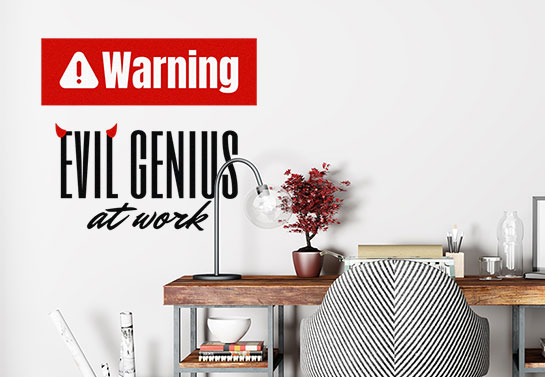 Idea 26. Login To Work Mode
Working mode: ON! You may struggle to get into a productive mood when working from home. Not only will this funny wall decal help you decorate your walls but it'll also create inspiring office vibes. Just make sure it's not lunch mode you're logging into.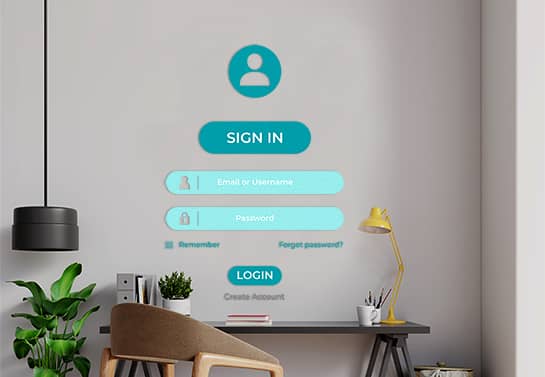 Do you need funny stickers for your car? Read this article: 15 Cool And Funny Rear Window Decals And Tips To Lighten Up The Traffic
Bonus: Funny Wall Decal Quotes You Can Use
As promised, I'm including a few quotes you can use to decorate your funny wall stickers with.
I don't need a hairstylist, my pillow gives me a new hairstyle every morning.
My six-pack is protected by a layer of fat.
Maybe if we tell people the brain is an app, they'll start using it.
My windows aren't dirty, my dog is a painter.
I am athletic, I surf the Internet every day.
A balanced diet means a cupcake in each hand.
Don't give up on your dreams, sleep
Tips and Highlights: Techniques to Use These Funny Wall Decals
So we've gone over ideas to decorate your walls with funny quotes. Now it's time to learn hacks and techniques to make the most of your funny wall stickers.
Tip 1. Complement Your Furniture With Humorous Wall Decals
Select wall stickers that complement your decor. You've already seen some examples above. They can transform your living space without even having to move furniture around. These stickers are easily removed without leaving residue or scratches on the walls.
Tip 2. Consider Wet Application on Waterproof Surfaces
If you're considering adhesives for your bathroom or on other waterproof walls, use the wet installation technique. It allows for more precise application. The process is not difficult and you can easily find instructions online.
Tip 3. Use a Squeegee for Air Bubbles
If applied correctly, adhesive wall art shouldn't have any air bubbles. A squeegee will help you apply the sticker smoothly and even out any trapped air. You can also use a simple credit card or something similar in case you don't have a squeegee at hand.
What are your favorite funny wall decals from our list? Remember, they're all fully customizable. We've created matching templates which you can personalize in our free sign design tool. You're only a few clicks away from turning your dull walls into crazy cool ones.